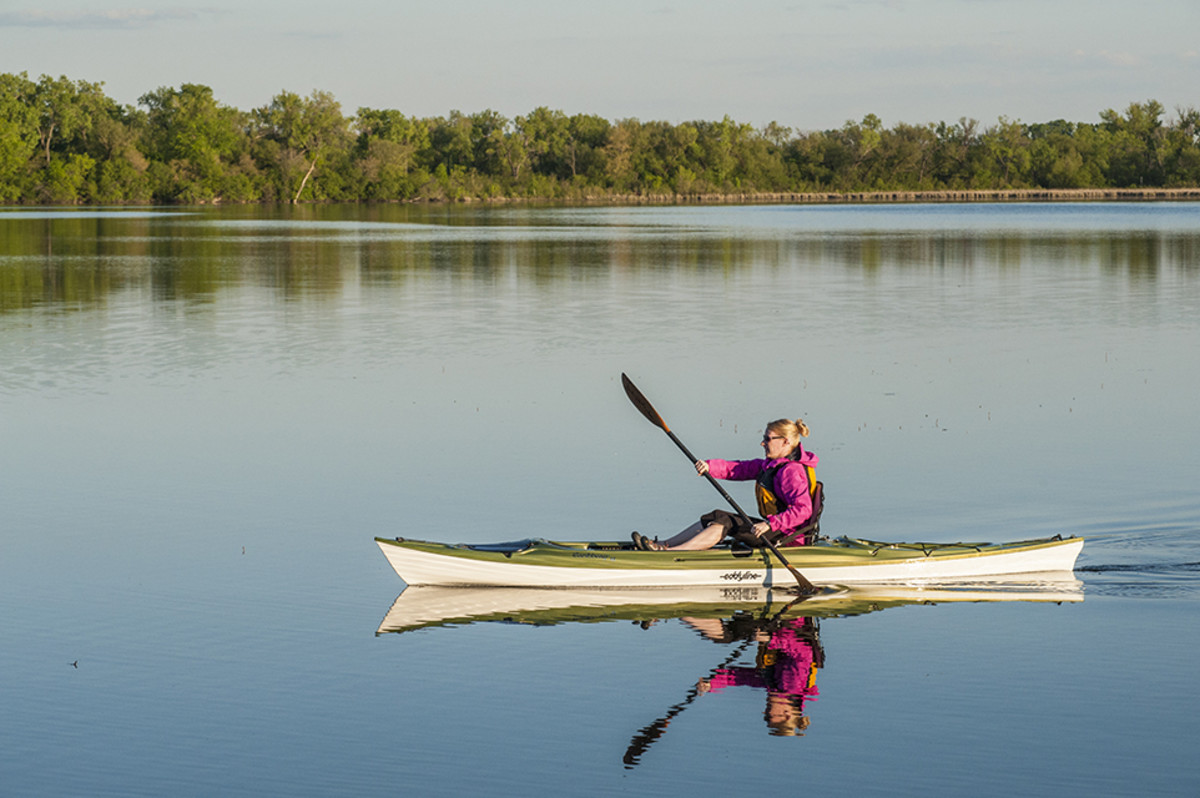 L: 14′; W: 29″; 50 LBS.; Thermoformed Plastic. $1,699, EDDYLINE.COM
When I unwrapped the Caribbean, the first word that came to my mind was beautiful. In a world where sit-on-tops are limited to utilitarian aesthetics, Eddyline took the time and opportunity to make a pretty boat. It's not surprising, since the Eddyline team undertook more than a year of research and development before entering the sit-on-top market with the acclaimed Carib- bean 12. The Caribbean 14 is that boat's big sister, longer and a few inches narrower.
The first thing that struck me is the color: a lovely avocado green. In the land where most sit-on-tops are bright colors or muddy browns, it was a nice change. Thanks for that, Eddyline. Way to buck the safe trend.
The material is a proprietary thermoformed material, much like the Hurricane Skimmer. Polycarbonate plastics are stiffer and lighter, but more expensive, so the Caribbean doesn't sell for an entry-level price point. That said, I believe it is a great value.
The outfitting is well executed, attractive, and solid. The front hatch is not the standard oval; its trapezoidal shape accentuates the design and is easy to open and close. Eddyline paid attention to details. I loved the small touches like the carbonfiber grab handles, an awesome bit of up-cycling using leftovers from making paddles in Eddyline's factory north of Seattle.
The seat clips on with stainless marine-quality bolt snaps, a nice touch of quality. The seat snaps in easily and intuitively, and the quality of the seat itself is quite nice. Footbraces are easily adjusted and sturdy.
Usually pretty kayaks paddle well, and the Eddyline is lovely on the water as well as off. It t my 200 pounds perfectly, and my friend Liz enjoyed it too, though she is literally half my size. The Caribbean tracked effortlessly, gliding through the water with efficiency. I swung my legs over the side and sat there with the kayak on edge and it showed no signs of wanting to dump me into the water.
Listening to the chatter among the testers is always enlightening. "My mom wanted to try kayaking, this would be perfect for her." Liz went on to explain how her mother had one bad experience in a kayak with a cockpit, and had sworn off kayak- ing since then. "I think she'd like this." That is music to a paddler's ears.
The downside of the Caribbean? Just one, and that is the price tag. At $1,699, it's the most expensive kayak in the test, but as usual, you get what you pay for.
CLICK A BOAT BELOW TO READ REVIEW
Eddyline
Caribbean 14
Evoke
Vue 120
Ocean Kayak
Tetra 12
Wilderness Systems
Ride 125
Hurricane
Skimmer 140
The article was originally published on Canoe & Kayak
For access to exclusive gear videos, celebrity interviews, and more, subscribe on YouTube!