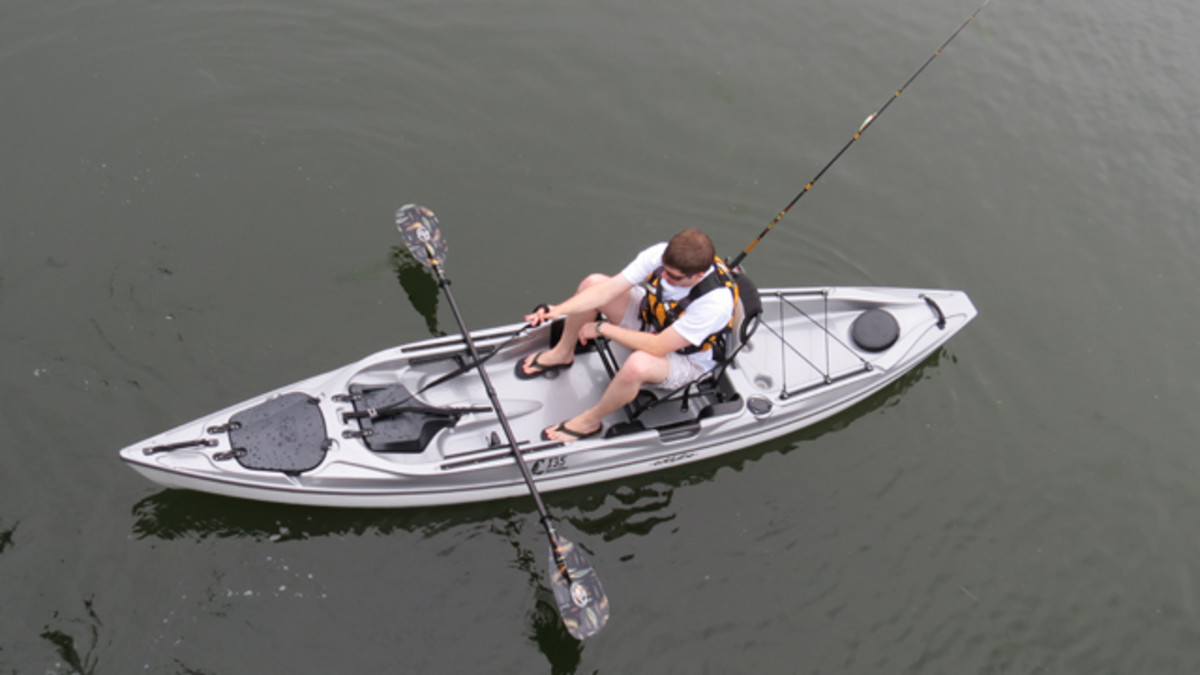 By Paul Lebowitz
Clear the runway. Eddyline's C135 is ready for takeoff at ICAST.
It's a heavy hauler affectionately dubbed the Stratofisher, wide and stable with a cushy-sounding Cloud 10 four-position seat with mesh. The C135 lands right in the current mainstream for a fishing kayak, walk around, huck those casts, sit high and dry.
Here's the difference: Instead of weighing in at a class-typical 80 to 90 pounds, the C135 is easy on the scale. Just 70 pounds according to Eddyline's Tom Remsing. And it looks oh, oh so good.
Eddyline kayaks shine like fiberglass, but the reality is much friendlier on the maintenance side. Eddyline thermoforms its kayaks out of Carbonlite 2000, a proprietary thermo plastic. Like fiberglass, Carbonlite 2000 is a light, stiff material, but one that's a good deal more durable. They use almost no recycled material. "Recycled content lowers impact resistance. We've been doing this since 1996. It costs us more money, but it is well worth it," Remsing adds.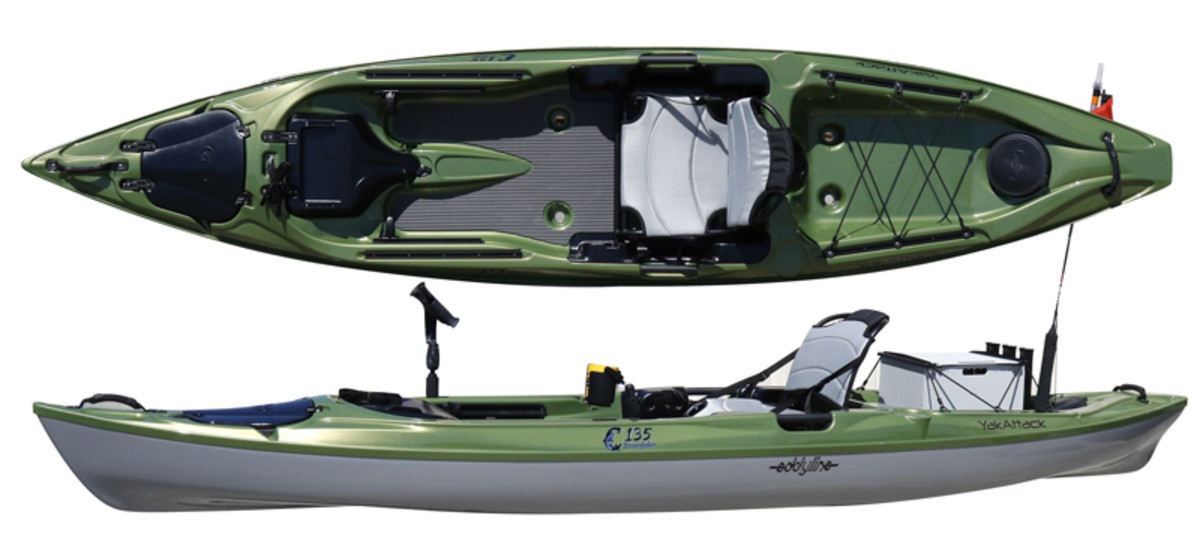 Few companies have fielded thermoformed fishing kayaks. Of those that have, most have produced smaller, traditional sit-down models. Molded in two main parts, an upper and lower hull, the construction method poses some challenges when it comes to creating a sturdy standing platform. Not for Eddyline.
"That part of this project did not intimidate us a bit. We knew we would have to deal with it. You have to engineer the boat to the material. Doesn't matter if it is a 10-foot recreational kayak or an 18-foot sea kayak or in this case a stand-up fishing kayak. We're familiar with how to make something rigid enough to work. We use selective reinforcement. We double the thickness in wear points, and use a plastic welder to make the ends more rigid and durable. There are many things we can do," Remsing says.
Enough about the construction method. Let's look at the fishing features. There are two models, the standard C135 and the feature rich YakAttack Edition. The C135 comes largely as a blank canvas, ideal for personalized rigging. Remsing calls it "plug and play." That'll be a breeze. There's plenty of YakAttack's new top-loading GTTL GearTrac.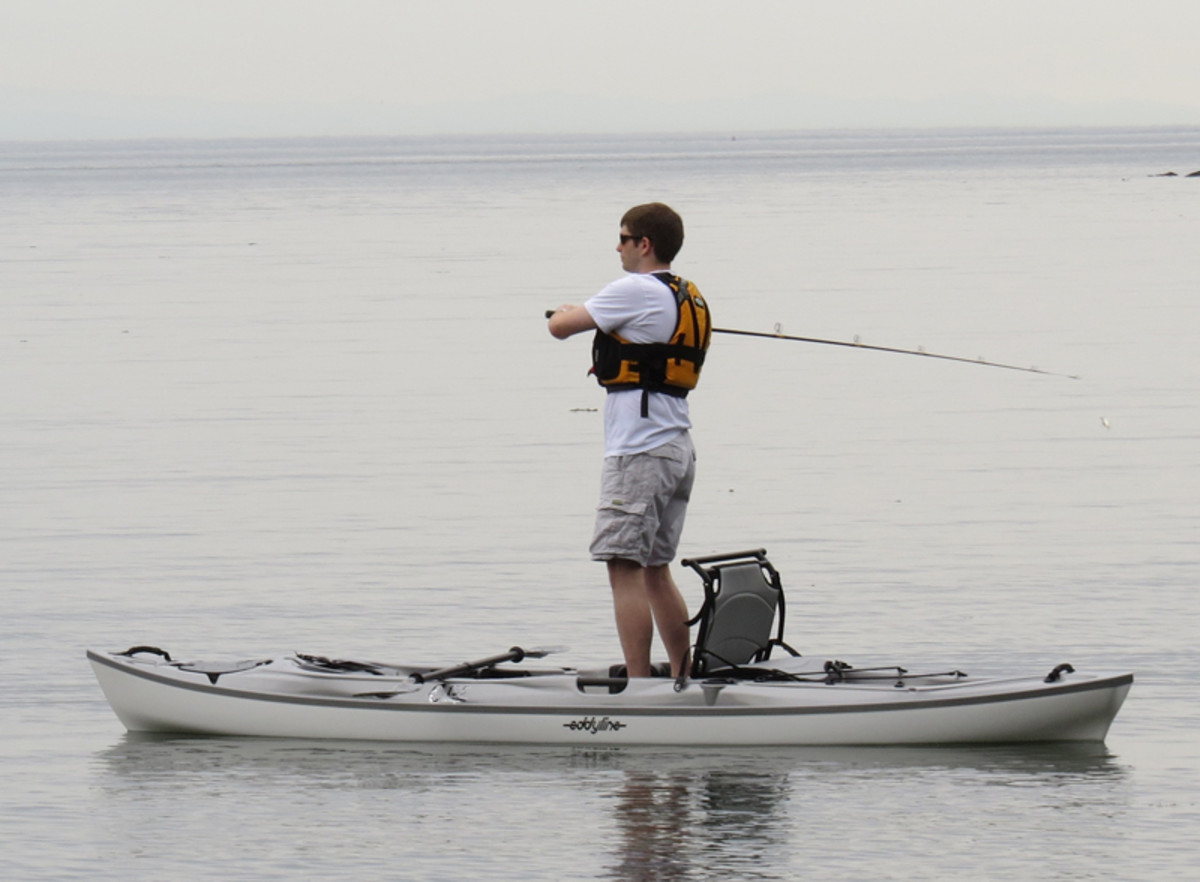 Up-from-the-grassroots accessory maker YakAttack has a sterling reputation for engineering superior solutions for kayak rigging challenges. It's welcome news any time a manufacturer consults with rigging maestro Luther Cifers. Cifers set the YakAttack C135 edition up with:
· Full Traction Pad in the cockpit area
· BlackPak in Grey (an Eddyline exclusive for this season)
· VisiCarbon Pro
· Zooka Tube
· 4″ Dogbone Extension
· 2x 4″ GLSL GearTracs mounted on the Power Plant Hatch Cover
· 1x 8″ GTTL175 GearTrac mounted on the center rib
· 1x Ram Drink Cup Holder with Screwball mount and Eddyline Can Cooler
· 1 pair of the new YakAttack Paddle Holders
· GTTL GearTracs on all 4 gunwales (another Eddyline OEM exclusive for this season)
· Bow Hatch Liner
· YakAttack Custom Decals
Remsing says the package is valued at over $500 separately. Eddyline will offer it for $400 over the base price. It isn't the only way to get an enhanced C135 straight from the Eddyline factory. Remsing says the company will have a full a la carte menu of installed options including Sea Dog flushmount rod holders, a Navigator rudder, an Eddylinedesigned casting bar and more. "Basically we are set up to customize whatever the angler wants," Remsing adds.
The article was originally published on Kayak Fish
For access to exclusive gear videos, celebrity interviews, and more, subscribe on YouTube!