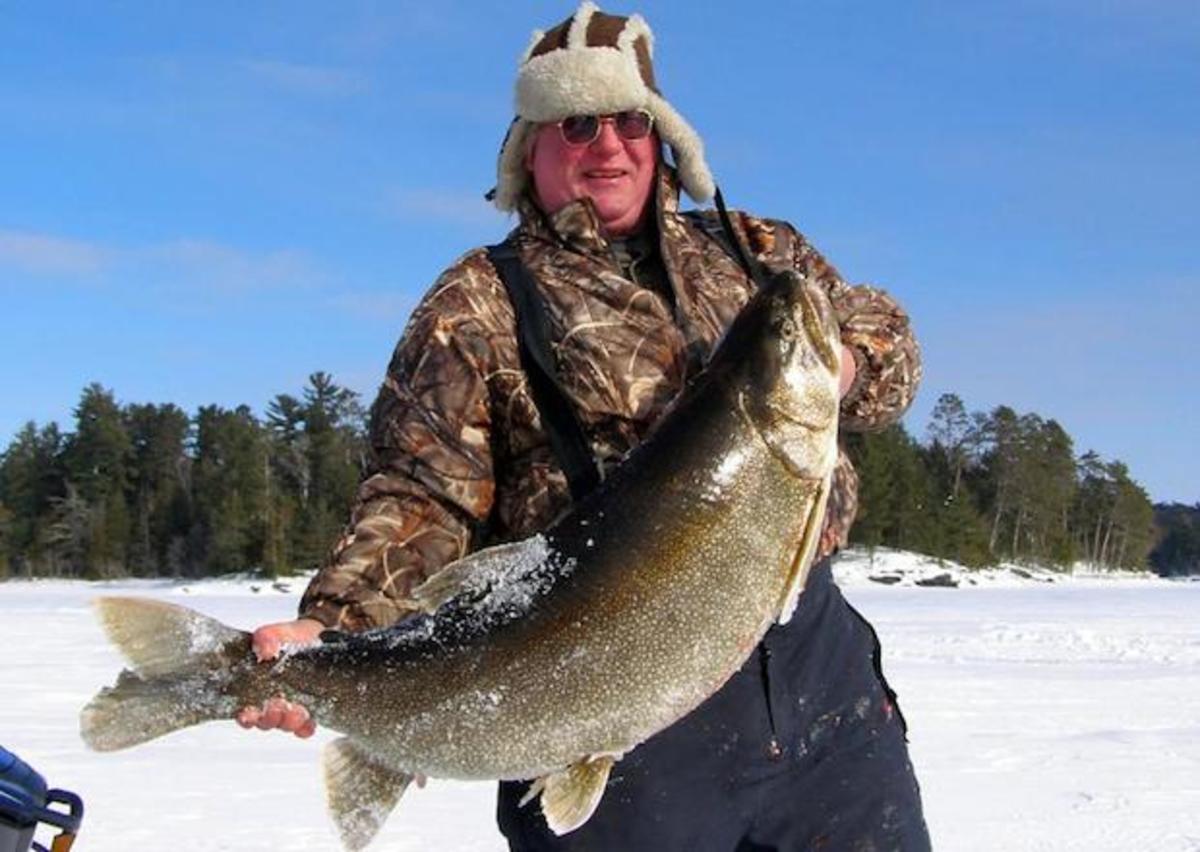 A Minnesota angler was on top of the world after a recent ice-fishing expedition across the border in Ontario, Canada, during which he reeled in an enormous lake trout that weighed 52 pounds, 3 ounces.
Rob Scott's enthusiasm was understandable. It was the largest trout he had ever tangled with, by far, and he'd later learn that the 45-inch fish was nearly 24 pounds heavier than the existing world record for a tip-up-caught lake trout.
(Tip-ups are wood or plastic devices, with a spool of line, attached to a flag that raises to signal a strike; the angler then brings in the line with his hands.)
But three weeks after the February 8 catch on the Ontario side of Lac la Croix, Scott finds himself the subject of an Ontario Ministry of Natural Resources investigation, his fish-of-a-lifetime seized as evidence.
[Related: Inside one man's record halibut catch]
It's not venturing far on a limb to state that Scott will not be credited with a world record, and that he faces a possible fine and/or a restriction of fishing privileges.
Why so much fuss? A simple explanation is that the catch appears to have put Scott one fish over the legal limit.
It turns out that also on February 8, before catching the behemoth, he landed a 4-pound lake trout, and the Ontario daily bag limit for the species is one per day.
What's interesting, though, is how the 65-year-old U.S. Navy veteran was caught.
After landing the giant trout, he gave the 4-pound trout to another angler, and toted the big fish back to Minnesota via snowmobile. He had only one trout in possession, and seemed home free.
But two officers with the Ontario Ministry of Natural Resources had checked Scott's fishing license on February 8, before he landed the 52-pounder. They had noticed the 4-pound trout.
It was not until one of the officers saw a newspaper report on the monster catch, however, that he recalled his encounter with Scott, and making note of the 4-pound trout.
The officers contacted the Minnesota Department of Natural Resources, which helped track down Scott and his fish, which was being stored by a taxidermist. The fish was scheduled to be delivered by the DNR to the MNR, where it would be stored as evidence.
Late last week the Minnesota Star Tribune quoted Scott as saying there was nothing malicious about his actions, and that he was not trying to hide anything.
"I called the Ontario officers and said I owed them an apology," Scott said. "It wasn't illegal for me to keep fishing after I caught the first trout. But when I caught the bigger fish, with the adrenaline and everything I had going, and the fact that it wasn't going to survive if I released it, I figured if I gave the smaller fish away, that would be OK."
Scott explained that the big trout probably would have died if it'd had been released, because of the prolonged struggle.
Officers are not talking about the investigation.
As for a chance at the world record, the Freshwater Fishing Hall of Fame states that "fish must be taken legally" to qualify.
As for Scott, it's unlikely that he'll ever be able to share another fish story quite like this one, and it's reasonable to assume that he'll stay within the bag limit on all future expeditions.
Similar stories on GrindTV
Maasai Mara zebra escapes lion ambush
Harrowing near-miss attack by tiger shark teaches twins a lesson they'll never forget
Fisherman catches rare image of marlin attack
For access to exclusive gear videos, celebrity interviews, and more, subscribe on YouTube!