Interview by Caitlin Looby
Photos by Aaron Black-Schmidt
Last summer, researcher and University of Denver Masters Degree student Clara Jenck was lugging fishing gear and loaded buckets through thick backwood brush to her field site when she had an epiphany.
Instead of conducting her graduate work from land, why not do it from a paddleboard? It would give her better access to the fish, double as a portable lab bench and even keep those pesky thorns out of her socks. For a student whose research involves analyzing the reproductive habits of freshwater fish, SUP makes perfect sense.
This summer, Jenck is taking her theory to the water. She's headed to the Pacific Northwest with plans to use a standup paddleboard to collect samples of the threespine stickleback—a small, freshwater fish species—and evaluate their evolving mating habits. Her research could reveal critical insight about the future of the species and may help save it from dying off. We caught up with Jenck to talk about her cause and learn more about how she's using SUP for science.

Tell us about your summer plans
CJ: I am going to collect a type of small freshwater fish—the threespine stickleback—along the Pacific coast. My plan is stop in Washington, Oregon, and Vancouver Island. This is a big part of my graduate work at the University of Denver.
What are you looking for in the water?
Male sticklebacks typically have a flashy, bright red throat that is pretty sexy to lady sticklebacks. But, in a bunch of locations along the coast, males have lost their sexy, red mating color. Now, they are solid black during their mating season. I am going to figure out if these two different colors can mate.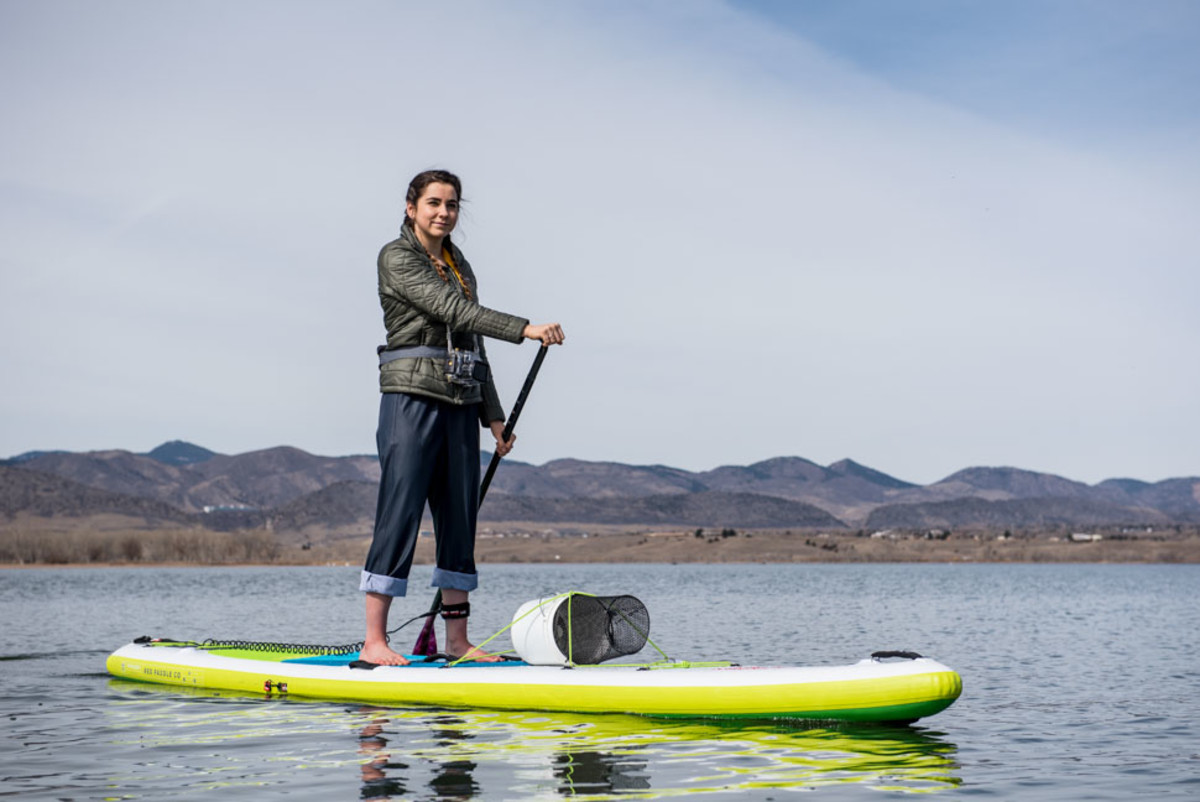 When did you come up with the idea to merge SUP with science?
I started paddling 6 years ago but it wasn't until last year that I decided to merge my two passions. Last summer, when I arrived at my one field sites in Ocean City, Washington, I noticed that many of the rivers and creeks were not accessible on foot or were too deep to wear waders.
I needed to haul traps, buckets, camera equipment, and other science tools. It hit me that a paddleboard was probably the best option to carry the gear, fish, and me. I tested it out, and it was a great way to get around. And with the long hours I spend in the field, paddleboarding makes it more fun.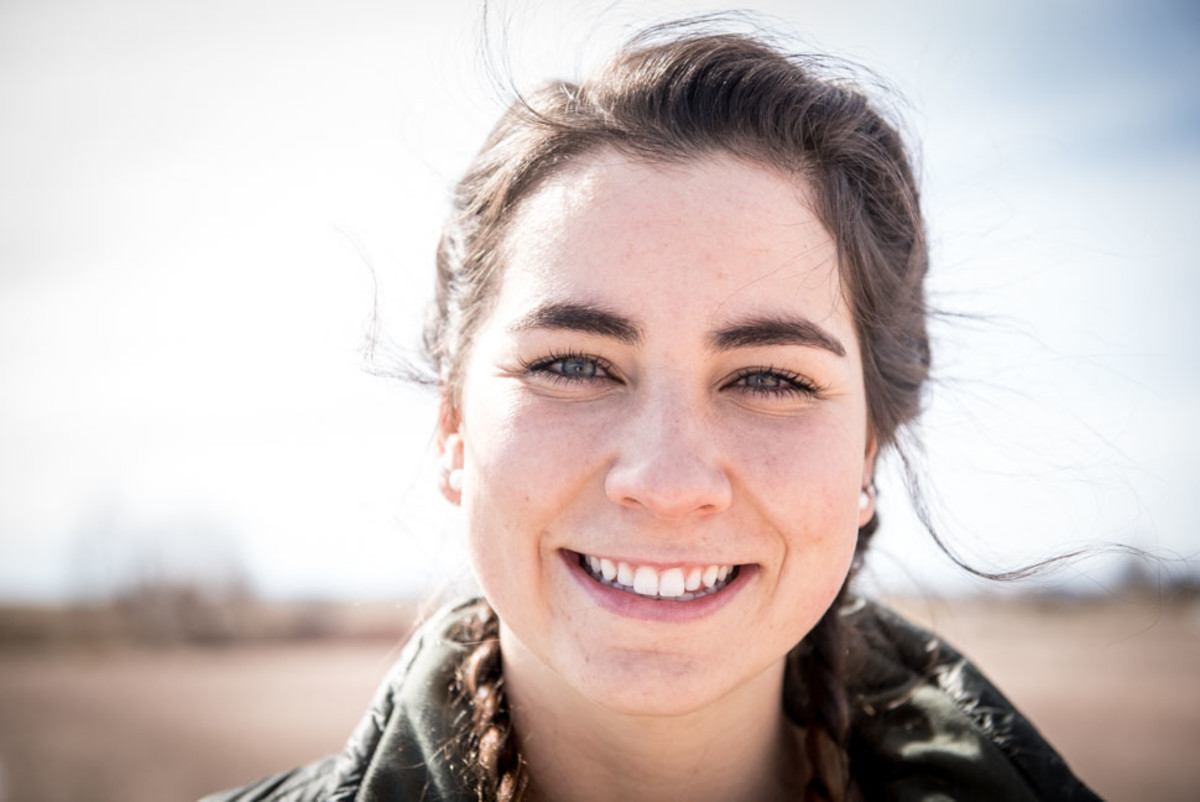 Are there any downsides to using a paddleboard in your research?  What are some advantages?
The streams and rivers that I will be working in are pretty remote and surrounded by dense brush. It is definitely a challenge to trek through dense thickets with all of the gear and a board. So far, I haven't gotten hurt or lost anything valuable. I may lose a trap here and there along the 5-mile float that I will sample, but that is par for the course.
One of the great things about hauling a big paddleboard is that they also double as portable lab benches! It is a lot easier to (handle) fish with a table floating in the middle of the water.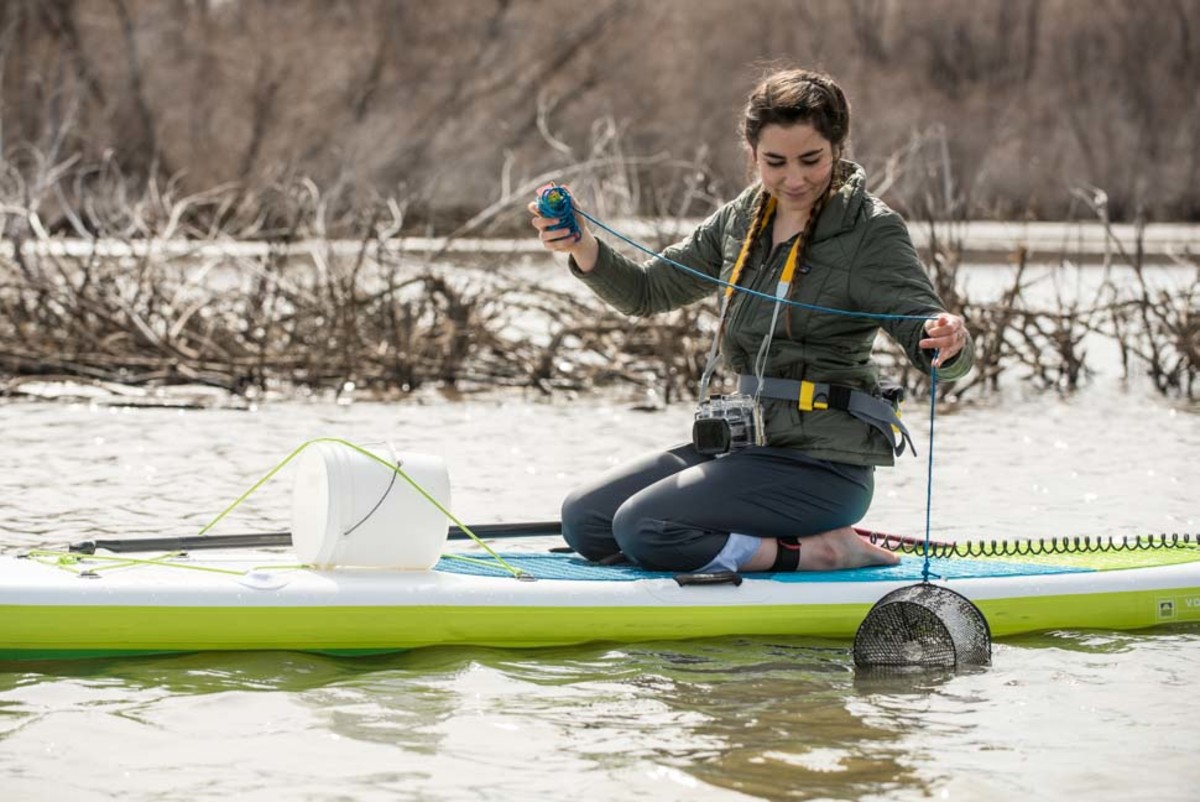 What kind of paddleboard do you intend to use this summer?
Last year in Ocean City, I was lucky to find a surf shop that rented gear. I rented a Liquid Shredder 10′ Rescue Soft Hybrid SUP Paddleboard, which was perfect for all the equipment I needed to balance.
This year with my Kickstarter fund I am hoping to buy an inflatable board to make traveling through the brush a bit more practical.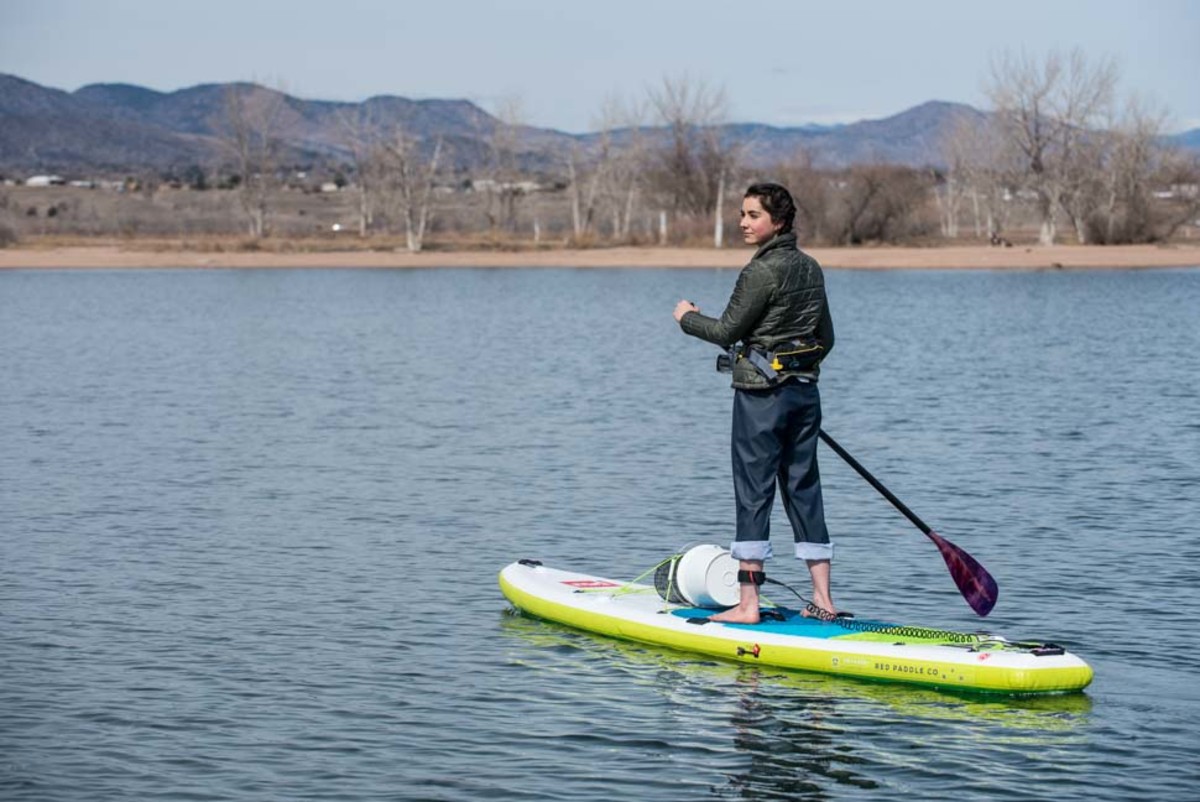 What is the "pie in the sky" goal for your work?
We don't really know what is causing the color change from red to black (in male sticklebacks). But, most likely it is because their homes are being altered. Waters are getting murkier because of contamination, and red is not so flashy in waters that aren't clear. If these fish can't mate, their populations may crash. My work will contribute to conservation efforts, and will help us understand how humans are affecting these fish.
Visit Clara Jenck's Kickstarter page to help support her cause. 
Follow Clara Jenck on Instagram, connect with her on Twitter @ClaraJenck or visit her website.
The article was originally published on Standup Paddling
For access to exclusive gear videos, celebrity interviews, and more, subscribe on YouTube!