You'd have to be of a certain age to remember a series of compilation CDs in the 1990s called "M.O.M. Music for our Mother Ocean" that benefited the Surfrider Foundation. (But, I guess at this point, you'd have to be a certain age to even remember CDs.)
The comps were an important melding of surf and music, especially notable for the groundbreaking artists involved. The first one alone featured huge bands like Pearl Jam, the Beastie Boys, Soundgarden, and Blink-182. There were punk bands that served as the soundtrack to the movies of the time and classic surf guitarists, plus artists who surfed and/or really cared about the health of the ocean like Pennywise, Jane's Addiction and Ben Harper.
If you remember those in SURFER Magazine or coming with your Surfrider membership, you may be interested to know that on September 29-30, a festival in that same spirit will unfold on the beach of Asbury Park, New Jersey called Sea.Hear.Now.
It'll be music, surfing, and art, on a scale never before done on the East Coast. And one of the masterminds, Asbury Park promoter/shaker/mover Timmy Donnelly, was instrumental in putting out those MOM CDs back in the day. He helped put the event together with Danny Clinch, New Jersey's storied rock and roll photographer who has a deep relationship with the ocean of his own and music industry veteran/surfer HM Wollman.
The festival promises to be a banger with headliners Ben Harper and the Innocent Criminals, Blondie, Incubus, Jack Johnson and Social Distortion. But being right on the beach it will also feature pro surf expression sessions with the Mid-Atlantic's best surfers like Sam Hammer and Balaram Stack, as well as a list of very cool waveriders from California.
It's also just about the best time of year in New Jersey. So if you're planning on heading out to the festivities, here are some tips.
How to Get There
This festival is putting a huge emphasis on sustainability. Noting that transportation to and from festivals is the main source of carbon emissions, they are encouraging carpooling and public transportation. That's not a bad idea since parking in the city is famously awful.
The most obvious way to arrive in Asbury via public transportation would be NJ Transit's North Jersey Coast Line. You can get it from NYC, points in North Jersey, any Monmouth County beach town or Newark Airport. It drops you right in Asbury, 1.5 miles from the festival. You can even check a surfboard or a bike. (Once there, Lyfts and Ubers are everywhere.)
Where to Get Waves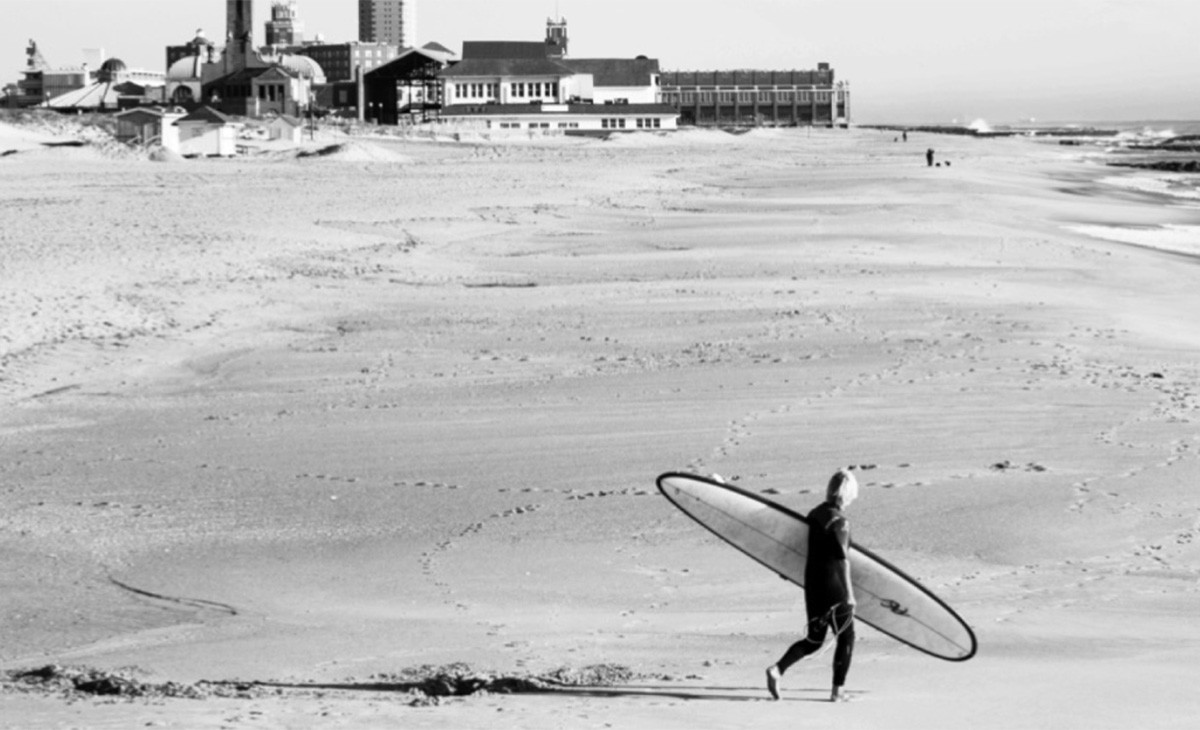 September is a coveted month on the New Jersey surf calendar. Most of the crowds are gone, the water temps are still summer-like, fall weather brings an increased chance of swell and it's the height of hurricane season. Even if the weekend doesn't bring a full-on pumping swell, you're still likely to score some fun cruiser waves.
Surf one of Asbury's five jetties or if those beaches get chaotic with the festival, go hunting around the nearby towns.
Belmar has a long surfing history. Monmouth County does best on south or southeast swell with west to southwest winds. You may need a top or springsuit, but nothing more than a 3mm.
What to Eat
This will not be one of those festivals where you get stuck eating heated frozen pizza. The festival itself will have the best restaurants and food trucks from the New Jersey coast and NYC slinging delicious dumplings, BBQ, tacos, poke, arancini, acai bowls, raw clams and oysters and pizza (but the good, Jersey kind) from spots like Hoatitos, Ocean Organics, Try Vegan, Betty's Ice Box, Play Bowls, Surf Taco, Mud City Crab House, and Shore Shake. While you're about town, Asbury is alive with exciting eateries from the boardwalk to Cookman Ave.
Where to Shack Up
If you're in town for a few days, you'll likely need a place to lay your head. The most affordable spot in Asbury is the Oceanic Inn, which is straight out of 1978 (not intentionally) and will fill up for sure. The ultra-hip Asbury Hotel and Berkeley Hotels are both sold out already.
There are a lot of newsish generic chain places in Neptune just inland from Asbury Park and no lack of options on Airbnb or VRBO. Another cool idea is to check out many of the Victorian-style bed and breakfasts in Asbury and the surrounding areas.
What to Check Out
As if watching funk, soul, reggae and punk isn't enough, there's no shortage of other cool stuff to check out – most notably the Danny Clinch Transparent Gallery Pop Up, which will feature much of Clinch's intimate photography as well as visual art created by many of the artists playing the festival. The Shaper's Alley will put a bunch of East Coast surfboard builders on display, as they turn foam into surfcraft.
Who to See
Clearly folks will be there for the headliners (The fest has each day's lineup on their site), and the artist roster is very eclectic and international.
As far as legacy acts, check out the English Beat, who helped create British two-tone ska back in 1979. The Preservation Hall Jazz Band originated in New Orlean's French Quarter in the 1960s and is known for their live sets. Even if their live shows aren't what they used to be, Orange County's Social D was a staple on surf movie soundtracks in the 90s.
Then, there's My Morning Jacket's Carl Broemel playing on Saturday and super fun Philly punks, the Menzingers on Sunday. Everyone will like something on this bill and there's plenty of opportunity to discover new bands as well.
How to Score Tickets
Tickets are, of course, for sale on the festival's site. This isn't a cheap date but you're getting a lot of bang for your buck. You can only buy admission for the entire festival (no dailies) and with the ticketing company's cut, it comes out to $130. Or you can get tickets at the Paramount Theatre Box Office in Asbury Park, which is well worth it, especially since the service charge is per ticket. A two-day VIP ticket (elevated viewing areas, lounge, complimentary snacks, unlimited re-entry) is around $412 (that includes over 25 performances, many of them A-listers).
Insider Tip: Don't have that kind of cash? Well, Sea.Hear.Now has an Ambassador Program. You sign up if you can get five friends to buy tix, yours is free. Get 17 friends and you get a VIP.
For access to exclusive gear videos, celebrity interviews, and more, subscribe on YouTube!