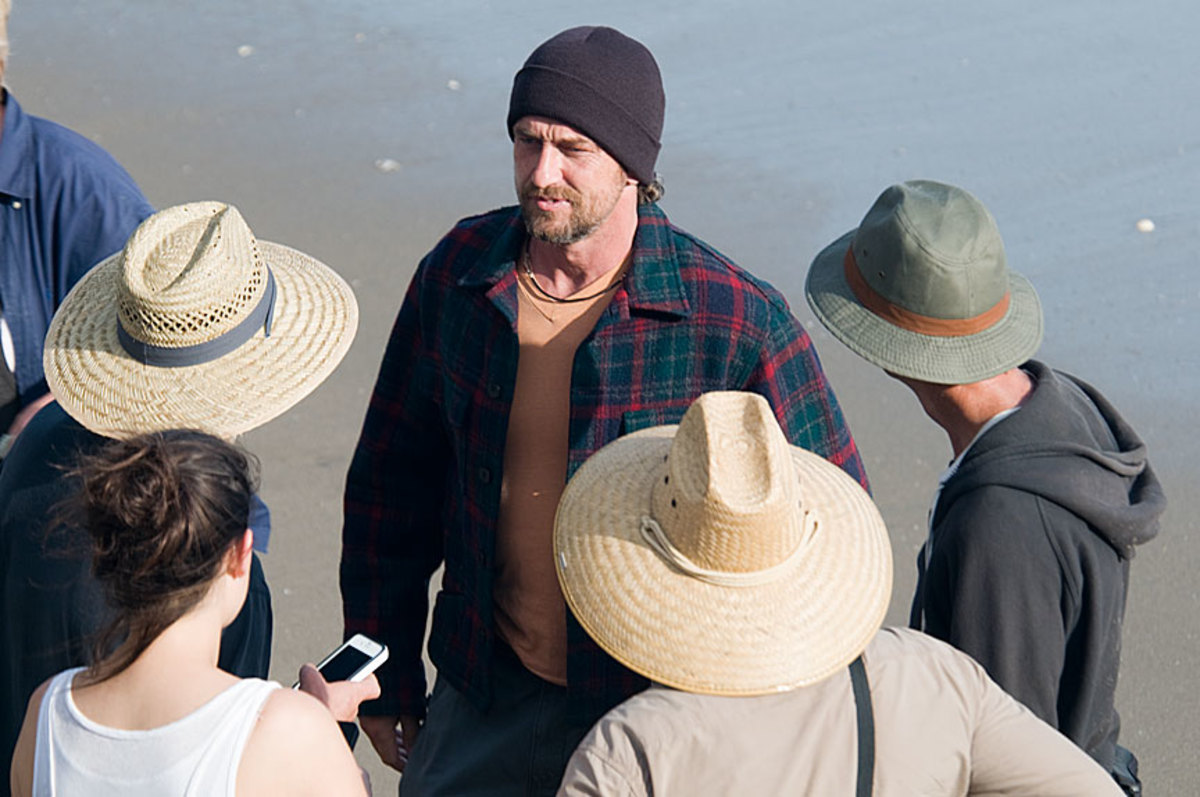 They're two of the more popular, accomplished and successful film artists in Hollywood.
Gerard Butler has starred in such hits as 300, RocknRolla and Machine Gun Preacher, while you probably know Michelle Monaghan best from her role in the amazingly great TV show True Detective and movies including The Heartbreak Kid and Gone Baby Gone.
With the exception of the film Chasing Mavericks, a surf movie Butler starred in about the late Jay Moriarity and his mentor, Richard "Frosty" Hesson, you wouldn't necessarily associate the two actors with surfing, however.
Butler officially entrenched himself into the surf scene while filming Chasing Mavericks. Butler was taught to surf by Hesson himself while earning the respect of his professional surfing costars, including current Big Wave World Tour Champion Greg Long, who acted alongside Butler in the film.
Monaghan is more of an enigma when it comes to surfing. Based off online research, I really didn't know what to expect when asking Monaghan about her surfing background. And I was intrigued in doing so.
I recently caught up with the film artists at a press event in San Francisco and got to ask them about (what's apparently) a very strong passion of theirs: Surfing.
You played Richard "Frosty" Hesson, who was Jay Moriarity's mentor, in the movie Chasing Mavericks. Your physique was a little leaner than usual for the film, and your hair was lighter. What was it like making the movie and what was it about?
Butler: It's the story of these two characters. You know, I mean Jay Moriarity met Frosty when he was very young, when he was like seven years old. He inspired him. They lived next door to each other. He was his hero. And he went to him as a 15-year-old and said, "Buddy, I want to surf big waves. And I want to surf Mavericks."
And Frosty said, "Get out of here. You're kidding yourself. You know you're nuts?"
And he kept coming at him. And Frosty saw this kind of incredible kid.  For me, what I loved about it is, not being a surfer myself, but having a huge respect for surfing and the surf world, this was a movie that went deep into surfing. And kind of says, "You need to be pretty special to be a surfer in the first place."
Then, to be a great surfer requires something more, but to be a big wave surfer requires even more than that. And it kind of went into the philosophy, and the spiritual side, and the emotional side, and what these two brought out of each other as well.  How they affected each other's lives in that Jay went on to, in a lot of ways, inspire the surfing world. And not even for its success, but in some ways for its failure, for his big wipeout that day that kind of changed the history of Mavericks.
You're talking about "the cross."
Butler: Yeah, the cross!
From my personal experience, every time Jay's name is mentioned to Frosty, he instantly tears up and gets emotional. Did you work with Frosty closely to get the role down?
Butler: Totally! I hung out with Frosty a lot. I went up to Santa Cruz to see him a couple of times, and stayed with him. He was down in L.A. a couple of times. We went away for few days somewhere else to surf. He taught me to surf, which is amazing!
Being taught by the guy you're playing in the movie is pretty exceptional. I always asked him questions about Jay, and his relationship with Jay. I would've been anywhere, having just read the script and being so fascinated by the story. I was so excited to be involved in that project.
How were the lessons? And how is your surfing now? Because where you're from, Scotland, there's actually surf there too. They even had surf contests there.
Butler: There's great surf there. But the water's cold. (laughs) Although, by the way, I don't know if you've ever seen that short film called the Dark Side of the Lens. A six minute short film about surfing in Ireland. This kid, this artist who surfs. It's amazing. You just watch this and go, "I want to go surfing in Britain. Off the coast of Ireland. Or off the coast of Scotland."
It's stunning cinematography and everything.
But my surfing's going not bad! I mean, obviously I'm not going to be exactly a Frosty or a Jay, but I've really stuck in there. I gave up a summer and moved to Malibu and surfed as much as I could. And I think, you know, I should be able to pull off a few things that I did in the movie.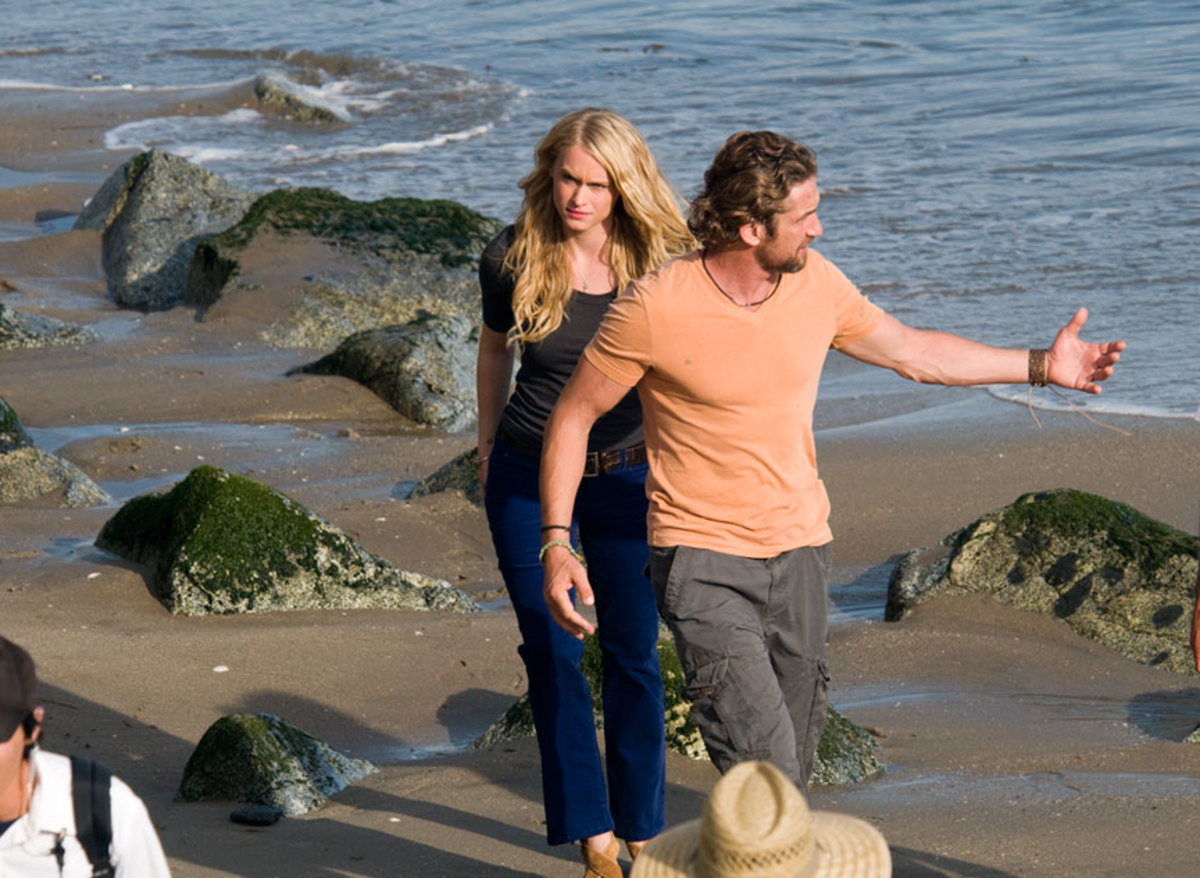 Michelle, you're from the Midwest.
Monaghan: I am.
Have you gotten the chance to do something similar to Gerard? To get in the water?
Monaghan: Yeah! My husband's a big surfer. He taught me how to surf. I'm not a great surfer, but I can get up.
Where do you like to go surf?
Monaghan: We go to Malibu. We go down to Newport (Beach). We went to Costa Rica a few times.
You two starred in Machine Gun Preacher together. Did you hit the water together while filming that movie?
Monaghan: No. (laughs)
Butler: I love that you said, "Hitting the water." (laughs) That's what happens when you don't know what you're doing and you go surfing! (laughs)
Monaghan: Exactly. Exactly. Man down.
More from GrindTV
Finding your route at the rock climbing gym
SKATEmoji is exactly what it sounds like
The best gear for camping at a music festival
For access to exclusive gear videos, celebrity interviews, and more, subscribe on YouTube!