If you had to choose one word to describe 69-year-old Polish ocean paddler Aleksander Doba, it would be irrepressible. A compact man with an enormous beard and boundless enthusiasm, he has twice crossed the Atlantic Ocean in a heavily modified kayak he calls 'Olo.' His first crossing from Senegal to Brazil was the longest ocean kayak journey ever, lasting 99 days. His second, from Lisbon, Portugal, to New Smyrna Beach, Florida, totalled 167 days at sea, with a short layover in Bermuda to repair a broken rudder. For 47 of those days, he had no communication with the outside world.
Doba is also an avid river paddler and former whitewater slalom champion. In conventional sea kayaks, he has circumnavigated Lake Baikal and the Baltic Sea, and once paddled 3,336 miles from his home in Poland to central Norway. He is best known, of course, for his Sisyphean ocean crossings, in which storms and contrary currents pushed his tiny yellow craft backward time and again, until the track of his progress resembled a series of loops drawn by a child.
Through it all Doba — 64 during his first voyage, 66 on his second — just kept paddling. He never doubted himself, never allowed hardship to cloud his enjoyment of the journey. And though he played coy for a time, he never wavered from his original goal of a third Atlantic crossing, this time from New York to continental Europe. He departs May 29 from Liberty Island.
This is the unabridged transcript of our August 2014 interview with Doba, conducted by C&K editor Jeff Moag with contemporaneous translation by Piotr Chmielinski. Agniezska Meller transcribed and translated the interview from Polish. This interview was the source for our Unfiltered profile of Doba in the Spring 2016 issue of Canoe & Kayak.
Aleksander Doba: Hello, I am Aleksander Doba, but my friends and other people call me Olek. The shortest version of my name is Olo, which is also the name of my special kayak that I have paddled across the Atlantic Ocean twice.
Canoe & Kayak: We'll talk about the Atlantic crossing in a moment, but first tell us about your earlier kayaking adventures.
In the year 1980 I was almost 34 years old when for the first in my life I joined a canoeing expedition on the Polish river of Drawa. Head over heels, I fell in love with kayaks. On this first canoeing trip we paddled in large, two-people-size kayaks, fully equipped with a tent and sleeping bags. It was also then when I experienced my first capsizing. But, again, I fell for kayaks. That was my beginning at the rather late age of 34.
In 1991, as the first Polish kayaker, I paddled along the Baltic seashore from the town of Police, where I live, to the borders of Soviet Union. Before that year, paddling kayaks on the Baltic had been prohibited. So when they opened the borders, I hit the waters. I really enjoyed paddling on the sea. In 1999, I made it all the way along the Baltic's coastline. In 2000, I made another wonderful journey, to the Norwegian harbor of Narwik. And in 2004, I tried to challenge the Atlantic. It wasn't my idea but of Pawel Napierala, who had me join his attempt to cross the Atlantic in classic sea kayaks. But our expedition failed and didn't achieve its mission. Not well prepared, we were taken by a surprise and ended up paddling for only 42 hours on the Atlantic. Then, in 2009, it was me who started dwelling on the idea: "It must be possible to safely paddle across the ocean!"
Many years ago I worked as a designer at the Polish chemical plant called Police, so now, I was able to sketch myself a drawing of a customized kayak that would safely take me across the Atlantic Ocean. After I made a sketch, I started looking for someone to build it. That's how I found Andrzej Arminski, a world-acclaimed sailor himself, as well as an ocean-class yacht builder. After a few hours into our discussion, I talked him into the idea that we should embark on this unique project together: that we should design and build a kayak that would be safe to paddle across the Atlantic. In the following few months, we had three young designers drawing its construction. Then, they worked on it and even hand-finished our kayak. After a year, we finally launched the kayak for its first water tests on Bay of Szczecin, a reservoir located not far from my neighborhood. The kayak failed the tests. We had it sent back to the shipyard for the modifications needed. After another few months, the kayak was finally ready. And thus, on October the 26th 2010, I started paddling from Dakar, the capitol of Senegal in Africa, and after 99 days – happy and safe – I reached the coastline of South America, I reached the city of Acarau in Brazil. It was a wonderful journey. 99 days and nights on the ocean, between Africa and South America.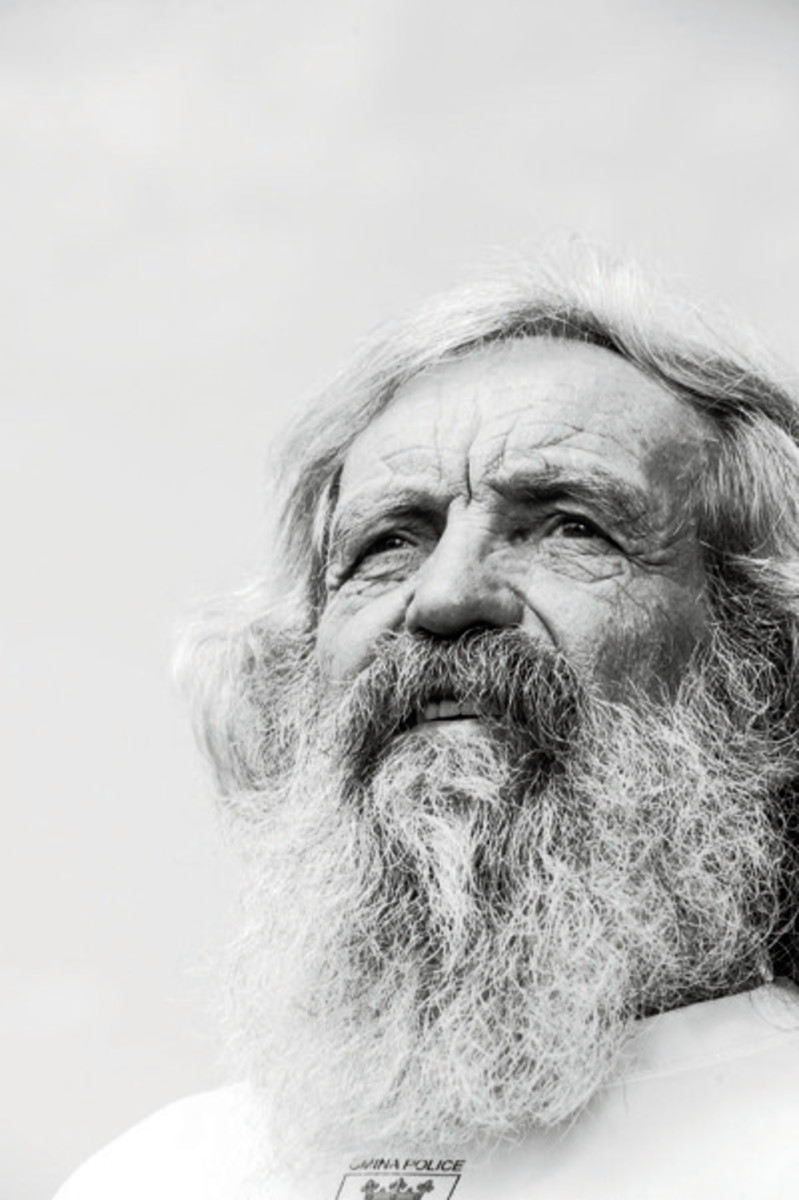 But, already, I craved for more adventures. I wanted to paddle across other continents, through the widest strip of the Atlantic which spreads between Europe and North America. And thus, on October 5th, 2013, I started paddling from Lisbon, the capitol of Portugal, with a plan to reach New Smyrna Beach on Florida. My plan was to complete this journey in a few months. Today, I am happy to report that my mission has been achieved. There was just one change of the schedule, as meantime I had to stop on Bermuda. This unexpected layover was the result of the fact that in the fifth storm that I encountered my rudder broke. Bermuda was the closest piece of land where I could have it fixed. On Bermuda I had my kayak repaired and then transported over 300 nautical miles south. My friend from the U.S., Piotr Chmielinski, a true guardian angle of my journey, helped me a lot back then: he was tracing my movements, setting up press interviews with Polish journalists. What a fascinating encounter that was when, after a few lonely months on the ocean, I met those first people. I could shake their hands, talk to them… Then, as a result of a support campaign arranged by Piotr, some good people from Bermuda helped me. Especially Jim Butterfield, who financed the trip of the three-masted sloop Spirit of Bermuda to sail over 300 nautical miles south to put me and my kayak back on my original route, back on track, back on my interrupted seaway.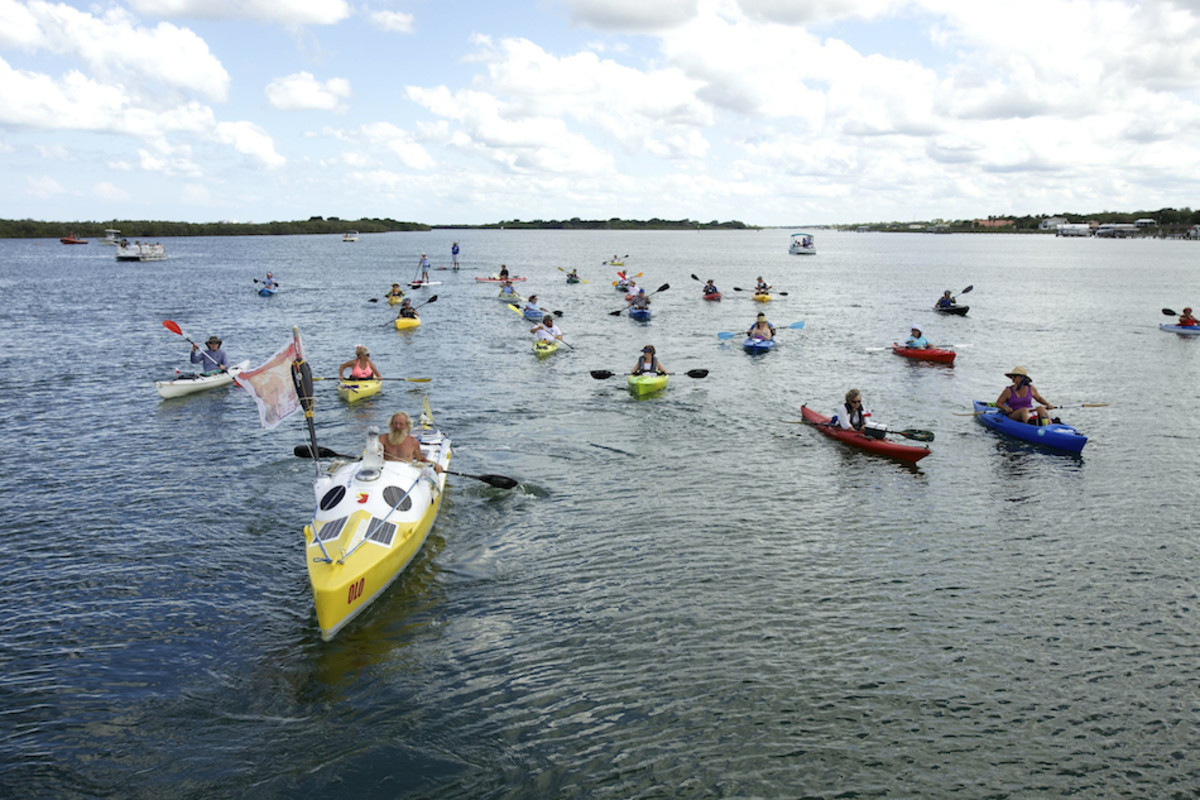 Now, I could continue my excursion. Although, there was a moment of huge shock before I resumed my journey. When we were reloading my kayak from Spirit of Bermuda and launching it back into the ocean, something surprising happened. My kayak had safeguard bows installed on top that were supposed to prevent it from capsizing. And now, when we were launching my kayak, they broke. I had not wanted those bows anyway for a long time before I even started paddling, but I couldn't convince kayak producer to have them cut a little. And now, it just happened by chance, which left everybody speechless. My shock was the shortest, as just after a few seconds I thought to myself: Finally I have my kayak made the way I've always wanted. With such a modification, without those bows, I made it happily to Cape Canaveral on Florida from where I paddled to New Smyrna Beach where I was welcomed by a cheering crowd, as well as the Mayor of the town.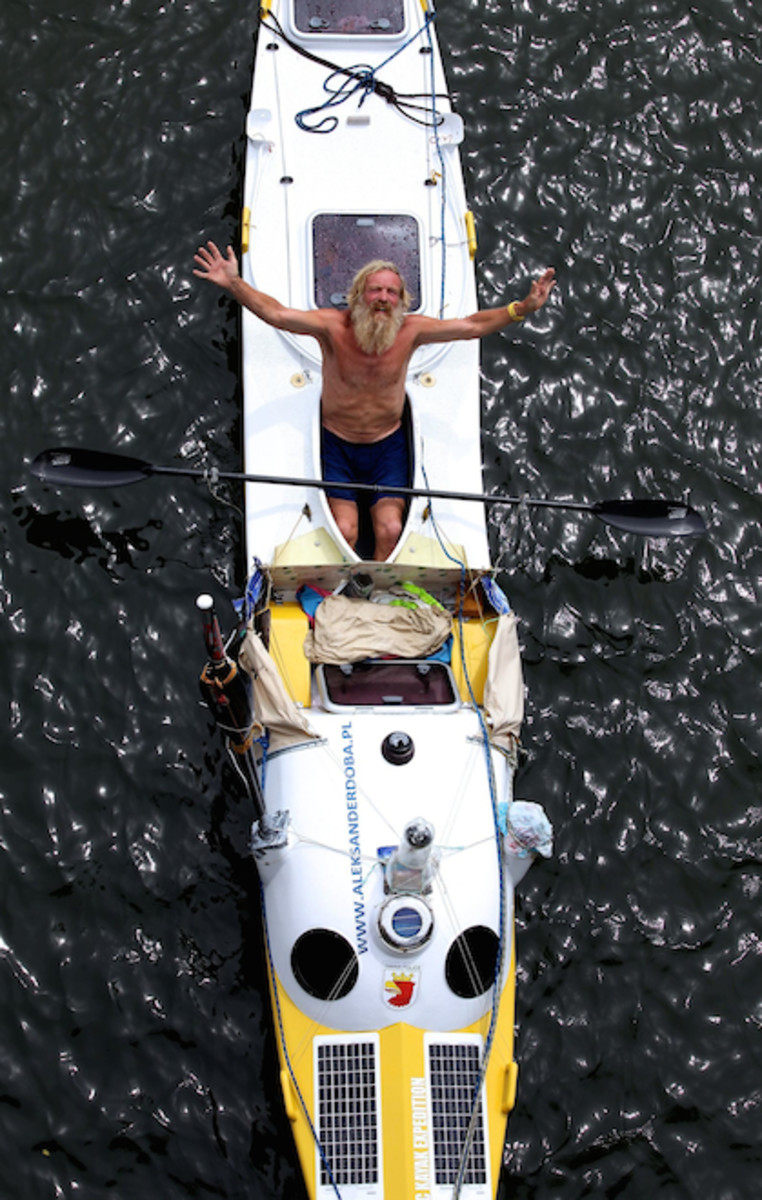 That was your second crossing. Tell us about your first, from Africa to Brazil.
I took off from Dakar, the capitol of Senegal in West Africa. I was expected to make it to Fortaleza in Brazil in South America. I was supposed to paddle through doldrums zone – Intertropical Convergence Zone. There shouldn't be any ocean storms or hurricanes on my route there. What I encountered though, were some 50 tropical storms battering me with a powerful capacity. The storms were gathered in family-groups, and each group lasted for a few hours, the longest one for 7 hours. While it was happening, the waves would elevate to a really high level, and the wind would blow with the ocean's storm power, even to 7 meters (23 feet). A huge fun! After the storms were gone, the waters were quiet again, the waters went back to normal. But I did have my struggle there with North Tropical counter-current. That was a huge confrontation and the hell of a problem. But I overcame it.
Did you ever doubt that you'd make it?
No, I never doubted that I would reach the shores of Brazil. I always believed that I would manage to achieve my final goal despite all the challenges emerging on my way. But of course, while struggling with counter-winds and counter-currents pushing me back, I wasn't happy at all that they occurred on my way, turning me around and back and forth. I had three such traps that after a week or so I was still stuck in the same location, unable to move forward. But then, after it was gone, I would just double my efforts to free myself and paddle off this dead zone. Finally, I would always manage to get myself out. I didn't doubt I would make it, not a single time.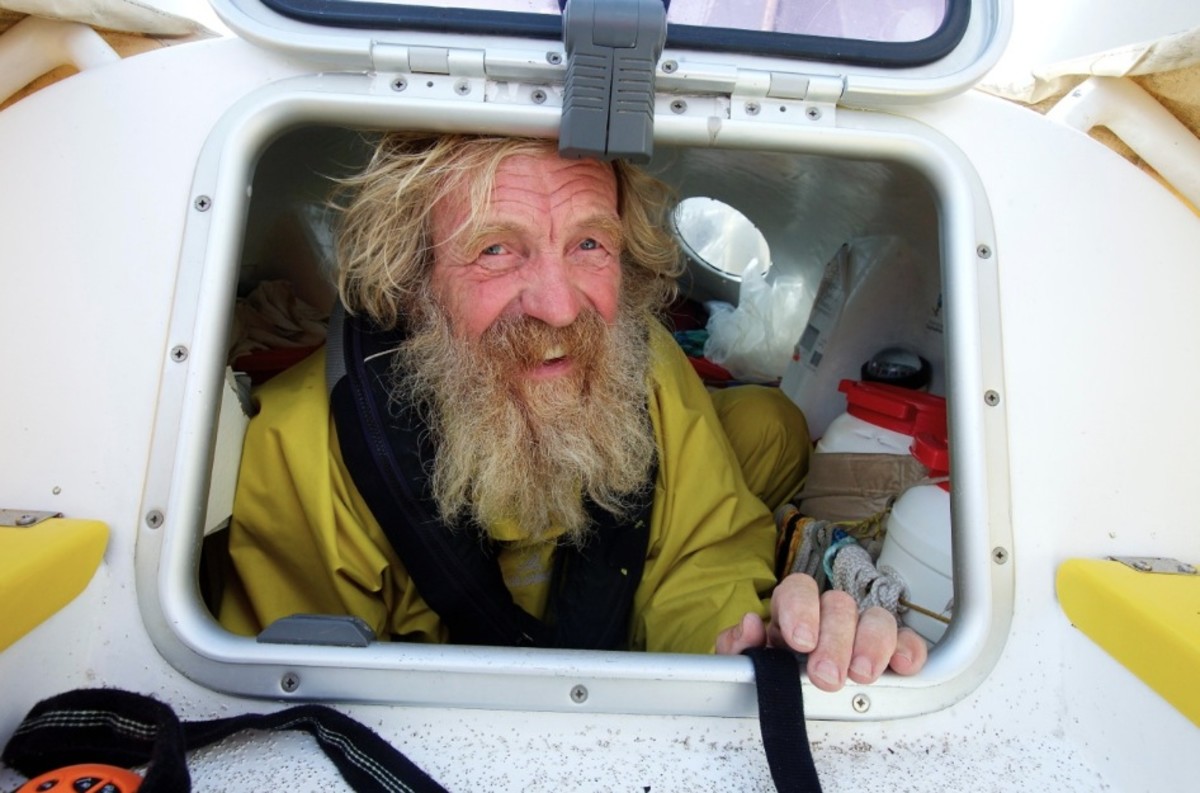 Crossing the Atlantic was your goal, and you achieved it. Why in the world would you do it again?
Why, after having spent 99 days and nights on the ocean, would I even think of returning back on the Atlantic? Well, it was a fascinating, appealing, passionate journey. It brought me multiple excitements and wonderful experiences. Such a close relation and the beauty of mighty nature . . . Watching the storms approaching, moments before it will embrace me . . . This amazing silence, just before a storm hit . . . This powerful energy pulsing . . . And then, struggling with the heart of nature, the isolation. These were the experiences that filled me to the core with profound emotions. So, even before I reached Brazil, while still on the ocean, I already craved for another expedition across Atlantic. Unsettled, never considering to quit, I had this growing appetite for even more excitement. It became obvious to me that I already should start planning next cross-Atlantic journey.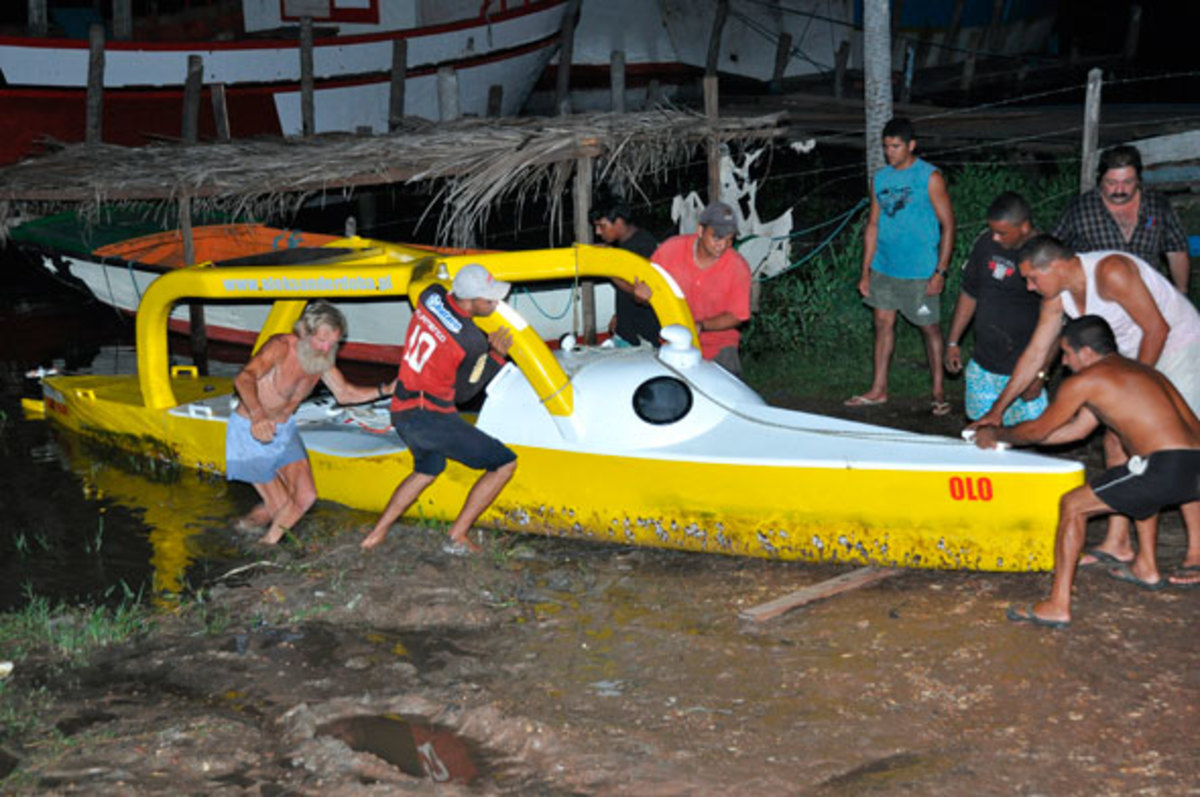 How did you convince your wife to let you go again?
I haven't convinced her. Before both my first, as well as my second expeditions, to the very last moment she opposed the whole idea. She tried hard to sabotage it all, trying to have me drop my plan. Both times I left without having her pre-expedition approval. But then, ever since I hit the road, she would always have my back, she would always support me.
During my second expedition, I experienced 47 days without any access to any communication. I wasn't able to exchange any information with the outside world. Due to the failure of the communication system, I was simply out of reach. I had no idea what was happening outside my kayak.
How did I feel? I didn't feel comfortable at all. Aware of the source of the problem [Ed. Note: Doba's satellite phone service was terminated because his support staff did not pay the bill. Doba recognized the oversight, but his support team thought his phone had failed], a minor issue that should be resolved quickly within a couple of days, I felt really frustrated. I knew it wasn't anything serious. I knew that I didn't experience any major system failure in both of my phones. But I also don't want to give it too much of a thought and analysis, not to pull down people in Poland who were in charge of a check-up and didn't check it properly. Well, a story long gone, so there is no need for me to dwell on this extinct problem that was finally solved. But yes, back then I didn't feel too happy in this situation. Had it been anything serious, I would have understood. But it was such a minor issue that propelled this complication. That was the most disappointing factor.
You activated the 'help' button on your Spot device. Tell us about that decision.
On December the 20th I suddenly noticed that my phone balance was to be overdue. I could not send any more information over: neither a text, nor a phone call. After 3 days, I decided to try to motivate the Polish management in charge of my expedition, to try to let them know that I was having a communication problem. First, I read the Spot's device manual guide-book, to make myself familiar with the meaning of the signals. Then, I transmitted the signal: "Please help me resolve the problem". In shortcut: "Help". It wasn't the SOS signal. I sent it early in the morning two days before Christmas, on purpose, to allow some additional time-frame for my phone to be recharged. After I sent five "Help" signals, I sent "Cancel-Help" signal, trying to call it off. And then I realized, to my regret, that it was misread as an SOS signal. A rescue operation had already been launched. At the end of the day, a huge Greek tanker that was passing nearby approached me. I sent them "OK" signal – that I and my kayak were okay, that just a phone was not okay. And this news finally made it into the outside world. The whole action was an overreaction and misunderstanding.
When storms pushed you off course or backwards – and you encountered eight of them in succession I believe – how did you cope emotionally with this challenge?
Did all those storms, and altogether I encountered 8 of them, ever discourage, dispirit or daunt me to the point I wanted to quit? What was my emotional attitude? Did they ever made me think I should give up? Not even once. Driven by positive emotions, I knew that storms would come and go, temporarily just slowing down my progress, but it only filled me with more energy to overcome obstacles. As soon as I could resume my way in the right direction, I was ready to go. I knew that during those few months I would most certainly confront bad weather conditions, so I was prepared and ready for it all. How could have storms surprised me! I knew I would meet them on my way, I expected them. I was more interested in the way my kayak would respond to these conditions. I felt safe. Not even once did I feel my life threatened. I trusted my kayak. If my kayak could survive it, so could I. And after each storm, with the increased energy and my efforts doubled I was embarking into the right direction.
Even when your rudder broke during the fifth storm?
This kayak, constructed with one goal only – to safely paddle across the Atlantic Ocean – was big. I was supposed to be paddling for 6 months, so I had to carry with me complete food supply for this entire time. So, taking into account kayak's volume and weight – it weighted 1100 lb – it was tough, laborious and demanding enough for me to drive and to steer it under normal ocean conditions. Without using a rudder it became way harder. It wouldn't be possible for me to continue my expedition without a rudder, especially with the prospect of being thrown in the midst of hostile winds in the Bermuda Triangle. That's way it was necessary for me to have it repaired on the closest piece of land. So I sent a message: "Repair on land necessary, unless a ship will reach me to weld broken rudder on the location." The decision for me to paddle over 300 nautical miles to the most nearby land, which was Bermuda, was being consulted both with Andrzej Arminski and with Piotr Chmielinski. It was almost immediate. I didn't dwell on it. I just had to get to the land to have the defect fixed. Of course, this flaw didn't make me happy, as it modified my schedule. But I was trying hard to make it. Today I am proud of this success: I succeeded, I reached Bermuda to have my rudder repaired.
How did you feel when, after so much time and effort, you finally reached Florida?
How did I feel deep down completing my expedition, after having persevered for so long, when I was reaching the shore of New Smyrna Beach on Florida? I knew in advance that there would be cheering crowds welcoming me. I started paddling from Cape Canaveral the morning of the previous day. Trying to arrive on time for the festivities that were planned to welcome me, I was paddling without any break for 30 hours non-stop. I hoped I would get some rest at night, but I didn't. The following day, being late for about an hour and half, I reached New Smyrna Beach. The crowd's joy, cheerfulness, happiness… There was a live-band playing music. Squadron of kayakers paddled to greet me on the water. This reception just filled my heart with joy. Their happiness became my happiness, and all the physical exhaustion I felt vanished at once. Then, I made a symbolic gesture: after I put my foot on the ground, I kissed the American soil. But I was also wearing a t-shirt with "Poland" sign, to make it clear I am from Poland. That was an absolutely amazing experience. For this moment it was worth all the sweat. It was worth to challenge the Atlantic Ocean.
So you've crossed the Atlantic twice in a kayak. What's next?
What's the next challenge for me at the age of 68, what's the new adventure, what are my next steps? Especially after I established the longest open-water solo kayak crossing of the Atlantic Ocean in history? Following an advice by of a friend of mine, Piotr Chmielinski, I try to avoid such questions and focus on my current and previous achievements. So, not going too far into the future, I plan to paddle along some striking rivers, as it is my cherished activity. As for the further-and-broader-going-ocean-plans, my wife is the first one to never let me speak of them again. But, shall I reveal a bit: after completing my journey I submitted some 60 issues to be improved in the kayak to Andrzej Arminski. My kayak turned out not to be perfect. So the question arises: why shall we be even modifying and improving the kayak, if it has achieved its mission? In what purpose? That's all what I have to say for now, and thank you.
The first plan. My expedition across Atlantic was supposed to consist of three stages. The first one, from Africa to South America. The second one, from South America to North America. And the third one, from North America to Europe. That was my initial plan. [Ed Note: The interview was conducted in August, 2014, before Doba had formally announced his intention to cross the Atlantic a third time, from New York to Lisbon. He begins that trip on May 29, 2016 at the age of 69.]
What is your daily routine at sea?
What did my daily routine look like? I'd change this question into how my 24-hour cycle looked like. I paddled day and night, so days and nights were strictly connected. That was my cycle. Most of the time I paddled when it wasn't that hot at night, and I was running short on my sleep time. Very often during daytime it was simply too hot. It happened to me a few times that I forced myself to paddle despite the heat in daytime, and ended up almost having a sunstroke. I almost collapsed, unconscious. I understood I couldn't let it happen: paddling during daytime was suicidal.
But, my schedule. I'd have my breakfast, one of the three breakfasts to choose from. All of my meals were freeze-dried, so I had to pour water over each dish, boiling water for the best effect. I would take water from the ocean, using manual hydration system, as the electric one went down. After a few minutes of chemical reaction my food was ready. For my main meal, say daily lunch, I had four kind of soups to choose from and a dozen of different main courses. The entire food stockpile had been prepared in Poland and it was qualified to be stored in special packages for a few months with an extended expiration date. Interesting, the following day after I completed my expedition to New Smyrna Beach, I made a presentation during which I served my food samples to the sailors from a club there – food that had been prepared half a year earlier in Poland – and they all confirmed it was still edible and good.
I don't fish but I do eat raw fish, and sometimes even flying fish that would land on my kayak. I will just catch it and eat it, without any cooking. Very fine! Better than sushi. But it must be very fresh. I eat very fresh, flying fish.
To go along with my food, I was able to make myself a cup of coffee. My kayak was equipped with a small gas stove. In my food storage I also carried plenty of sweets: candy, chocolate and cookies. I paddled between 8 and 12 hours daily. I slept in time-windows, in 2-3 hour shifts: some sleep here, some sleep there. And that was the life cycle of my 24 hours.

Do you recall any highlights of your crossings?
You know this gut feeling when you just know, without seeing, that somebody is watching you? So one day, while I was paddling, and the waters around me were all clean and empty to the horizon – no ships, no people – I felt somebody's eyes gazing at me. Who could that be? I looked behind my shoulder, and then I saw it: a huge head, sticking out of the ocean. A head of a whale. The whale swam here, and there, all around my kayak. Its 20-meter long tail was wagging. And then, suddenly, the whale went down and disappeared into the ocean. What a fantastic feeling it was. The power of eyes behind my back that attracted my attention.
That was an incredible moment, but the saying goes: "The end crowns the work". And that was exactly it: the welcoming gathering at New Smyrna Beach was the most wonderful, rewarding feeling of my journey. Because it wasn't only me happy. It was the mutual happiness of mine and of all those people around, the connection we shared. We were all joyful and happy. And all those singing and ecstatic screaming and waving. The end was the best.
—Read more about Doba's plan to cross the Atlantic in a kayak for his third time on C&K.
–See a photo gallery from the completion of Doba's second trans-Atlantic expedition in 2014.
The article was originally published on Canoe & Kayak
For access to exclusive gear videos, celebrity interviews, and more, subscribe on YouTube!