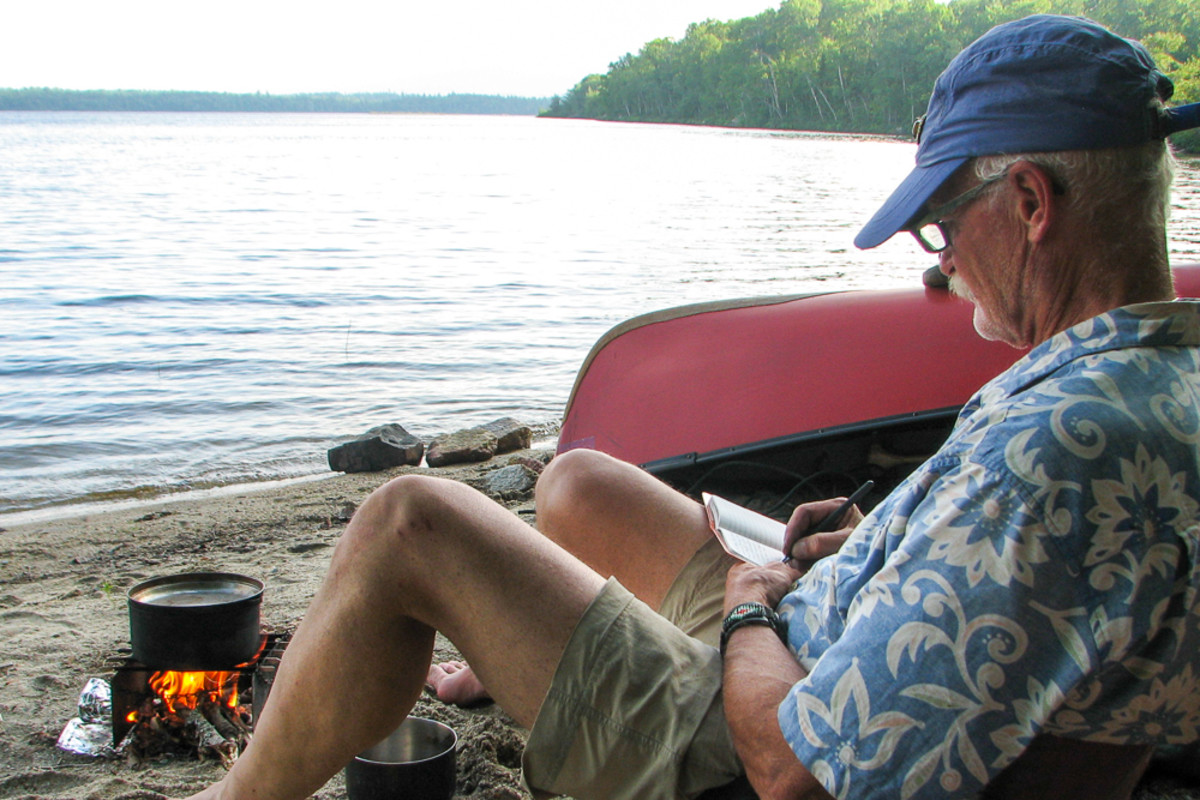 This short course in successful food prep for expeditions comes down to a single phrase: Dry your own!
Pick up a food dehydrator and start experimenting. The upside? Take control of your backcountry diet, ensure variety, save money, and eat like you do at home on the trail. There's nothing worse than being three days in and hearing people pine away for mom's risotto or their favorite pizza joint. That's what tends to happen with expensive, taste-the-same, store-bought camp food or an uninspired menu of packaged mac n' cheese and instant oatmeal.  Sure, you can survive that culinary mediocrity for a long weekend, but week after week, it's a morale swamp and nutritional wasteland.
The only downside to drying is slightly higher electric bills and the time/effort of your labor. All things considered, a minor price to pay, especially if drying food just gets worked into the routine of the day.
I've dried backcountry food for more than thirty years, starting with my first trans-Canada canoe expedition in 1985-86. We dry everything from fruits and veggies to baba ganush and eggs. More and more, we dry entire, pre-cooked meals. We also pre-cook and dry staples from noodles to quinoa to minimize cooking time on the trail. Store it in airtight containers or in the freezer, and food will last months or even years.
Our strategy for backcountry food prep has evolved over the decades.  A few of the important changes:
When we first started, we dried all the basic ingredients – tomato sauce, veggie mix, eggs – separately, took an extensive spice kit, and created meals from lentil stew to spaghetti from scratch. These days we tend to cook meals at home and dry them entire (often the same meals we make in town). In the field we enjoy beet risotto, lamb and spinach over rice, home-cooked spaghetti sauce, venison chili, bean and rice casserole.
We used to take quite a lot of cheese along on trips. These days we hardly take any. It's bulky and heavy and hard to keep fresh. Instead of sliced cheese and salami at lunch we've gone to hummus, baba ganush, powdered peanut butter. I'll throw in a small baggie of shredded parmesan to add to meals for a hint of cheese flavor, and maybe a handful of individual cream cheese tubes for a change of pace, but that's all.
Stores specializing in bulk foods have taken some of the trouble out of drying some tricky foods – diced onions, potatoes, powdered hummus and peanut butter. They often have some pretty edible dried soup in bulk as well.
For meals that need a staple to go with, cook the rice or pasta or quinoa beforehand, dry it, and it comes back in a flash with a little hot water.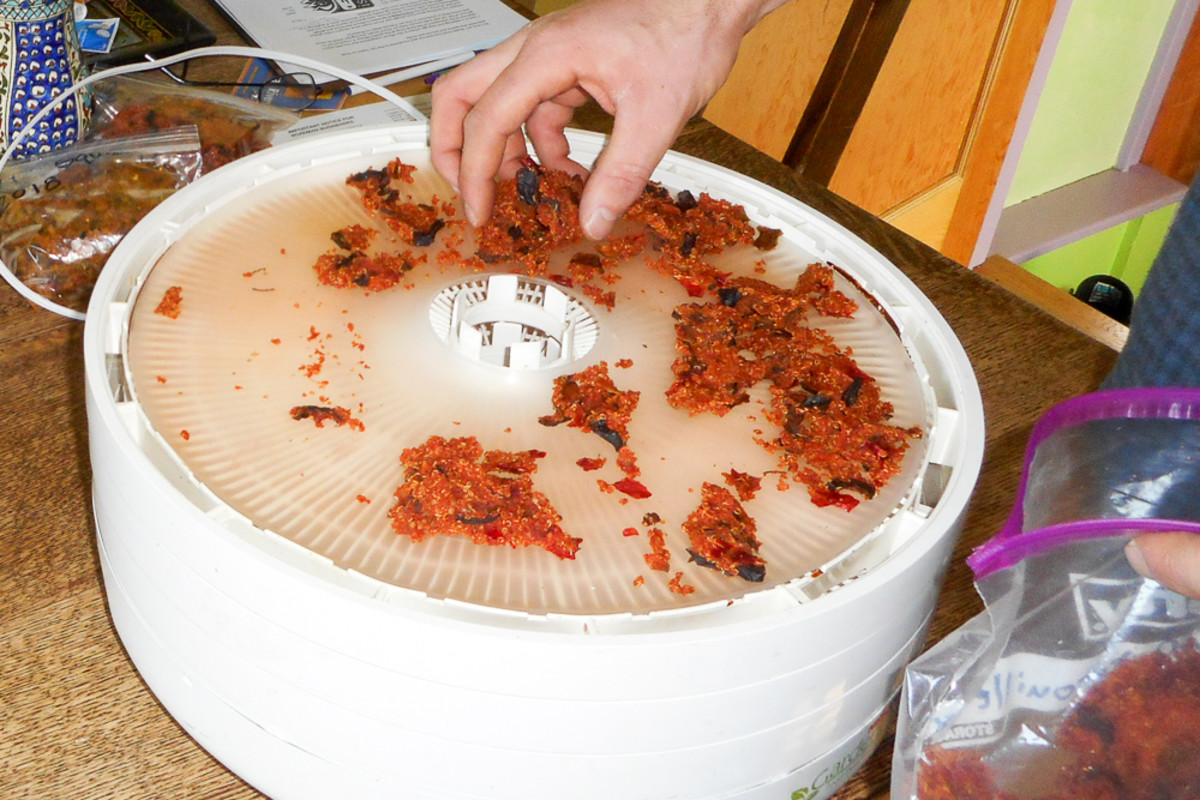 Putting together a menu:
I try to rotate 7-10 dinners so I don't feel like I'm constantly eating the same thing. I dry roughly 3 cups of wet food per 2 people. Our dinners include lentil stew, spaghetti, beet risotto, mushroom stroganoff, cauliflower/rice casserole, spinach and rice with lamb, chili, and so on. Complementary grains and staples run the gamut from polenta to cous-cous, rice to mashed potatoes.
Lunch has several components – a nut/gorp mix, dried fruit (from mangos to bananas), and some sort of cracker/bread with spread. Vary the spreads from pbj to hummus, baba ganush to individual sleeves of cream cheese. We alternate crackers and bannock (unleavened bread cooked on the trail the night before).
Breakfast is usually granola about ½ of the time (homemade is best), hearty hot cereal with nuts and fruit ¼ of the mornings, and a medley of eggs/pancakes/hash browns the final ¼. Add dried fruits like strawberries for color and flavor, some green chilis or salsa or parmesan to eggs or potatoes, as you prefer.
Drinks are pretty personal – ours include plenty of coffee (some of the instant sleeves of coffee, like Starbucks, have been a game changer), teas, Emergen-C drinks, some hot soup packets, and a flask of whiskey for those celebratory occasions.
Snacks/desserts are a nice touch, at least some of the time.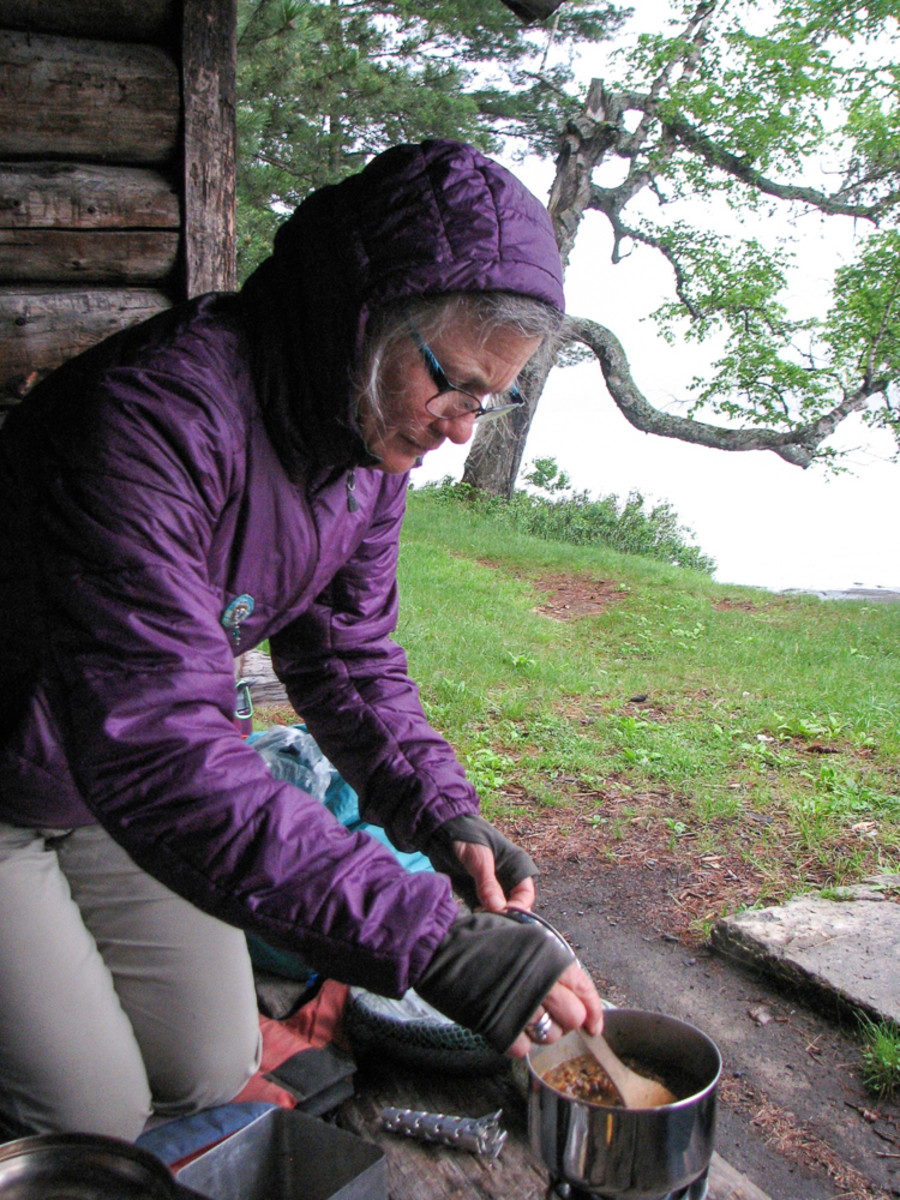 Every trip is different. On some, you cook with wood and can indulge Dutch oven cooking (from wilderness pizza to cinnamon rolls). Some trips are spiced with lots of fresh fish caught along the way. On others you go lightweight, backpack style and concentrate on simple, one-pot recipes with quick-cook times. In all cases, the key to success is drying your own. Trust me. You'll know you're onto something when you've been out three weeks and the food fantasy conversations never started up!
---
Alan Kesselheim's book, Trail Food (McGraw-Hill) is in its third edition and provides all the basics you'll need to start a food-drying program.
MORE EXPEDITION COVERAGE FROM KESSELHEIM:
Expedition Planning 101: Gear Decisions (Part 2)
Expedition Planning 101: Inspiration (Part 1)
Fear and Loathing on Montana's Middle Fork Flathead
Four Wild Paddling Destinations in the Lower 48
FIELD-TESTED GEAR:
Camp Chairs / Headlights / Portage Carts
RELATED:
Learn to Lead a Paddling Expedition
The article was originally published on Canoe & Kayak
For access to exclusive gear videos, celebrity interviews, and more, subscribe on YouTube!