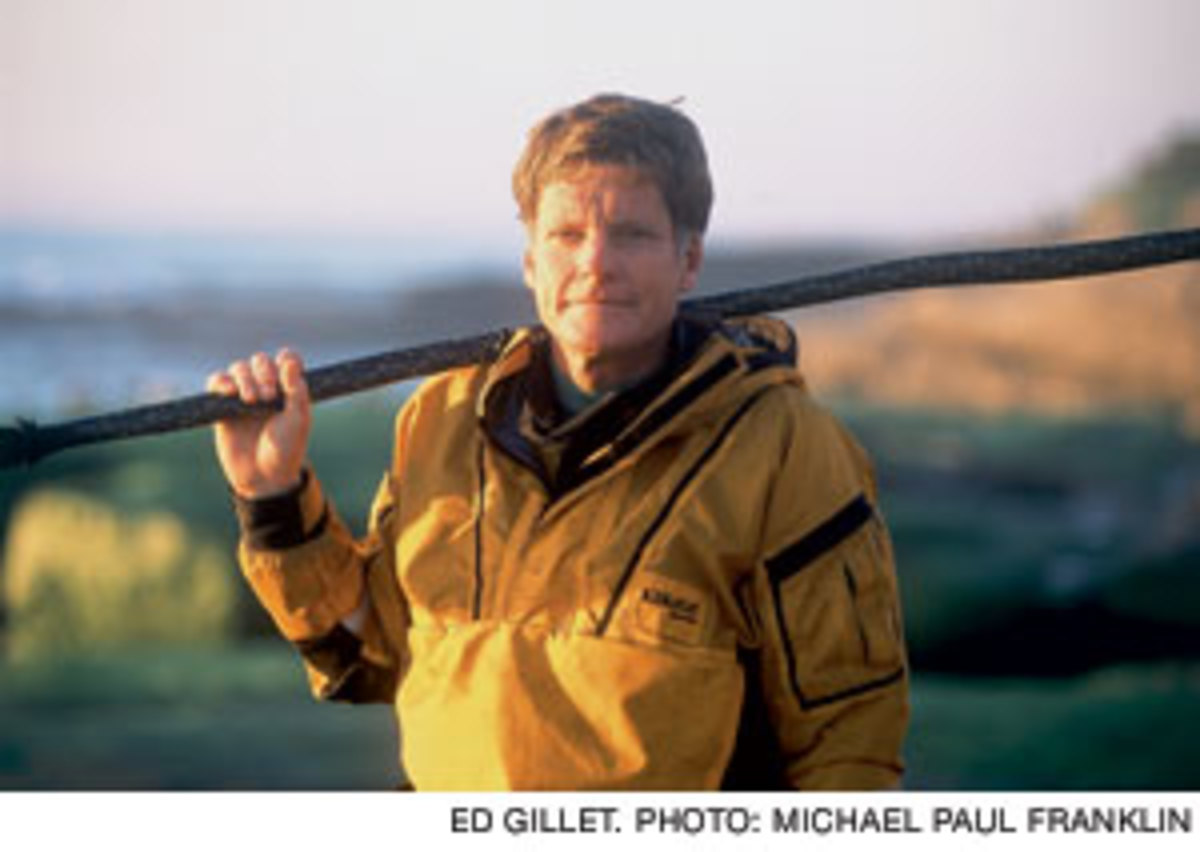 Photograph by Michael Paul Franklin
The recent scuttle about Freya Hoffmeister's historic solo rounding of Australia's
rugged and unforgiving coast, both online and in this magazine, got us thinking:
What earlier exploits compare to hers? It takes a certain type to go solo in the open
ocean. There's no one to suffer with, no one to offer safety, no one to blame. "The
ocean is inscrutable, and kayaks are the smallest craft around," says Jon Turk, a
veteran of forays around Cape Horn and from Japan to Alaska. "Go solo and there's
no safety net. Miss your mark and you'll die." – Eugene Buchanan
Franz Romer and Hannes Lindemann's Atlantic Crossings, 1928,
1956
The Germans set the bar with these two crossings that still reign supreme in sea
kayaking lore. In 1928, Franz Romer paddled from Portugal to Puerto Rico in the
first sea kayak crossing of the Atlantic. The 29-year-old paddled 4,000 miles in 58
days in a modified 21'6″ Klepper, sleeping beneath a homemade sprayskirt
equipped with a breathing tube. Sadly, he was lost at sea after leaving Puerto Rico,
bound for New York. In 1956, Hannes Lindemann took 72 days to paddle a 17'1″
Klepper from the Canary Islands to the Bahamas. Subsisting on evaporated milk,
rainwater, sea life, and beer, he had to eat his way through his supplies before he
could sleep prone. At one point, he spent a day and a half clinging to his capsized
boat.
Paul Caffyn's Australia Circumnavigation, 1981-82
Twenty-eight years before Hoffmeister's solo circumnavigation of Australia, Paul
Caffyn became the first sea kayaker to complete the daunting route. Starting in
December 1981, the Kiwi took 360 days to paddle 9,420 miles around the continent,
starting and ending near Melbourne. Paddling a 17'10" Nordkapp, Caffyn fended off
sharks, cyclones, crocodiles, snakes, surf and the same beach-less stretches of cliffs
that accosted Hoffmeister.
Ed Gillet's California to Hawaii Crossing, 1987
Toothpaste, anyone? That's what helped Ed Gillet stave off hallucinations while
paddling 2,200 miles across the Pacific for 63 days in 1987. Paddling a production
Necky Tofino loaded with 600 pounds of food and gear, he lost his radio shortly
after setting off from Monterey, Calif., ending all communication. After running out
of food his last four days, he devoured his toothpaste before deliriously paddling
onto a Maui beach. "It amazes me that I didn't die," he once told a reporter. "I'm
amazed I was able to withstand that kind of punishment."
Peter Bray's North Atlantic Crossing, 2000
It's a good thing England's Peter Bray is a former British special forces soldier. He
needed those skills on both of his attempts crossing the North Atlantic. Paddling a
self-righting kayak with sleeping compartment, satellite phone, tracking system,
desalinization units and bilge pump – all powered by solar – his cockpit flooded after
launching from St. John's, Newfoundland, in 1999. Then his emergency raft
punctured, leaving him swimming for 32 hours in 36-degree seas. Spending the next
four months re-learning how to walk, he tried again a year later. While storms
pushed him off course and he broke his boat's rudder and hatch, after 76 days he
landed at Belderrig, Ireland for a hard-earned Guinness.
Andrew McAuley, Tasman Sea Crossing, 2007
Not all solo expeditions end on a high note. In 2007, Australia's Andrew McAuley
attempted to paddle across the 1,000-mile Tasman Sea from Tasmania to New
Zealand. Twenty-nine days after he kissed his wife and son goodbye and paddled
toward the eastern horizon, rescue authorities received a garbled emergency radio
message, presumably from McAuley. Searchers found his overturned kayak a day
later, just 50 miles from New Zealand.
This article originally appeared in the July 2010 issue. It was influenced by Canoekayak.com readers who commented here
The article was originally published on Canoe & Kayak
For access to exclusive gear videos, celebrity interviews, and more, subscribe on YouTube!