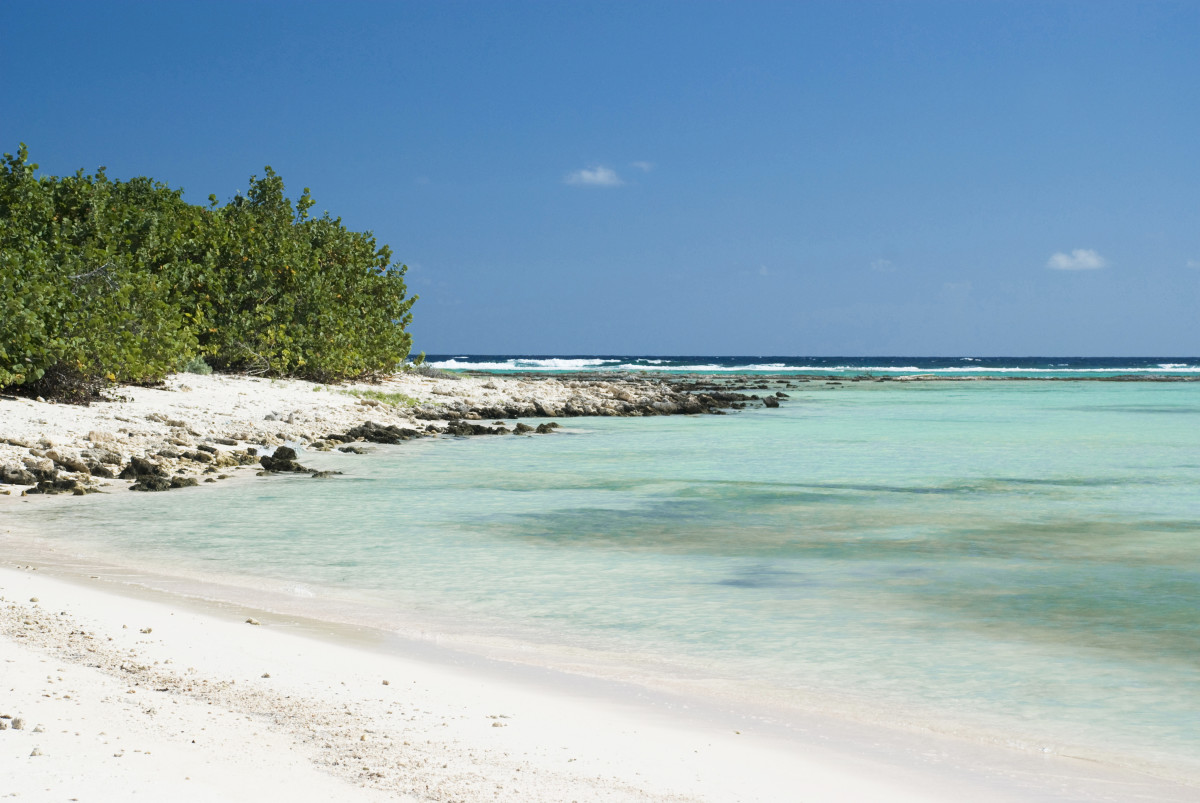 By Tracey Schultz
Peering over my kayak's edge I see a sea turtle's ancient silhouette gliding through the sea. The shallow water beneath me shimmers the most vibrant shade of turquoise imaginable in the late morning sun. So far, I've counted three black and tan spotted Eagle Rays, countless tropical fish, and one lonely Sea Turtle on my short 15-minute journey to Owen Island.
To call Owen Island an "island" might be a stretch. Located off the southwestern tip of Little Cayman, the pristine, deserted 11-acre "islet" beckons onlookers to paddle across the sound. As I beach my sea kayak on the small sandy shore I take my first look around. I am in awe. There is no one here. It is just my kayak, some water, a small picnic lunch, and I. This truly is paradise.
Visitors make the short trek to Owen Island for a variety of reasons. Some seeking solitude, some looking for adventure, and others coming for romance. No matter what the reason, this tiny, secluded island is unlike any other. Though privately owned, the island is open for all to enjoy. Visitors are greeted with a "Welcome" sign, rather than the "Private Property, No Trespassing" notice one might expect.
Owen Island's small sandy shore is dotted with live conch shells. A 45-minute hike will take you from end to end. You will not find finely manicured paths, but lush vegetation untouched by civilization. Visitors might feel like Tom Hanks in the movie Castaway, but with oar and kayak, and Little Cayman safely in sight, there is thankfully a much easier escape route.
Getting to Little Cayman could not be simpler. Cayman Airlines flies between Grand Cayman and Little Cayman several times a day, though many enjoy a peaceful stay on the smaller island. With a population teetering at 170, Little Cayman is a refreshing change from its bustling counterpart. Kayak rentals are available through island hotels, such as Sunset Cove. This small hotel is conveniently located just two miles from the island's only airport and the Village Square. It sits on a picturesque stretch of beach with a direct view of Owen Island across South Hole Sound. The hotel features single rooms and suites with kitchenettes and family rooms, a restaurant, gift shop for snacks and sunscreen, and arguably the best sunset views on the island. Single kayak rentals start at $20 for a half day, to $30 for a full day. If you are staying with the hotel, they will greet you at the airport. Otherwise scooter rentals are the transportation of choice on this small stretch of island.
After spending an afternoon exploring uninhabited Owen Island, basking in the sun and swimming in the warm, shallow water I feel centered, calm and privileged. I have never experienced such tranquility. Visiting Owen Island is like reliving an old Gilligan's Island episode, though you can choose who, if anyone, comes with.
Learn about paddling Grand Cayman's Bioluminescent Bay and exploring Grand Cayman's Mangrove Forests
The article was originally published on Canoe & Kayak
For access to exclusive gear videos, celebrity interviews, and more, subscribe on YouTube!