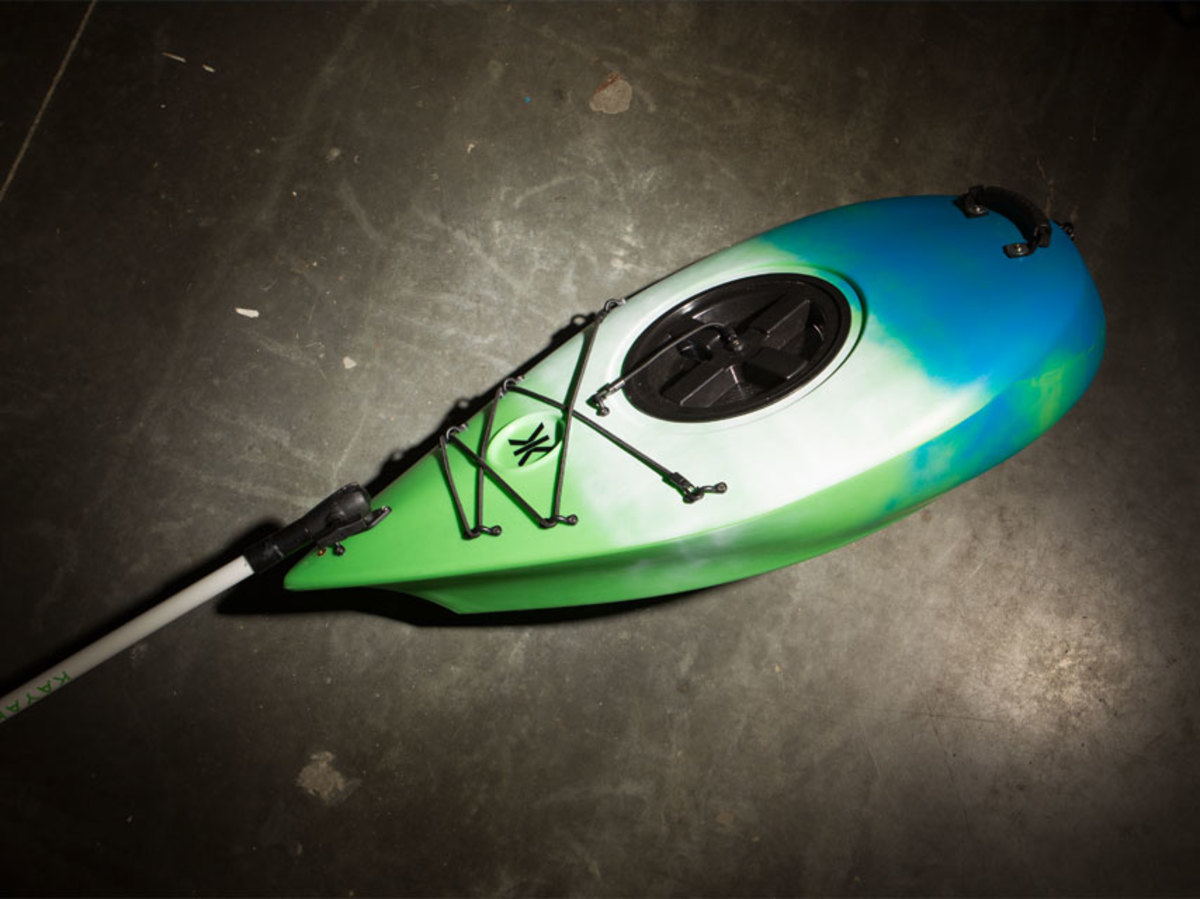 Extreme Sport Outfitters Kayak Kaddy
($199. Pictured with RamMounts Kaddy Connector Kit, $49. kayakkaddy.com)
Too much junk in your trunk? Gear-packing paddlers with either undersized hatch spaces or overloaded stern storage wells should check out the Kayak Kaddy. This teardrop-shaped external hull acts as a watertight roto-molded trailer to distribute the load on your paddlecraft of choice. The 35-liter dry storage area hauls 50 pounds worth of gear, meaning your entire overnight kit, through a cavernous 11-inch hatch opened with a simple (one-hand) twist-off lid. The Kaddy functions like a secondary mini kayak stern with its own drain plug, handle and deck rigging. And it even paddles like a secondary stern when dragged backwards from a rear pad eye with the included adjustable tether/carry strap. We found, however, the smoothest Kaddy-paddling (with the least side-to-side travel) by towing the displacement-nose forward, using the rigid connector bar option (pictured), which latches to an easily added ball-mount. At 11 pounds, the 43-inch-long Kaddy packs the most punch for overloaded kayak fishing rigs — and most especially for fishing off an SUP, where deck-rigging space is at a minimum. (Check out spearfishing paddlers stuff the Kaddy full.) ESO's Ryan Hall and Nick Biron co-developed the Kaddy after soaking and losing valuables following a canoe tip on a multi-day tour, when he started looking for a more convenient way for paddlers to "enjoy the water for a longer period of time." With plenty of mounting accessory options that allow you to load extras (think fishing rods and soft-side coolers), the Kaddy can certainly expand your ability to bring along more creature comforts, and extend your paddling plans past a single day on the water.
— C&K editors pay tribute to the Gear We Love.
The article was originally published on Canoe & Kayak
For access to exclusive gear videos, celebrity interviews, and more, subscribe on YouTube!