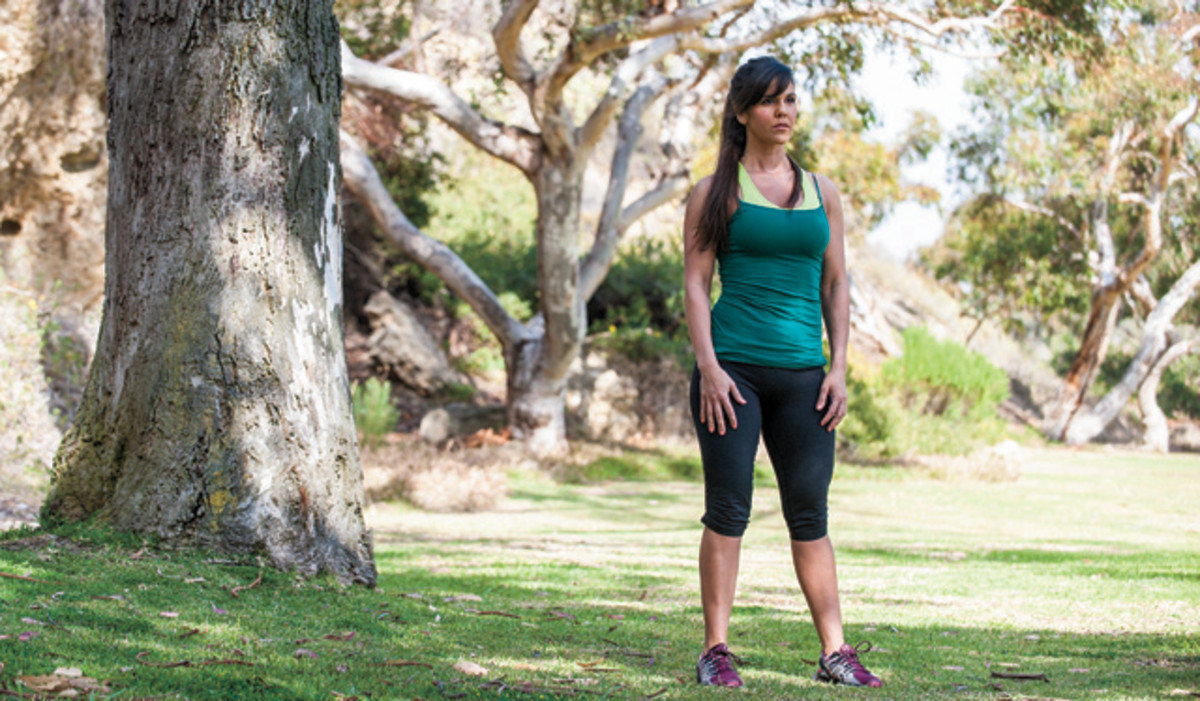 Fall Fitness: A Land Workout
By Brody Welte, PaddleFit
Cranking up the intensity is the best way to make the most of your time training on land. Make sure that you can perform these exercises with outstanding form. High-intensity training leads to fatigue which leads to bad form. Form first, then turn up the speed and intensity.
This circuit is meant to hit all major muscle groups. There are two different suggestions for intensity: standard is for those of you just beginning training, advanced is for those who have been training hard for at least six months.
Warm up properly! And I don't mean just static stretching. Stick to movement-based warm ups (check SUPthemag.com). At minimum, jog lightly for five to 10 minutes to get your heart rate up before you start.
Station 1
Standard Intensity
10 repetitions of burpees
20 repetitions of squats
30 second+ jog (or jump rope)
Advanced Intensity
1 minute of advanced burpees
1 minute of jump squats
30 second+ jog (or jump rope)
Burpees
Start off standing up, place both hands on the ground and jump your feet back so you are in a push-up position (If you can't jump back, then place your feet one at a time to get into push-up position), now jump your feet back up to your hands and stand up.
Advanced
Jump your feet back so you are in push up position, perform a pushup, now jump your feet back up to your hands landing in a surf stance, and jump as high as you can. Switch the foot that comes forward each burpee.
Squats
Stand with your feet slightly wider than shoulder width. Lower your hips down as far as you can at the same time sticking your butt out behind you. Make sure to keep your back straight and at the same angle as your shinbones. Get to 90 degrees (or more if your knees are healthy) then push off the floor through your feet to bring your hips back up underneath you to the starting position.
Advanced
Perform a jump squat. Push as hard as you can off the floor and jump as high as you can. Land softly to not jar your knees.

Station 2
Standard Intensity
Bear crawl for 10 meters
10 repetitions of modified pull-ups
30 second+ jog (or jump rope)
Advanced Intensity
Bear crawl in all 4 directions as fast as you can for 1 minute
10 repetitions of full pull-ups
30 second+ jog (or jump rope)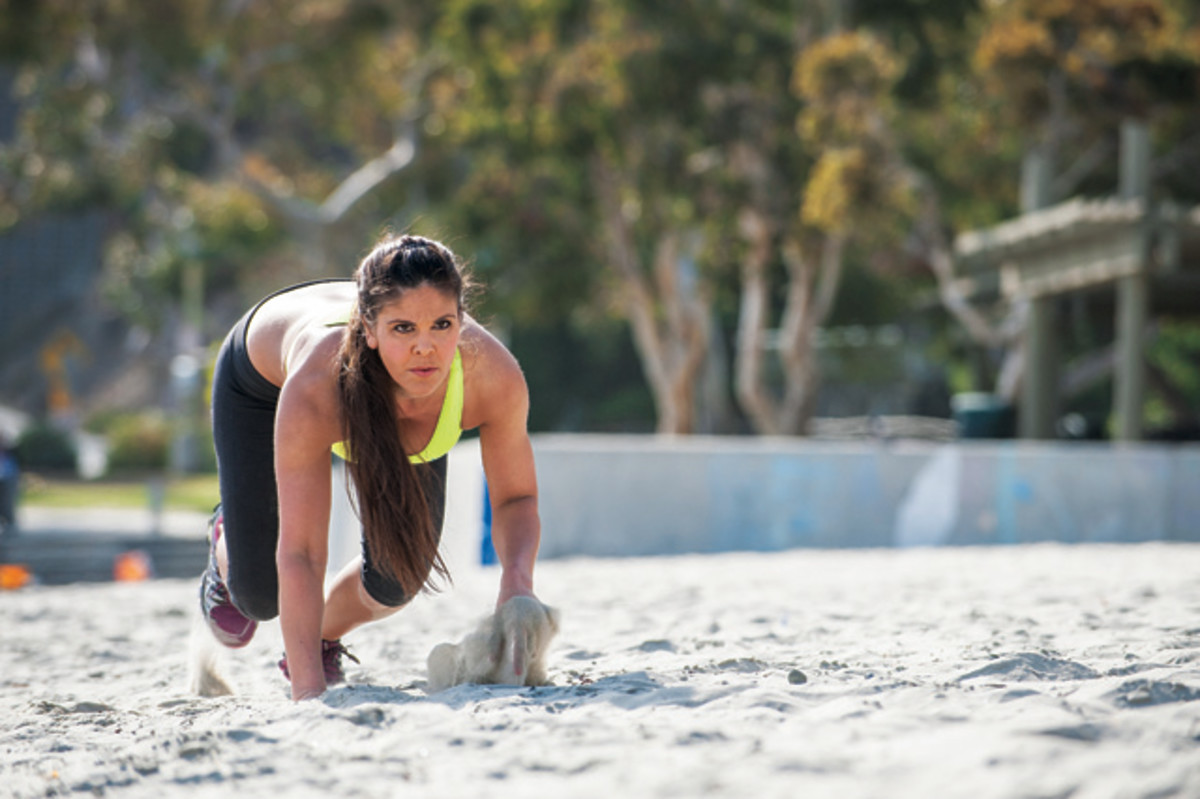 Bear Crawl
Start in the quadruped position (pictured above). Walk forward with one hand and one foot at a time. Don't allow your hips to get too high and be careful with your wrists. Start slowly.
Advanced
One: Increase your speed but don't compromise form. Two: Go different directions, backwards or side-to-side.
Photo:Aaron Schmidt
Pull-Ups
Two options. One: perform a hang on the pull-up bar with your elbows bent a 90 degrees. Hold as long as you can. Two: Use a lower bar about waist- to chest-high and grab onto the bar but with your legs angled out in front of you, your heels resting on the ground (pictured). This takes the weight off you can do more repetitions.
Advanced
A full pull-up is the advanced version. Use a pull-up bar or a tree limb that will support your weight. Start with your grip a little wider than shoulder width, with palms facing towards you (traditional pull-up) or facing away (chin up; more difficult).

Station 3
Standard Intensity
20 repetitions of alternating lunges
30 seconds of plank
30 second+ jog (or jump rope)
Repeat twice
Advanced Intensity
1 minute of walking lunges or jump lunges
1 minute of plank to side plank
30 second+ jog (or jump rope)
Repeat four times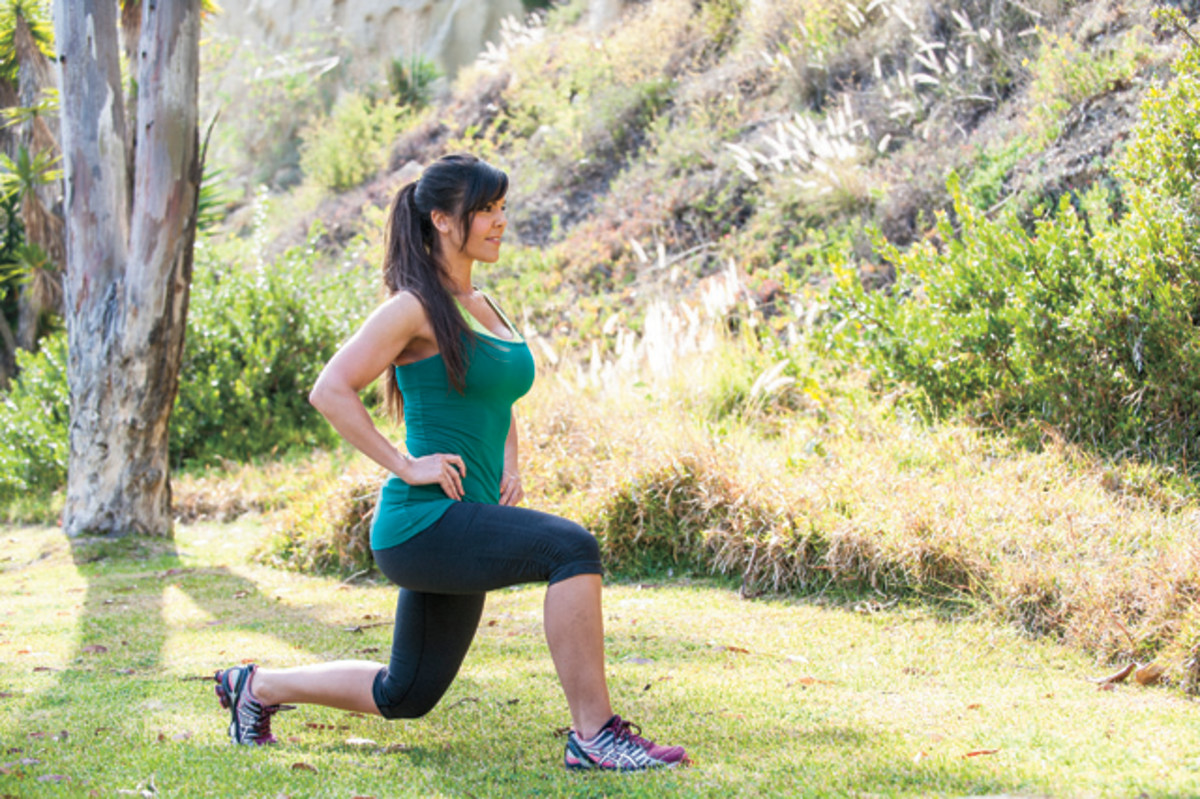 Lunges
Stand upright with feet shoulder width. Step far enough forward with one foot so that both knees are bent at 90 degrees with the knee in back almost touching the ground. Face forward and keep your back straight. Push off the front leg and return to the starting position. Alternate each leg.
Advanced
Perform a walking lunge (stepping forward in recovery instead of back). The next level is the jump squat. When you are down in the lunge position, jump in the air and switch your legs landing in the lunge position.
Plank
Essentially the push-up position but on your elbows. Make sure your elbows are directly under your shoulders, drawing a straight line from your shoulders through your hips and knees to your feet. Don't let your lower back sag. Hold this position.
Advanced
Side Plank: Start off in the plank position above and rotate your body, bringing one arm off the ground. Rest on one elbow and the sides of your feet. Your ground elbow should be directly under your shoulder. Draw a straight line from your head through your hips to your feet. Hold this for a two count and then rotate back to the standard plank position and then rotate to the other side.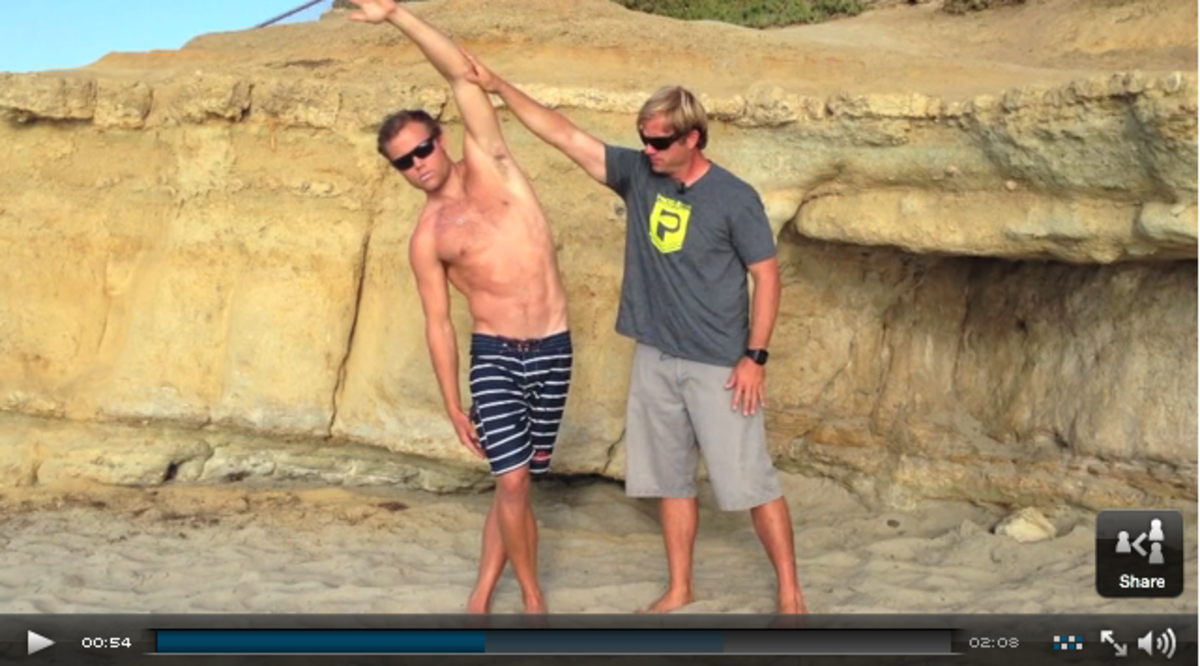 Cool down
Check out our cool down video, linked above. If you don't do that, walk around at a slow pace for two-to-five minutes to let your heart rate come back down. Now is a good time to introduce static stretching.


Stay tuned to SUPtheMag.com for the next installment of Fall Fitness, a water workout.


This article originally ran in our Summer 2014 issue as "The Quick Fitness Guide."


Click here for more From the Mag.
The article was originally published on Standup Paddling
For access to exclusive gear videos, celebrity interviews, and more, subscribe on YouTube!