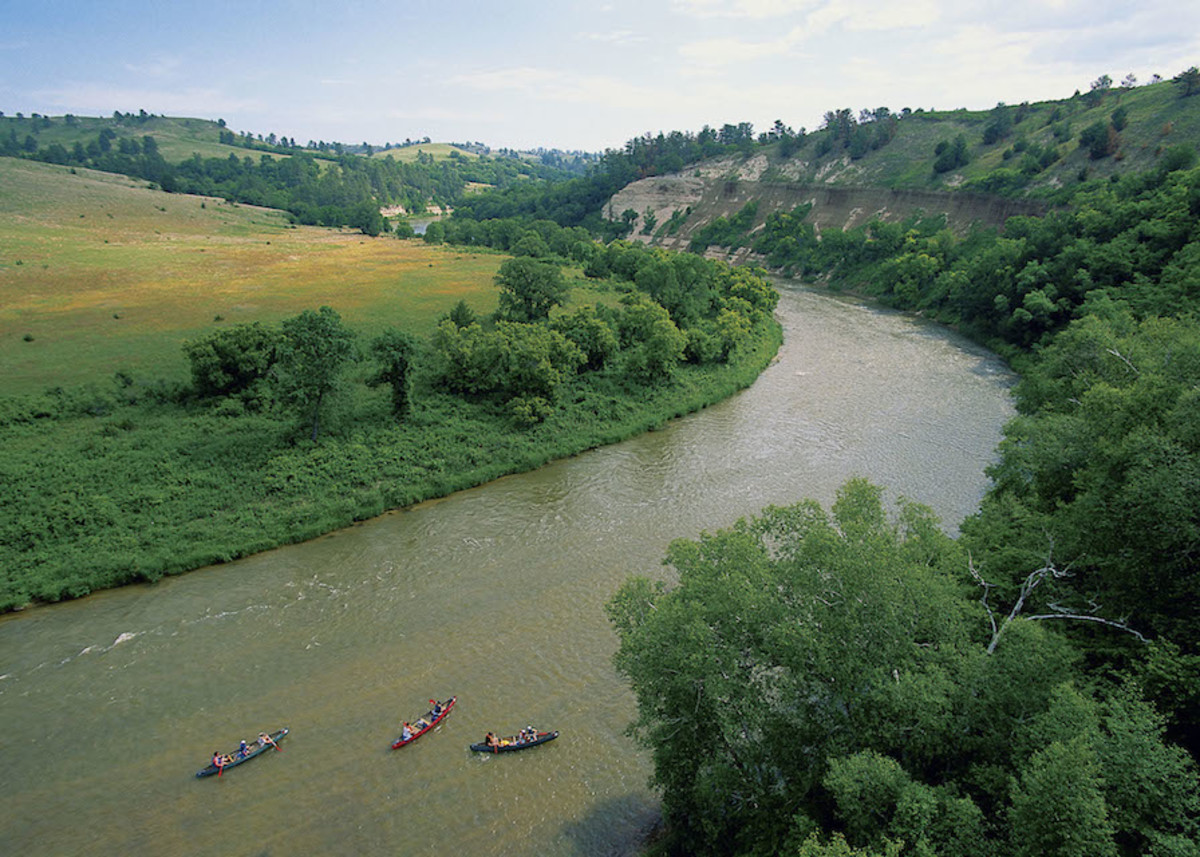 By Jerry McBride
Sandhills.
Now there's a term guaranteed to evoke universal excitement among water enthusiasts. Add "Nebraska" to the equation, and it's a safe bet that corn, cows and cactus come to mind long before paddling.
It's not where you'd look for one of the 10 best canoeing rivers in the United States. Yet, there it is. In 1991, The Congress of the United States designated 76 miles of Cherry County's Niobrara River as a National Scenic River, right there in north-central Nebraska. Backpacker magazine named this section among the top 10 float rivers in America.
For an area depicted as the "Great American Desert" by early geographers, water seems everywhere here, ironically due to those seemingly desolate 20,000 square miles of grass and yucca-capped sand dunes to the south. Seems that soft, glacially deposited sand soaks up a lot of water, forming the world's largest underground water reservoir, the Ogallala Aquifer. Springs well up in low areas. Numerous waterfalls spill from canyon walls, greeting river paddlers as they fuel the river's flow. The one thing you won't find here is corn.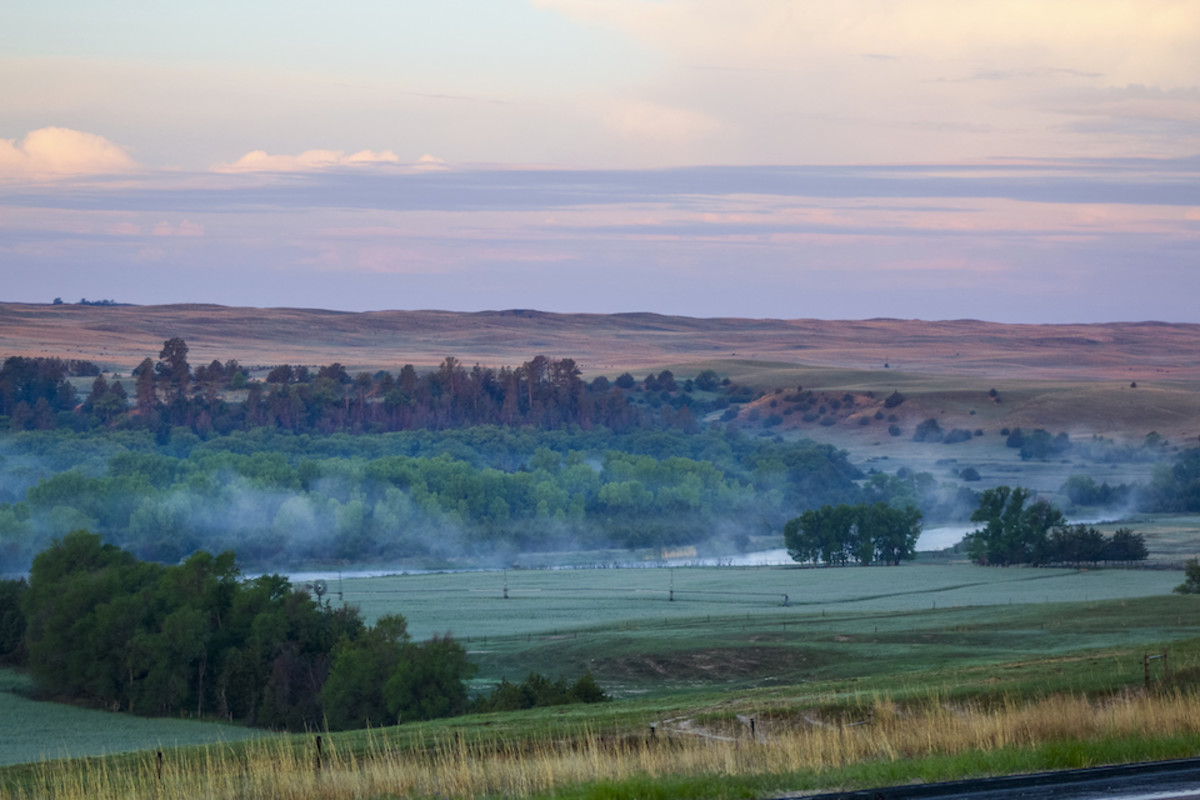 The 535-mile Niobrara River trickles from the earth in eastern Wyoming. Along its trek through Cherry County, visitors discover a picturesque countryside totally unlike the flat cropland witnessed by Interstate 80 travelers 130 miles south. Rolling sand dunes, some 400 feet high and 20 miles long, fall away into ponderosa pine canyons. Humid eastern and dry western weather patterns collide to create six distinct ecosystems and a stunning array of animal and plant life in the Niobrara valley.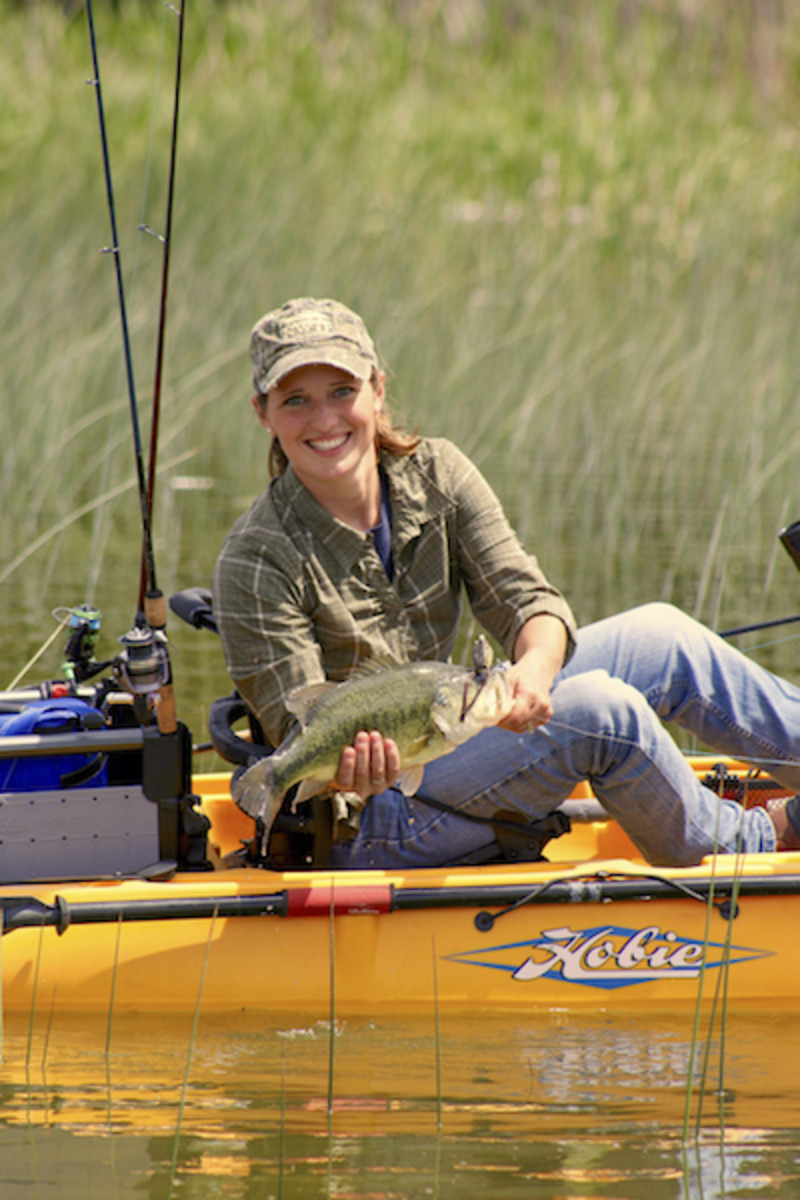 The Niobrara is not a hardcore whitewater venue. Within the Scenic River section east of Valentine, an average drop rate of 11 feet per mile results in flows of 4 to 7 mph, with, depending on water levels, a few Class 1 and 2 rapids. Depending on the time of year, a couple easy portages may be required. We're talking scenic float trips suitable for all ages and skill levels.
For paddlers unfamiliar with the area, a good place to start is www.nps.gov/niob or www.visitvalentine.org. Click on "Outfitters." The fact that over a dozen links to canoe/kayak/tube vendors and river campsites pop up provides a clue as to how developed and diverse the paddling community is here. Most of these are family operations, some dating back generations to the 1970's. Outfitter websites provide information on equipment rental and campsite and cabin availability, as well as images, river maps and float times from various launch points. While sections of the river generally remain free of ice year-round, many outfitters operate only from Memorial Day to Labor Day; if rental gear and shuttle services are required, make arrangements before showing up.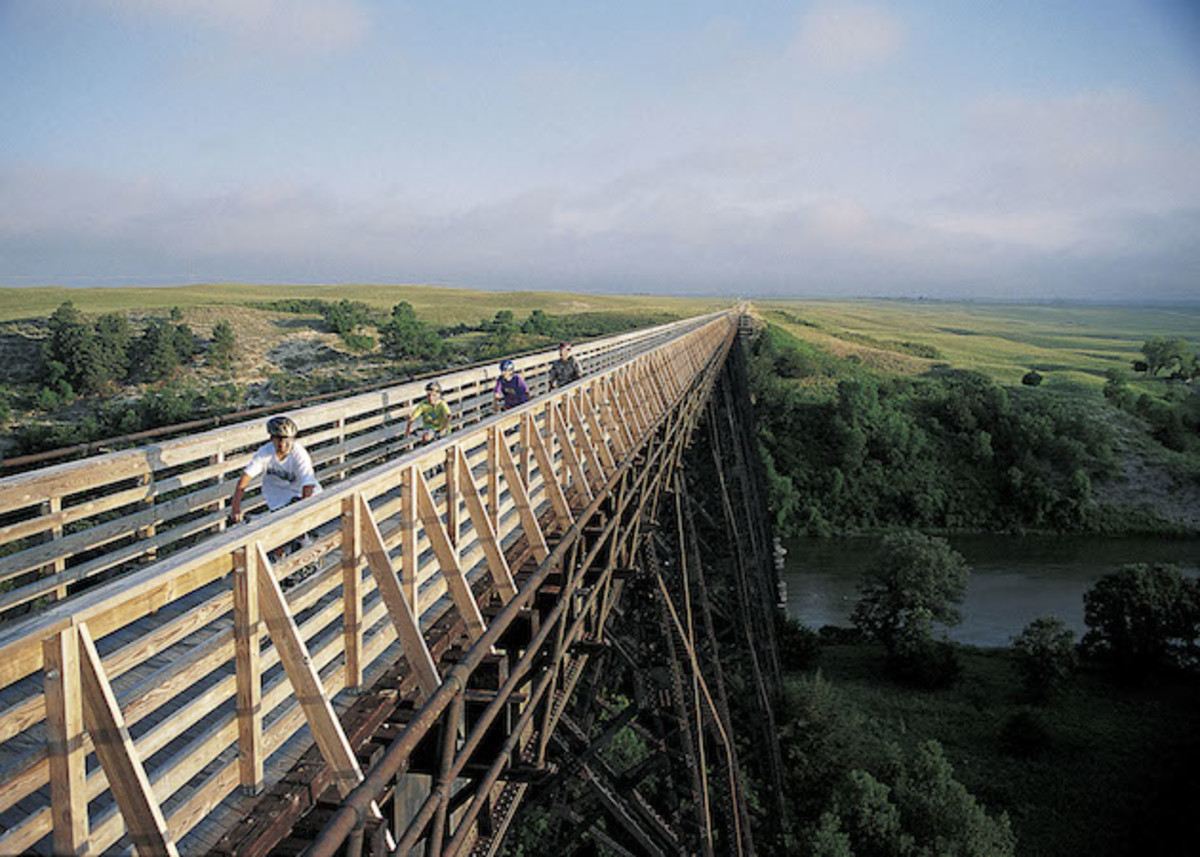 Float trips encompass just one narrow aspect of outdoor activities available here. Cherry County is humongous–almost 10 percent larger than Connecticut, but with less than 1/5 of one percent of the population. Miles of what appears, to the uninitiated, as empty space are actually packed with myriad adventures beyond river paddling.
Cherry County plays host to two distinctively different National Wildlife Refuges. Fort Niobrara NWR, just northeast of Valentine, borders the Niobrara River, so hikers are treated to canyon views of the river, or a trek down to Smith Falls, Nebraska's largest. This is also home to buffalo and elk herds, and much more entertaining prairie dog towns. The Cowboy Trail, a planned 320-mile bike path along an abandoned railway, currently terminates here; a 148-foot-tall canyon crossing and photo opportunity awaits adventurous riders or hikers.
An absolute must for anglers and birdwatchers, the 72,000-acre Valentine NWR to the south is unlike any other place in America. Dozens of small lakes lie tucked away amid the scenic dunes of the Sandhills. Nine easily accessed lakes offer incredible fishing for largemouth bass, northern pike, giant bluegill and yellow perch. Off-limits to combustion engines, the shallow, reed and grass-fringed lakes are ideal for tranquil kayak-fishing or wildlife-rich (270 bird species have been documented) paddling and hiking. Late spring and early summer fishing, before aquatic growth clogs shorelines, is recommended. Strangely, refuge lakes draw their largest crowds in winter, when colorful fishing huts dot the icescape.
The far larger but somewhat deceptively named Samuel R. McKelvie National Forest (2,300 acres of hand-planted trees, 114,000 acres of pristine grasslands) lies upstream, southwest of Valentine. It features miles of undisturbed Sandhills prairie ecosystem, as well as a canoe launch on the Niobrara River. Want more water? Nestled alongside McKelvie lies Merritt Reservoir State Recreation Area, renowned for its walleye fishing and one of the Midwest's most reliable muskie lakes. A 130-foot-tall dam backs the Snake River into three long arms, where kayakers can find secluded coves and sandy beaches for undisturbed paddling, fishing and picnics along the 73-mile shoreline. Merritt offers concessions and a variety of campsite options, from primitive to RV.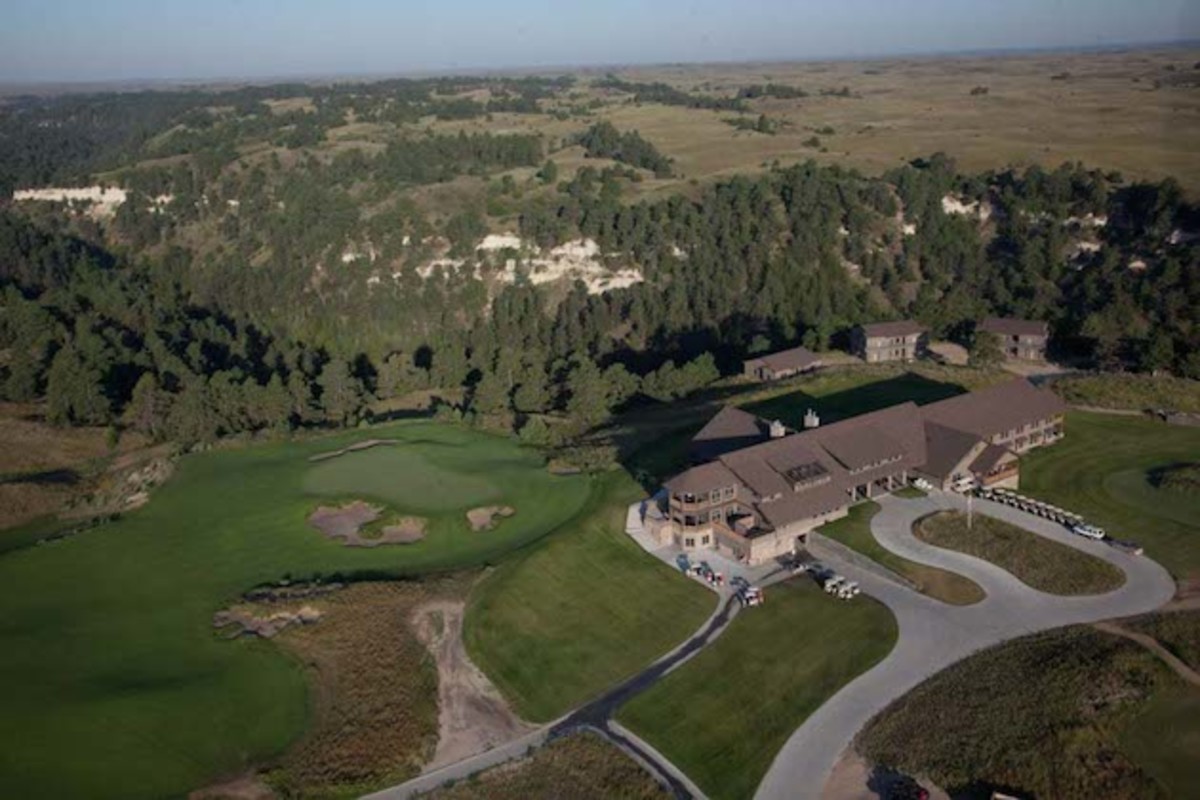 Mule and whitetail deer, prairie chickens, sharptailed grouse, pheasant, ducks and geese have drawn hunters to Cherry County for 150 years. Hunted to extinction a century ago, turkeys now inundate the area following their reintroduction in the late 1950's. Hunting is allowed throughout the county's immense public land holdings.
Between Valentine and Merritt lies a totally unanticipated sporting venue on the rim of the Snake River canyon—The Prairie Club. The semi-private Tom Lehman-designed golf course (three courses available) is rated among the top 100 on the planet, and offers world-class lodging and dining, smack dab in the middle of cow country.
Much more awaits visitors to Cherry County—working cattle ranches, star-gazing events, historical museums, even a winery. This is cattle country, so a good steak at the Peppermill, Neon Grill or Prairie Club after a day on the water is almost mandatory. Find additional information and contacts regarding attractions, events, restaurants and lodging at www.visitvalentine.org.
–More paddling DESTINATIONS from C&K.
The article was originally published on Canoe & Kayak
For access to exclusive gear videos, celebrity interviews, and more, subscribe on YouTube!