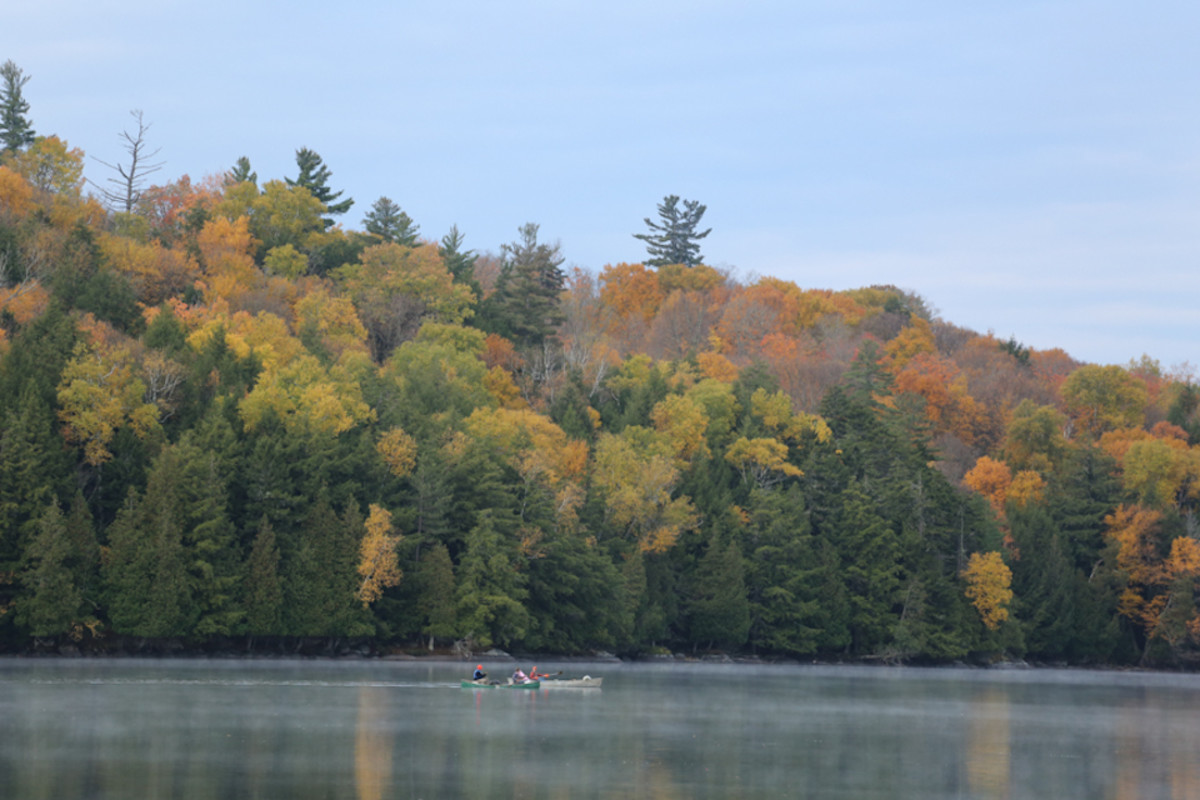 The Saranac Lake region in the northern Adirondacks offers a bit of everything for paddlers. The small New York village is part of the Northern Forest Canoe Trail, home to the finish line of the Adirondack Canoe Classic "90-Miler", and within a short drive of just about any type of paddling imaginable.
"Within a 15-mile drive, paddlers can choose their type of of activity," said Jason Smith, manager at Adirondack Lakes and Trails Outfitters in Saranac Lake. "Their options are flat, winding rivers through hardwood forests like the Raquette River, or they can choose a large, open lake with islands like the Saranac Lake chain, or small-pond hopping in a slightly more backcountry setting in the St. Regis Canoe Area."
There are even a few whitewater options nearby, including Permanent Rapids, a Class II section of the Saranac River. The section got its name because the rapids run later in the summer than your average springtime runs. The Saranac River also offers plenty of flatwater paddling and is part of the 740-mile Northern Forest Canoe Trail that stretches from New York to Maine.
Dave Cilley, owner of St. Regis Canoe Outfitters in Saranac Lake, said the experience of getting away from civilization is what's appealing to him and many other people who paddle in this region.
"The wildness is the thing that is most attractive to me," Cilley said. "It's just classic beautiful paddling."
Some of the more remote paddling includes going up the Raquette River and into the High Peaks Wilderness, where there are miles upon miles of paddling Adirondack Park Forest Preserve. One can also pond-hop deep into the backcountry of the St. Regis Canoe Area, spending weeks away from home in the woods. The dozens of ponds are connected by portages of varying lengths.
However, all of these options don't necessarily require multi-day camping trips. Pretty much all of them offer day-trip options as well. For instance, Little Clear Pond in the St. Regis Canoe Area is a popular option for people looking to spend a day relaxing on the water and viewing wildlife such as the iconic Adirondack loon.
People can also venture into the Saranac Chain of Lakes. The chain includes three bodies of water that are connected by portages and rivers. The land surrounding the lakes is a combination of private and public land and much of it is close enough to the road that it can be reached by paddlers in a few hours. At the same time, however, the forested nature of area gives one the feeling of being far removed from civilization.
Because of all these paddling options, the Saranac Lake region is home to numerous paddling events, the biggest of which is the Adirondack Canoe Classic, also known as the 90-Miler. This canoe-and-kayak race starts in Old Forge and ends in Saranac Lake in early September. The three-day event draws hundreds of paddlers and thousands of people overall.
"The 90-Miler is the grand finale of the summer paddling season," Smith said.
But that doesn't mean it's time to put away the canoe and kayak gear. Viewing fall foliage from a boat when the water is calm and bugs are gone can be an experience in itself.
"For some people that's the best paddling," Smith said.
–For a wealth of information on paddling New York's North Country, which boasts over 3,000 ponds and lakes and 6,000 miles of rivers fed by more than 30,000 miles of streams, visit www.paddlefinder.com
Paddling Events near Saranac Lake
Hamilton County Invitational C-4 Challenge
August 1
Indian Lake, NY
The Adirondack Canoe Classic – 90 Miler
September 11, 12, 13
Starts in Old Forge, NY and ends in Saranac Lake, NY
Long Lake Long Boat Regatta
Septebmer 26
Long Lake, NY
–Check out more great paddling destinations on CanoeKayak.com
The article was originally published on Canoe & Kayak
For access to exclusive gear videos, celebrity interviews, and more, subscribe on YouTube!