The North Atlantic Ocean can be a harsh beast for a surfer. Dormant for weeks (and even months) at a time, if you want to be a professional surfer who relies upon the Atlantic, you better get used to traveling — a lot.
RELATED: The Nixon Surf Challenge went to Ireland for surfer who no longer flies
Which is what Irishman Fergal Smith had been doing for a while. With a part in Transworld Surf's "High Five" movie, Smith was also obtaining magazine covers and traveling the world building his ranking on the Qualifying Series. He had already become Ireland's most prominent surfer, and was well on his way to becoming a force to be reckoned with in big and small waves all over.
But he decided to give it all up in 2012 when he quit flying because of its impact on the environment. Smith anchored down in his home of Ireland to grow vegetables on a farm, like the one he was raised on as a child. While he still gets to surf plenty (and plenty of good Irish waves), Smith is now at the heart of a project called Moy Hill Community Garden that focuses on feeding people and slowing down.
RELATED: Surf photographer Nick LaVecchia's idyllic, sustainable home in Maine
Along with some other surfers, 29-year-old Smith has started a farm of their own and are focused on saving the environment through the food we raise and eat. We caught up with him to find out a little more about what he's been up to and why he gave up the idyllic life of a traveling pro surfer to farm.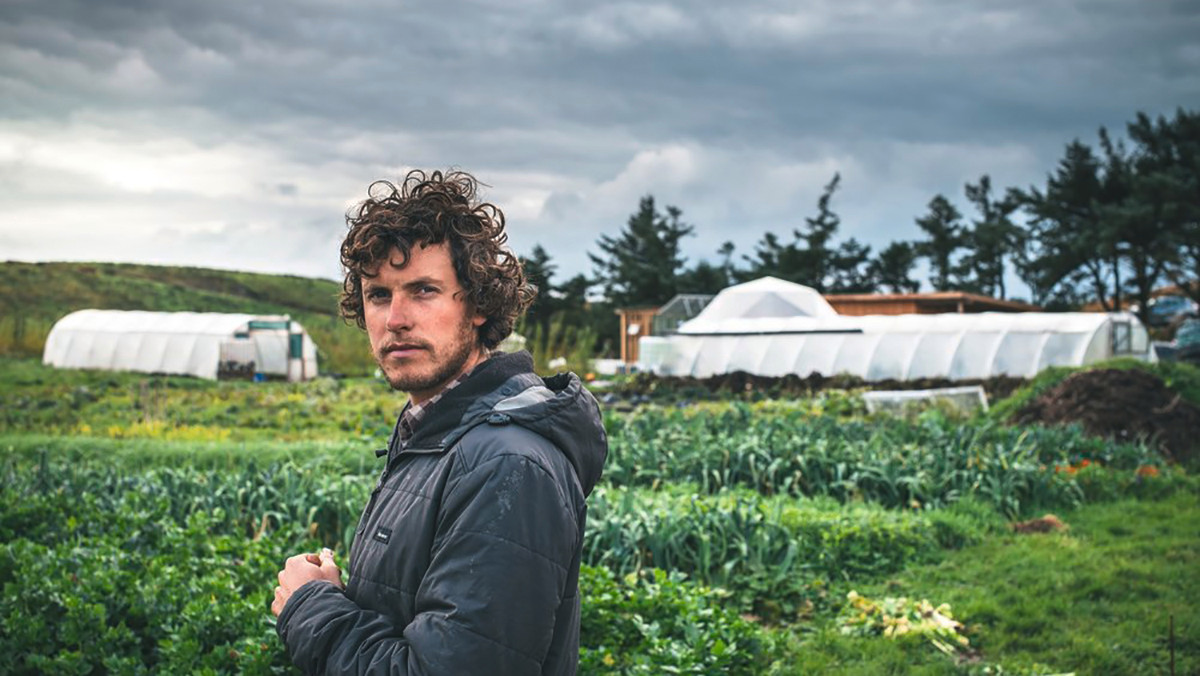 Why did you make the decision to stop flying?
I had stark realization when I was in Tahiti in 2011 and the Japan nuclear disaster was going on. I had hurt my knee and was out of the water for a few weeks and started asking big questions.
It hit me that I needed to do something to help the place we live. I thought what would be the best thing for me and it made such sense to go home and start growing food. I did a couple of flights in 2012 and that was it.
What was that process like and what were the ramifications?
I emailed all my friends and family and sponsors and said I was giving it all up and going to grow food and "who was with me" kind of thing. Everyone (bar a few) said I was mad and some even got angry, saying I was ungrateful for my lucky position being a paid traveling surfer. I have never been ungrateful for my travels I just couldn't do them any more knowing they are not helping anyone. I lost most of my sponsors bar Nixon who are true legends for still supporting me.
What have been the positive takeaways? Nixon held their Surf Challenge this year in Ireland to accomodate you.
The whole journey of slowing down has been so positive I can't begin to say. I have had so many people start to question their own lifestyle and ask the question do I really need to go there?
The Nixon challenge was really cool, having the top surfers coming to work on the farm was something I didn't expect to see. Surfing can lead the way in creating conscious athletes and companies. It's the only way we can go, we just have to show the way as surfers.
What was it like growing up on a farm in Ireland?
Growing up on a little organic vegetable farm made me who I am. It has instilled all my values: a real connection to our food and wanting to be an asset to my community, working hard and enjoying life outdoors, to name a few.
So what all is Moy Hill Community Garden?
We have been on a borrowed piece of land for the two seasons before this one and this year we have just started from scratch on our own piece of land that we bought. Three of us have bought it. Matt Smith and Mitch Corbett two good friends who are also professional surfers.
This year has been huge setting the whole farm from scratch, roads, drains, poly-tunnels, sheds, solar power and growing food for lots of people. We grow most vegetables that you can think of: potatoes, squash, onions, leeks, spinach, chard, kales, beetroot, salads, cabbage, turnips, parsley, garlic, broccoli, tomatoes, cucumbers, french beans, chills, peppers, basil and coriander. We have a lot of people involved in the farm — once a week we have a word day with up to 25 people there. 
How often do you get to surf nowadays with the farm?
The great thing about the farm and the surf is that they are both seasonal. They both never stop, but the surf is never great here in the summer when the garden is at its busiest and when the waves are good in winter the garden is quiet, so it does work out quite well.
I read that you dabbled with getting into politics?
I ended up in politics by chance because a friend who was standing pulled out. She asked me to do it and I felt someone from our area had to be standing up for the future of the environment. It's not about us anymore it's about our kids and what we are doing for them. We need to stand up for what needs to happen and now.
It was an amazing experience and we were really well received, but it's a horrible world and a terrible system so I hopefully wont be doing it again.
For access to exclusive gear videos, celebrity interviews, and more, subscribe on YouTube!