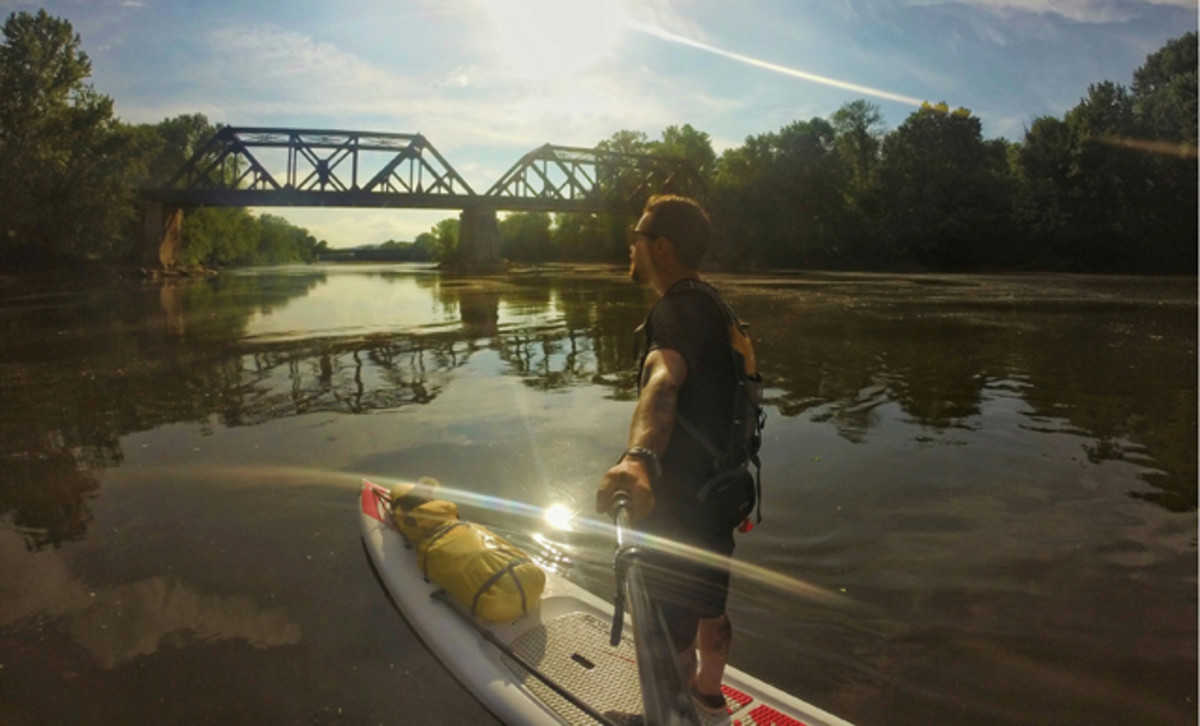 Field Notes: Disconnecting Down the Scioto—Mission Complete
With a thirst for adventure and a passion for SUP, Shannon Thomas set out on a quest to disconnect from the day-to-day and go paddling. He departed on Saturday, May 23, 2015, with kayak buddy, Jon Phillips, and the duo made their way from Northern Ohio, 231 miles down the Scioto River to the Ohio River. Their journey was the first through-river SUP expedition on Ohio's second longest river. —SC
SUP: Take us through your trip down the Scioto.
ST: We put in at the upper end of the Scioto, which begins in Northwestern Ohio and runs down through Columbus to the state's southern border and T's off at the Ohio River. On Day 1, we paddled super shallow water, which was expected. We dragged a lot that day. 
On Day 2, we had to deal with about ten log jams and some tough portages, which made things a lot more difficult. We got in some good miles on the third day, with only two short portages, and when we made it closer to the city of Columbus, there were huge dams to portage to get to the O'Shaughnessy Reservoir. There was no way to portage without a car. Luckily, we were able to find a guy that would shuttle us.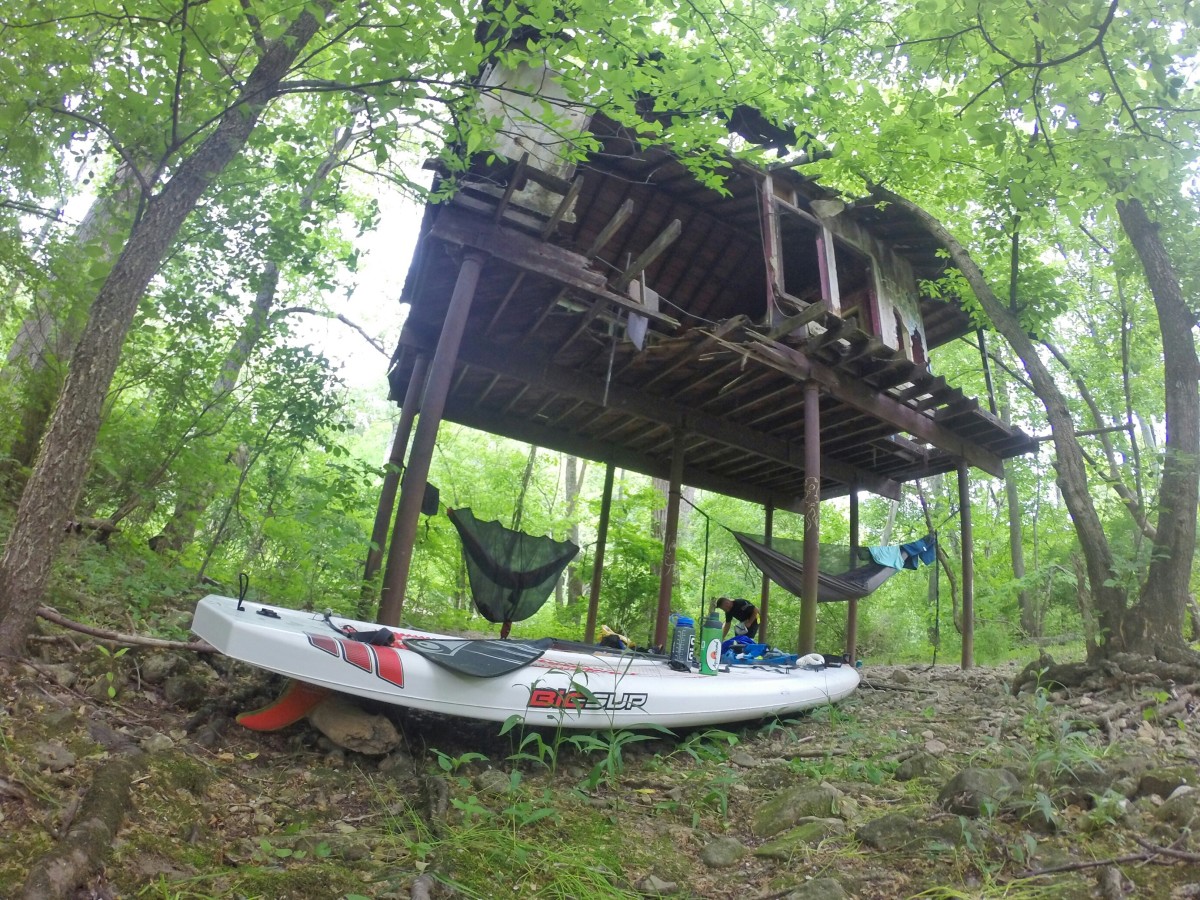 The conditions changed as we crossed the reservoir on Day 4; we were paddling against a 
headwind and current, at only .3 mph. We found a little island with an old abandoned house on 
stilts that we camped under that night.
On Day 5, we hit another large dam before downtown Columbus and couldn't find anyone to shuttle. It took about three hours to drag our board, kayak, and gear a quarter-mile to the next put-in. We then made it through downtown Columbus; it was easier to get through that part of the river because of the city had removed some of the low-head dams.
 Just when we thought we were done with dam portages, we hit another low-head dam. Again, there was no way to portage on our own.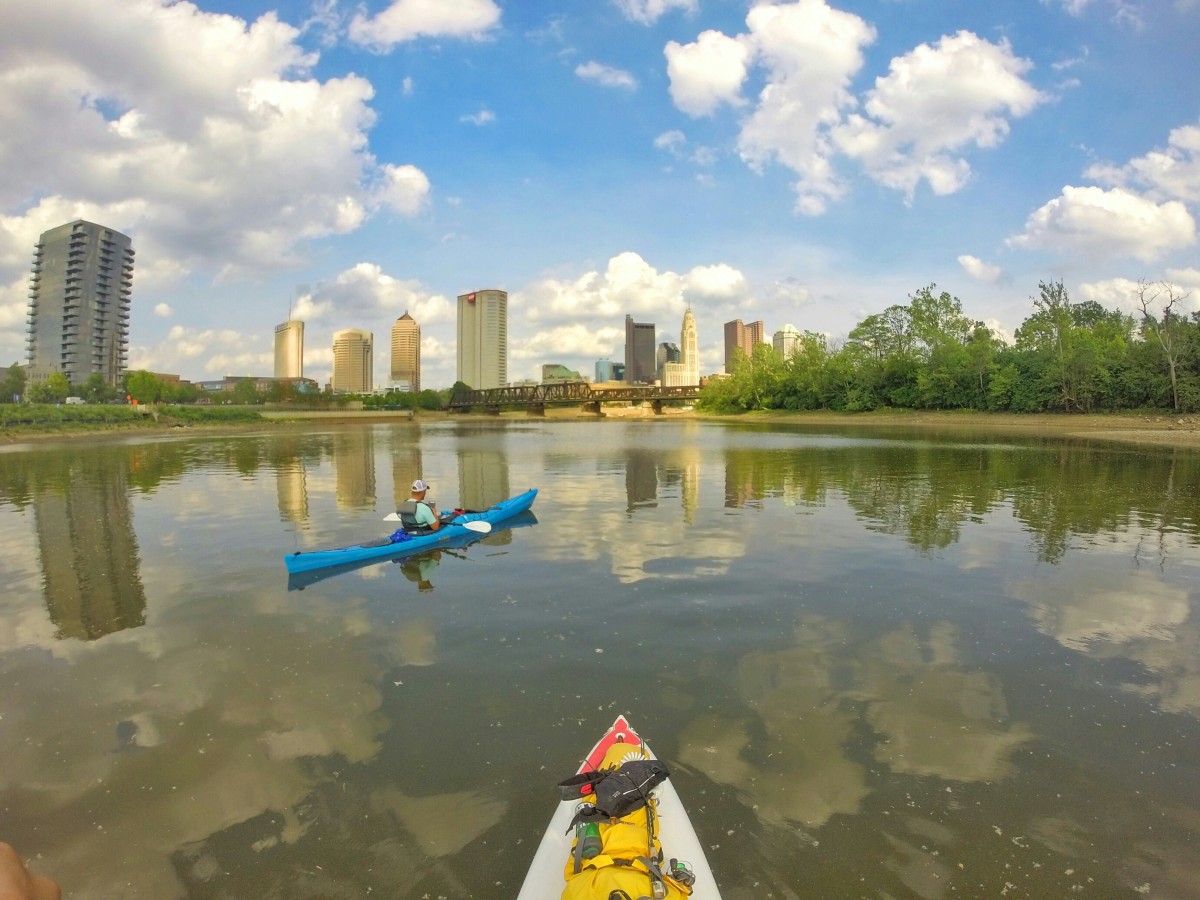 At that time, we found a ranger who gave us a ride. He informed us that homeless people the line the riverbank there, and said it was unsafe to camp for the next six miles. So, we decided to bow out a day early and break, because my grandmother had passed and I needed to go home for the funeral the day after. We'd hit a wall with all the paddling in reservoirs and portages.
We resumed the trip Saturday, paddling 37 miles into the night with our headlamps. We couldn't find a good campsite in the dark, so we found some trees surrounded by overgrown weeds and just set up our hammocks and bug nets. By that time, we were so tired that we went to bed without even eating.
With the progress we'd made the day before, we rested a bit on the morning of Day 7 and ate a hearty breakfast. We then paddled about 30 miles, slightly past the town we needed to reach to stay on schedule. We found an excellent site on a nice rock beach and set up for an early, relaxing evening before the last day.
It rained overnight and the river flow was amplified on our final day. It had a swift current to it and gradually dropped in elevation all the way to the Ohio River. We paddled a 4- to 5-mph pace consistently to the end.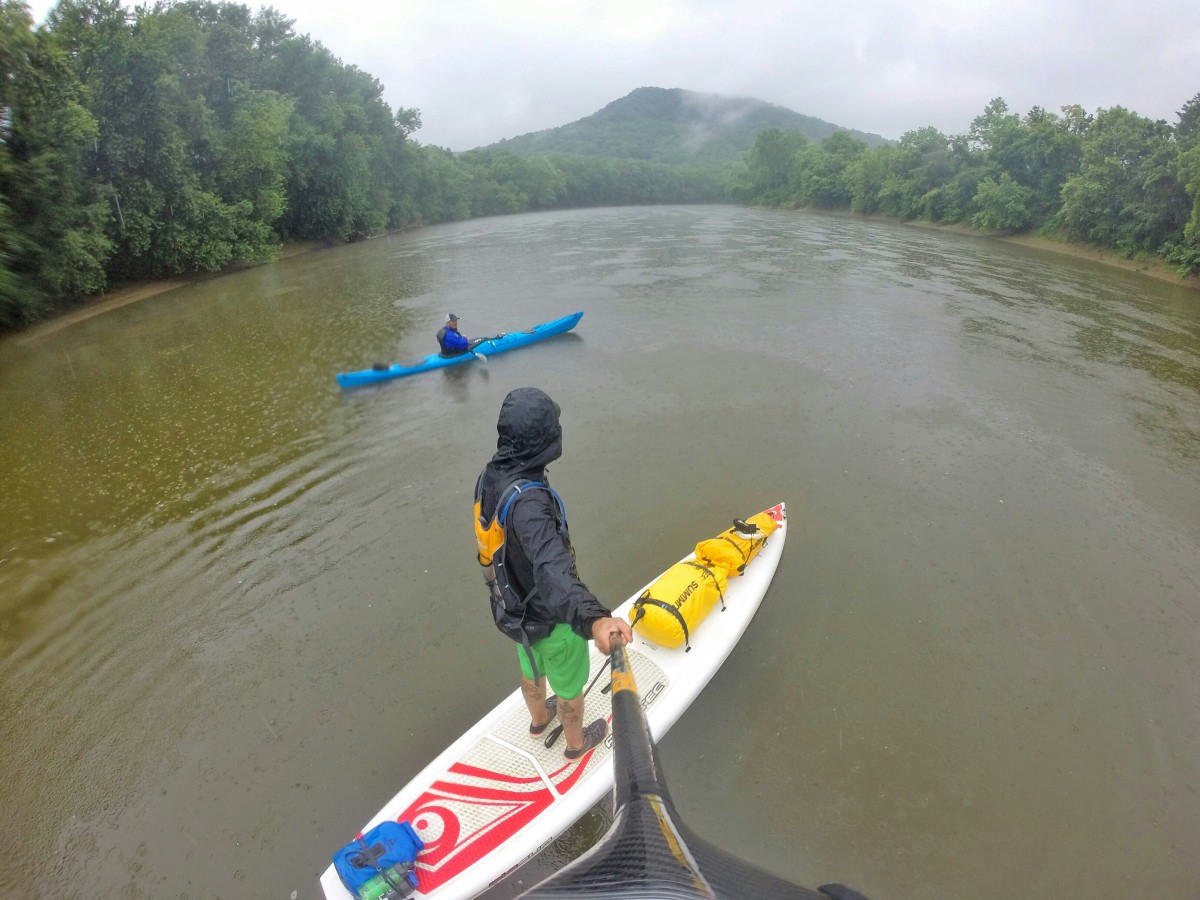 Did the paddling ever feel monotonous?
It was a lot of the same scenery over and over again, but there was a lot of cool stuff to see as well. That was just what I wanted out of this trip: a training expedition [for Chattajack 31 in October] where I could zone out and just paddle hard.
Did you encounter any wildlife?
We saw more wildlife than I'd ever seen: wild foxes, a bobcat, coyotes, bald and golden eagles, otters and endless deer. We paddled under a bald eagle's nest that was full of babies and had otters diving under our boards as they crossed the river. If you're looking for a paddle trip with lots of wildlife, the Scioto is an ideal choice.
Was the trip what you expected?
It was harder than I expected, but not the paddling part. We didn't expect all of the log jams, or
 for the portages to be so difficult. There's no river map that shows when to portage, only a list of 
features like bridges and dams (there are some buoys you see while on the water, way before the dam) and there's also no portage trail, so you have to figure out how to navigate to the next put-in on your own, usually through roads.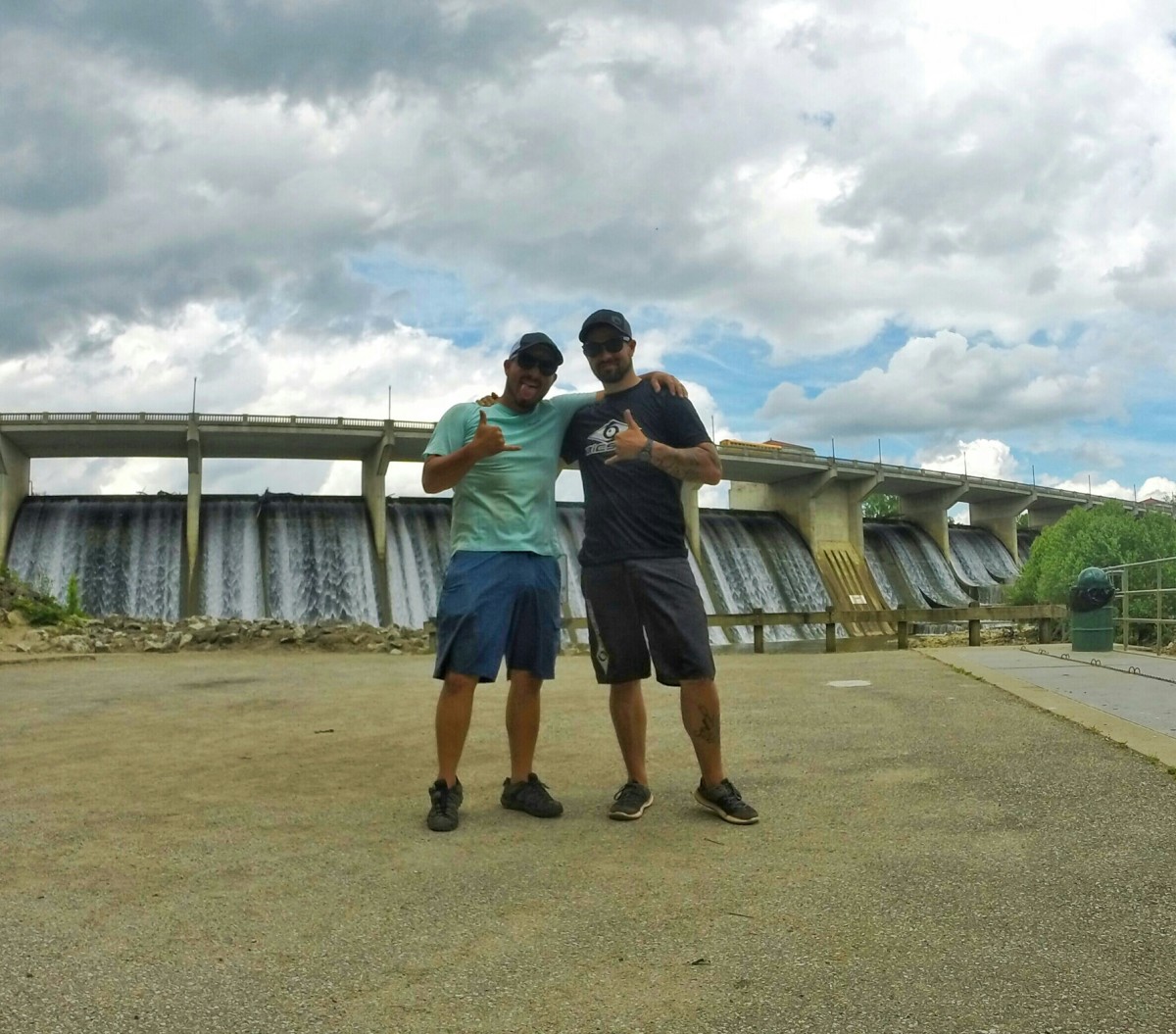 Were you able to truly disconnect as planned?
Absolutely. The first four days we were alone and didn't see anyone because the northern
 section of the Scioto is mostly farmland. When we reached Columbus it was so loud and noisy that we just wanted to get back to solitude.
Camp life was great and we had some good conversations at night. That's what it's all
 about—getting to know the people you're with, and breaking out of the 9 to 5 routine work schedule. My [late] grandmother got me to live life how I do now; I was a workaholic, but after a long talk with her four years ago, she showed me I wasn't really living. I needed to start doing what I really wanted to do and have fun. This trip was a good way to say goodbye, help me deal with the loss, and is dedicated to her.
What SUP plans do you have for the future?
I'm racing in the Chattajack 31 in October and would like to do another trip soon. Actually, on the
 last day paddling the Scioto, we were talking about almost being done and what we want to do 
next. We're thinking maybe a through-paddle on inflatables on Washington's Hoh River since I've backpacked there before, or, the Clinch River since it's near Jon in Tennessee, but nothing's set yet. I also leave for Columbia in July to do some paddling and snorkeling.
Check out the preview of Thomas' and Philips' adventure down the Scioto River.
Follow Shannon's journeys by visiting: OurLifeOutside.com.
More Field Notes.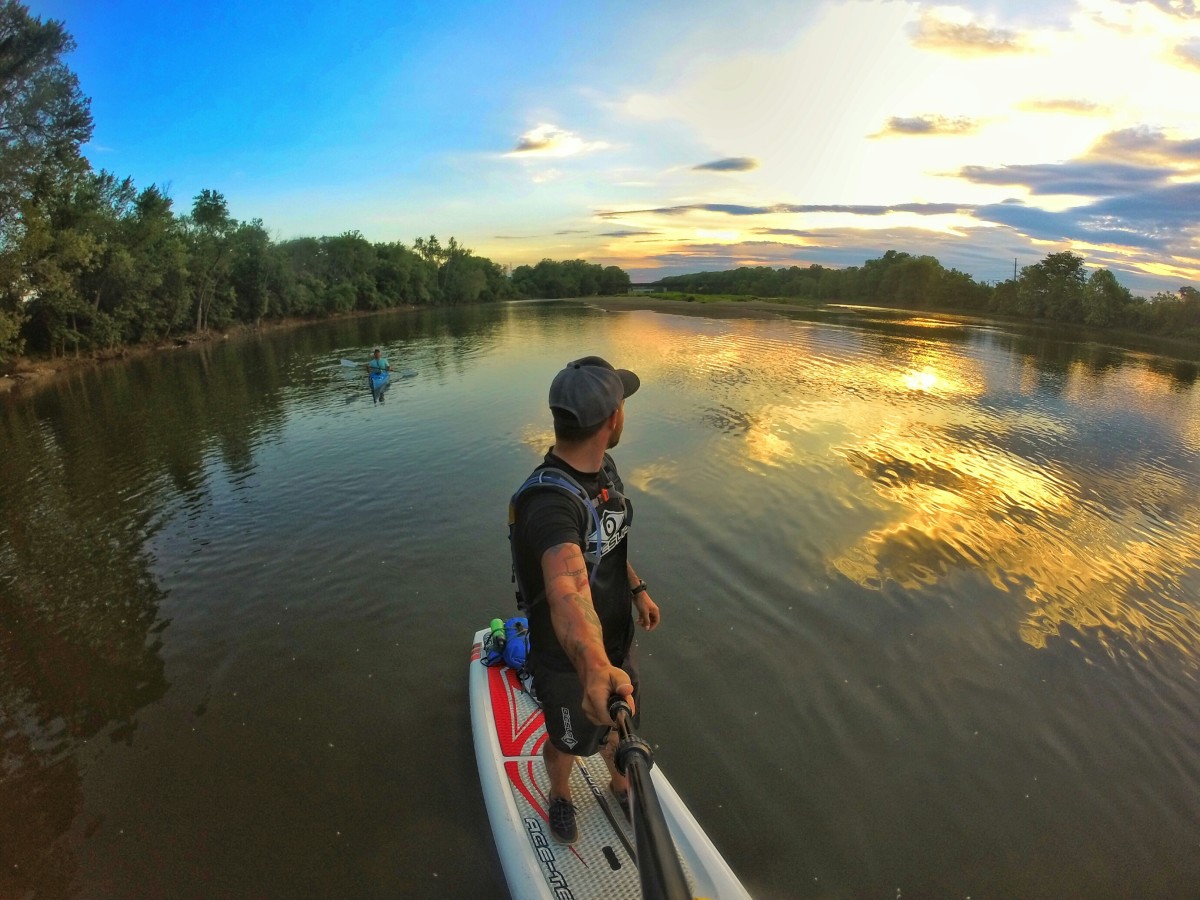 The article was originally published on Standup Paddling
For access to exclusive gear videos, celebrity interviews, and more, subscribe on YouTube!