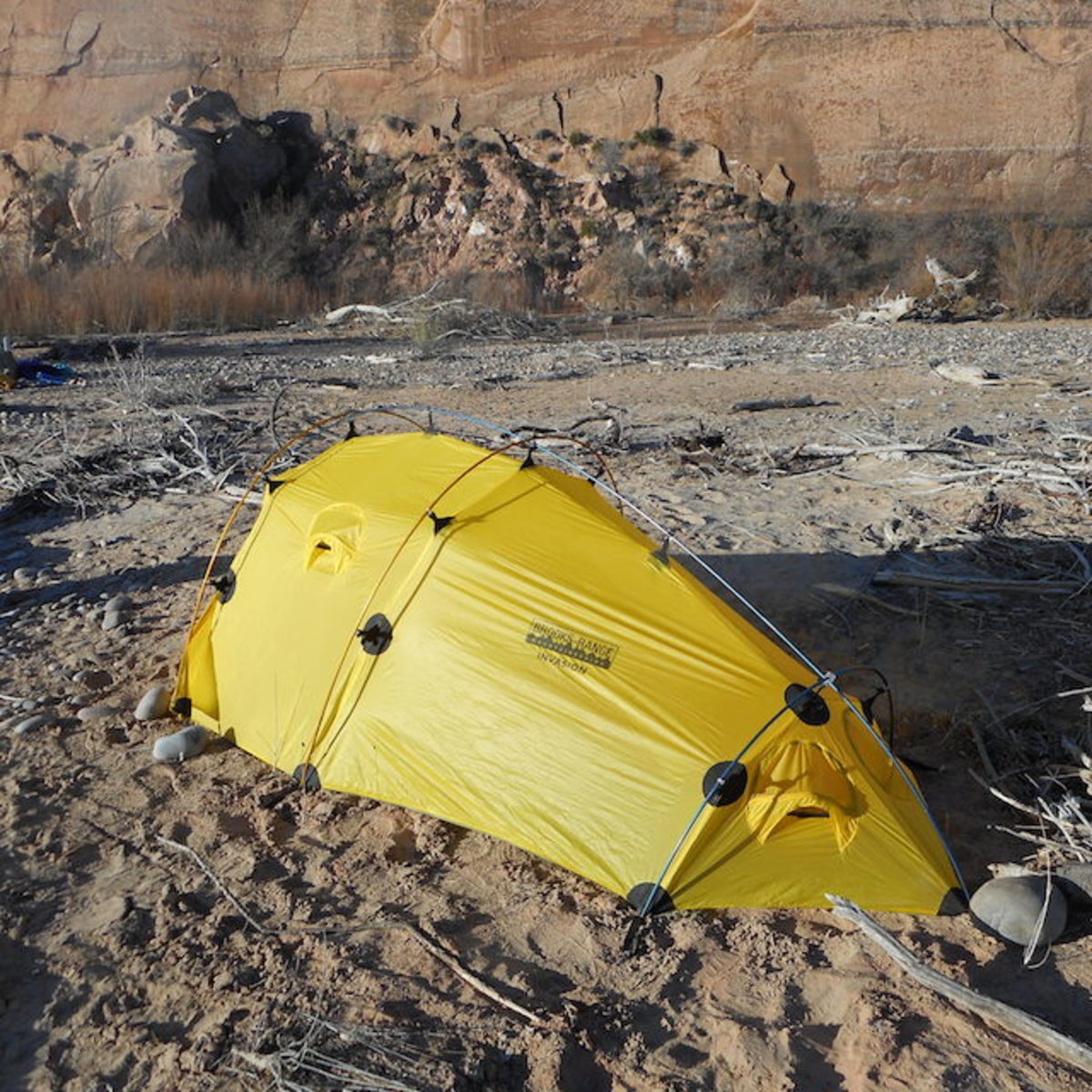 Brooks-Range has entered the murky waters of single-wall tents with the Invasion model. There is a lot to like about this tent, touted as a four-season contender. The weight, for one thing, at a feathery 3 lbs. 12 oz. The roomy interior, for another, at 30 square feet, with adequate head and shoulder room for two adults to sit side-by-side and get dressed. Huge side pockets, good lash tabs for interior drying cords, plenty of guy points for storm security, vestibule room out the front door for a couple of packs or dry bags — all good. Set up is easy, even for one person, with a creative pole package and connectors that support a tightly-pitched, very solid shelter. As an added benefit, the pole frame can be set up independently, and the tent clipped in place at the last moment, if conditions warrant. My only caveat about the general construction of the Invasion is that the front door opening is a bit low. I kept catching my clothes on the top of the opening trying to get in.
What the Invasion doesn't completely escape is the bane of all single-wall tent technology – moisture. The problem is that until someone comes up with a fabric that mimics human skin, water is a problem. In the breathable tent varieties, they will all eventually leak (don't believe otherwise). In the waterproof varieties, like the Invasion, condensation is the enemy. True, the Invasion has a bevy of vents to maximize airflow, but the simple truth is that 3 out of 4 mornings you wake up to condensation on the inside. Not the end of the world, and I'd take condensation over outright leaks any time, but still annoying.
So there you have it – great shelter design and features, really lightweight, solid in wind and weather, plenty of room, but you won't escape some moisture, even on a clear night.
Intel: www.brooks-range.com; $569.95.
— More GEAR reviews, tips and updates from CanoeKayak.com
The article was originally published on Canoe & Kayak
For access to exclusive gear videos, celebrity interviews, and more, subscribe on YouTube!