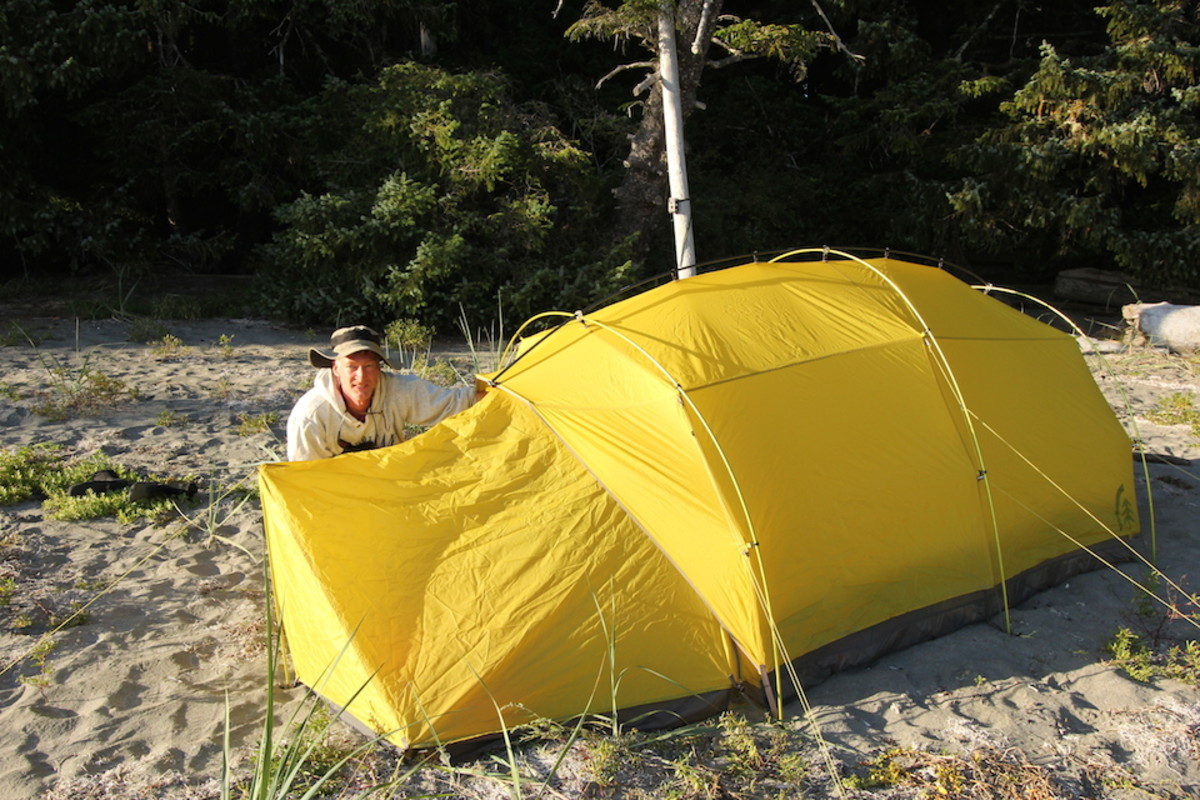 Convert 3 by Sierra Designs
(5lb 13oz minimum weight, MSRP: $689.95, sierradesigns.com)
By Rob Lyon
When we first tried the Convert 3, I could see the upside right off the bat. Namely a bomber, tunnel style tent that weighed about half that of the big domes I'd been using. And, something I like so much in sea kayaking shelters, it has the option to sport not just one but two roomy vestibules.
With its low profile and linear shape, it reminds me of a crouching tiger and would look pretty cool with black stripes. Similar to the popular Nordic tunnel tents, the Convert 3 is not free standing; the tent body depends on the attached fly being set up and has an external pole system. Unlike most tunnels, though, the convert has a center pole running the length of the tent that connects and stabilizes the three hoop poles. When you guy it out, you know it isn't going anywhere until you take it down. The wind tests that Sierra Designs subjected it to are impressive. We had storm force winds while camped on the coast last fall and the Convert 3 rode it out fine.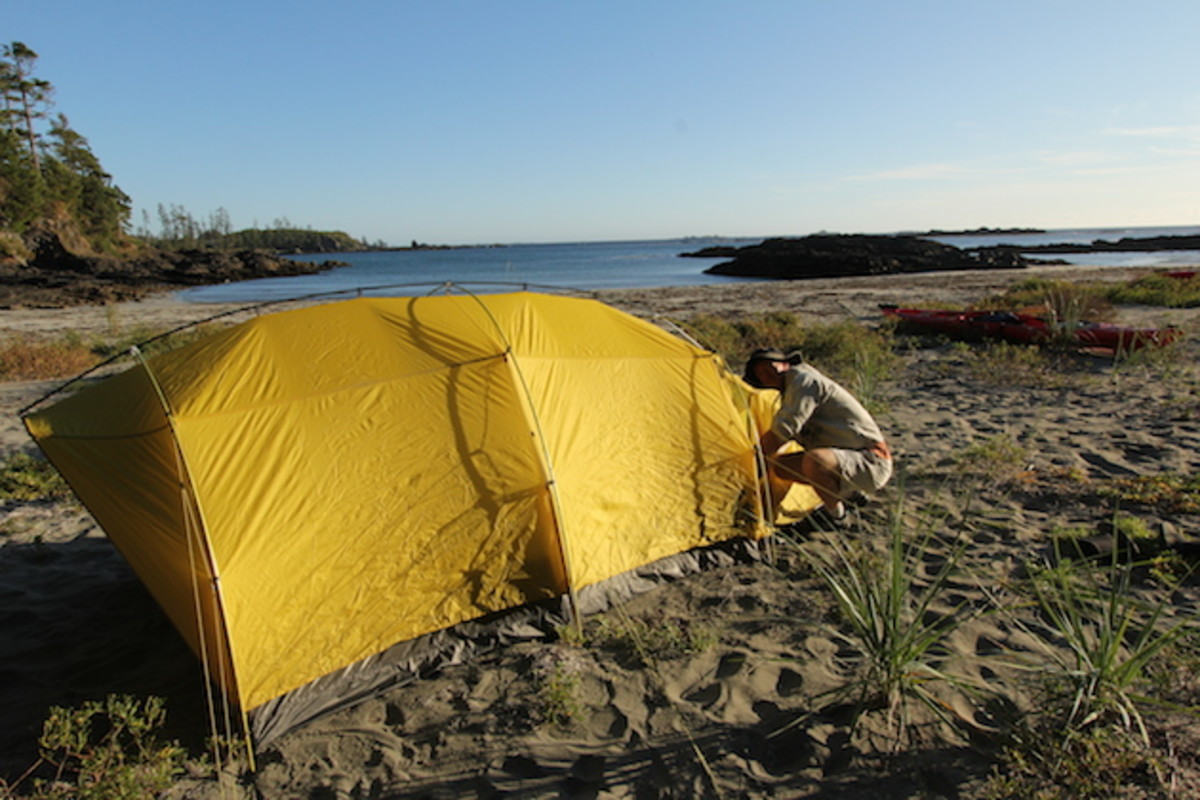 I am not a big fan of flexibility in tent design; I like equipment that meets one set of conditions extremely well. I've found that the trade off is often not worth the flexibility. But the Convert 3 has legitimate flex. It has removable vestibules. So if you want to take this baby backpacking, unzip the vestibule and you've got a quality, five pound, 3P/4S shelter! That's light, folks. If you hit the backcountry as much as you hit the beaches, this is a steep upside to consider. The tent comes with one vestibule, but if you want two for increased livability when beach hunkering, you can zip one on both ends of the tent. I like how they have a short pole to form up the interior space of the vestibule, too.
In addition to being flexible, the Convert 3 is a hybrid design, utilizing a blend of single wall-double wall fabrics in its construction. While most of the tent is double wall, the ends are single. While I don't much like 100 percent single wall tents at sea level, this has all the breathability and lack of condensation that I could want.
The interior of the tent is not very tricked out. It has four pockets and a series of ceiling loops to create a clothes line. Certainly enough for most needs, and in keeping with a slim weight profile.
It comes with a hefty price tag, what you get for having nearly the interior space of, for example, North Faces' VE-25 and potentially double the vestibule space at nearly half the weight. I would recommend this as a top choice for those who backpack as much as they sea kayak.
More Gear from C&K
12 Kayak Tents and Shelters Reviewed
Field Tested: Canoe Gear for the North
The article was originally published on Canoe & Kayak
For access to exclusive gear videos, celebrity interviews, and more, subscribe on YouTube!