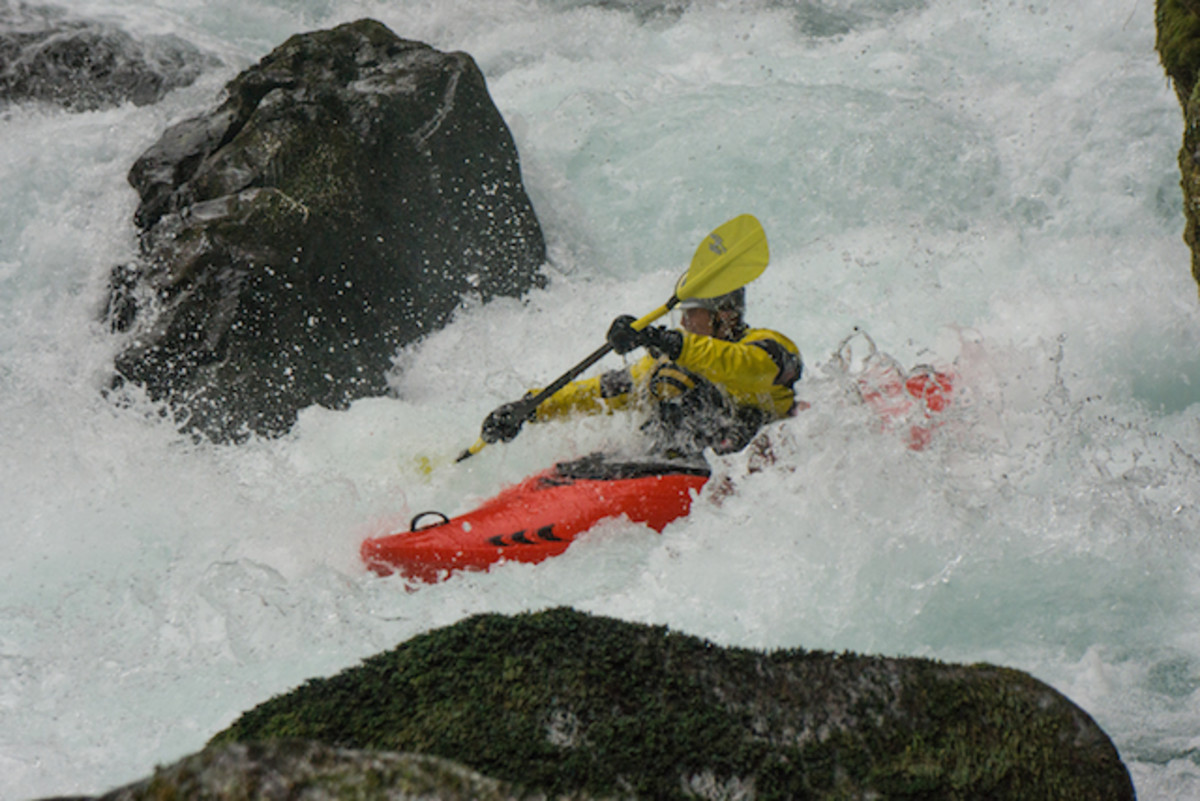 By Leif Anderson and David Spiegel
First, a few words about the two of us:

Leif Anderson: I'm 6'7", weigh 220 pounds, and wear size 14 shoes. I have a lot of trouble fitting into most boats. I normally paddle a Fluid Bazooka Large, or a Fluid Element, but now that Fluid is not distributing in North America, I am no longer affiliated with them, and am starting to investigate other boat options.
David Spiegel: I'm 5'10″, 170 pounds, size 9.5 shoe. I usually paddle a Waka Tuna as my everyday creek boat.
Outfitting and Comfort

Leif: The fit? Not great for people of my size. The foot system looks great, but there was no way I was going to get my legs into the boat with that thing up there. I had to remove the bulkhead completely and jammed a few pieces of foam up into the bow instead. I also found that the thigh hooks were not perfect because they were a little too close to my body, and a little too widely spaced.
David: Unlike Leif, I could easily use the foot rest as intended. The bulkhead is easy to adjust and is virtually the same as the bulkheads you would find in a Dagger or a Pyranha. Like Leif, I also did not love the thigh hooks. They felt too wide and I did not feel "locked in." There is a great bungee system to store a throw rope or water bottle between my legs. Overall the outfitting is average and workable, but if you buy the boat you'll likely end up doing some customization to dial in the comfort, especially with the knee blocks.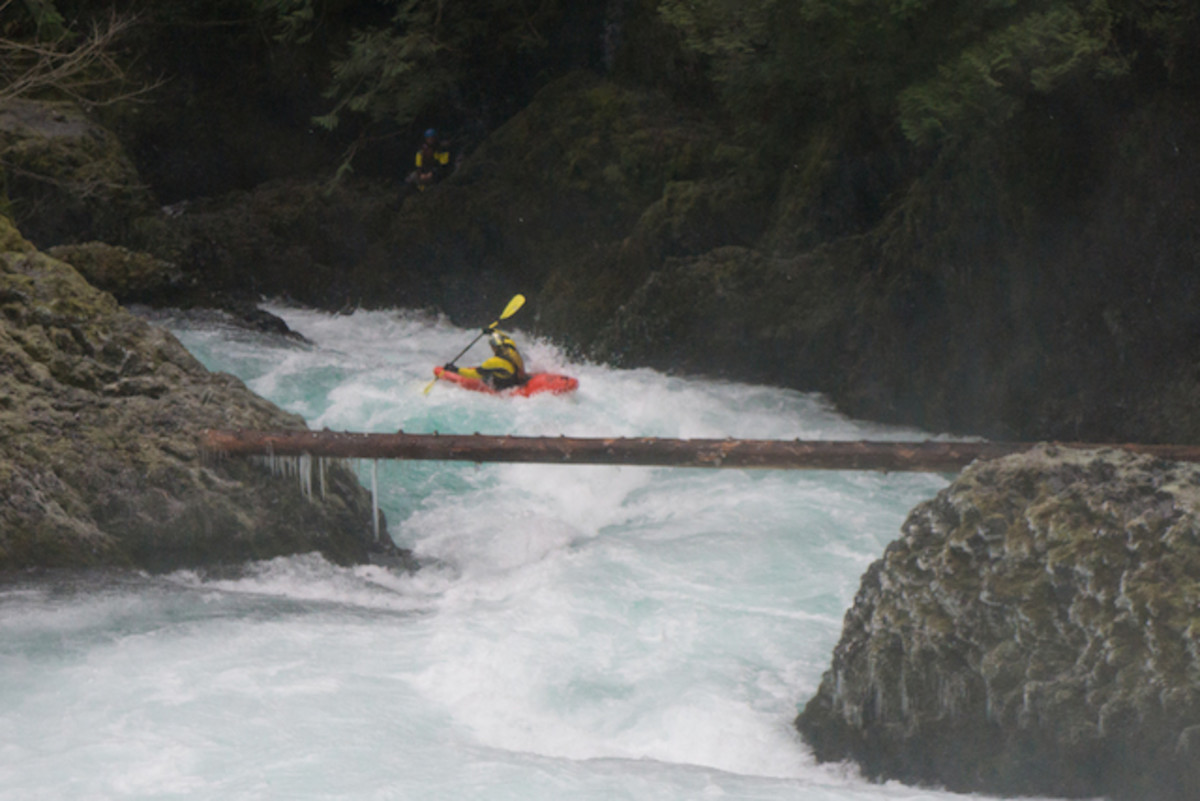 Performance

Leif: Outfitting can always be customized, so the really important thing is how the hull performs. The Cali has some things that it does well and some things that it's not so great for.
It's a user-friendly boat that is simple to paddle, but isn't a race boat. When I first got on the water with the Cali, I was struck by how easy it was to boof anything. There is a lot of rocker, and that means that you can crank that bow up over anything. It also felt easy to get the whole boat to lift up out of the water, giving you more air on boofs. On moves where I didn't have time to take a good boof stroke, I could even rock the bow up just with body motion. This, combined with some nice stability, made me very confident in the Cali. I felt like I was ready to tackle anything on my first run with the boat. I even started to develop a few bad habits like running rapids slouched into the back seat because I knew my bow would ride over whatever the river could toss at me. Considering how central the boof is to creekboating, this is a vital asset.
Here's what I didn't like so much: The Cali doesn't handle well at full speed. I had to work a little to dial in the Cali's optimal speed. The sweet spot seemed to be a relaxed pace, where you occasionally take forward strokes, and occasionally backstroke or rudder. I think of this as "approach pace," because it's the pace you usually take on your way up to the lip of a big drop. Trying to push up to full race pace with aggressive forward strokes caused the Cali to spin out a lot more. It felt like the butt of the boat (the section right behind the seat, but not the actual stern) would sink into the water a little, and then it would become hard to steer and keep straight. This was especially pronounced in small Class II, or the tiny swirls and boils that form downstream of sweet boofs. I would often nail a boof, start to coast away, and then right as I cleared the backtow and got ready to celebrate, I would suddenly veer off to one side or the other. I'd cruise straight into the wall, no matter how many sweeps I put in. However, once I got the slower pace figured out, these spin outs decreased dramatically. Correctional back strokes were very effective.
David: The first thing that I noticed about the Cali is the weight. It's crazily light, so I can see why it would be awesome for long hikes into remote overnighters. There is plenty of space in the stern, so loading it up with gear would be easy.
The Cali is capable and forgiving. For my first day in the boat I took it to the Little White Salmon and felt perfectly comfortable on the continuous Class V whitewater. The Cali was most at home in tight, technical sections that require quick turning and less speed. Its light weight and generous rocker make it ludicrously easy to boof. The rounded hull felt stable and forgiving so that I never felt close to flipping, even when I beatered a few lines.
The Cali did not excel in rapids that required speed because it has a tendency to spin out when going fast. Tracking is not its strongest feature. This was most noticeable in the swirling waters of "Chaos," where the Cali felt unpredictable and sluggish when I needed speed the most.
The Cali is marketed as a big guy's boat but I felt completely comfortable using it as an average sized paddler. Considering our drastic height/weight difference, it's pretty impressive that Leif and I both felt comfortable with the size of the boat and that we had very similar impressions of its performance. This makes me feel really confident that I could load a ton of gear into the boat and still have it perform similarly to how it felt on the Little White.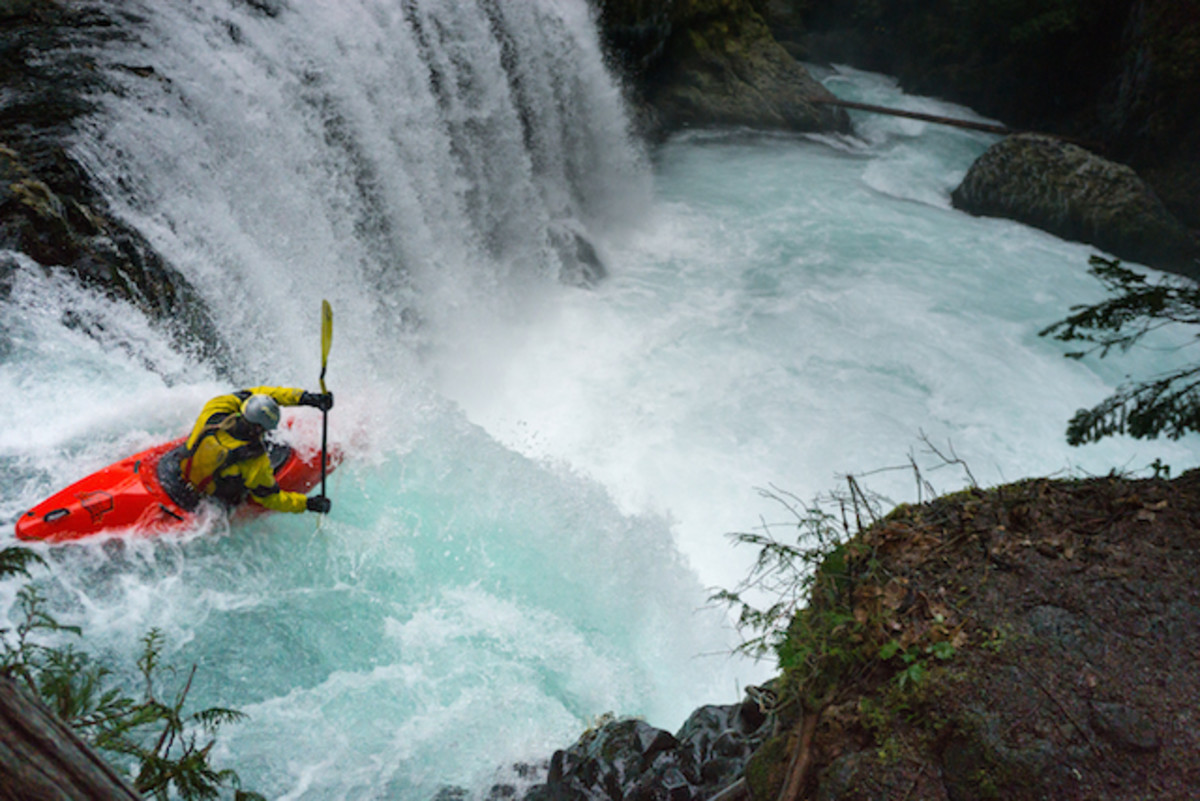 Durability
The other major selling point of the Cali is its reputation for durability. Prijon's blow molding process is somewhat legendary for churning out durable kayaks, but we only had the boat for two weeks, so we can't honestly evaluate durability.
Bottom Line
Our best comparison is that the Cali has many of the same user-friendly characteristics as the Nomad 8.5 did, but it's larger and lighter for multi-days and larger paddlers. This boat will be popular with paddlers who have been hanging on to their Nomads for years now, stubbornly claiming that it will never be surpassed. If you want to go fast and race hard, feeling a precise response from your boat on every carve, this is probably not the boat for you. Check out the Prijon Cali if you want a stable and forgiving ride to step up to harder whitewater than you might otherwise feel comfortable running, whether that is stepping up from Class III to IV or from V to V+.
–Learn more: http://www.rokwatersports.com/products/prijon-cali
Read more in-depth reviews by David Spiegel on Canoekayak.com:
The article was originally published on Canoe & Kayak
For access to exclusive gear videos, celebrity interviews, and more, subscribe on YouTube!