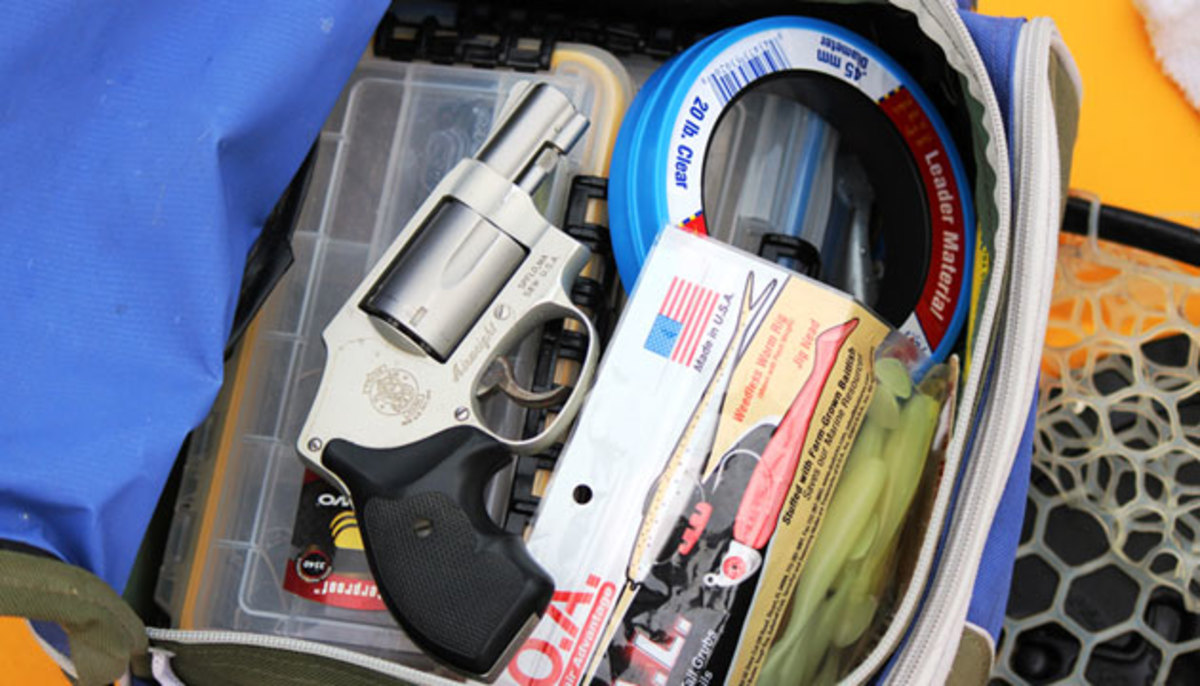 Kayak Carry: Should Anglers Pack Heat?
A law enforcement professional offers his thoughts
Words and photos by Bob Bramblet
Kayak fishing sometimes takes us to remote areas or unfamiliar places. Unsavory characters or natural threats such as wild animals can put us at risk when we least expect it. This leads us to ask whether it is a good idea to carry a firearm when kayak fishing. As a certified law enforcement professional, I offer the following considerations.
In the past few years, kayakers have been unexpectedly faced with deadly force. Most recently, a 56-year-old man who was kayaking in a Maryland creek at night was shot by an unknown assailant. The victim, David Seafolk-Kopp, spent the next 12 hours attempting to paddle back for help with a gunshot wound to his side. Police believe it was a random, possibly accidental shooting.
Another near tragedy occurred when 61-year-old Michael Hamilton opened fire on a group of seven kayakers on Gunpowder Falls River. The kayakers were travelling down river when Hamilton yelled at them and began shooting. Luckily, no one was hit.
One of the most concerning cases took place in Texas about four years ago. Joey Ramos and an unidentified friend launched at Labonte Park for a late afternoon fishing trip on Rincon Bayou. They passed under a railroad trestle where four young males were gathered. No words were exchanged, but the kayakers had an odd feeling about the encounter. Minutes later, multiple gunshots rang out sending the kayakers scrambling for cover. The hellish nightmare lasted hours as the unknown shooters kept up a hail of gunfire. The kayakers called 911, local game officers and even their families while trying to get help. Eventually Texas Parks and Wildlife game warden Kevin Mitchell came to their rescue. Although Ramos said the shooters aimed more than 100 rounds in their direction, they were unhurt if justifiably terrorized.
Would these stories have been any different if the kayakers had been armed? Probably not. In these cases the victims did not see their assailants during the shooting and could not have responded with force. But, that's not to say that it's not a good idea to be prepared. Not all would-be assailants use long range tactics, and you don't want to end up a victim.
There are many reasons for kayakers to carry a concealed firearm, most of them the same reasons for carrying on shore. If you already carry a firearm off the water, you probably carry it on the water as well. If not, there are some things you should know before making the decision to carry a firearm while kayaking.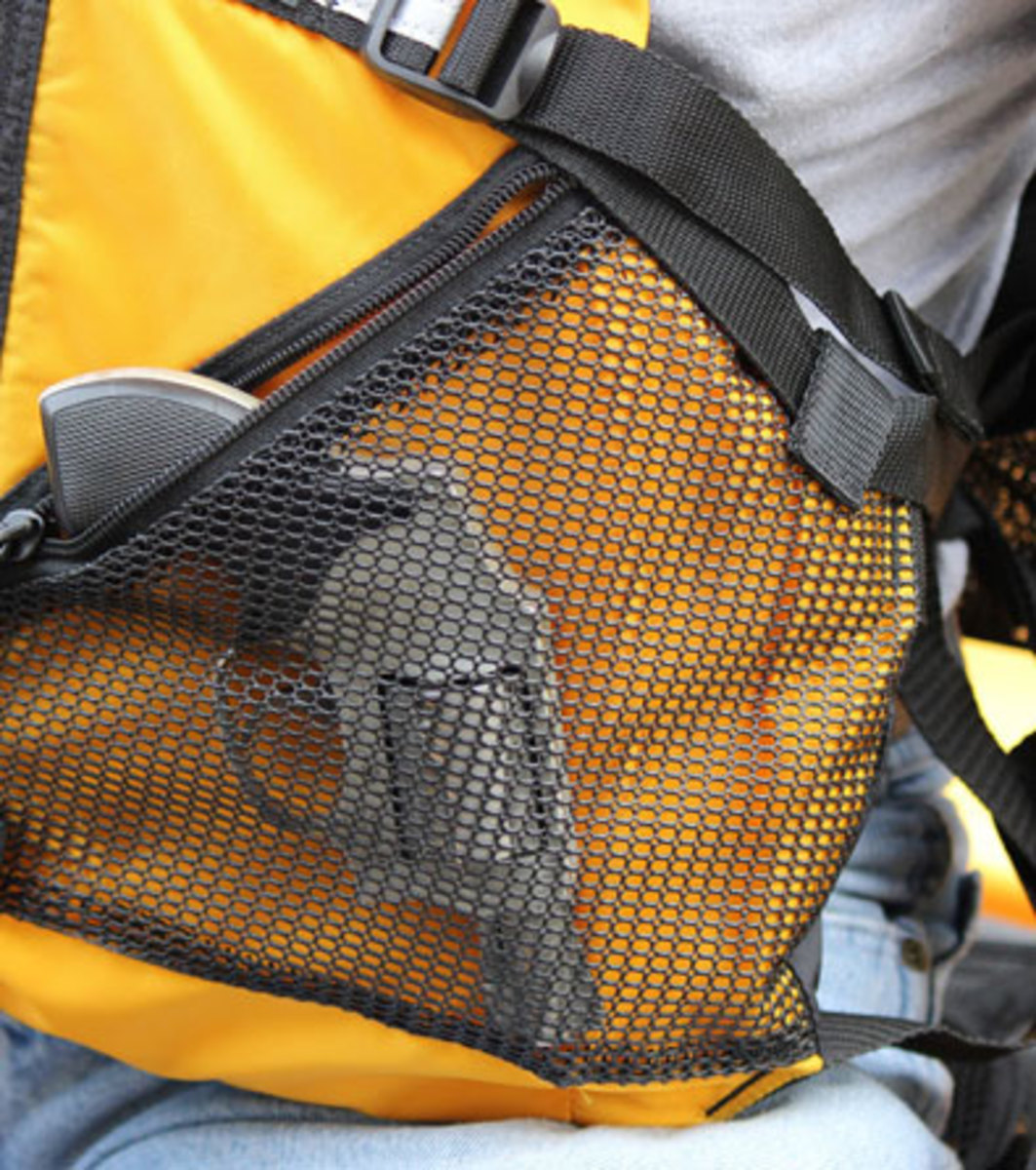 First, you should be very familiar with the laws and ordinances in your area. Each state and municipality has its own rules on when and where it's appropriate to carry a weapon. Some areas allow the open carry of firearms, some places require a concealed weapons permit while others prohibit carrying any firearms for any reason. It's imperative you know and comply with these laws. The Second Amendment is one of our fundamental rights. It establishes our right to bear arms, or more importantly, our right to be armed and able to defend ourselves. This only applies, however, if we follow the letter of the law.
The next thing you should know is when not to use a firearm. This pertains to the vast majority of situations. An argument with a boater, a shark swimming next to your kayak or the guy at the bait store that charges too much for a Zara Spook are non events. The only reason that weapon should cross your mind is if you find yourself or someone else in imminent danger of great injury or death. When was the last time you found yourself in a situation like that? Probably never, and that's how many times you will probably be in a situation like that. You will only use it in the remote event that you need it. You will never brandish it or wave it around as a deterrent. Remember, the only reason you should be carrying a firearm is in case the unthinkable happens. Most likely, it never will.
Lastly, know your weapon. It isn't enough that you passed a class and obtained a permit. You should intimately know your firearm and what it's capable of. Practice makes perfect or at least mitigates the odds of mistakes. You should know how to carry it, where to carry it and know what to do if you ever need to use it. There are many different choices when it comes to size, caliber and even finish that can make a difference. Explore them all and make an informed decision.
In closing, I have to make this disclaimer. I am not advocating anyone carry a weapon while kayaking. It's a personal choice, just like wearing a PFD where it's not a legal requirement. These are just recommendations of things to consider. The individual kayak angler has to decide whether carrying a firearm is the right choice for them.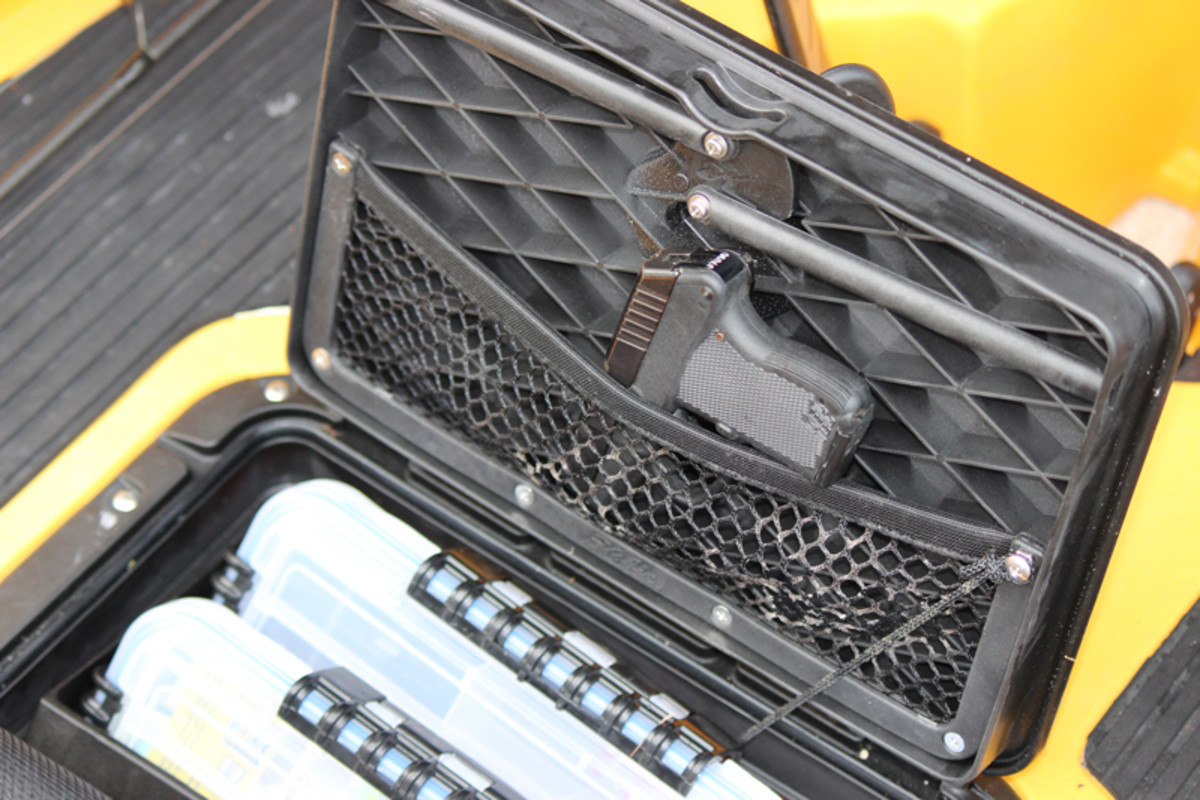 The article was originally published on Kayak Fish
For access to exclusive gear videos, celebrity interviews, and more, subscribe on YouTube!