Words and photographs by Paul Lebowitz
Fishing and other sporting kayaks continue their exhilarating evolution. Where once they might have all popped from the same mold, these days manufacturers are busy filling every conceivable design niche. Many new fishing kayaks are stable enough to stand in, providing anglers an elevated view. Also in the past year, kayaks equipped with small electric motors hit the market in a big way. If that rankles your paddling-purist sensibilities, take heart. The traditional fishing kayak is still going strong, and why not? It was practically perfected over the past few years.
These designs almost universally favor stability, fish-savvy deck plans, and carrying capacity over speed. After all, you can't fish in a hurry. Our quartet of catch-crazy kayakers embarked on a tour de bass ranging from the salt to the high ground in San Diego, one of North America's all-around fishiest counties. We dared foaming breakers for checkered bass at legendary La Jolla, hunted trophy largemouth at backcountry Lake Barrett, and ended it all teasing freckled fish on the mellow flatwater of Mission Bay. Sure, it was a lot of variety, but this new era of specialization offers kayak anglers the luxury of matching the right boat to any given water.
Commanding Presence
WILDERNESS SYSTEMS COMMANDER 120 ANGLER
($1,195 in roto-molded plastic; $1,420 with rudder,
wildernesssystems.com) L: 12′; W: 30″; 68 lbs., 400-lb. capacity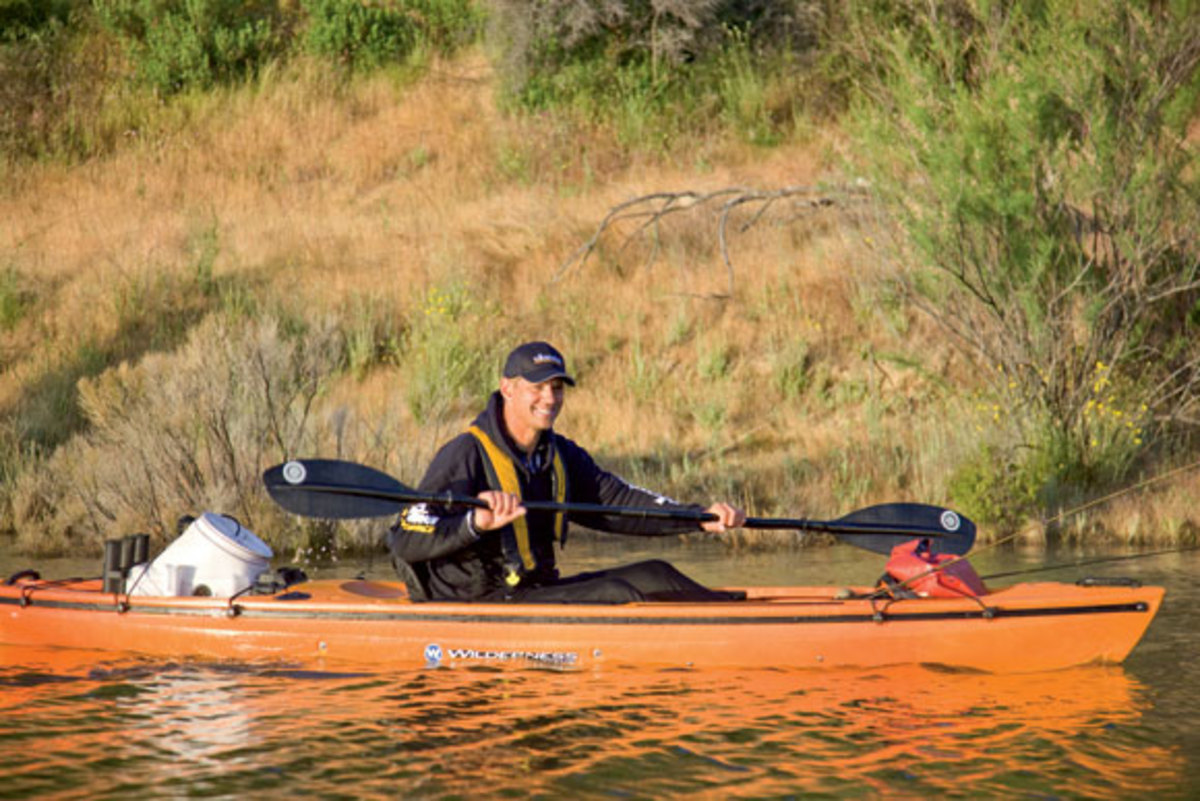 Fear no fish. The Commander dominates flatwater fishing holes due to its innovative, next-gen design. This is a 'yakanoe,' a spacious and dry canoe-like hull designed to be used with a double-bladed kayak paddle.
It's a superior sporting platform-duck hunters take note-that offers a tremendous carrying capacity, rock-solid stability, and nearly unmatched freedom of movement within the boat. There's even a storage well of sorts. The Commander offers a lot of features to like, particularly the brilliant multiple seating options. The integrated Freedom Elite Seating System is as adjustable and comfy as they come, and is even removable for shore-side use. But its best trick is folding up and sliding out of the way beneath the bulkhead that supports a unique elevated perch. Wilderness Systems dubs it the Captain's Seat and rightly so, as it offers a commanding view.
Angler-oriented goodies include dual flush-mount rod holders aft and the all-around excellence of the SlideTrax Universal Mounting System. This ultra-flexible track system runs the length of the hull on either side. Two more rails top off the gunwales up front. They accept a wide variety of catchy accoutrements, starting with the included anchor trolley, a universal mounting plate and a Scotty rod holder. Simply beautiful. C&K's test crew also admires the sacrificial skid plate that protects the stern from scratches and gouges-other manufacturers should follow suit. Used as intended-lacking scuppers, this is not an open-ocean boat-the Commander is a winner.
Old Friend, New Tricks
FEELFREE MOKEN 12 ANGLER
($899 in roto-molded plastic, feelfreekayak.com)
L: 12'4″; W: 29″; 59 lbs., 400-lb. capacity
As familiar as an old friend, the Moken 12 Angler is a sporting kayak in the traditional mold. It's a solid and dependable choice that comes complete with virtually every fishing standard, such as flush-mount rod holders, an integrated seat with mesh storage pouches on the backrest, and a deep storage well that'll haul a truckload of gear-all of the standards. But don't be fooled; this old dog boasts several fancy new tricks. Our test crew loved the molded carrying handles so intelligently placed. The wheel in the keel simplifies portages-sand, gravel and dirt don't trip it up. The bow is one big storage well that comes with a huge side-hinged cover. It isn't watertight, but nothing really is on a sit-on-top.
On the water, the Moken 12 is a pleasant ride, with the characteristic little wiggle that comes with slightly rounded chine. That's a compliment. It handles well in the slop. The ride is comfortably dry due to multiple scuppers and high sides, but the latter increases wind drift. There's a flip-up cockpit console and space to mount an accessory bar with a couple of full-sized aftermarket rod holders. That's good, because narrow gunwales and the aft deck design otherwise limit rigging options. A small round hatch and mesh bag provide secure storage in the cockpit. The factory rigging includes nice touches such as integrated gear leashes, but the rod holders are too narrow for beefy, big-game sticks. The package, if not exactly cutting edge, is a nice refinement of the conventional fishing kayak.
Standing Tall
DIABLO PADDLESPORTS ADIOS
($1,600 in thermoformed ABS, diablopaddlesports.com)
L: 12'6″; W: 36″; 69 lbs., 400-plus-lb. capacity
The Adios sets a new standard for size. Think aircraft carrier. Its deck is so broad, you can launch jets off this thing. Okay, that's hyperbole, but you really can walk all over it. Stretch those legs and fish like you were meant to, standing tall. The elevated perspective is superior for reading water and spotting piscine targets. Worried about stability? Even the clumsiest of the C&K test crew had no trouble going from standing to sitting, and could really huck those snap casts. Capsizing would be a real trick; falling off is the more likely dismount style.
For all its heft, this hybrid that blurs the lines between kayaks and standup paddleboards is surprisingly nimble. Moving it doesn't take much effort-credit sit-on-top design savant Tim Niemier and James Thomas of Wild Design for this bit of magic. By necessity, the Adios comes with a paddle keeper on each side. Our testers preferred the long, single-bladed SUP paddle for fine-tuned maneuverability while fishing, but fell back on the efficiency of kayak blades for touring.
The deck design is clean and uncluttered, well suited to flyfishing and wide open for aftermarket rigging. A neat rectangular hatch sits up front, accessing plentiful in-hull storage; two more small rounds are just aft of the cockpit. The storage well is large and accommodating. Thoughtful details include wide, non-skid cushioned foot pads throughout the cockpit and nylon straps rather than bungee cords across the storage well. So good, it's fair to say the Adios is a big step forward in fishing kayak design.
Super Charged
OCEAN KAYAK TORQUE
($1,999 in roto-molded plastic, oceankayak.com)
L: 13'10"; W: 29″; 86 lbs., 425-475-lb. capacity
Look Ma, no hands. The Torque glides silently through the water. But where's the paddle? Strapped to the side. That's right, this is an electric 'yak that sports a couple of horses under the hood. At first glance, it doesn't really look it. Based on the excellent Trident 13, the deck is pristine and clean, with a bow hatch up front, the obligatory storage well for gear storage aft, plus Ocean Kayak's trademark fishfinder-compatible scupper and a designated space to stash a hard-sided tackle box.
The pre-wired 36-pound thrust, saltwater-rated motor pod is built by trolling motor mainstay Minn Kota. It fits flush in the slotted storage well (don't worry, it floats). The recommended, optional power pack, a heavy 12-volt sealed AGM marine battery that should run some eight hours, tucks neatly out of sight into a front cockpit hatch. The location keeps the boat perfectly trimmed. Setup takes a minute, tops. Ready to hit the gas, er, watts? Bump it up to 5.5 mph with a turn of an inconspicuous rotary throttle knob. It has infinite variable forward and reverse speed control. Steering is via rudder foot pedals.
Handling is superb, preserving Ocean Kayak's sea-going sensibility. The Torque travels straight even with the rudder up, and gobbles up surf and chop. If you turn it off, it paddles well too, with the motor off or swapped out for the included skeg plug. A friendly deck offers plentiful aftermarket rigging options. Original skepticism aside (we purists enjoy paddling), the Torque is an undeniably fun and wickedly effective fishing weapon.
Clever Cat
DELTA KAYAKS CATFISH
($1,450 in thermoformed ABS, deltakayaks.com)
L: 12'6″; W: 27″; 50 lbs., 300-lb. capacity
Delta Kayaks is clawing its way into the crowded multi-sport market with its first sit-on-top. The Catfish is a true catamaran, with the appealing lines that denote thoughtful design.
Delta is known for its sleek sea kayaks. That performance aesthetic shines through in the Catfish's dual hulls that sharply enhance glide. This clever craft skates across the water, although it is more susceptible to noisy hull slap as a side effect. Overall stability is also improved, permitting the svelte 27-inch width. That aspect in particular sets it apart from the bigger-is-better crowd. Trimmer paddlers in the 150- to 170-pound range will love it.
Rig-ability is fair, with room up front to mount accessories, but no real space on the rails or aft deck. The large storage well makes up for it, plus it wouldn't feel right to overload this sleek little number. Fit and finish are top-notch; attention-getting standards include a spare but comfy seat, hatch covers with nice twist fasteners, and the beguiling Sea View window-a clear plastic panel providing an underwater peek. Seaworthiness is improved via a sealed bulkhead up front, a sit-on-top rarity. The cockpit is a deep one, allowing a near water-level seating position that enhances stability but leaves the cockpit prone to fill in surf. Drainage is limited to one small scupper that makes for slow going, with another in the storage well. For a kayak as innovative as the Catfish, that's an insignificant gripe. Anglers who favor paddling performance over bulk should applaud this compact tiger.
Multi-Tasker
LIQUIDLOGIC VERSA BOARD
($879/$999 for Angler model, in roto-molded polyethylene,
liquidlogickayaks.com) L: 12'3″; W: 33″; 53 lbs., 300-lb. capacity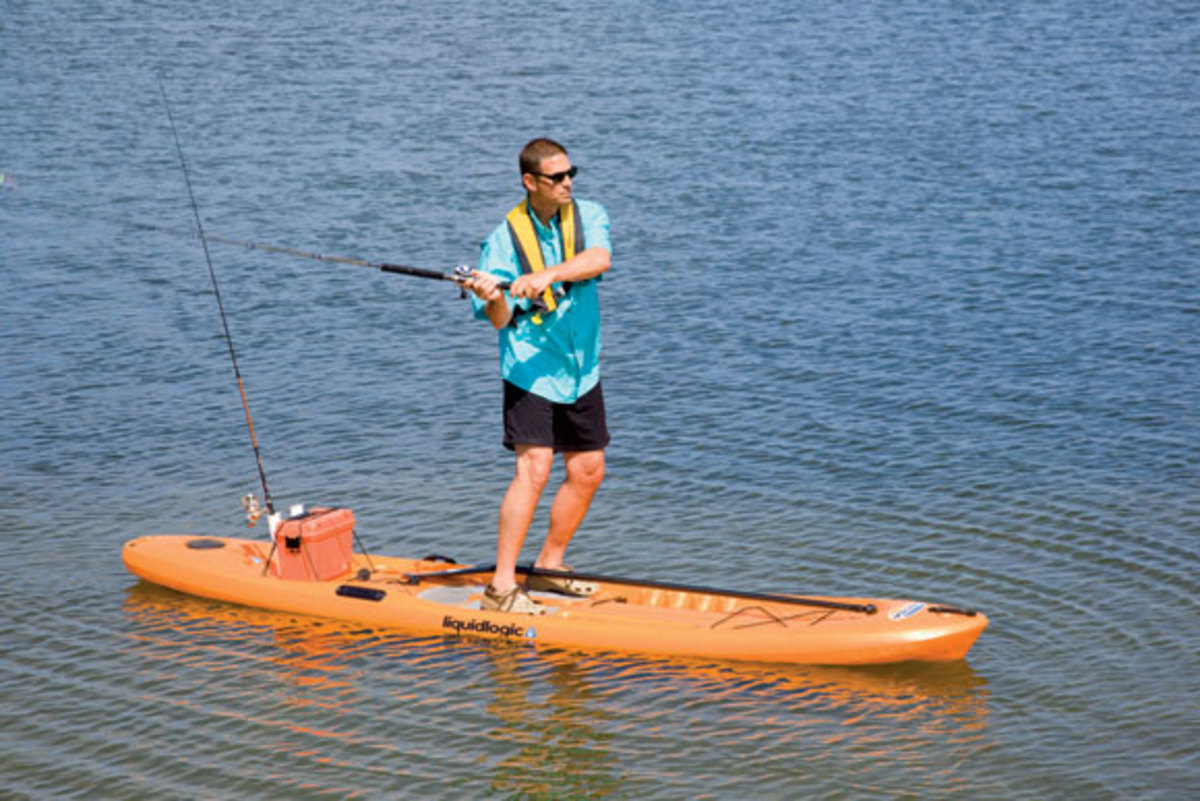 Liquidlogic's SUP-kayak hybrid is another of this year's multi-purpose wonders. Stand up or sit down, the choice is yours. It isn't Texas-sized like the Adios-it falls more on the SUP side of the blurry line. It's still forgiving enough for novice water-walkers to stand up straight and cast baits to tailing fish. Design is telling; the Versa's kayak side plays out in a tunnel hull and hidden keel. Take it as you like it; a spring-loaded drop-down skeg switches the ride from ultra-maneuverable to straight-line steady with the flip of a lever handle. Either way, the ride is appealing. The size and shape (the Versa is the opposite of bulky) is just about perfect for a quick morning or afternoon session.
Flyfishermen in particular will adore the Versa's uncluttered deck. For an overgrown surfboard, rig-ability is solid. The hull isn't deep enough for standard flush mounts, but virtually anything else will work on the wide-open deck. Shock cords fore and aft provide a place to stash a tackle box or even a fishing crate. There's a little in-hull storage too, accessed via a small, round hatch aft. Available accessories include a couple of seats (the First Class option swivels 360 degrees) that fold easily out of the way when it's time to elevate your game. Sister company Native Watercraft's Versa variant adds an angler package with an accessory track system. Now that's multi-tasking.
Performance classic
COBRA TOURER
($925 in super-linear polyethylene; $1,275 with rudder and hatches; $1,450 with high-back seat and two-piece paddle, cobrakayaks.com) L: 15′; W: 28″; 50 lbs., 475-capacity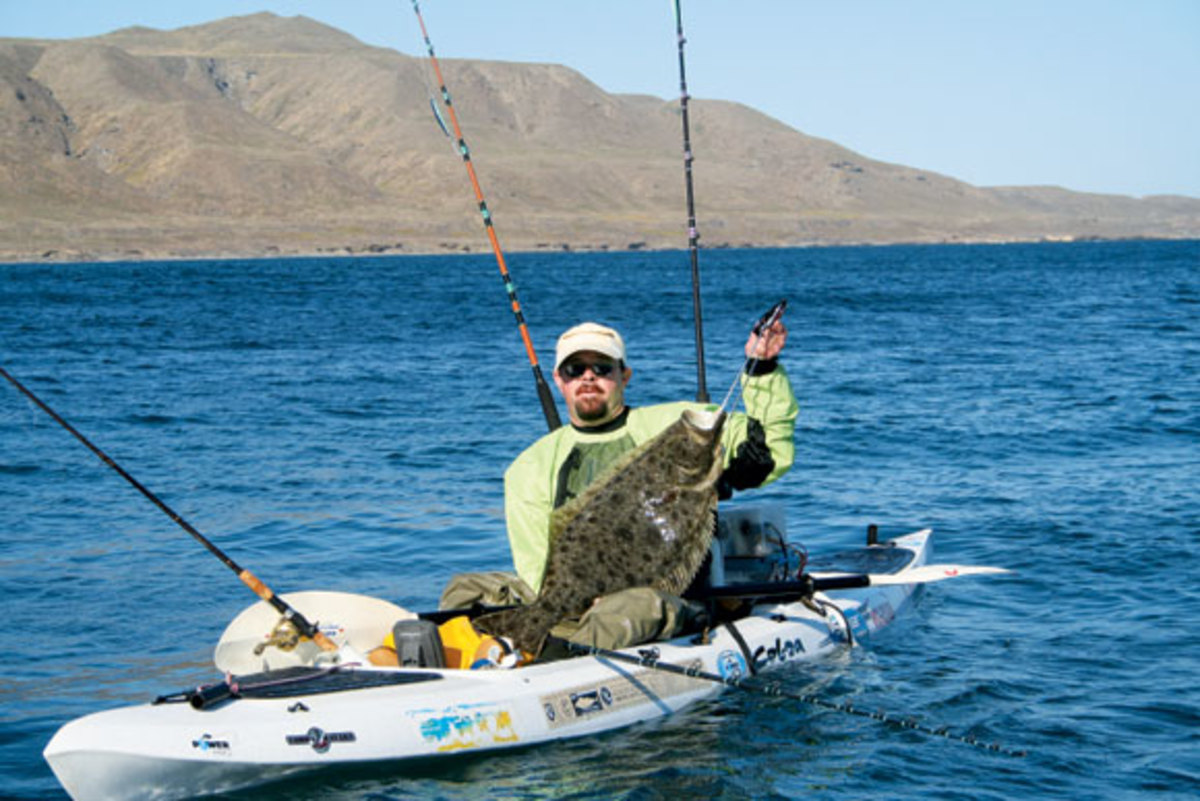 Not ready to dive headlong into the kayak fishing fold? Consider a versatile, sea-worthy option like Cobra's classic Tourer. With a very low hull profile, the Tourer tracks well in choppy conditions and easily tackles surf-zone transit. Paired with the adjustable foot pedals and a solid rudder system, this kayak boasts much more efficient paddling than your average sit-on-top (though consequently a wetter ride), while still providing ample stability and storage to support any potential diving, fishing, hunting, photographic or other multi-sport adventure you've got in mind. Throw in the bow and stern storage compartments and you open up the possibility of packing your overnight camp kit. Serious kayak anglers note that the Tourer's rear storage well does not fit the standard rigging fallback of an old milk crate and that rigging rod holders requires aftermarket additions-a slight sacrifice in rig-ability for forgiving, higher-performance paddling to help you go farther, faster. Pictured with optional backrest, hatches, leg straps and tank straps.
The article was originally published on Canoe & Kayak
For access to exclusive gear videos, celebrity interviews, and more, subscribe on YouTube!