There were so many notable angling feats in 2014 that it's impossible to produce a short list without excluding several worthy candidates, but the following were among GrindTV's most widely viewed stories about catches that were rare or amazing for various reasons, and deserving of mention on our year-end list.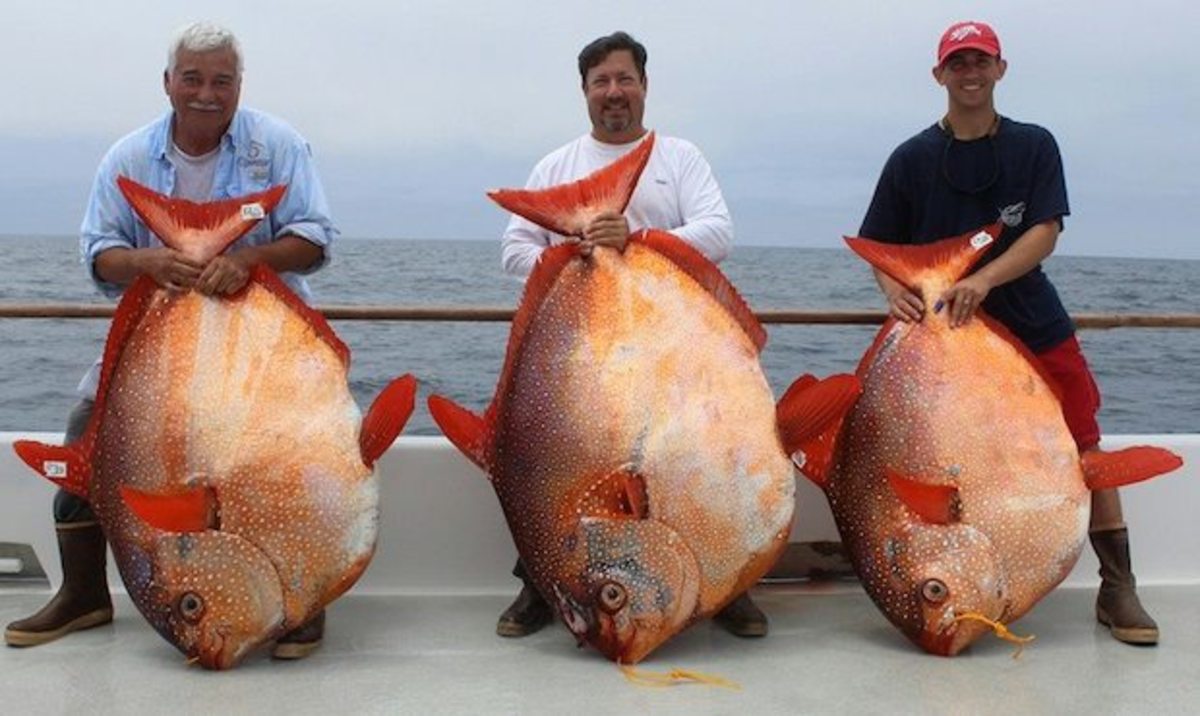 1) Southern California anglers score rare opah trifecta. Armando Castillo, Joe Ludlow, and Travis Savala starred in one of the most eye-catching fishing photos of 2014, as they posed with their catches of brightly colored opahs on the deck of the Excel, a luxury long-range sport fishing vessel based in San Diego.
It's rare for an angler to catch one opah from a sport fishing boat. These so-called "moonfish" are deep-water, solitary denizens. But on a balmy late-summer summer day off Baja California, during a multi-day tuna trip, each of the three anglers reeled up an opah, one after another, to the surprise of passengers and crew. The fish weighed 151, 180, and 124 pounds, respectively. Ludlow's catch, with an official weight of 180 pounds, 12 ounces, was later approved as a world record. Click here for the full story.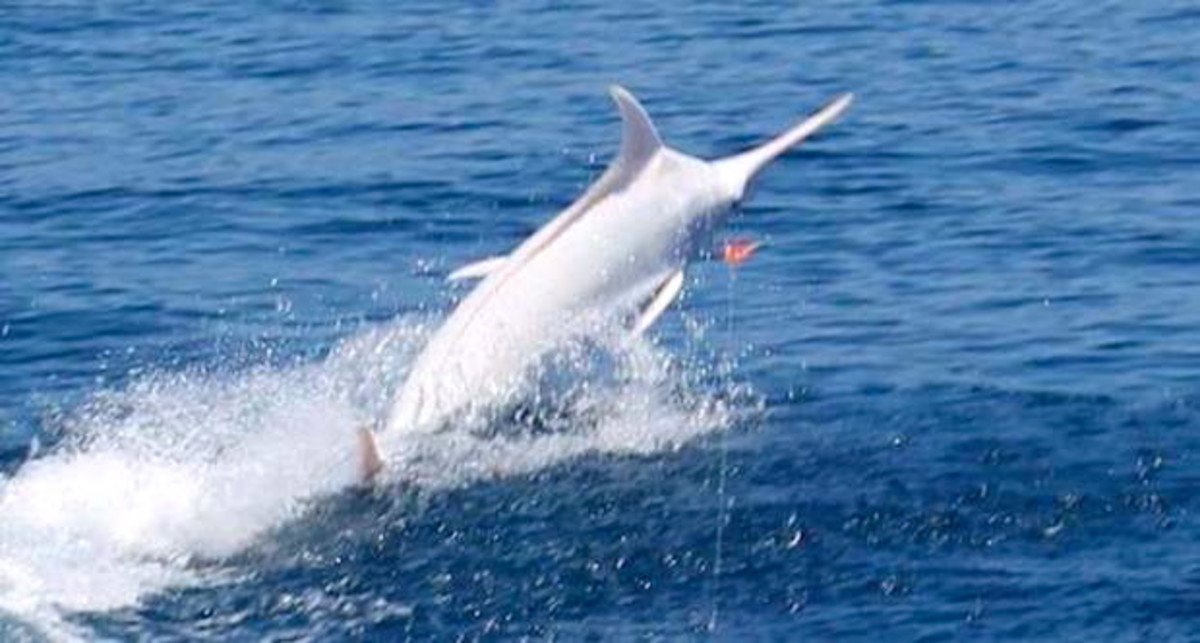 2) Albino blue marlin surprises anglers off Costa Rica. "It was definitely not a typical day," Glen Mumford, owner of Maverick Sportfishing, said after one of his clients landed a blue marlin that was almost pure white.
Karen Weaver, a veteran angler from New York, fought the marlin for about an hour off Los Suenos on Costa Rica's west coast. After being brought to leader, it was carefully released. A spokesman for the International Game Fish Association said veteran anglers he spoke to had never seen a white blue marlin. Click here for the full story.
3) Rare wahoo catch could be a first. The summer-fall fishing season off Southern California was simply phenomenal, with many rare catches being logged, thanks to sea-surface temperatures that were four to eight degrees warmer than normal.
In early September, Eric Kim reeled in what was thought to be the first wahoo ever landed in the region. Typically, these slender, speedy game fish are caught in tropical or subtropical seas. After Kim's catch, of a 60-pounder, however, several other wahoo catches were made off SoCal. The fish were believed to have come from Mexico. Click here for the full story.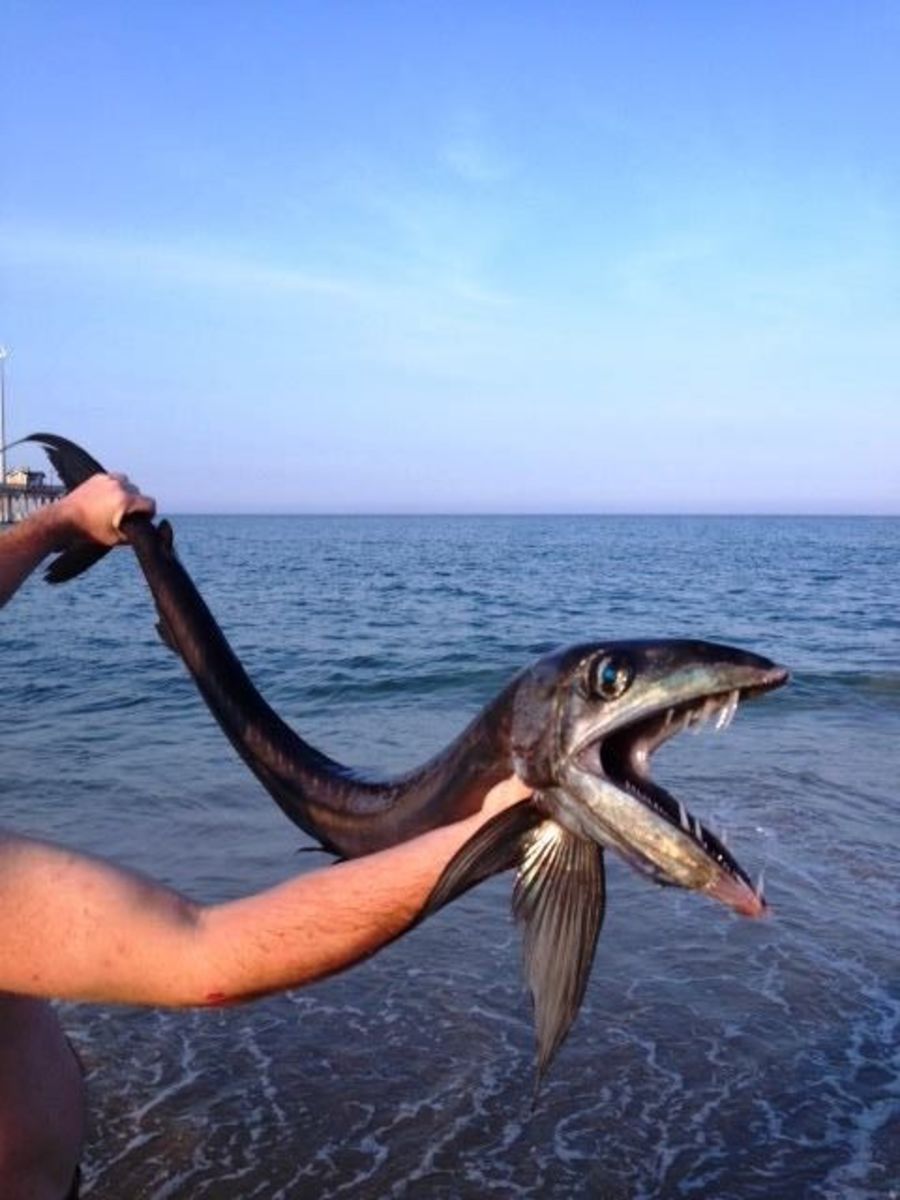 4) Ferocious-looking sea creature is a lancetfish. This fanged denizen of the deep was not caught on a rod and reel. It was captured alive but listless after it had washed ashore on a North Carolina beach, but the photo went viral on social media as people wondered about its identity and marveled at its ferocious-looking appearance.
Among headlines describing the find: "Scary fanged cannibal fish washes ashore," and "Terrifying lancet fish with fangs washes ashore in North Carolina." Click here for the full story.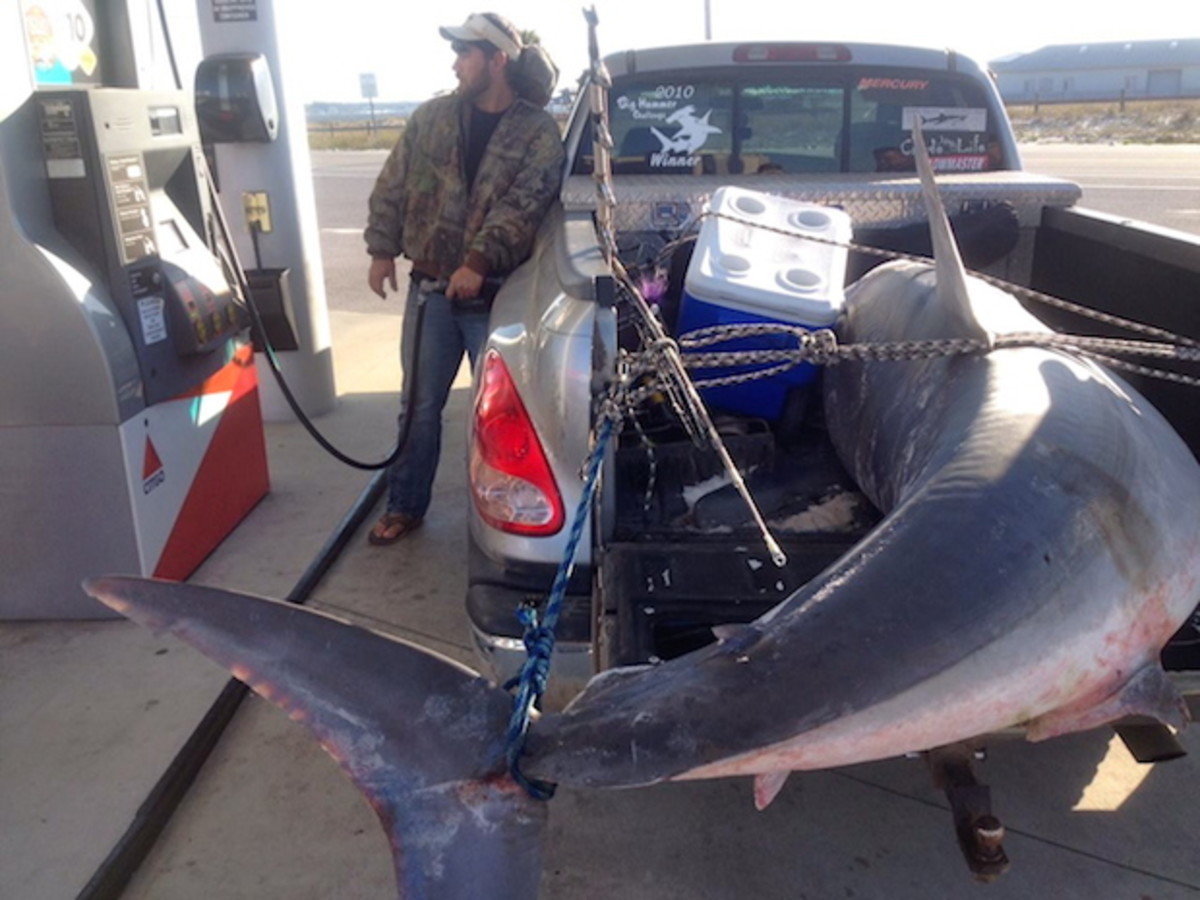 5) Giant mako shark photographed in back of pickup truck. Shark fishermen like to fly under the radar, given that so many people are against killing large sharks, but it's not always possible when the sharks are big.
And it's downright impossible when the person hauling an 805-pound, 11-foot mako shark in the back of a pickup, is running on empty and has to stop for gas. The shark in the accompanying image was caught from the beach off Florida by cousins and Earnie and Joey Polk.
The image, showing Polk pumping gas next to his catch, was viewed by millions after it appeared first on Facebook and then on mainstream media web pages (the story linked below was viewed by more than 2 million people).
Polk tries to remain inconspicuous, but a passerby named West Calhoun snapped the photo that generated so much interest, and a good deal of criticism. Click here for the full story (at last check, the catch had not been listed as a world record for shore-caught mako sharks.)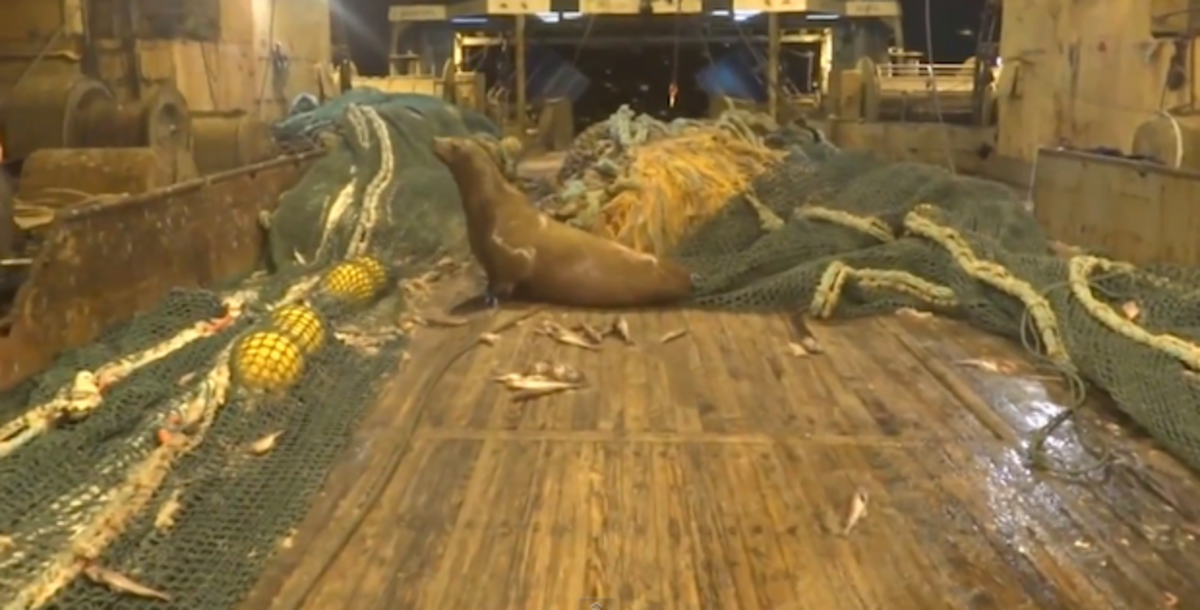 6) Sea lion hauled up in a net, judo-tosses fisherman. Commercial fishermen were startled to discover that part of their October catch was an angry sea lion, which had become trapped in their net.
This item is on our list largely because of the video element. The sea lion was not happy about its predicament, and moments after one of the men who helped remove the netting from the pinniped, was grabbed by the shirtsleeve and hurtled across the deck. The rest of the footage shows the fishermen trying to coax the sea lion back into the ocean. Click here for the full story, and to view the footage.
More from GrindTV
Deep-sea anglerfish captured off Monterey
Bizarre, see-through creature baffles anglers
Enormous rare sea creature hauled from the depths by Florida fishermen
For access to exclusive gear videos, celebrity interviews, and more, subscribe on YouTube!