Adventure
Fishing With Top Chef Tom Colicchio
Tom Colicchio serves me a sandwich. It's a classic bacon, egg, and cheese, and he woke up at 4:50 this morning to prepare it. The bread is delicious, some sort of sliced sourdough, and the bacon is the good stuff—thick-cut, with that fatty chewiness that only comes from undercooking it slightly. He gathered the eggs himself from the chickens he raises in the backyard of his Long Island home.
"We have four birds," he tells me. "We used to have more, but a hawk got them this spring."
While the ingredients are superb, the presentation—at least for Mr. Top Chef himself, who earned his reputation in white-tablecloth establishments like New York City's Gramercy Tavern—might best be described as, well, lacking. Colicchio flopped the sandwich down on the seat between us, crammed into a ziplock bag full of them. Then again, his timing couldn't be better. It's midmorning, the 5 a.m. coffee kick is wearing thin, and the fish we're chasing off the Rhode Island coast are nowhere to be found. Even an obsessive angler would tell you: It's time for breakfast.
"This is when the fish will show up," he says, more out of habit than insight. "It's always when you're not paying attention."
In the past month, 56-year-old Colicchio, the James Beard award–winning chef and founder of the restaurant group Crafted Hospitality, which operates a half-dozen restaurants around the country, has averaged three days a week on his 26-foot Regulator boat, with twin Yamaha 250 outboards. Early in the summer, he was chasing mostly after resident stripers in the waters around the eastern end of Long Island, where he's lived for the past 16 years. Later, he started pursuing bluefin tuna when they showed up 80 miles offshore in the Gulf Stream. There was even hope of hooking into a white marlin when the bite turned on. But now, in late August, with waves projected at four to six feet, the easy action is back inshore, running up and down the Rhode Island coastline, looking for striped bass or bonito, a torpedo-shaped cousin of the tuna, on a fly rod.
Schools of bonito tend to bust on the ocean's surface while chasing their prey, creating a roiling, frothing mess. On a calm day, like today, you can see the disturbance from hundreds of yards off, which means you spend a lot of time gunning the boat up and down the coastline, checking out likely spots, looking for any sign that the fish are about to erupt into the piscatory equivalent of an all-you-can-eat buffet after happy hour.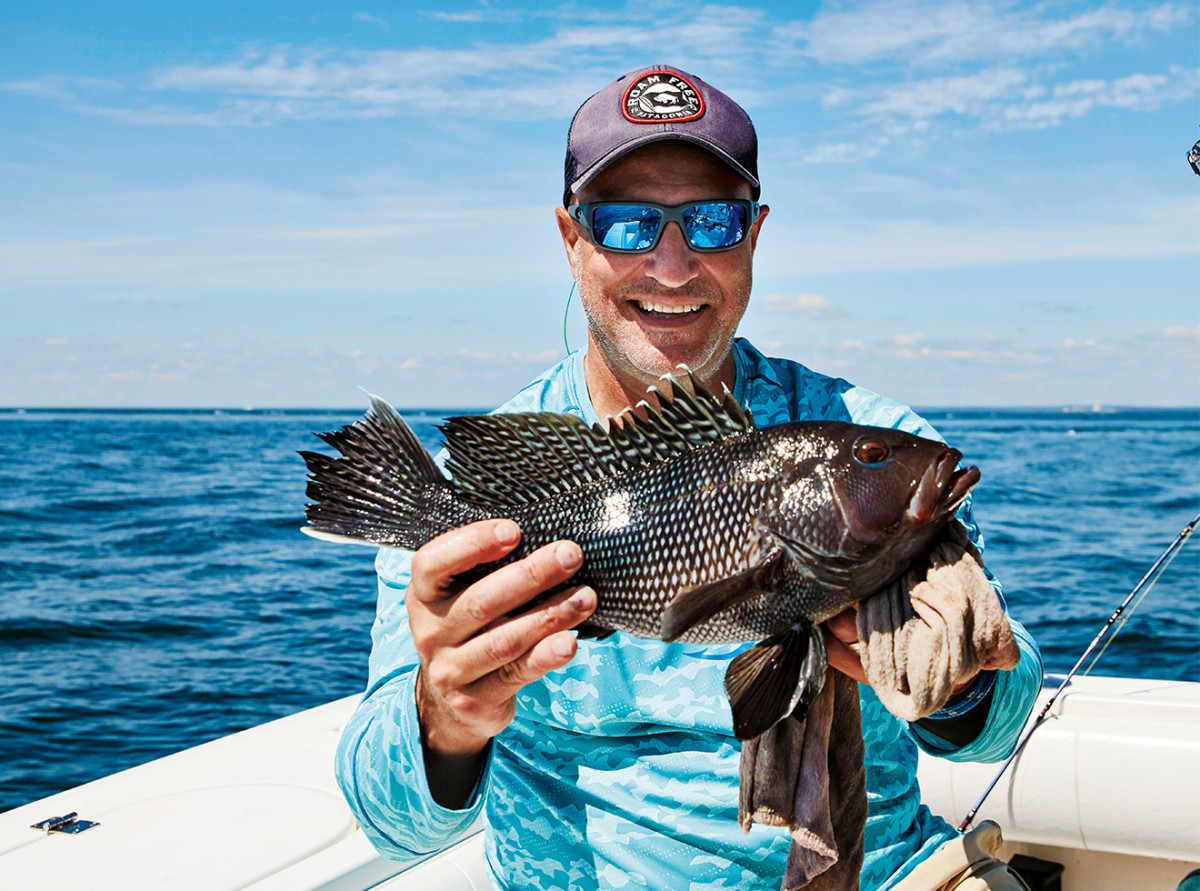 "I swear these fish are sponsored by Exxon-Mobil, with all the gas you burn trying to find them," says Kerry Heffernan, the head chef at New York's Grand Banks Oyster Bar and a good friend of Colicchio's for 32 years. They met while working at a hotel restaurant in France and have fished together ever since.
As the executive producer and co-host of Top Chef, Colicchio often conveys a professorial tone when judging dishes and doling out critiques to nervous contestants. That, combined with his unflinching advocacy for various food policies on Twitter and in D.C.—he's lobbied Congress regularly for the last decade on behalf of anti-hunger programs—can make him seem, well, severe. Like he'll scold you for not cleaning your plate. On the water, though, he's clearly relaxed. Colicchio and Heffernan share opinions about the latest TV shows, including the merits of Better Call Saul versus Ozark, and discuss the sights on the water, including the private, 3,300-acre Gardiners Island and a destroyed concrete bunker rising out of the ocean.
"They used to use that island as an old bombing target during World War II," says Heffernan. "Blew it to shit. Now it's a nesting colony for birds."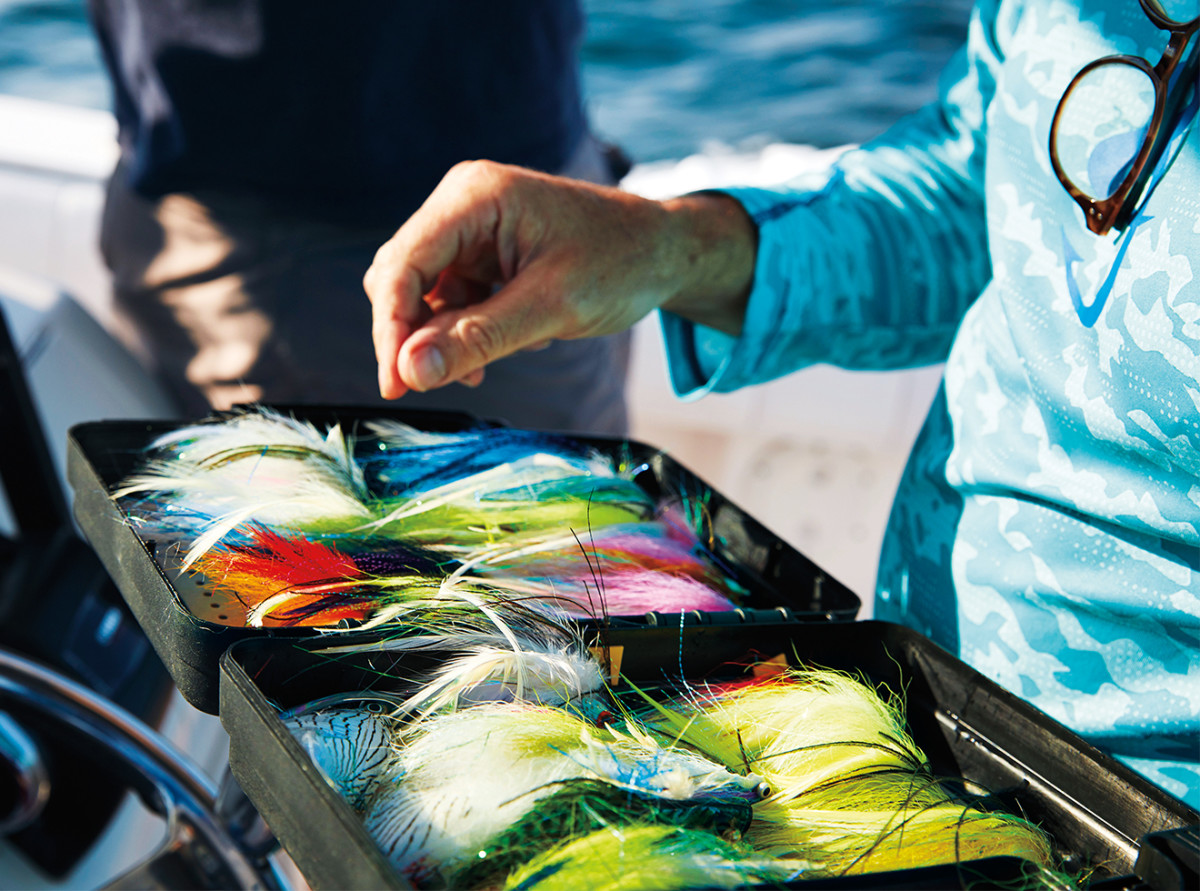 As we finish the breakfast sandwiches, Colicchio and Heffernan decide to switch tactics. "It's amazing there's this much bait and no fish," Colicchio says. "Something ain't right." Instead of bonito on a fly rod, it's time to go deep—130 feet deep—and use squid as bait. "A porgy or seabass will save the day at this point," he says. "I like going offshore. Even if you don't catch fish, you see whales and porpoises, sometimes right off the bow. I don't even care if I catch fish. I just like being on the water."
In an age where star chefs serve as both reality-TV celebrities and cultural enlighteners of food ethics, Colicchio has always stood out as the celebrity chef who never specifically chased stardom or jumped on the latest culinary trends—even though he ended up defining both. He won an Emmy for his work on Top Chef, and he's won eight James Beard awards, including being named the nation's best chef in 2010. He did it mostly by relying on simple dishes made with just a few superb ingredients. As he says, "I was using local stuff before it was a thing to do. It wasn't to support farmers. It was because the food was better."
But behind the dark suits and chef's whites is a distinctly blue-collar guy who grew up in Elizabeth, New Jersey, and found his way to culinary stardom—at least as he tells it—through a lot of hard work and a little luck. His first kitchen gig was at a seafood restaurant in his hometown, where he bussed tables and served as a prep cook. As a teenager, he worked a series of restaurant jobs up and down the Jersey coast before moving to New York and the Manhattan restaurant scene in the early 1980s. His break came in 1988, when he was 26, shortly after his dad, a corrections officer, died from cancer. Colicchio was in France, working with famed chef Michel Bras, when he got a call from a group of Morgan Stanley investors who owned Mondrian, then a struggling French restaurant in Midtown. The head chef had left, and they needed a replacement immediately. Colicchio packed his knives and came back to New York.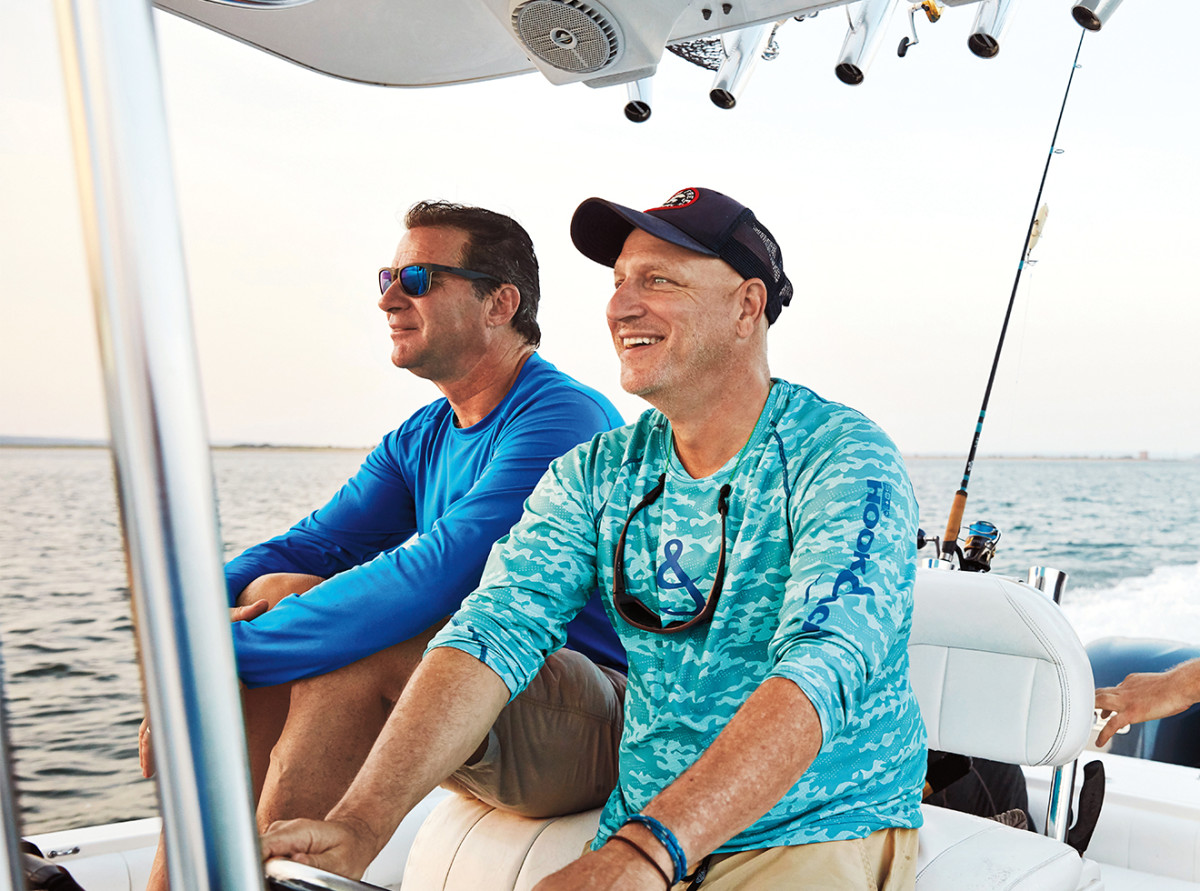 "I was lucky that these guys took a shot with me," he says. "No one knew who the hell I was." Colicchio revamped the menu, adding a number of seafood dishes—a nod to his Jersey shore roots—and placed an emphasis on fresh ingredients. In France, Bras had been obsessed with unusual foods that he could gather himself. "Everything was local," Colicchio says. "This guy would actually forage himself. I only worked there for a month and a half, two months, but he completely changed the way I cooked."
At Mondrian, he began sourcing the restaurant's vegetables from the famed Union Square Green Market. "I started going three times a week," he says. "I would literally take my truck, drive into the market, load it up, and then drive to the restaurant on 59th Street."
The reviews were effusive. The New York Times gave him three stars, a coup for the restaurant, declaring, "If Mondrian indeed is expiring as scuttlebutt periodically has it, the city's fine dining scene will be poorer for it. Should such a sad day arrive, I certainly wouldn't want to miss the food at the wake."
It was while at Mondrian that Colicchio began indulging in his other obsession: fishing. One of the owners regularly drove to the Delaware River Watershed, two hours northwest of Manhattan, to chase trout on a fly rod. Colicchio, who had been fishing since he was a kid, but only with a spinning rod, began joining in.
"When I started fly-fishing, that was pretty much it," he says. "I fished trout for a bunch of years, and then I went on my first bonefishing trip. A friend told me, 'Once you do that, you're not going to want to fish trout anymore,' and for a long time I didn't."
The two passions—fishing and cooking—began merging almost out of necessity. As Colicchio's empire grew in the wake of launching Crafted Hospitality in 2001, he had to spend more and more energy on sourcing top-quality ingredients, including sustainable fish. And being a fisherman, he was particularly sensitive to the sourcing.
Today, he religiously follows the recommendations of the Monterey Bay Aquarium's Seafood Watch, the most trusted program available for certifying sustainable fish and those that are most threatened. (Overfishing has caused the collapse of nearly 30 percent of the ocean's fish stocks, and 60 percent of what's remaining is fished to capacity, meaning even a slight change could cause the demise of a particular species.) Still, as a fisherman, with a surplus of on-the-water anecdotes and decades of first-person experience, he has his own opinions on the health of fish stocks. Colicchio also hosted his own short-lived YouTube show, called Hooked Up, which was dedicated to getting on the water with other celebrities, like chef Eddie Huang and former NFL wide receiver Plaxico Buress.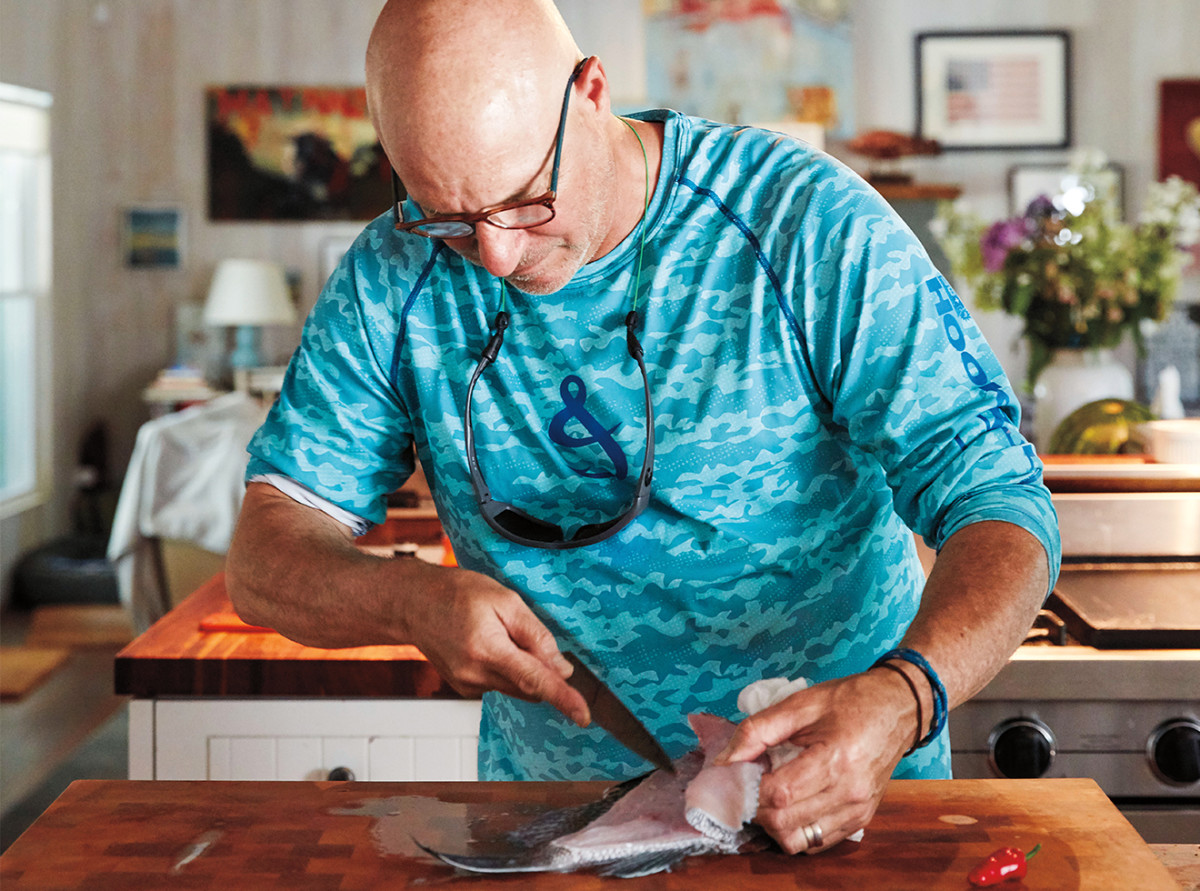 "It was a ton of fun," Colicchio says of the show, "mostly because it was an excuse to fish. How often am I on the water? Not as often as I'd like. That's the classic fisherman's response."
AFTER SWITCHING FLY RODS for bait casters, the action turns on quickly for Colicchio and Heffernan. Between New York's Fishers Island and Rhode Island is a deep channel that Northeast fishermen often refer to as the Sluiceway, because it's one of the first spots where the open waters of the Atlantic rush into and out of Long Island Sound. It's remarkably deep for how close it is to shore, 150 feet or more, and no sooner is Colicchio dropping his line to the bottom with strips of squid attached to circle hooks than he and Heffernan are reeling up black sea bass and small, spiny dogfish sharks.
"Fish on!" says Heffernan.
"Finally," says Colicchio.
When they get a sea bass in the boat, they quickly break out a measuring stick to make sure it meets the size limit before tossing it in a live well. As more fish are reeled in, the mood lightens, and the two start chatting about politics, spurred on by the sight of a series of U.S. f lags along the coast at half-staff, in tribute to Senator John McCain, two days after his death.
"They couldn't even get that right," says Colicchio, referring to the controversy surrounding the White House's decision to buck tradition and fully raise its flag after only one day. "The guy's a war hero."
In addition to the judging on Top Chef, Colicchio has earned a reputation on Twitter for his strident political views. Less than a week before our fishing trip, he woke up to the words "Cuomo=Death to America" (referring to New York governor Andrew Cuomo), "Go Home," and his wife's name along with a defaced Star of David spray-painted in red across his lawn and sidewalk.
"How often am I on the water? Not as often as I'd like. That's the classic fisherman's response."
"When the cops came, they were like, 'This is someone you know,' " he says. "But it wasn't. It was random, maybe some guy who saw my feed and decided to intimidate me." I ask him if it did. "Nah, no way," he says. "That's what they want. What's fucked up is they went after my wife."
Colicchio credits his wife, filmmaker Lori Silverbush, for his political awakening. The two met while she was a waitress at Gramercy Tavern when he was running it with restaurateur Danny Meyer, of Shake Shack fame. The two married in 2001, the year he opened his flagship restaurant, Craft, and in 2007, Silverbush started mentoring a teenage girl she met through a New York City charity. (The couple have two sons, ages 7 and 9.) One day, her school called to inform Silverbush that the girl had been discovered foraging for food in the trash outside the school.
That experience eventually led Silverbush to make the film A Place at the Table, which focuses on hunger in the U.S. and many of the political underpinnings that exacerbate it. Colicchio appeared in the film, and soon afterward found himself questioning the charitable work he'd been doing for years. He started becoming more politically active as a way to effect change, and that eventually led him to co-found Food Policy Action (FPA) in 2012, an advocacy group for better food policies within the federal government. It was through FPA that he became a fixture in D.C. and on the Hill, lobbying Congress. But he left the non-profit earlier this year after a disagreement with its new executive director and ongoing frustration with the effectiveness of lobbying this particular Congress.
"The last time I was there," Colicchio says, "you'd have a meeting with Paul Ryan's staff or other members, and they would all say the same thing: 'No one knows what's going on.'"
Instead, he decided to use his Twitter soapbox to advocate for better representatives who would listen, which led to the screed on his front lawn. "That was so fucked up," he says. "But it's what happens when you stand up for change."
THESE DAYS, COLICCHIO IS as busy as ever. He's just finished filming Season 16 of Top Chef. He's opening a new restaurant in Roosevelt Mall on Long Island and is working on a food-court concept in Kansas City, Missouri. This is on top of managing the six current restaurants under Crafted Hospitality. On the boat, after dropping Heffernan off at his home in Sag Harbor, Colicchio takes a business call to discuss the operations at Crafted Hospitality, everything from concerns about a specific sous chef to assessing recent reviews. He does this while motoring up the tidal Peconic River. Once docked, he washes his boat, scales the fish he's kept, and tosses them in the trunk of his Jaguar XF sedan, then heads home, where his two kids and their friends are gathered.
The house is an old barn structure that he and Silverbush renovated a decade ago. And, yes, the kitchen is as impressive as you think it would be, with an island the size of a 12-person dining table as the centerpiece. As he fillets a black sea bass and begins prepping ingredients from his backyard garden (see recipe, below), he occasionally tosses pieces of meat to his flat-coated retriever, named Piper.
Colicchio put in the garden several years back. "My grandfather used to garden in five-gallon buckets with, like, tomatoes and zucchini and eggplant," he says. "I like doing it. It's good for the kids to see stuff grow."
After the fish is cooked, he gives me a tour of the garden: There are boxes and boxes of vegetables—garlic, tomatoes, leeks, squash, carrots, potatoes, etc. He talks about enlarging it, maybe even installing a greenhouse to grow crops year-round.
"I love coming back here," he says, clearly proud. "It's work, but I don't mind doing it." Then, almost off hand, he utters another classic fisherman's retort. "The only thing I worry about," he says, smiling, "is the work cutting into my boat time."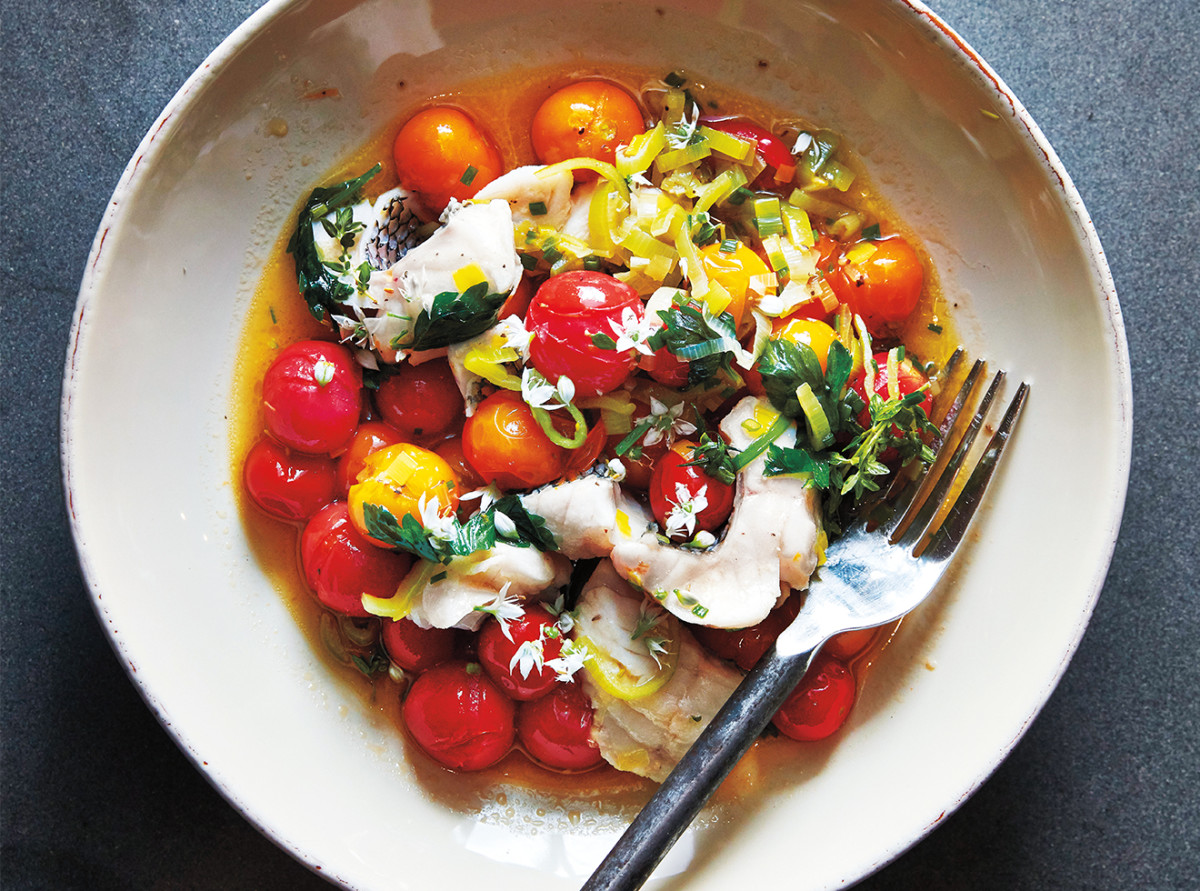 THE RECIPE: SEA BASS WITH LEEKS AND CHERRY TOMATOES
There are many ways to prepare fish as there are to catch them, but with black sea bass, Colicchio likes this simple recipe:
Scale, fillet, and cut the meat into inch-wide strips.
In a pan, heat olive oil and add a small handful of chopped leeks. "What I do is sweat the leeks," he says. "I don't want color at all on them."
Once the leeks soften, turn down the heat and add cherry tomatoes and a bit of water to stew them. "They'll sort of pop when they're ready and release their liquid," he says, "which becomes a sauce."
Add a pinch of thinly sliced fresh pepper to the pan for heat.
Add a pat of butter to the pan, then add the sea bass. Cook for five minutes or so, turning the meat once or twice, until it pulls apart easily.
Plate the fish and add fresh herbs, like diced garlic scapes. "It's very easy and quick," says Colicchio. "And good."
For access to exclusive gear videos, celebrity interviews, and more, subscribe on YouTube!