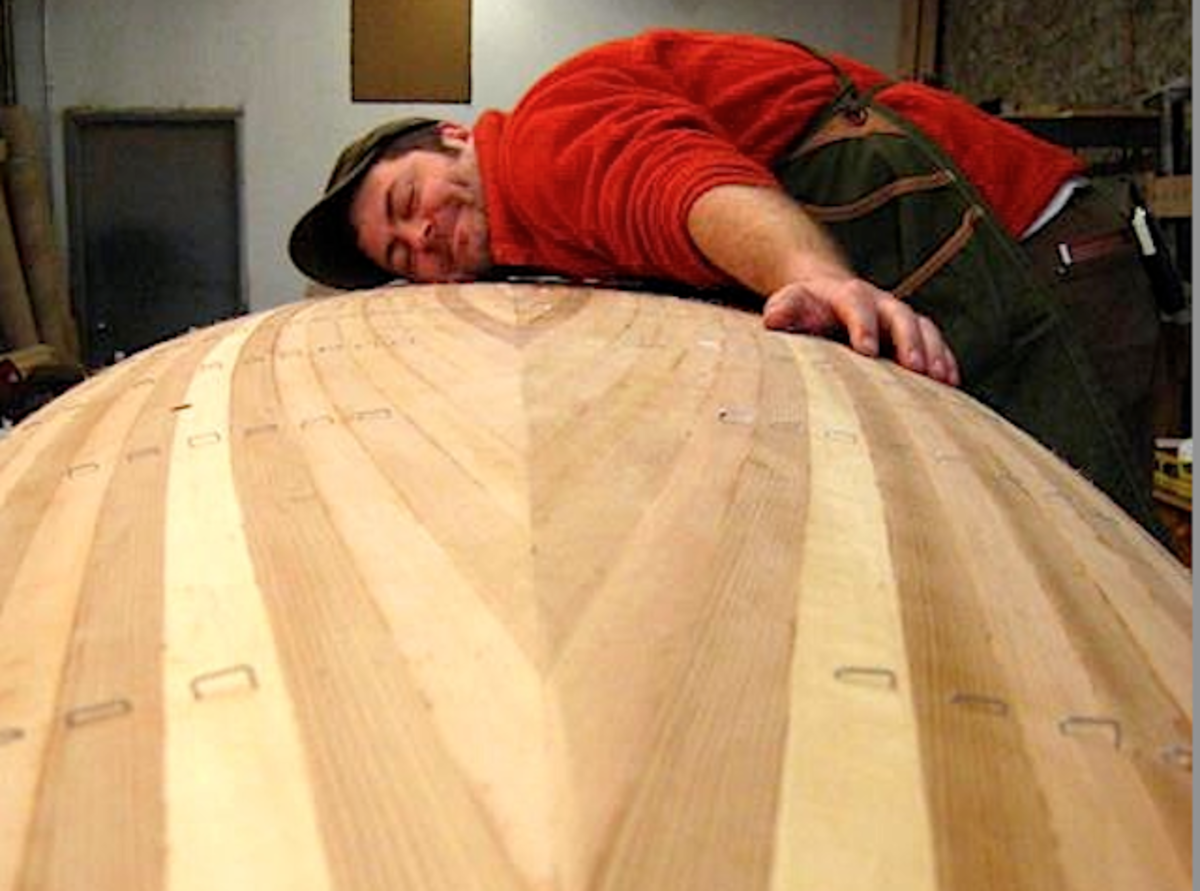 Cedar-strip canoes don't normally take starring roles in hit primetime comedies, but Nick Offerman is no ordinary Hollywood celeb. Offerman, who plays the self-absorbed boss Ron Swanson to perfection on the hit NBC series Parks and Recreation, lent his hand-built cedar stripper to the show for a canoe-themed episode that aired March 11.
The Offerman canoe started with the instructional DVD Offerman produced for Bear Mountain Boats. Though an expert woodworker whose 'waitress gig' is building fine tables, Offerman had never before attempted a canoe, so he called Bear Mountain's Ted Moores and Joan Barrett for advice. When they eventually figured out that Offerman is an actor, they asked him to make a video showing that any idiot a first-timer can build a canoe from their plans. Offerman was starstruck. "I felt like Obi Wan Kenobi was asking me if I wanted to do a light saber instructional video."
The DVD, Fine Woodstrip Canoe Building with Nick Offerman dropped this week. www.bearmountainboats.com.
C&K editor JEFF MOAG: All those years toiling under the hot Hollywood lights, did you ever think you'd make it as a canoe builder?
NICK OFFERMAN: I've found my niche: celebrity canoe builder. Ya know, I grew up in a farm family in Illinois, and I wish that more of the people in modern society would do something with their hands, rather than spend all day on the computer, video games, consuming. And I'm glad to have something to promote like canoe building or woodworking, and to be able to use my work on a TV show to do that.
We couldn't agree more. Now did you grow up paddling?
Yeah, we had a creek called the Au Sable near the farm where I grew up, and I spent a lot of time paddling a canoe on the Au Sable. And we'd go fishing in Minnesota every summer, and so I'd paddle a lot on the lakes in Minnesota, as well.
Have you had a chance to paddle the canoe that you built?
I built it in Brooklyn, and we launched it in the upper New York harbor, which turned out to be a very foolish move. We got out into the harbor a little bit and a huge water taxi went by and my buddy and I turned into the wake. We rode the wake, and it was very exciting. And by the time we got through the wake, we realized we'd been caught in a rip current and zipped sideways for about a quarter mile. And the water got choppy and the waves were higher than the canoe. So, we just put our heads down and Hawaii-Five-Oed it back to the pier.

What inspired you to build a canoe?
I have a really nice shop in LA, where I've taught myself to build fine furniture. I call it my waitress gig, while I'm waiting for acting work. (www.offermanwoodshop.com) And the best woodworkers are fine boat builders, because there's no straight lines on a boat and it's all hand-fairing. There's just a magic to it. With just some patience and some chisel skills, you can see a Corvette take place on your workbench.
I never was gonna have a chance to build a canoe, cause I always had furniture clients, and ya know, when do you suddenly have a few months free to build a canoe? But my wife (Will and Grace star Megan Mullally) was doing a Broadway show in New York. And I said, well, I'll come and live with you, be your housewife for a few months, or a year and a half, it turned out to be. I took a bag of chisels and planes and a spoke-shave, and I said, if I get a chance, maybe I could do my canoe.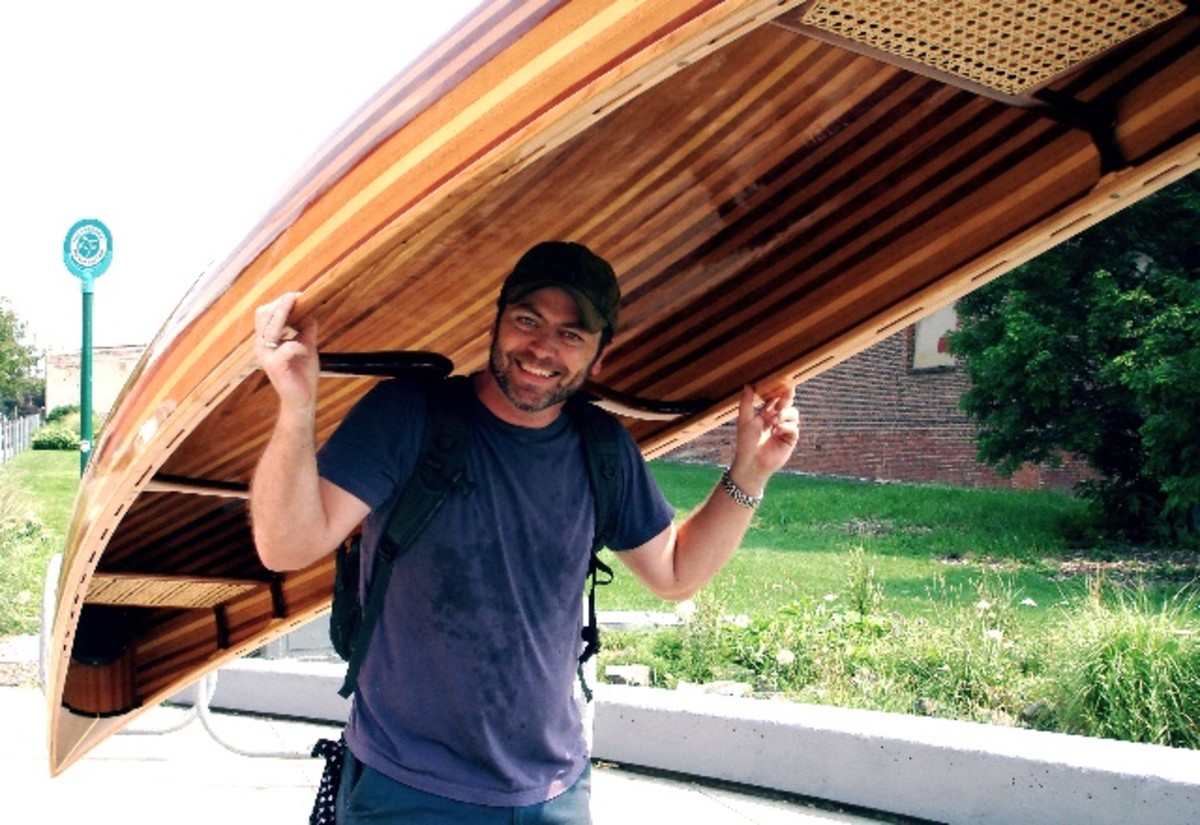 Everywhere you look online you come across Ted Moores and Canoe Craft. So, I got this book, and I said, 'Okay, I can do this.' I called them up, cause I had a couple questions, and I ended up talking to his wife Joan Barrett, who as you may know, is at least half the force up there. Joan and I got to chatting, and she said, 'Ya know, we're looking for somebody whose got camera skills whose a first-time builder to do a video.' I felt like Obi Wan Kenobi was asking me if I wanted to do a light saber instructional video.
I Shanghaied my buddy Jimmy Diresta (www.jimmydiresta.com) who's an amazing builder, and he agreed to shoot and edit the whole thing. We drove his truck from New York up to Peterborough [Ontario] and spent the weekend with Ted and Joan, and we all got thick as thieves, and we drove home with a bunch of cedar strips.
Continued…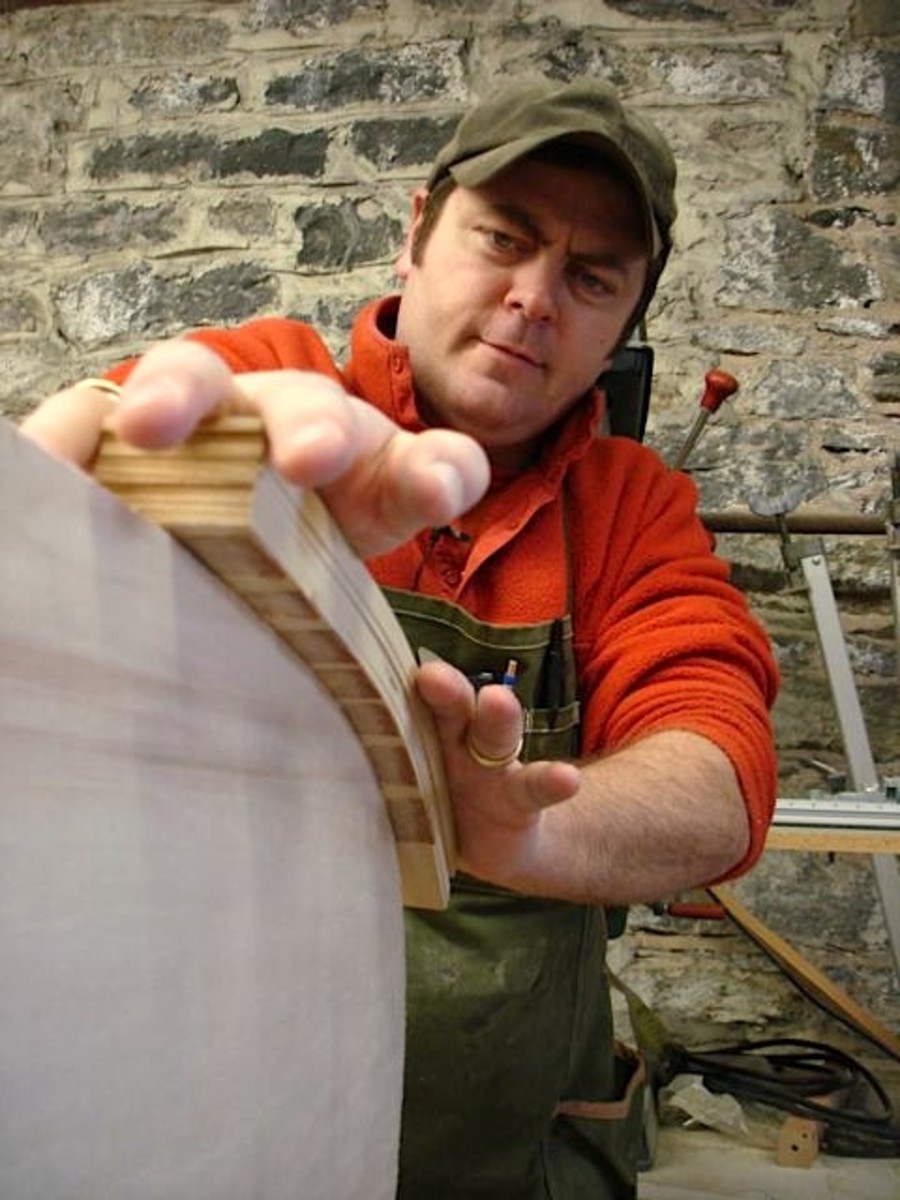 The article was originally published on Canoe & Kayak
For access to exclusive gear videos, celebrity interviews, and more, subscribe on YouTube!