When it came time to put this year's crop of sea kayaks to the test, the adventure-ready crew at Portland's Alder Creek Kayak & Canoe was more than happy to oblige. They loaded up five shiny new boats and headed for the Oregon Coast, where the mouth of the Salmon River serves up swift tidal currents and a big Pacific swell dumps rolling surf onto the beach. Inland, a mellow evening jaunt on Drano Lake in the Columbia River Gorge provided a chance to compare notes—testers took a close look at hardware, safety features, lay-up, hatches, and outfitting of each boat while rating performance in the surf and on longer tours. They considered stability, speed, maneuverability, resurfacing ability, hydrodynamics, and overall feel in the water.
If you're in the market for a sea kayak this year, consider the new hull materials now available, including ultra-light hybrid composites that shave pounds without dinging durability. Racing technology, such as that employed by Kayakpro's latest design, crosses over to the consumer market this year in the form of versatile, user-friendly craft. Small and light paddlers will appreciate "low volume" offerings like Valley Sea Kayaks' shrunken Avocet. Regardless of size, paddling ability, or conditions, we think you'll find the right tool for your favorite outing among the sea-worthy designs here.

The testers:
Dave White: 6 ft, 175 lbs, 32-inch inseam
Expert paddler, guide, and coach (BCU level III trainee sea, 4-star sea, 4-star surf, and whitewater/ACA open water and surf instructor). Boating for 10 years, primarily in the sea. Truly enjoys rough water. Also enjoys whitewater canoeing and kayaking and surf boating. Favorite type of sea kayaking is surfing long boats at the coast.
Sea kayak of choice: Nigel Dennis Kayaks Greenlander pro
Danielle Mason: 5 ft 8 in, 130 lbs, women's medium
Intermediate paddler. She has been boating for a couple years now, and enjoys touring and small surf. Favorite sea kayaking destination: San Juan Islands.
Sea Kayak of choice: NDK Romany LV
Paul Kuthe: 5 ft 10 in, 180 lbs, 30 in inseam
Expert paddler and coach (level II) 4-star sea, 4-star whitewater, ACA whitewater instructor. Paddling for 20 years (sea kayaks for five years). Paddles open canoes, advanced whitewater, slalom and surf. Favorite type of sea kayaking is tide-race surfing and rock gardening.
Sea kayak of choice: Tide Race Excite
Kate Ross: 5 ft 4 in, 118 lbs, women's small
Strong Intermediate paddler. She has been sea kayaking for more than five years, getting her start as a guide in Alaska. She is a confident Class III whitewater boater who also paddles open canoes on easy water. She enjoys touring and calm water, but is aspiring to surf more and improve her rough water skills.
Sea kayak of choice: Impex Montau
---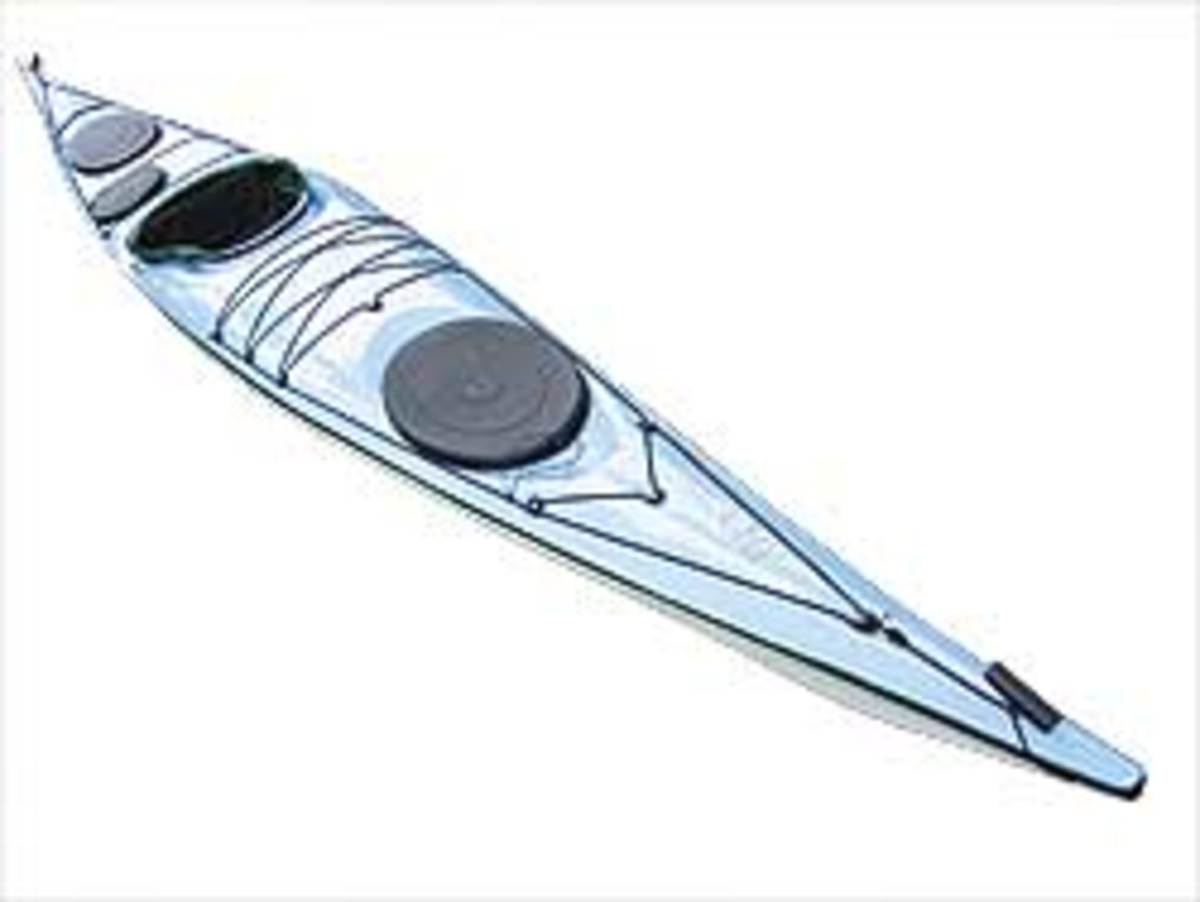 Valley Avocet LV $3,799 (Ultra Kevlar lay-up)
www.valleyseakayaks.com

L: 15 ft 11 in
W: 20.5 in
D: 11.5 in
45 lbs
Made in: Nottingham, England

Smaller paddlers have long craved a real "LV" (low-volume) sea kayak. This boat was the clear favorite of Kate and Danielle, and not just because it fit—the Avocet LV maneuvers effortlessly and exhibits remarkable secondary stability, while quick acceleration and agility make this boat a blast to surf. It's everything you would expect from the classic Avocet, with a lower deck and half-inch-slimmer beam. A narrower foredeck transforms the design from fish-shaped to fairly symmetrical, which improves glide. It was well balanced in the wind, especially with the retractable skeg deployed. The keyhole cockpit was easy to enter and exit, though it took some well-placed aftermarket foam to complete the outfitting. Valley taped the outside seams of the Kevlar hull with hard-wearing Diolen tape and contoured the bulkheads to flex with the hull, which lends hard-wearing strength. Thoughtful deck rigging, well-placed end toggles, and dry hatches make the Avocet LV ready for full-on conditions, yet still light and easy to slide on the car for a quick escape—it's better suited for a long weekend than a multi-week trip.
Necky Looksha IV $3,499 (Advanced Carbon lay-up)
neckykayaks.com

L: 17 ft
W: 22.5 in
D: 12 in
48 lbs
Made in: Maine, USA

The Looksha IV's hull characteristics have been well documented over the years, and the distinctive multi-chine shape and pronounced rocker have not changed much since the mid-1990s when fiberglass and plastic versions of this beauty first hit the market. Necky's new carbon lay-up looks gorgeous on the water, and feels tough and unyielding, although not significantly lighter than its peers. Honeycomb core material in the hull stiffens the whole boat and improves strength, and the seams are top notch—the tongue and groove connection is bonded with a mythacralate adhesive, backed up with urethane on the outside then lined with tape and resin inside. Necky's latest outfitting, including adjustable, whitewater-style thigh braces and rubber Extrasport seat, is well done. Sliding foot pegs make for easy adjustment but were constantly on the move, providing no real support. The boat has all the normal safety rigging including recessed fittings, two-part hatch covers, quality perimeter line and an end toggle that extends beyond the bow, making it a mission-ready workhorse designed to carry a load.
Current Designs Cypress $3,399 (Kevlar lay-up)
cdkayaks.com
L: 16 ft 8 in
W: 22 in
D: 12.5 in
44 lbs
Made in: Minnesota, USA
Equipped with a retractable skeg and a day hatch, the Cypress is a low-rocker touring machine with rough-water capabilities. Current Designs presents it as a British-style boat for the larger paddler. With its upswept ends the Cypress certainly has the look of a no-compromises sportster, but its flat waterline and rounded edges place it a little closer to the miles-and-smiles end of the performance continuum—more BMW 3-series than Porsche 911. The cockpit dimensions (29 inches long, 16 inches wide, and 12.5 inches deep) are the same as listed for the Willow, CD's boat "designed for the smaller, lighter paddlers," making the Cypress a bit of a squeeze for larger testers. The boat holds its course well in strong wind and water currents and, with enough balance and core strength, loosens up for edge turns. The finish quality is excellent, as expected from CD; its classic deck rigging does the job and the Kajak Sport hatches hold out most of the water, proving the Cypress to be an efficient, seaworthy craft ready for touring in fairly heavy conditions.
Kayakpro Nemo $3,700 (Carbon Kevlar "racer" lay-up)
www.kayapro.com
L: 17 ft 11 in (w/rudder)
W: 21.5 in
D: 11.5 in
35 lbs
Made in: China
Designed as a competition-ready sea kayak that fits USCA and USACK race regulations, the Nemo performed surprisingly well in the surf zone. Low initial stability is complemented by the boat's noticeable secondary stability on edge. Unlike most sea kayaks on flat water, the Nemo really likes to turn toward the low edge when heeled over, and low brace turns and carving waves are a snap. The rudder is not retractable from the cockpit; like the rudders in Olympic sprint kayaks, it is designed to operate full time—and pop up and back down if it comes in contact with an obstruction. The gas pedal rudder control system is reliable and easy to adjust—fine-tune it with small cable brackets inside the cockpit. A voluminous bow easily rises up and over big water, making for a pretty dry ride. The vacuum-bagged carbon fiber and Kevlar foam-core "racer" lay-up drops the Nemo's weight down to an astonishing 35 pounds, and while stylish and well finished, it is designed more for speed and light weight than to withstand heavy use. The cockpit and outfitting are plush and well-engineered—simple and unobtrusive thigh braces provide support for edge control, yet allow the paddler's knees to move freely into the center of the boat for an athletic posture and twist.
Boreal Designs Baffin $1,135 (with rudder)
www.borealdesign.com

L: 17 ft
W: 22.5 in
D: 11in
60 lbs
Made in: Quebec, Canada

How many plastic "Greenland" style boats are out there? Not very many. With a traditional sea kayak outline and semi-arched hull, the Baffin is designed for experienced paddlers. The "reverse hard chine"—a straight-line edge that doesn't follow the natural curve of the boat—is designed to come inline with the water's surface during a tilted turn, which increases the Baffin's responsiveness on edge. While it has a good overall feel on the water, some testers didn't cotton to the adjustable thigh braces, which place the paddler's knees into a low butterfly position. The deep-set stern keel tracks well, and, on an edge, the boat carves nicely. The trade off is speed—the boat is a little sluggish even by poly standards. The Baffin's hardware is up to par with all the usual safety features, including excellent deck rigging. An indexed knob adjusts the depth of the skeg through six positions (0 to 5) corresponding to angles of 0 to 50 degrees. The skeg box is designed to reduce intrusion into the rear compartment, which maximizes storage capacity and protects the skeg from sand-induced malfunctions. The low deck height keeps it out of the wind and on track in the rough stuff.
The article was originally published on Canoe & Kayak
For access to exclusive gear videos, celebrity interviews, and more, subscribe on YouTube!