Five intercontinental teams running the Asics Beat the Sun Challenge in Chamonix, France, on Sunday needed every minute of the summer solstice in their attempt to run around Mont Blanc in 15:41:35 — the amount of time that light shone on this year's longest day.
The race paired three elite trail runners with three intense amateurs in a 150K stage-style relay that traces singletrack, vertical, and alpine trail sections of the legendary Ultra-Trail du Mont Blanc course, which carves through France, Italy, and Switzerland, as well as road segments, to pit teams against the clock, the gut-busting terrain of the Alps, and one another.
RELATED: Running Across the Sahara in the World's Toughest Footrace
While teams South Europe, Asia-Pacific, and the Americas were able to cross the finish line before the official sunset at 9:25 p.m., only one team could claim first place. Team Americas, comprised of U.S. trail-running champion Megan Kimmel, Brazilian ultra-marathoner Izaladir "Iaza" Feitzoa, Canadian mountain-running world champion David Le Porho, and amateur runners Maria Urso, Edmilson Anunciacao Dos Santos, and Elie Silver broke the tape 38 minutes before sundown; 15 hours and 3 minutes after the 5:44 a.m. start.
"You're out there and there are so many things against you — that's the nature of the beast of trail running," Urso, a retired captain in the U.S. Army, says. "But this is a team competition, so you're out there giving it all that you can give because you want to give the best contribution for your teammates." Regardless of amateur or elite running skills, the Mont Blanc massif mountain range was a humbling course for every runner, mentally and physically. Temperatures on the course ranged from 75 down to 25 degrees, due to the climate changes during the course's 27,395 feet of ascent (equivalent to climbing Everest). "You learn a tremendous amount putting yourself in uncomfortable situations," Kimmel says. "And out in the mountains and in those uncomfortable situations is where you find the comfort and confidence and your independence as an athlete."
The idea for the race came to Laurent Ardito, manager of the Asics elite team in Europe, one evening when he was trying to make it home from a run before the daylight disappeared. He challenged himself to go as fast as possible to outrun the sun. "That small little seed that was planted has sprouted into something big," Ardito says. "It is about racing against nature. We want it to be nature's toughest challenge and to inspire all types of runners about being out there, about being in the mountains." The event, which included runners from 17 countries, proves that Mother Nature can often be any runner's best friend or biggest competitor. "It's really a fun celebration of the sport as much as it is a race," Kimmel says. "For me, the aspect of outrunning the sun is a very legitimate challenge."
The 15 amateurs were selected from a pool of 10,000 applicants. According to event director Mike Brabant, it's a challenge that's accessible to any runner, and Asics hopes to expand the event within coming years, whether it be hosting qualifying races for amateurs, hosting multiple races in different locations on the summer solstice, or moving the race to a new location every year. "We definitely want to take it to other places in the world," Brabant says. "Our goal is to make it the hardest race that everyone can do."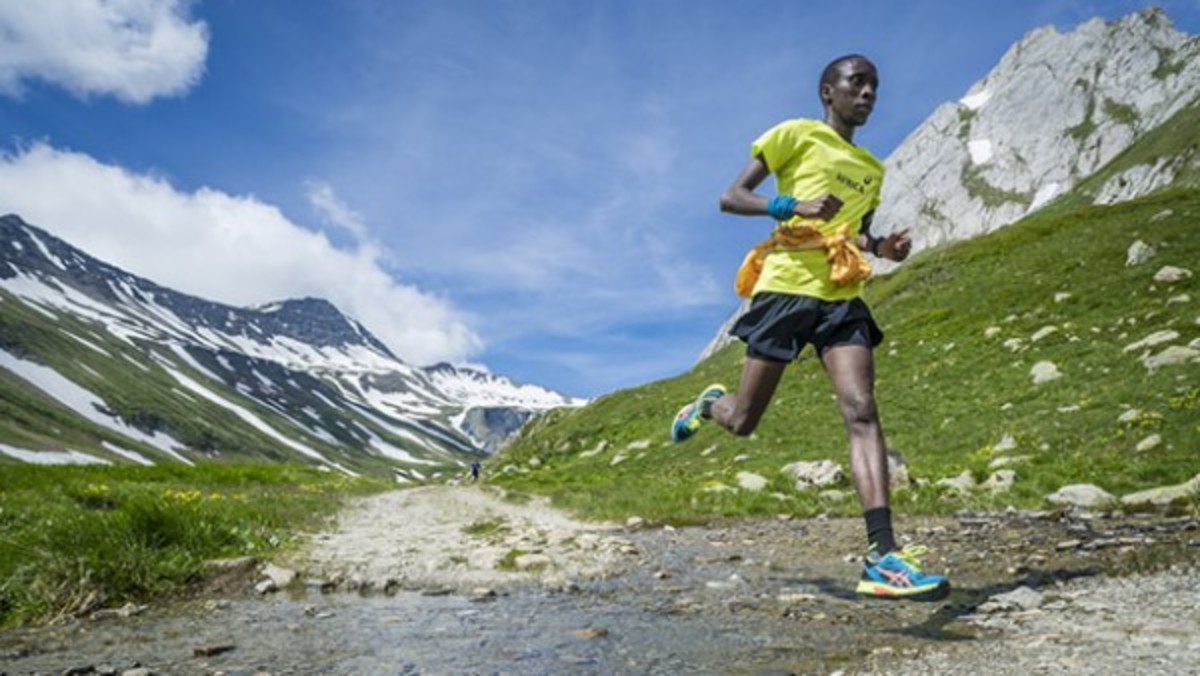 For access to exclusive gear videos, celebrity interviews, and more, subscribe on YouTube!