Adventure
Five Wild Days Aboard a New England Squid Boat
Sep 11, 2018
Corey Harris wasn't concerned about the storm. The captain of Rhonda Denise, a 77-foot commercial trawler, he'd been stuck in port all week, as two nor'easters, in early March, slammed the New England coast back-to-back. Now a third brewed offshore. But Harris saw an opportunity. "We'll thread the needle between the storms," he told me over the phone. We'd catch as much squid as possible, then haul ass back to port before the next system hit. Bring seasickness medicine, he added. "It'll be rough—but worth it."
On the Thursday of our departure, the Port of Galilee, in Point Judith, Rhode Island, was full of boats but empty of people. If you've eaten calamari at a seafood shack or a little red-sauce joint, odds are it crossed the dock here in Point Judith. In 2016, the village's 119 vessels landed 22.6 million pounds of squid, valued at $28.6 million—its best haul to date. It's the 15th-highest-earning seaport in the country and first in squid on the Atlantic seaboard. By all measures, it's the calamari capital of the East Coast. And with ongoing downturns in cod, flounder, and haddock, scores of commercial fishermen, not only here but also up and down the New England shore, now depend on squid to stay afloat in a notoriously unpredictable industry.
Harris met me in the parking lot. Among the local fishermen, he's one of "the few young guys worth a shit," a longtime captain told me. He's also something of an anomaly. The salutatorian of his high school, in Babylon, New York, he dropped out of his university's predental program, in 2007, to work on trawlers, drawn to fishing for reasons that he can't quite explain. Soft-spoken and ambitious, with a tight red beard, he started as a deckhand on Rhonda Denise, made captain by age 22, and became a co-owner a few years later. Now, at 31, he's still 20 years younger than the majority of guys on the dock. "The storms have kept most boats in," he told me. "There's no fish on the market. Prices will be high." There was no need to worry about the weather, he added—as long as we made it back by Monday.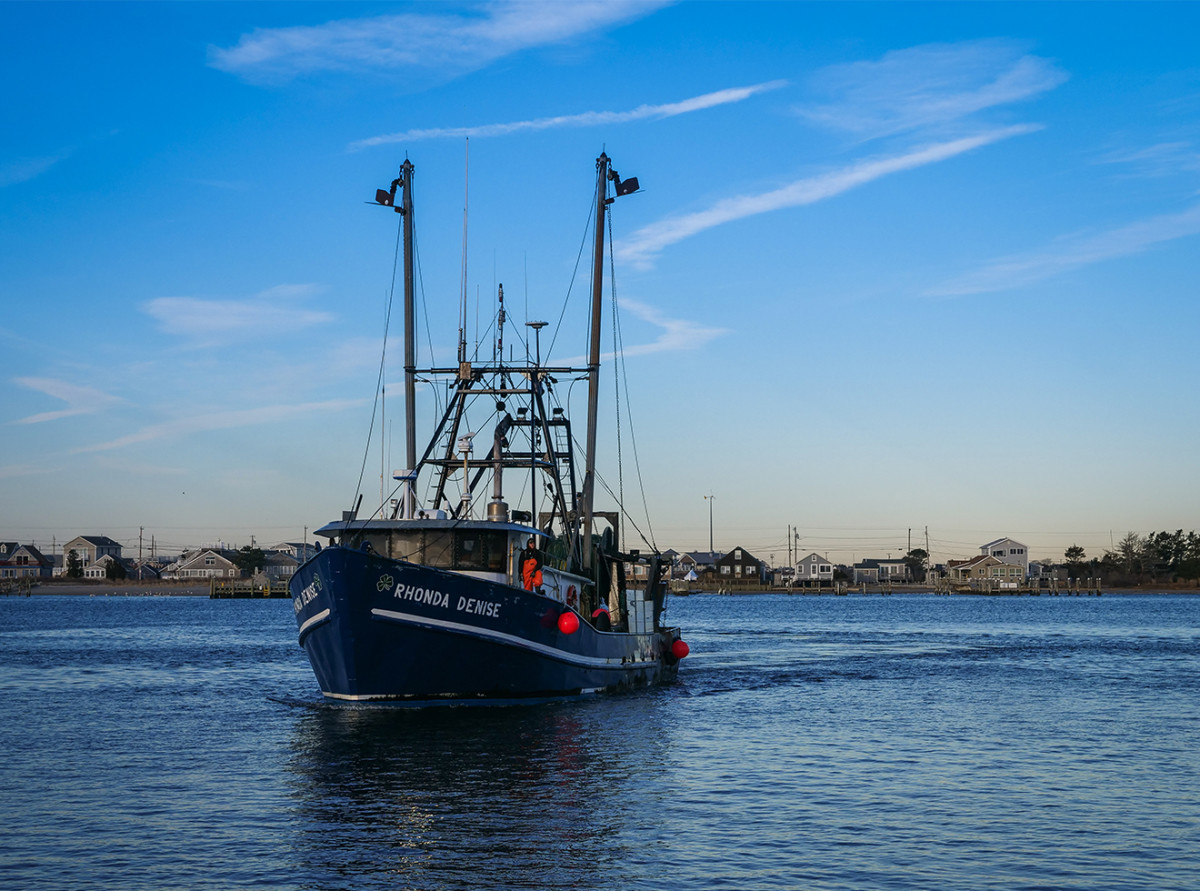 WIND AND FLECKS of snow ripped through the rigging as Rhonda Denise headed south, rolling through 12-foot seas. In summer, female Atlantic longfin squid lay eggs by the millions in the warm waters off Rhode Island. But in winter, they amass on the edge of the continental shelf, more than a hundred miles offshore. So that was where we were going.
By sundown, the four of us aboard were alone, with nothing but ocean for miles around. These long hauls are worth it for Harris. Ninety percent of the seafood that Americans consume is imported. But Atlantic longfin squid are so superior in taste, texture, and resilience when cooked that demand outstrips supply, giving local captains an uncommon edge in the industry. The price of squid seldom dips, staying at $1.50 a pound or better, and that's no small change when you haul in 10,000 pounds a drag.
Morning came quickly, Harris flipped on the bunkroom light at 5. Once dressed and topside, the crew—brothers Ryan Smith, 24, and Dave Smith, 26, both bearded and stocky—began stacking plastic totes on the deck, unfazed by the 10-foot seas that had me stumbling. Ryan is the shorter and quieter of the two. He started working with Harris in 2017, when a DUI charge left him needing a job that didn't require driving. He'd hardly missed a trip since and was on track to make $80,000 by the end of 2018. Dave, a recovering alcoholic, was a more recent hire, after he'd bounced from ship to ship for several years. Still, he expected to make $70,000 in 2018, a good living for a 26-year-old, much less one 16 months sober. "This is the best boat I've ever been on," he told me. "I'm not going to screw it up." Working with Ryan is certainly an appeal; on his chest Dave has a tattoo of the two of them as teenagers. "He's my brother," he explained. "I love him."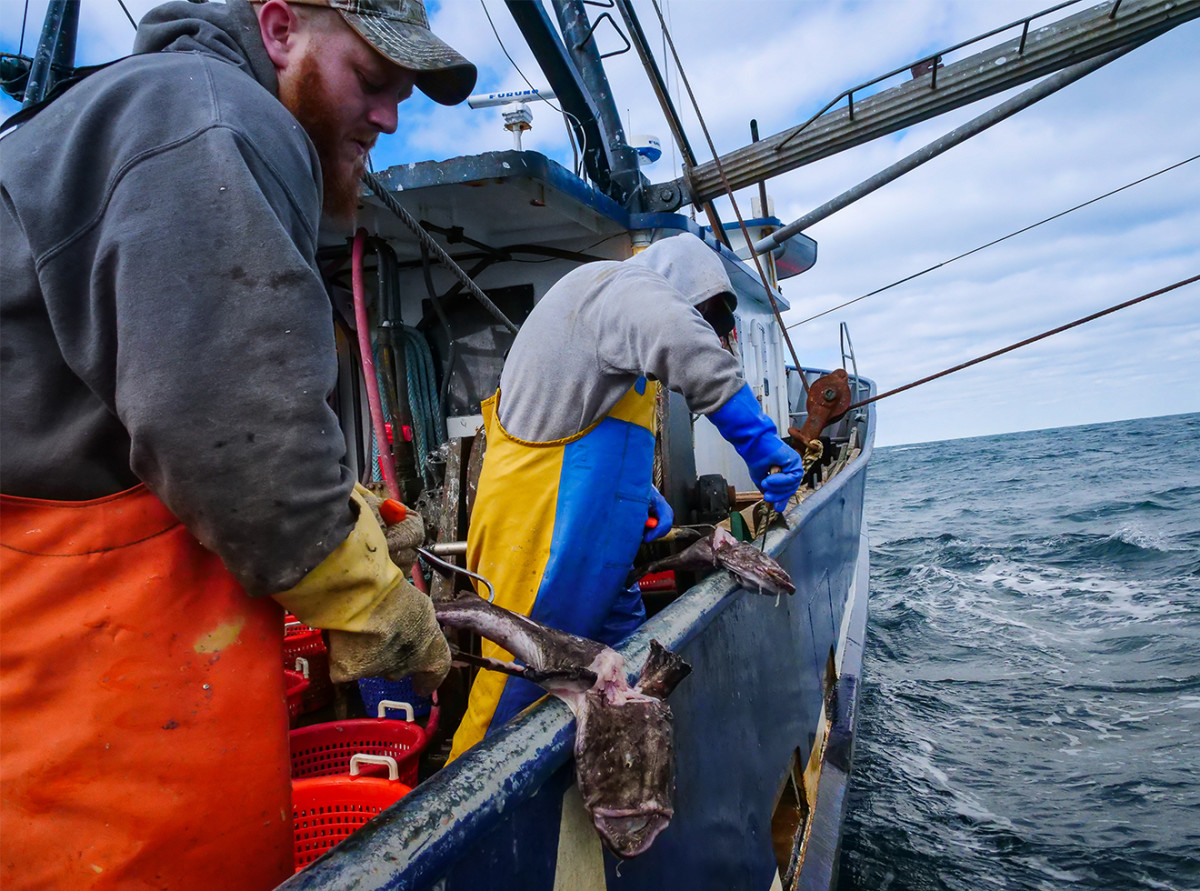 The pair soon took its place behind a giant winch and let a spool of net and cable as large as a tractor tire play out into the sea. Once submerged, the net would open to 15 feet tall, 135 feet wide, and 120 feet long; drag along the ocean floor; and—the crew hoped—find squid, fluke, and other keepers. The technique is called bottom trawling, and Harris is fortunate to have the permits to do it. For decades, environmental groups have criticized the practice, claiming that it bulldozes the ocean floor. Though the long-term sustainability of the method remains up for debate, the government has dialed back quotas for finfish, like flounder and haddock. The price of federal permits has also skyrocketed, which has prevented many young guys from breaking into the business; lucky for Harris, Rhonda Denise already had permits when he became a co-owner.
An hour and a half later, 5,000 pounds of fish, a pile the size of a Camry, dropped into a squared-off pen midship. Dave rolled his eyes and groaned; Ryan said nothing. It was a mixed bag that fishermen call swill—butterfish, fluke, dogfish, lingcod, sea robin, weakfish. Squid, to the crew's disappointment, weren't here in large number. Turning this pile into dollars would take work.
Harris and Dave climbed onto the mound and started tossing dogfish and sea robins overboard. Nearby, at a waist-high conveyor belt, Ryan sorted the keepers—squid, whiting, monkfish—into large red laundry baskets.
They worked quickly; fish zipped by. Harris pushed the pile onto the conveyor with a broom, then I took a turn. We filled 54 baskets, 60 pounds apiece, then switched to totes until the remainder disappeared. Below deck, Dave shoveled some of the boat's 20 tons of ice into cardboard boxes to store the catch.
The storm was rolling south from Nova Scotia. Any breakdown, delay, or trouble, and we'd be in seas as tall as the ship was long.
By the time we finished packing the first haul, the net was full again and ready to be brought up. This kind of mixed-bag fishing can wreck a crew, Harris told me. "It takes an hour and a half to sort a pile like that, and our net fills up every 50 minutes." A lot of boats don't bother with this type of fishing, he explained, since they end up throwing back more than they catch and the prices for the keepers can swing widely. "That's why guys like squid," he said. "It's big, clean bags, and the price is set."
It was well past midnight before we broke for dinner. Everyone was exhausted, but Harris remained upbeat. On his phone he played a video of his 4-year-old son, Brody, who has cerebral palsy, trying to rock climb at a gym. His grandparents had wanted to take him, Harris explained. But he hadn't liked the harness. "We can get a different one, but they're expensive," Harris added. "Everything for special-needs kids is so damn expensive." The cost of raising a son with disabilities is, in no small part, why he pushes himself as hard as he does. In fishing, pay is directly tied to effort, and effort is measured in pounds.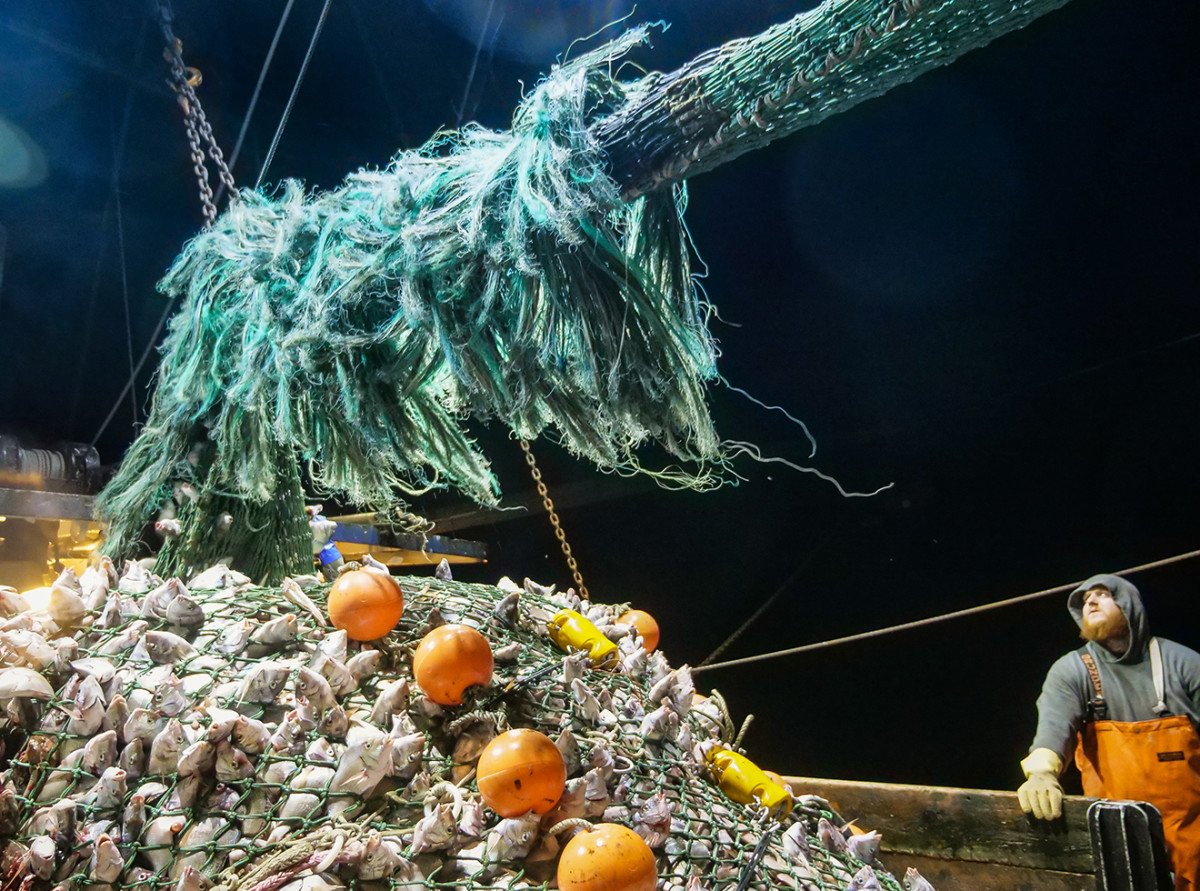 BY SUNUP MONDAY, after two days of mixed- bag fishing, the forecast had changed. The nor'easter wouldn't make landfall until Tues- day, buying us more time. But not much. The sea was flat—the quiet before the storm.
Dave and Ryan killed time on the deck while Harris positioned the boat for another drag. Dave leaped into the air and attempted a jump kick. "See that?" he said to Ryan, as he threw karate chops to the left and right of his head. "Too fast. Too fast. What, what?—sucka."
Comedy is necessary to endure the grind of these trips. The crew stays in rubber boots and bibs for 10, 12, even 16 hours at a time, as they push and sort fish, haul nets, toss bycatch, box keepers, and make counts. They sleep in two- hour shifts, once or twice every 24 hours, until they're needed again.
"One more drag, then we're scupping," Harris said. "Everyone loves scupping. It means we're going home."
"I freaking hate scupping," Dave said once Harris was out of earshot. "It's a shit-ton of work, and they might be 25 cents a pound."
For decades, scup, or porgy, were as reliable and profitable as squid are today. Then after a few bad years, the government limited catch quotas, leading to a boom in farm-raised tilapia. The scup came back, and the harvest limits remain high today. But the commercial market has never fully recovered. Should the same fate befall squid, captains like Harris would surely go under—a looming concern, compounded by worries about bottom-trawling bans, like one passed in April on the West Coast.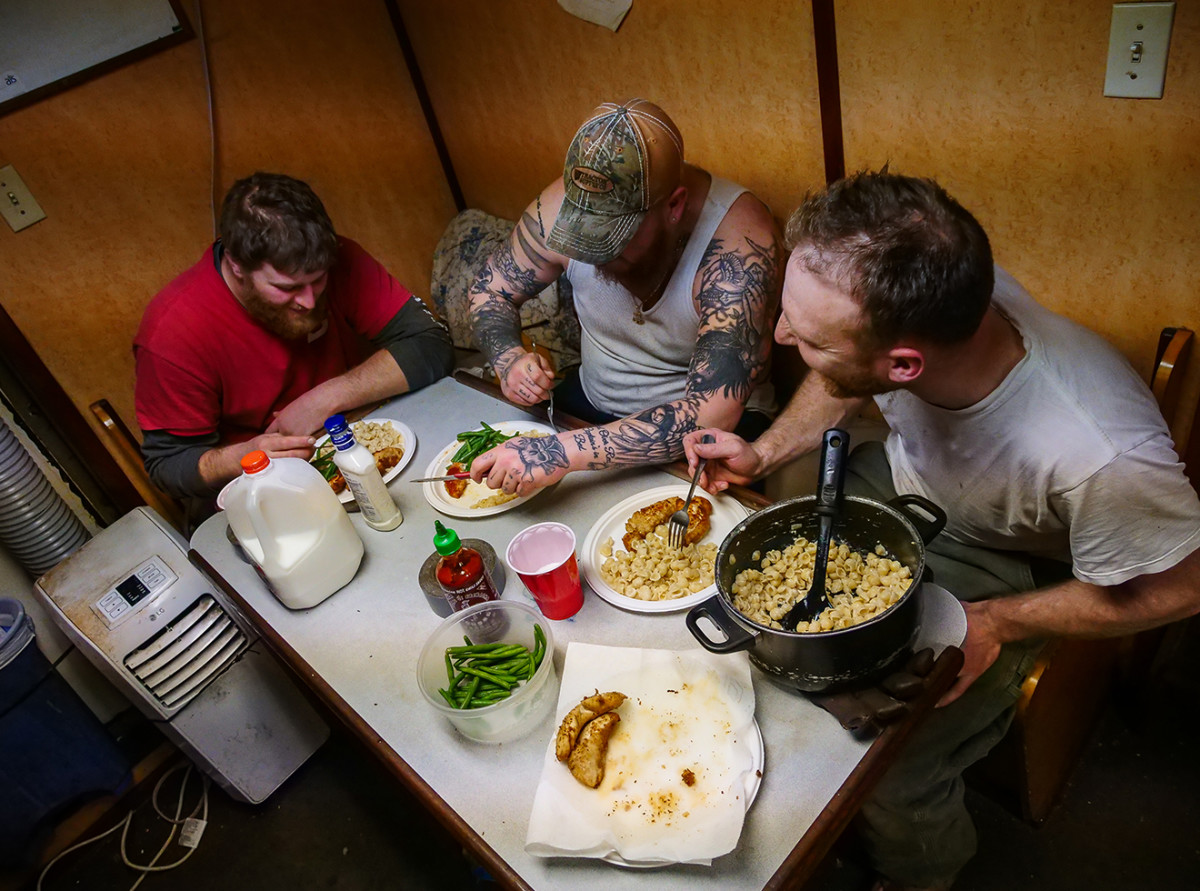 We made three tows, each bigger than the last—6,000 pounds, 8,000 pounds, 12,000 pounds. Scup the size of dinner plates filled the net. "If these things are two bucks," Harris said, "this is a $20,000 bag." Or it might just as easily be worth $3,000. Either way, we raced to get through the pile, all hands pushing or sorting fish. The storm was rolling south from Nova Scotia. Any breakdown, delay, or trouble, and we'd be in seas as tall as the ship was long. Harris set the pace—hustling about, throwing dogfish, hosing baskets, moving totes—as the crew tried to keep up.
By 2 a.m., the last basket was dumped below deck, and we sat around the galley for a customary final night's steak dinner. The guys were excited, for a hard job well done, a potential payday, home. But, mostly, they were just beat. The ship motored through the night. When we reached the Point Judith at 7 the next morning, the dock hummed with activity. The nor'easter had been upgraded to a major winter storm; we'd beat it in by six hours.
Dockside, Harris worked a small crane, while Ryan and Dave attached cartons of fish to a conveyor that ran 90 yards from the ship to the heart of Seafreeze, one of the largest commercial processors on the coast. All told, we'd caught 625 boxes of fish, or 41,520 pounds. That meant, in five days, and only three of fishing, the crew had netted $80,000 in seafood. After expenses and the boat's cut, the brothers each made $9,000, and Harris pulled in $13,000. "We killed it," he said, standing in Seafreeze, attaching little tags to the cartons, bound for the Fulton Fish Market, in the Bronx, New York.
I asked what was next.
"Home," he said. "Sleep." ♦
This story appears in the September 2018 print issue, with the headline, "Here's the Catch."
For access to exclusive gear videos, celebrity interviews, and more, subscribe on YouTube!