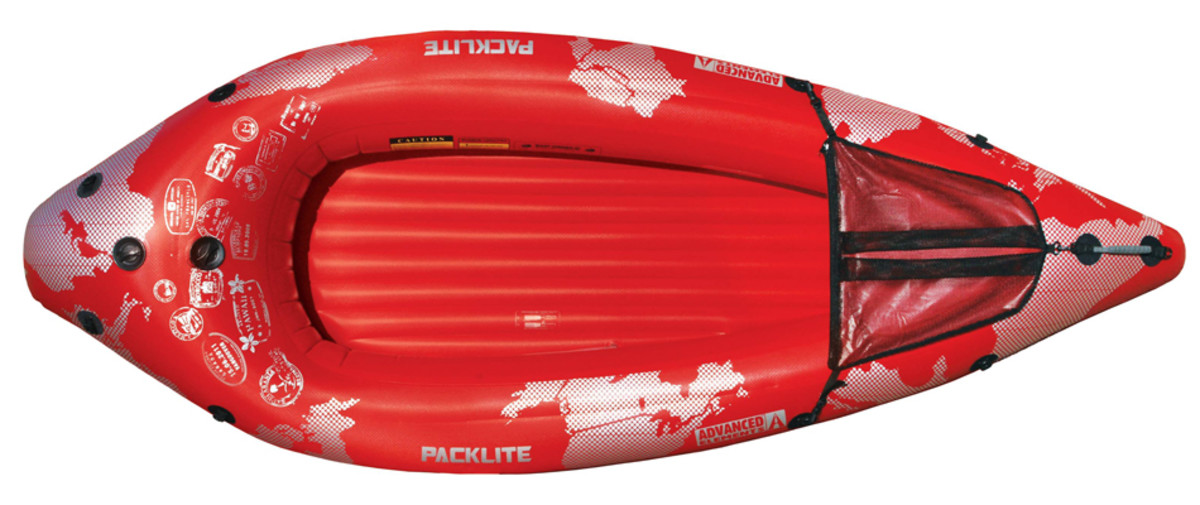 Advanced Elements Packlite Kayak
L: 7.9 ft, W: 3 ft; 4 lbs
$300; advancedelements.com
Where the other rafts here excel at whitewater, the Packlite is best reserved for quick crossings and flatwater. Despite the double air chamber design – two independent, side-by-side tubes – Advanced Elements suggests it maxes out at Class II and we'd agree. The tube material looks thin for boulder bashing. Plus, the smaller tubes (7 inches high) and lack of rocker in the bow or stern means the Packlite quickly swamps as soon as things gets wavy. Testers sat in a puddle on the inflatable floor even in flatwater. It's also less maneuverable; in other words it tracks impressively well. While the other rafts on this page drag in flatwater this one glides and the lower height of the tubes creates more clearance for easier paddling. "Definitely the nicest raft to paddle without current," said one tester. The teardrop shape – skinny in the bow, fat at the stern – doesn't leave a lot of room for a big pack, but the mesh stuff sack clips into the bow creating a handy pocket and a bungee for holding a day pack securely. Speaking of packing it, this is the lightest and most compact raft we tested, crushing to the size of a three-season sleeping bag and weighing just a little more. It's ideal for trips that don't involve a lot of river paddling.
The article was originally published on Canoe & Kayak
For access to exclusive gear videos, celebrity interviews, and more, subscribe on YouTube!