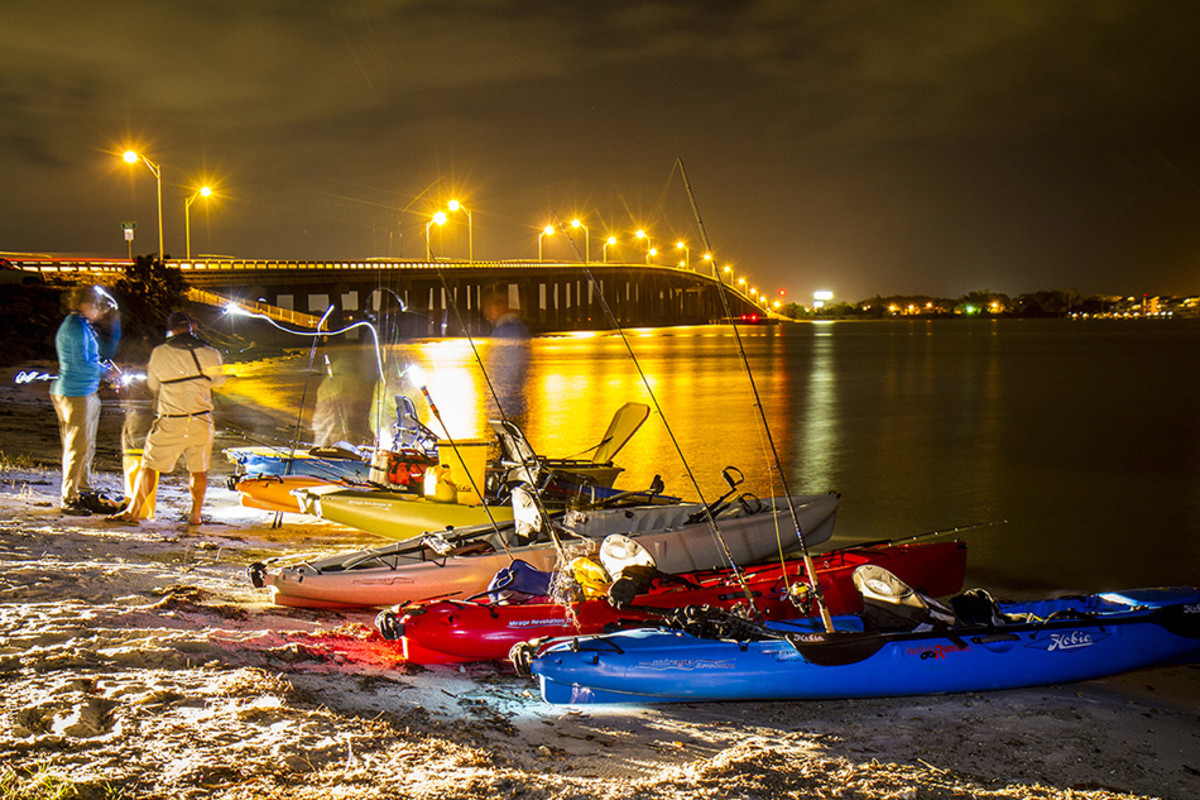 By Paul Lebowitz
Night descends peacefully on the DuPont Bridge just south of Panama City, Florida. Globes of cheerful yellow light trace the graceful span that carries the Tyndall Parkway over the East Bay. The wind is a gentle whisper. The tranquility isn't going to last. Thank goodness. I'm getting impatient.
The harsh scream of dual jet engines, and then another pair and another, shatter the darkening sky. Warbirds swoop overhead, angular F-22 Raptors, trailing blue flames. The roar stirs the waters, which flee in a torrent toward the Gulf. And that, at last, rouses the monsters. Huge cannonball splashes erupt where the glow cast by the sodium lights brightens the black water. Maddened bulls are on the rampage.
My heart is already pounding, anticipation rising. I fire a jerkbait into a melee of splashes next to a bridge piling. I work it back slowly, trying to emulate an eel struggling against the ripping tide.
An hour before, as we prepped our rigs at twilight, Nate Chennaux told us everything we needed to know. "Cast into the light and around the edges," the bearded, chain-smoking reporter for Bay County Outdoors had advised as Hobie pro Morgan Promnitz readied our fleet of Pro Anglers, Outbacks and Revos.
The rigging went quickly. There was no need for fishfinders, bait tanks or any other clutter. A light, a couple of inshore rods and a small box of tackle is all the gear required for this night raid. Within minutes we're ready to launch, listening to Chennaux's understated mission briefing. In a low voice, he tells us to expect overslot redfish, lots of them, under the bridge lights and right on the Tyndall Air Force base approach path. It's trophy fishing during an air show.
"Most of the reds will be in the 20- to 30-pound range," he says. "We catch forties and fifties out there pretty regularly."
Around our circle, eyes widen and faces liven. My expression is a raised eyebrow. I've been over-promised so many times, I don't quite believe. Chennaux spots my skeptical look, but it doesn't faze him. He knows what I am about to learn—this bite is as predictable as the lunar orbit. From mid-April through October, large outgoing tides push through the pass. When the tidal swing is more than two feet, the big bulls gather to feast on the crabs and eels as the ebb funnels through the narrows.
"It's a chokepoint. All that food comes through there, the reds can just hang out and eat everything they want," Chennaux says.
They feed day or night, but targeting these bulls in sunlight is a frustrating game. They are too scattered. Night is different. "After it gets good and dark they'll all get stacked up on those shadow lines," Chennaux says, nodding toward the bridge lights. "When they see something come drifting by, they eat it. As long as we have big tides, they'll chew."
These reds are fearless, a resounding success story for the Florida Fish and Wildlife Conservation Commission. The slot is 18 to 27 inches. Anything bigger or smaller has to go back. "Any fish that is over three years old is out of circulation unless a shark or dolphin eats it," Chennaux points out.
A tail slaps behind my bait—rejected. I keep on cranking to match the speed of the tidal current. Off to my right I hear shouting. "I'm on, I'm on!" It's Promnitz. His fish bulldogs down-current. In moments he is out of sight, but not for long. Camera strobes paint a slow-motion battle. Finally, a freeze-frame image: Promnitz standing proudly atop his Pro Angler, a massive bull red held high.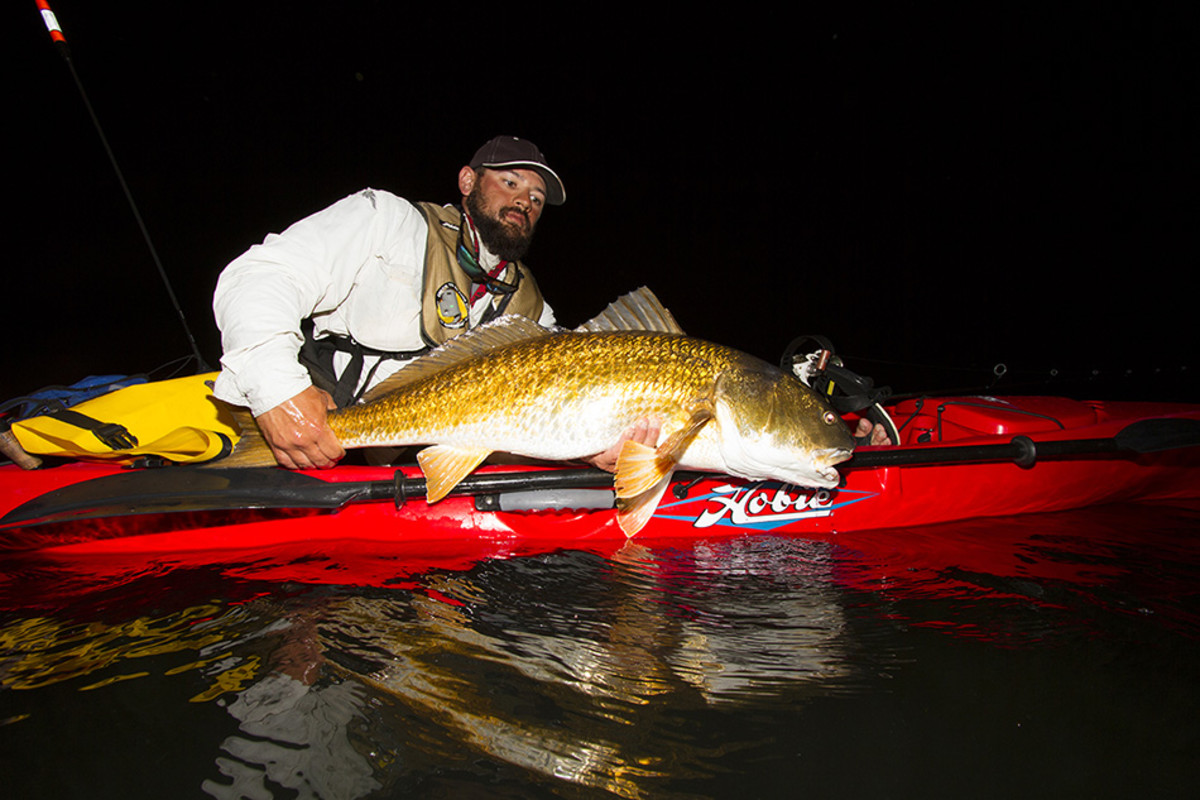 Time for me to reset; I'm out of position. With a few kicks of the pedals, I am back in the zone and making casts.
The frantic cannonball splashes are coming faster. The VHF crackles. Filmmaker Cheryl Little is on a sleigh ride at the far end of the bridge. Chennaux floats by, coaching Polly Dean. The fishing writer has a monster at color. Mindful of his warning that these big reds have raspy throats, I hand over my Boga grip. Laughing, she lands it. Jerry McBride gets one too—it was probably his first cast—and jokingly complains that it is too big.
Chennaux tells me to tie on a LiveTarget Mullet wakebait. "It don't really matter. One topwater lure gets hit as good as another," he says, and sends me off to try again.
I take station just downstream of the bridge. Once again, thunder from the skies shakes the world. I feel the jet roar in my chest. And then, BAM! It's my turn. I set the hook but can't get even one crank. I'm riding a bull, the first Florida fish that has me absolutely railed. It bulldozes upstream, unstoppable, straight for a bridge piling. Uh-oh.
Stalemate. I'm up and down, anchored in place. Then an ominous scraping on my braided line. Desperation time. Free spool, it's the only way. I follow the line from one piling to another, then tighten up. Tail beats. Hope springs anew. We're through the obstacle course, in the clear one hundred yards north of the bridge.
The beast is tiring. It's huge and thick, with broad shoulders. There's nothing for it. I jam my hand in its mouth, and haul away. Success, a no-doubt personal best. This bull red is well over 40 pounds. Is this real? It was so easy! Back in the water. It swims away, still angry. I won't notice the bloody gouges on my thumb until we're packing up. Let's get another.
Ninety minutes and many a bullfight later, the current ebbs. The bite fades. Even the aviators have called it a night. It's quiet again, but now we're tired and ready to head to the barn. Everyone has landed a trophy. Promnitz hauled in five or six, a preposterous number, none smaller than 25 pounds.
Chennaux just grins knowingly. There was never any pressure. It was all in the timing. "A week later the tides wouldn't have been right," he says, not the least concerned about giving away the bite.
This action is strictly catch and release. Many locals don't bother if they can't harvest their fish. And it's not as if people come from all over to battle the DuPont Bridge's herd of bulls. It happens at the seaward end of other bay chokepoints crossed by low, brightly lit spans. "The bridge in Destin is a pretty good bite. The bridge in Pensacola too," he says.
The big bull runs might be too predictable. It has the air of the routine for Chennaux, who fishes every day. "I'll only head to the bridge when all the factors are right," he says. Promnitz, still ecstatic, is incredulous. "I could do this every night. Sleep in, take a cooler to the beach, then head to the bridge."
The article was originally published on Kayak Fish
For access to exclusive gear videos, celebrity interviews, and more, subscribe on YouTube!