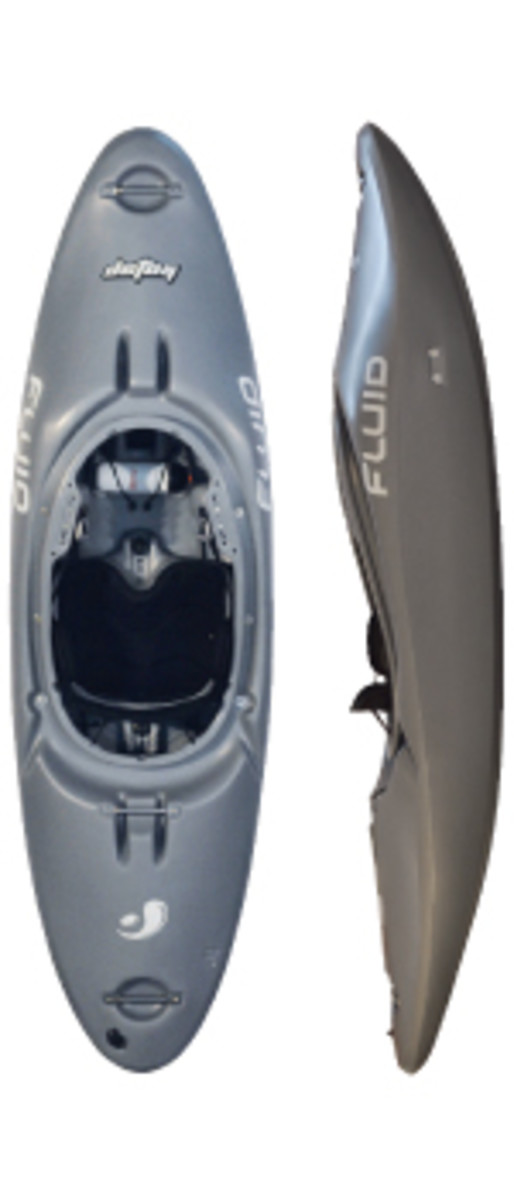 FLUID DETOX
($1,099 in medium density superlinear polyethylene, fluidkayaks.com) S, M, L-L: 7′, 7'6″, 8′; W: 24.5″, 25.25″, 26″; 39 lbs., 42 lbs., 44 lbs.; 52 gals., 66 gals., 71 gals.
Like to bomb the big stuff and play along the way? Imagine a creekboat with a playboat hull: That's the Detox. Aptly suited for tearing up big green waves and dropping waterfalls, the Detox is the missing link between Fluid's playful river-running Spice and its creek-specific Solo. "This boat is fun," one tester hollered after stomping his line through Terminator on Canyon Creek. "It's a creekboat I can surf." A generous amount of kick rocker combined with a planing hull and forgiving sidewalls make the Detox a relatively sporty ride for a creekboat, but also a surprisingly stable one. "This would actually make a really good beginner boat," another tester said before taking it off Kahuna, a 17-foot waterfall on Canyon Creek. "It rolls super easy and it's nice and responsive." The peaked decks put the Detox's extra volume right where it needs to be, and makes for controlled resurfacing on larger drops. There is still enough space in the stern for overnight gear, but one of our taller testers (6'4″) had a difficult time fitting his bean-pole legs into the boat without first removing the plastic foot blocks.

The article was originally published on Canoe & Kayak
For access to exclusive gear videos, celebrity interviews, and more, subscribe on YouTube!