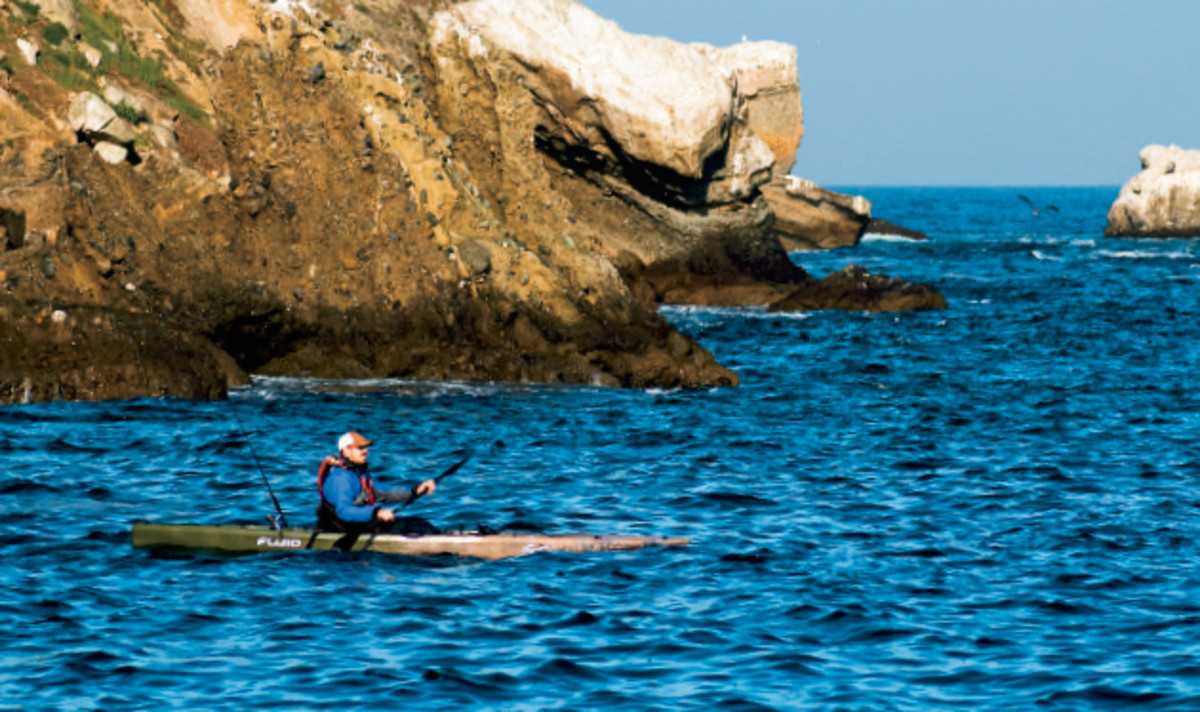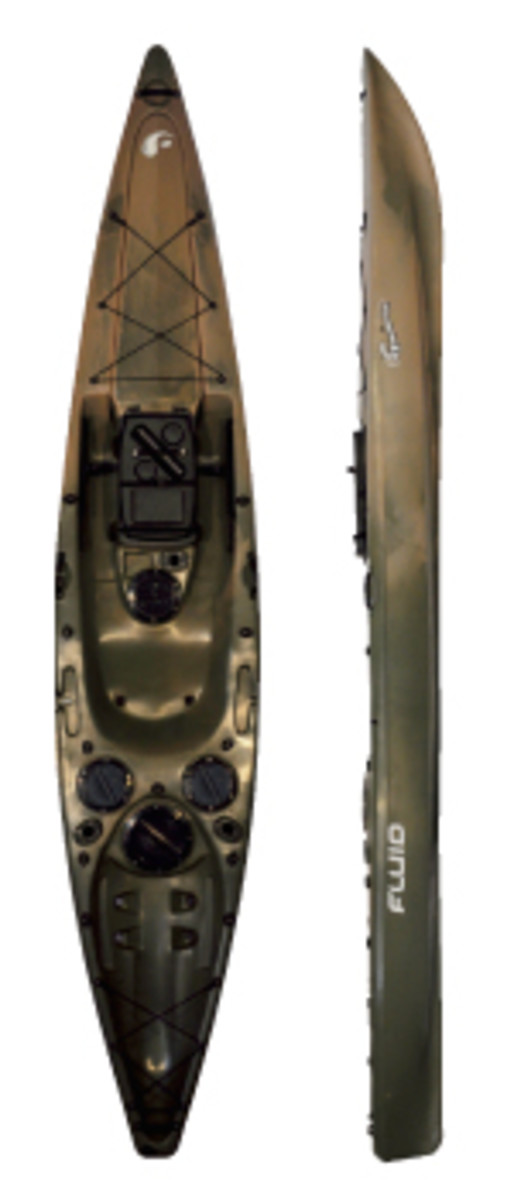 Fluid Kayaks Bamba
($946 in roto-molded polyethylene, fluidkayaks.com)
L: 13'11"; W:31.25″; 67 lbs., 480-lb. capacity
South Africa's Fluid Kayaks has launched the Bamba, its first purpose-built fishing kayak. Based on the prototype we tested, this is a dramatically atypical design, one that puts a premium on rough-water performance. It has one of the lowest volume cockpits going. There's nothing to fill when a wave tumbles over the top. That's good, because this boat will take plenty of slosh over the flat foredeck, although Fluid tells us it's added relief to deflect splash. The low-slung result is a wind-resistant spear that slices right through the water.
The paddler fills the cockpit, practically wearing the boat. While that chips away at all-day comfort, it's a fair trade for the alternative: not making it out at all. As for fishing outfitting, a large cockpit console takes center stage. It's home to the Bamba's unique and nearly 5-foot-long fully sealed storage area, a labor-intensive innovation that's separately molded and bolted into place. It's an excellent fish hold, just the thing to keep blood and slime safely confined when venturing into shark territory. Access on our prototype tester was via a rigid lift-up center cockpit hatch—a good place to mount a fishfinder.
The Bamba comes with a trio of flush-mounted rod holders, one up front and two a long reach behind the seat. They are narrow; those who use beefy saltwater sticks will want to swap them—a trivial matter. Storage abounds; there's the standard rear well and four round hatch covers. Two of those are plumbed via removable valves and neatly double as low-tech livewells for small bait such as shrimp or eel. Overall, the Bamba is a different kind of cat that brings welcome new thinking to the sport.

The article was originally published on Canoe & Kayak
For access to exclusive gear videos, celebrity interviews, and more, subscribe on YouTube!