When most car enthusiasts dream about owning a Lamborghini, the first thing that comes to their minds probably isn't how well the Italian supercar would handle on snow and ice.
But former freeskier Jon Olsson isn't most people, as shown by a new video of Olsson racing a customized Lamborghini Murcielago up a Norwegian glacier.
In a video released Sunday, the 33-year-old X Games gold medalist takes his Lamborghini Murcielago LP640 ($354,000) to the slopes of the Fonna Glacier Ski Resort in Norway and floors it toward the peak of the glacier.
RELATED: Watch a Formula One car take on an Austrian ski slope
"Yeah that's a good question," the Swedish skier responds when asked on camera why he would want to race a 640-horsepower supercar up a glacier. "I love cars. I love glaciers. So why not combine the two and just go out there and have some fun? I mean, that is the only thing, as you know, that we try to do: Have as much fun as possible. So if I get up there I will be smiling."
Aided by some monster tires built with huge studs inside them, he succeeds in racing the custom-built rear-drive Lamborghini up the ski slope with surprising control. Olsson even built a slalom course for the drive and navigated easily between the ski gates.
In the true spirit of skiing, he does all of this while sporting a mean rooftop cargo box.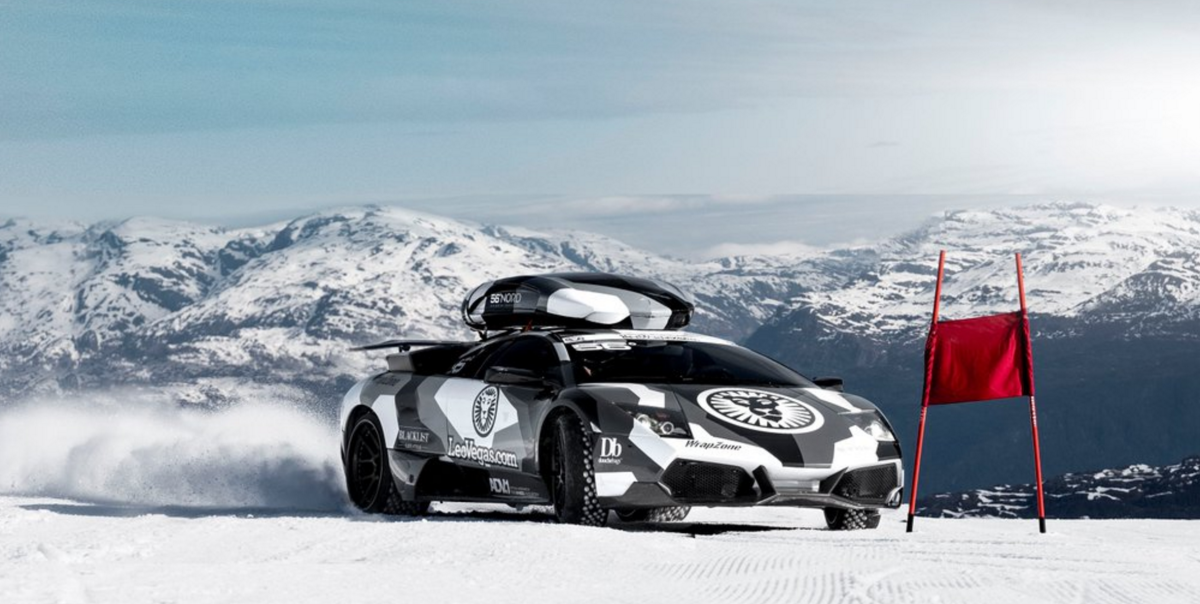 On his blog, Olsson detailed the long, tireless process he underwent to make the supercar snow-ready.
"I bought this car three years ago as I got a great offer to build it without crushing my finances. Had a guy fly in from the UK as he wanted to build the car for free to get the PR, he seemed super professional and I had no reason not to trust him," wrote Olsson. "One year later I had to pick the car up as he was bankrupt and had sold a lot of parts for the car in order to pay for rent. So a year was wasted and I had to pick up an incomplete car in a million pieces."
"Took us about 2 years to finally get everything right, much thanks to a lot of the stuff that was made in the UK had to be remade," Olsson continues. "So I can easily say that this has been a nightmare build. It went from a great business opportunity to probably the most expensive Murcielago ever built … So I am sure glad that it came out the way it did!"
More from GrindTV
Day 7 of 7 in Portugal: An evening layover in Dublin en route from Lagos
Kelly Slater passes out during breathing class
Pro surfer Gabriel Medina lands first ever back-flip during contest
For access to exclusive gear videos, celebrity interviews, and more, subscribe on YouTube!