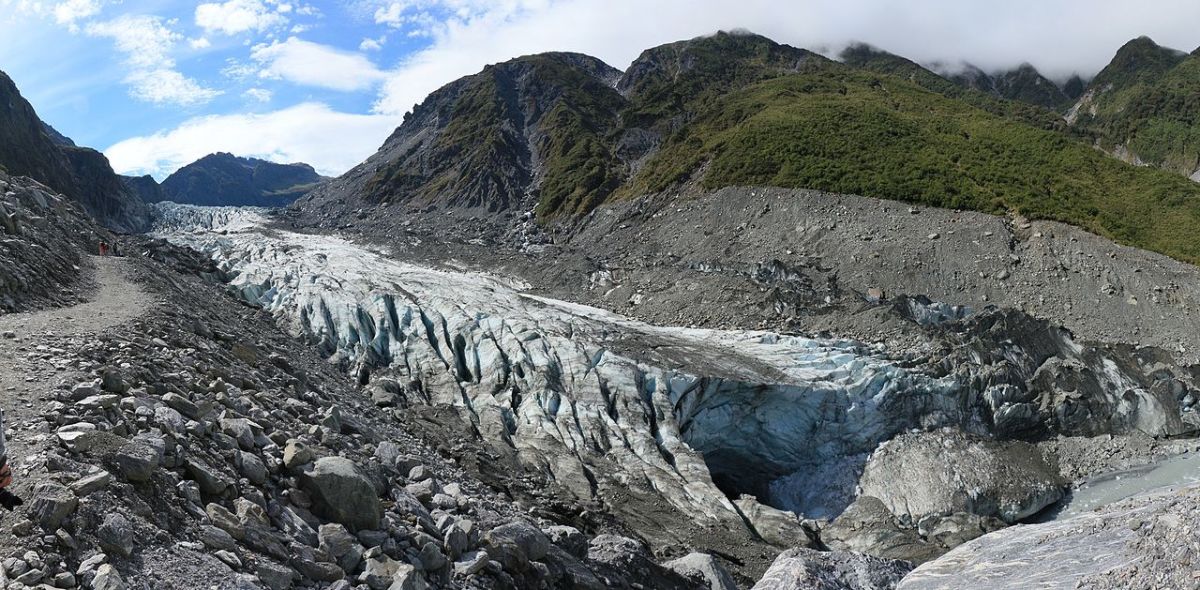 Fox Glacier, one of the most accessible glaciers in the world located on the West Coast of New Zealand's South Island, is retreating at a rapid pace and the evidence is quite striking.
Images taken each day from January 2014 to January 2015 were composed into a timelapse video that shows Fox Glacier retreating by an estimated 985 feet. The images were taken as part of a Victoria University study into glaciers of the central Southern Alps, according to Stuff.co.nz:
"As the glacier has thinned over the last few years, it has destabilized the side of the valley and you can watch the hillside collapse day by day," Dr. Brian Anderson, a senior research fellow at the Antarctic Research Centre, wrote on his Vimeo post. "Before the first collapse you can see guided groups walking on tracks on the ice, and the whole time people watch from a safe viewpoint (bottom right)."
As you can see in the photo at the top taken in February 2013, Fox Glacier has thinned substantially in the past few years. The vegetation line on the right slope marks the height of the glacier around 2009.
"With this kind of change, we could see the whole valley looking drastically different in a hundred years' time," Dr. Sam McColl of Massey University, told The New Zealand Herald a few weeks ago. "Changes to the glacier ultimately mean changes to the surrounding sediment and landscape.
"Dramatic phases of retreat, like the one the glaciers are experiencing now, remove the buttress effect provided by the glacier—essentially a door-stop that makes the surrounding hill slopes more stable."
Meaning the hillsides become more unstable, leading to more sediment being delivered into the valley, which is increasing in elevation as a result—more than a meter in the last two years.
Follow David Strege on Facebook 
More from GrindTV
Rare images taken of seal versus octopus
Owl has joggers on edge in Oregon
Tandem skydivers narrowly miss hitting plane
For access to exclusive gear videos, celebrity interviews, and more, subscribe on YouTube!