Words by Jeff Moag | Photos by Beatrice Murch

Forty-four months after she departed Buenos Aires, Argentina and turned south, German super paddler Freya Hoffmeister has returned from the north, completing the first-ever kayak circumnavigation of the South American continent.
As this post goes live, she is paddling the final two kilometers of the 26,908-kilometer (15,828 mile) circumnavigation, via Cape Horn and the Panama Canal.
A fleet of local paddlers and well-wishers is accompanying her on this public victory lap, including EU ambassador Alfonso Díez Torres and Hoffmeister's partner Peter Unold, who joined her for legs of the expedition. The entourage will paddle to the Fregata Sarmiento, a 19th Century tall ship on which the self-proclaimed "Goddess of Love to the Seas" will be received at noon local time (11 a.m. EST) with music by the Argentine Navy and appearances by various dignitaries.
"The South Americans enjoy a good show," Hoffmeister explained yesterday by Skype. She herself paddled into Buenos Aires a week ago, and had a quiet arrival with Unold and a few supporters. "I really enjoyed that last day, shedding tears and singing Don't Cry for Me Argentina," she said.
The trip is an incredible feat of determination and endurance. Fresh off her record-shattering 2009 circumnavigation of Australia, Hoffmeister, 50, began her South American circumnavigation on August 30, 2011. She initially expected to complete the clockwise circuit of South America in three 8-month stages, returning home to Germany for four months each summer. In the end she needed nearly four years, and returned to Germany five times.
During the first leg in 2011 and 2012, Hoffmeister became the first paddler to successfully trace the rugged, swell-lashed coastline of Tierra del Fuego, at the southern tip of South America. Rather than traverse the relatively sheltered Straights of Magellan, Hoffmeister chose a longer, more exposed route around the southern tip of South America. For five days she was windbound at Cape Horn after a last-ditch landing damaged her boat and shattered her paddle.
Years later in the Amazon, a prororca wave swept her some five miles up a shallow river mouth at speeds of nearly 20 miles per hour. Hoffmeister was eating dinner in her boat, aground on a shallow sandbar waiting for the tide. It arrived in the form a three-foot wave, a powerful tidal bore sweeping upstream.
"It came at night, in darkness," says Hoffmeister, who managed to grab her paddle from the deck rigging just as the wave arrived. She braced and side surfed for about a quarter of an hour. "I was fearing for my life, crying out for help in German, which is surely ridiculous in that situation."
Hoffmeister eventually was ejected from her boat into knee-deep water flowing so fast that she could not regain her feet. When the wave finally pushed Hoffmeister into a quiet side-channel, her boat—to which she had been tethered—was full of wet sand the consistency of concrete. "I had to dig it out with a metal spoon," she said. "But I only lost one shoe and my body was fine."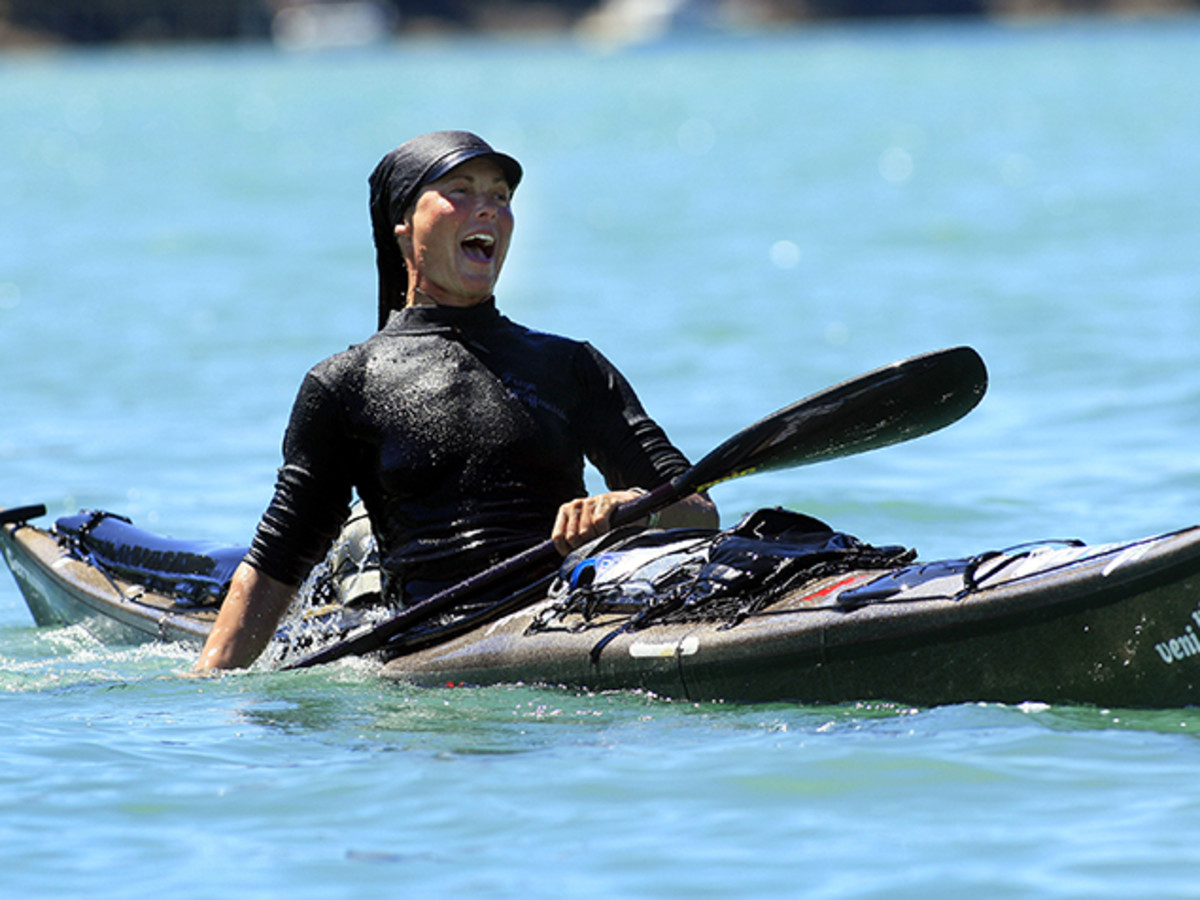 The shallow, tidewashed northeastern shore of the continent proved the most trying portion of the expedition. In October 2014, after some 668 days of clockwise paddling, Hoffmeister made the difficult decision to reverse direction for a portion of her trip. The relentless Southeasterly winds around Brazil's easternmost point seemed nearly insurmountable. Hoffmeister drove from Sao Luiz to Recife, and paddled an 800-mile section of her trip from south to north, with the wind at her back. Hoffmeister also accepted a navy escort along Colombia's dangerous coast.
"It is a magnificent achievement in human doggedness and hubris, but there are so many asterisks," says Joe Glickman, who wrote the book Fearless about Hoffmeister's Australian circumnavigation. "The military escorts, and then turning around to go with the wind—that seems to violate some unwritten rules of expedition paddling."
Hoffmeister bristles at such criticism. "Anyone is welcome to circumnavigate South America, and do it better than I did," she says. "You are free to go continuously, and if you want to reject any kind of navy escort, you're going to die."
It seems unlikely that anyone will take up that challenge. Besides, now is not the time to quibble. It's time to celebrate a singular achievement in the sport of paddling.
Strike up the band.
–Read Joe Glickman's 2010 DIGITAL FEATURE on Freya Hoffmeister: Lonely at the Top.
The article was originally published on Canoe & Kayak
For access to exclusive gear videos, celebrity interviews, and more, subscribe on YouTube!