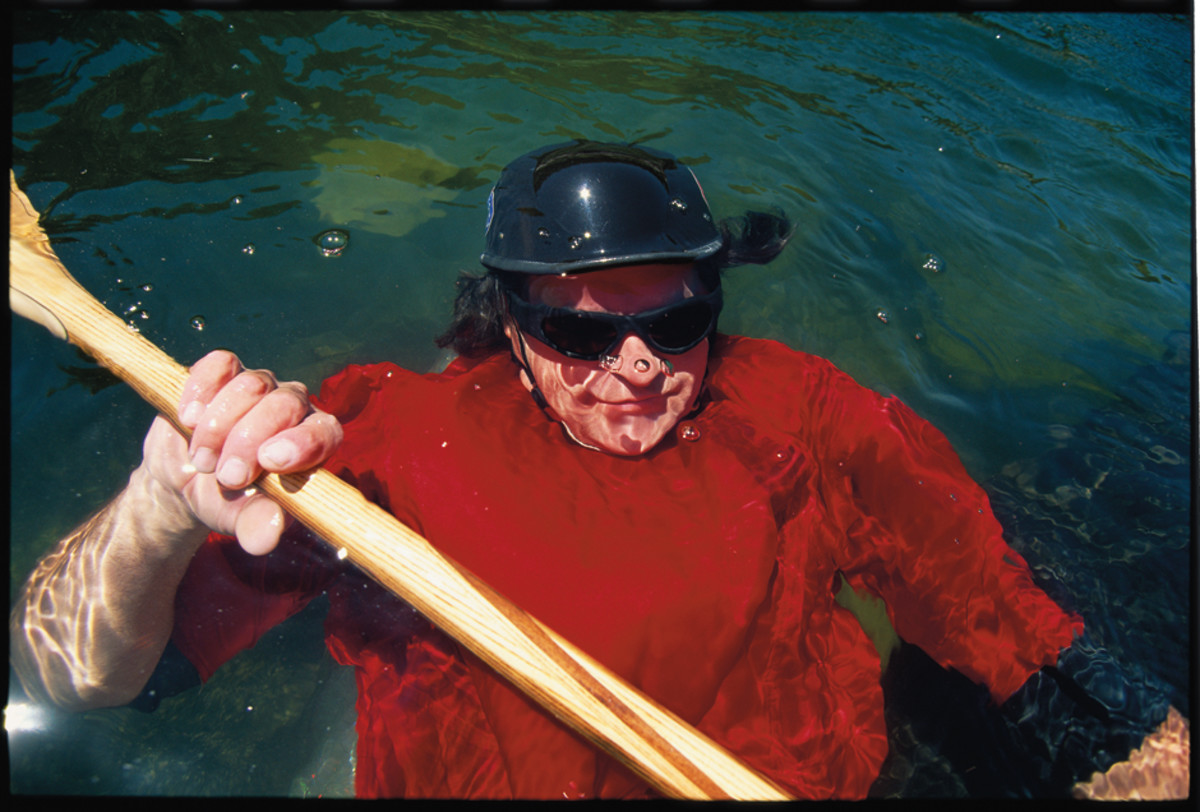 By Christian Knight
Jim and Jeff Snyder revolutionized whitewater play.
The whole point was to modify the ender, to transform that seminal rodeo move from a single flop into a gymnastics routine, to make it retentive. To make it cartwheel.
To do that, Jim Snyder, now 55, lopped a foot off each end of the most cutting-edge kayaks then available, Jesse Whittemore's 12-foot squirt boats. The result was the Arc, the first of some 70 designs to emerge from Snyder's Albright, W.Va., workshop over the last 27 years. In the prototype's first outing in 1983, Snyder says he linked 12 flatwater cartwheels. The boat, and Snyder, would become the spiritual precursors of a kayak design revolution and a new breed of kayakers called playboaters.
At the time, Snyder was merely the most prophetic in a culture of renaissance men who conjured their personal visions in fiberglass and resin. This was a generation of paddlers who crafted their own helmets, tailored their own life jackets and ignored the prescribed limits of whitewater paddling. Jim Snyder and his kid brother, Jeff, were deep into the squirt culture, a small tribe of Appalachian boaters who plumbed the underworld of kayaking.
Their Holy Grail was the "mystery move"—using river currents to pull their low-volume boats completely underwater. Jim got his first in 1980 on the Gauley's Tumblehome Falls. He pushed the design and technique for the next decade, until he and his fellow squirtists were swirling around with the fishes for 20 seconds or more.
To get there, Snyder threw out the then-standard 90-degree paddle feather.
"A lot of the paddle makers whittled away at the feather," says Dan Gavere, a Jim Snyder squirt-boating disciple and early pro freestyler. "They'd go from 90 to 80 to 70. Snyder said 'Screw that. I'm taking it all the way down to zero.'"
The innovation, which would eventually pull the industry standard to 45 degrees, allowed squirt boaters to play the underwater currents without resistance. With the Arc and a zero-feather paddle in 1993, Jim Snyder spent more than a minute underwater at Lava Falls in the Grand Canyon. When he emerged, he says his chest was paralyzed. Snyder wasn't scared; he'd been having a ball communing with the river. The whole point of squirt boating is to play in the water, he says. "There was a defection from racing. I was one of those who gave up on racing and went directly into showing off."
Jeff Snyder, seven years younger than his brother Jim, grew up with squirting. He didn't innovate designs—that was Jim's role—as much as he pioneered new moves. But his most unique contribution to the eclectic array of paddlesports began 16 years ago, after an accidental boof off a 45-foot Mexican waterfall injured his spine. Afterward it hurt him to sit in a kayak, so he decided to stand. He built a 10-foot paddle, carved wooden body-armor and began "striding"—running mid-Atlantic gnar like the Upper Gauley, the Moose
and the Cheat Narrows while standing in an inflatable kayak. Jeff Snyder admits that striding never progressed beyond a whitewater curiosity, but as standup paddleboarding explodes in popularity and new converts like Gavere begin to charge difficult whitewater, his contribution looks as prophetic as his older brother's.
This story first appeared in the Dec. 2009 edition of Canoe & Kayak, as part of our feature The Innovators.
Canoe & Kayak Innovators: 14 Visionaries Who Changed Our Sport Forever
Fun Brothers Jim and Jeff Snyder // Paddling Provocateur Corran Addison // The Prophet of Polyethylene // Warriors of the Self-bailing Revolution // Aluminum Canoe Guru Bill Hoffman // Sit-on-Top Visionary Tim Niemier // Open Boat Bomber Nolan Whitesell // Sea Kayak Savant Frank Goodman // The Bublik // Air Bag Revolutionary // The Royalex Miracle // Videographer Wayne Gentry
The article was originally published on Canoe & Kayak
For access to exclusive gear videos, celebrity interviews, and more, subscribe on YouTube!