"This has truly been the trip of a lifetime."
Those are the words of Kristen Randall, a mother of four who had just spent nine days standup paddling, snorkeling, hiking, and mountain bike riding as part of our Galapagos Dream Retreat – a nine-day, multi-sport  excursion to the exotic volcanic archipelago that lies 600 miles off the Ecuadorian coastline.
SUP Magazine teamed up with world-class outfitter Southern Explorations to take eight guests to three unique islands – San Cristobal, Isabela and Santa Cruz. Over the course of that otherworldly experience, new friendships were forged, laughs were shared and most importantly, our group was able to experience first-hand one of the most rare and protected ecosystems on earth.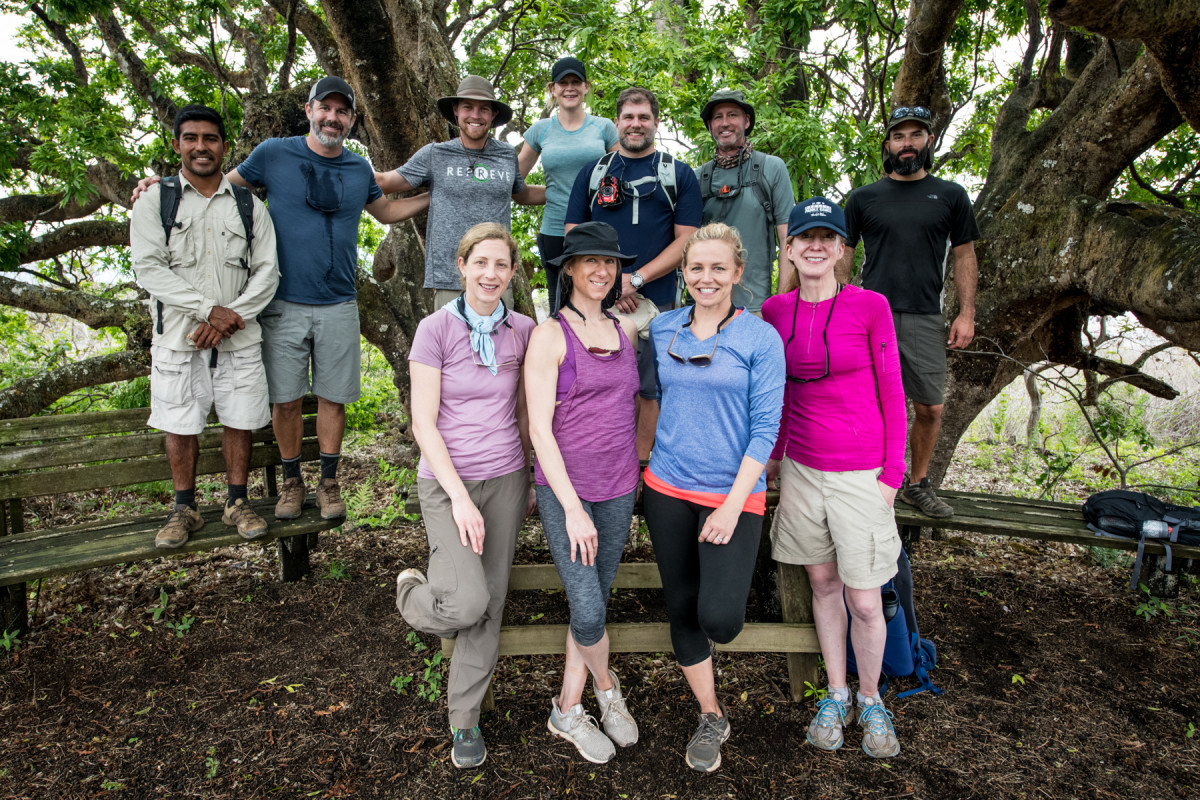 San Cristobal
Our trip began on San Cristobal and we began by standup paddling around the scenic bay where scientist Charles Darwin first landed in 1835, watching as sea lions frolicked below our feet and Frigate birds soared over our heads. A short boat ride away put us beneath the shadow of Kicker Rock, a magnificent tuff cone soaring 500 feet out of the sea. After gawking at the massive volcanic remnants, we hopped off the boat to snorkel with green turtles, colorful parrot fish and even an elusive hammerhead shark.
Our group spent that afternoon lounging on a secret beach – accessible only by boat – that was nothing short of extraordinary. Cragged black lava fields gave way to pristine white sand beach and turquoise waters. Our only company being the marine iguanas, sea lions, wild goats and colorful birds that occupied the untouched perfection we had the privilege of sharing.
Isabela
After our small plane landed amongst the black lava fields of the archipelago's largest island, Isabela, our crew strolled past sleeping sea lions on Playa Isabela and hopped onto our boards for a memorable paddle through a mangrove-filled islet. As we stroked through the translucent blue waters, wildlife was suddenly everywhere.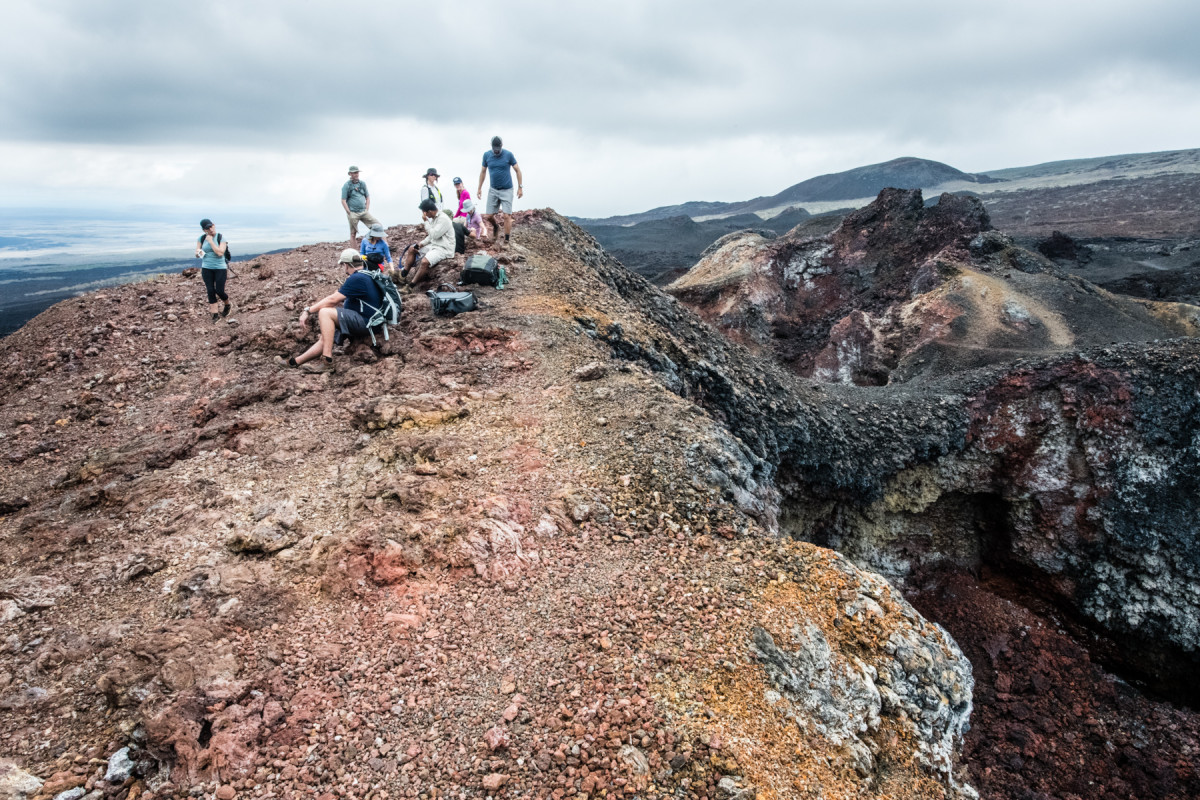 Scores of marine iguanas sun-bathed upon a rocky point, while the vibrant colors of the bright red Sally Lightfoot crabs and blue-footed booby birds popped in the sunlight. Our group was even lucky enough to paddle alongside a lone Galapagos penguin, the only species of penguin found naturally in the northern hemisphere. With more to see beneath the water, we put on snorkel gear from our boards and quickly found ourselves swimming amongst seven-foot reef sharks, massive green turtles and beautiful fish spanning the color spectrum. It may have only lasted a couple hours, but we were officially under the spell of these enchanted islands.
Of course, not all of the Galapagos' wildlife lives next to the water. That afternoon we traded our paddles for handlebars and set out along a bike path in search of the endemic Galapagos giant tortoises. It would not take long before we rolled up on a huge tortoise – which looked like a giant boulder at first glance. Upon closer inspection, its weathered shell was proof that it had been walking these lands long before any of us were born.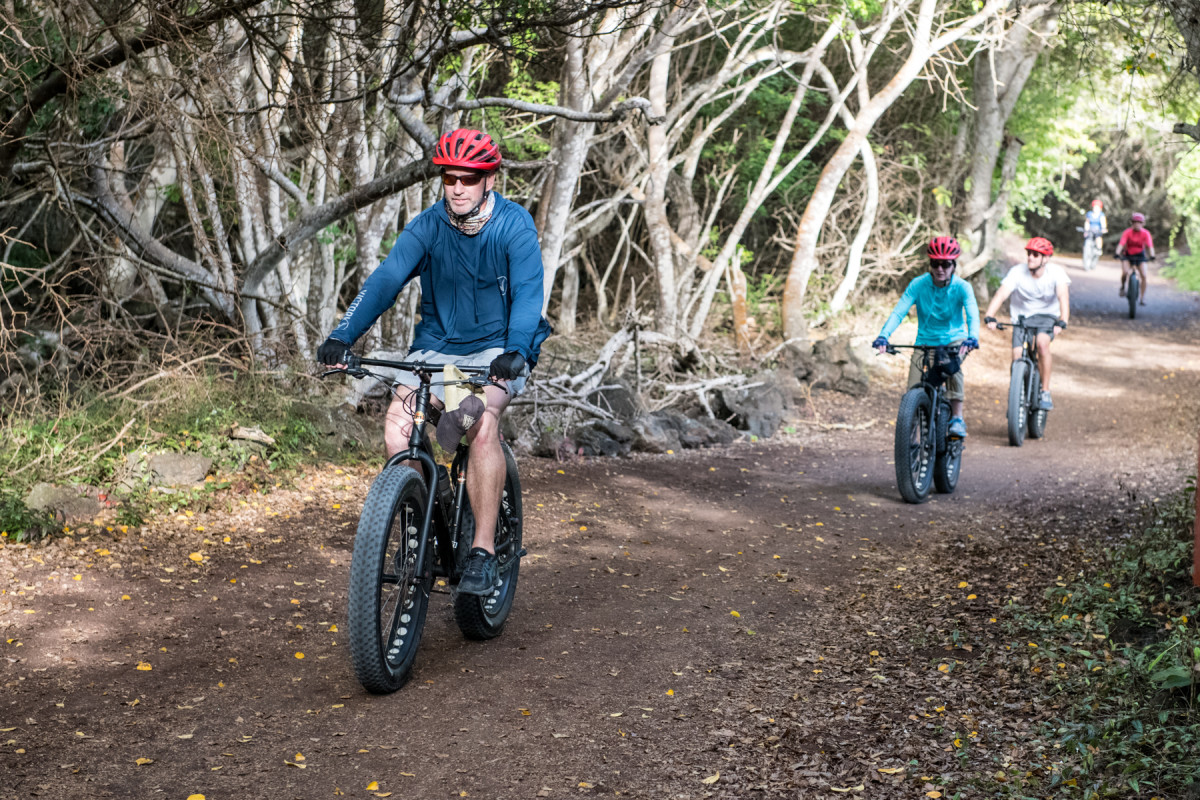 The multi-sport adventure continued the following day as we traveled to the volcanic highlands for a memorable hike to the Sierra Negra volcano – the second largest active caldera in the world. After staring into the gaping crater measuring six miles in diameter, we continued to traverse across vibrantly colored mountaintops filled with sulfur deposits and unique volcano formations including lava tubes.
Santa Cruz
After a trip filled with once-in-a-lifetime adventures, we embarked on a boat ride to our final stop – Santa Cruz Island. Once docked, it would not be long before our group found paddles in our hands and clear water beneath our feet. We stroked along lava walls before ducking into one of the most beautiful places we've ever paddled, a narrow basalt canyon known as the Tunnel of Love. This breathtaking spot felt detached from the outside world; where the cacti growing from the jagged black walls was dramatically contrasted by bright turquoise water and diverse marine wildlife including sea lions, crabs and iguanas.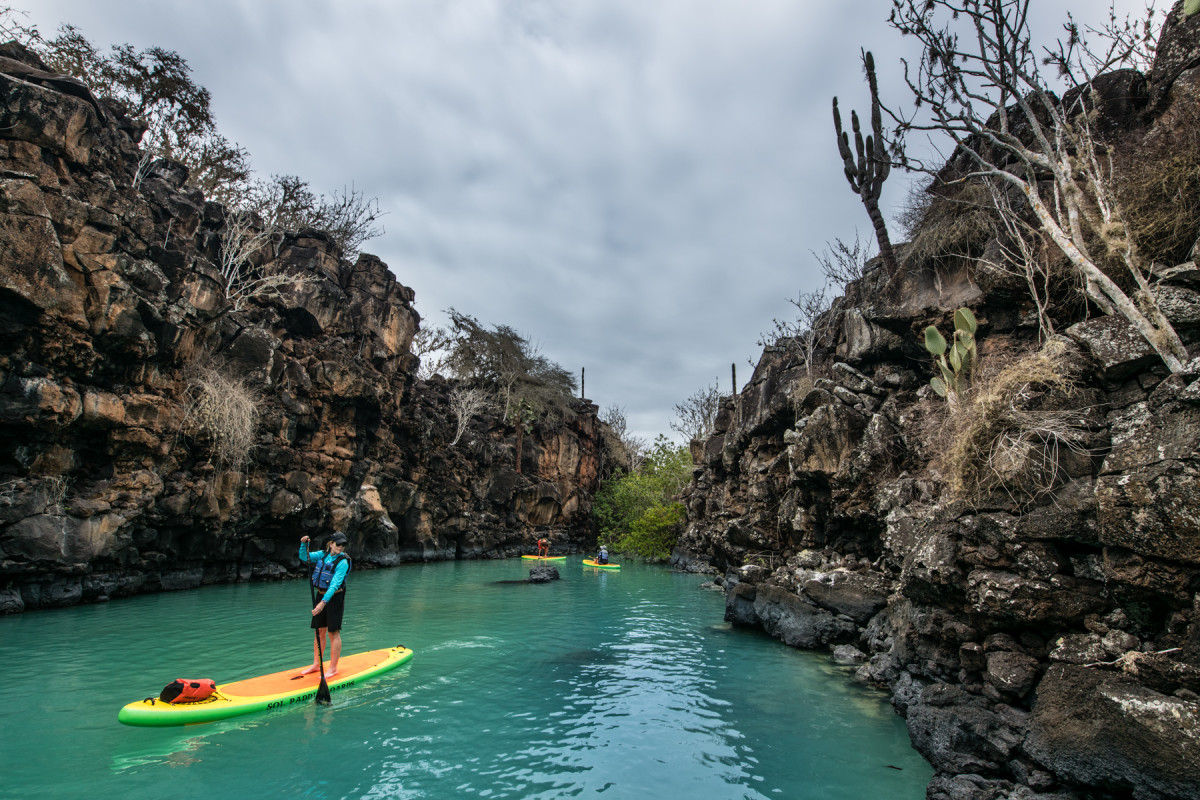 Later that day, our group visited the El Chato nature reserve and walked amongst the Galapagos giant tortoises. Many of these peaceful giants were well over 100 years old and walking amongst them felt like we'd gone back to prehistoric times.
We rounded out our Galapagos experience with a picture-perfect paddle around Tortuga Bay. Protected from the wind and waves by lush mangroves, the white sand beach and translucent blue waters looked like a screensaver image – an excellent way to close out the trip.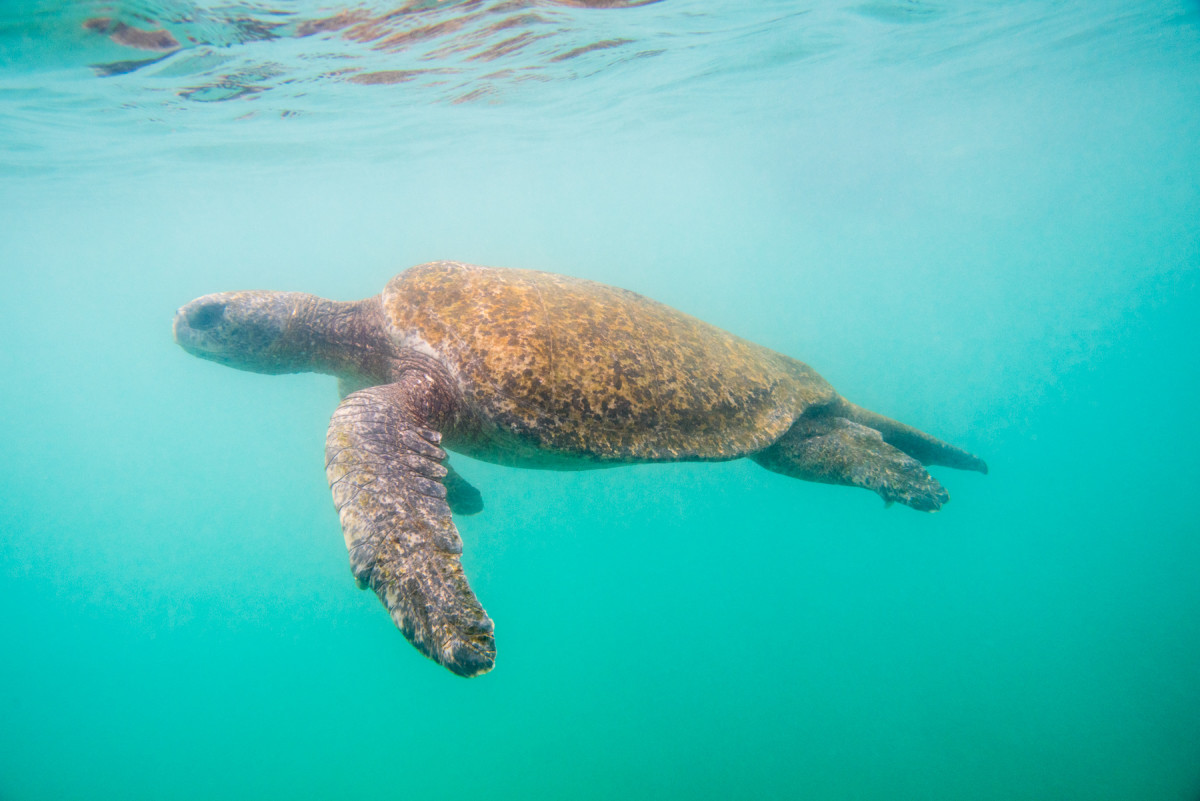 Of course, our entire adventure was expertly narrated and navigated by our phenomenal guide from Southern Explorations, Felipe. His passion for the Galapagos Islands was evident by his wealth of knowledge about the island's wildlife, history, ecology and food. The logistics went off without a hitch, everyone knew what to expect about each activity and he even kept the group energized on-the-go with delicious and healthy local snacks including fried plantains and chocolate.
With the stressful stuff taken care of, our group only had to worry about enjoying themselves in the Galapagos Islands. A task that proved just about as tough as it sounds.
The article was originally published on Standup Paddling
For access to exclusive gear videos, celebrity interviews, and more, subscribe on YouTube!