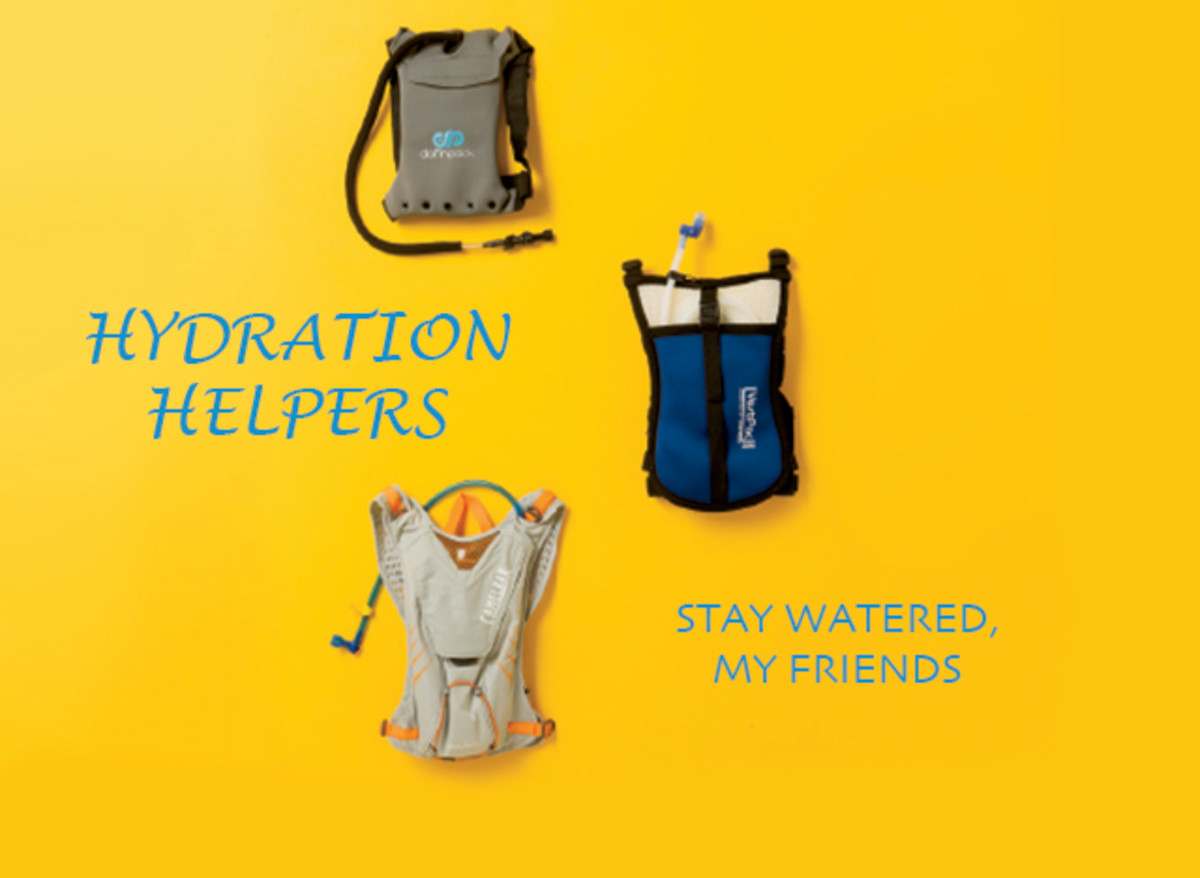 Gear Review | Hydration Helpers
Stay watered, our friends
VestPac DriftPac
$70 • VESTPAC.COM
The team over at VestPac has made a great pack even better. They took their highly adjustable, lightweight and lithe pack design and equipped it with a chest panel that features three stainless steel tool retractors and four pockets, keeping all your immediate fishing needs right where you need them. And it wouldn't be a VestPac without their 360-degree bite valve and mesh fabric, which drains water quickly just in case you take a dip. We even use this thing when we're not fishing and just want to have more organization for bars, phones, GPS, etc. But when you get down to it, the DriftPac is a SUP fisherman's dream.
CamelBak Molokai
$100 • CAMELBAK.COM
The Molokai CamelBak's go-to hydration pack for distance paddles and downwind runs. This no-frills pack fits tight for comfort on those long hauls and doesn't slip side-to-side. Its all-mesh construction doesn't hold water when you go for a plunge and when you sit down to have a bar or hydrate, you can slip your paddle handle into the elastic holder so your blade doesn't try to escape in the open ocean. If you like to pack a lot of stuff, you're out of luck: there's just enough room in this pack for a phone in a waterproof case, a bar or two and a stick of sunscreen. Just the essentials, just the way we like it.
Dolfin Pack
$40 • DOLFINPACK.COM
The crew at Dolfin Pack took a leap when they designed their proprietary Hydration System, making a pack for athletes that wanted to stay hydrated without any bells or whistles. This tight-fitting pack made of neoprene, Velcro and plastic takes minimalism to a whole new level. It stretches across the user's back and straps tight across the chest. It takes a while to get used to, but once you do, you'll forget the Dolfin Pack is there. You'll sweat underneath it—as you do with all packs—but it does move with your body through the paddle stroke as well as anything out there. If you like to cut as many ounces as possible and still stay hydrated, this is the pack for you.
Check out another way to stay hydrated, here.
This Gear Review originally ran in the 2015 Beginner's Guide.
The article was originally published on Standup Paddling
For access to exclusive gear videos, celebrity interviews, and more, subscribe on YouTube!