This story featured in the 2013 Buyer's Guide Issue.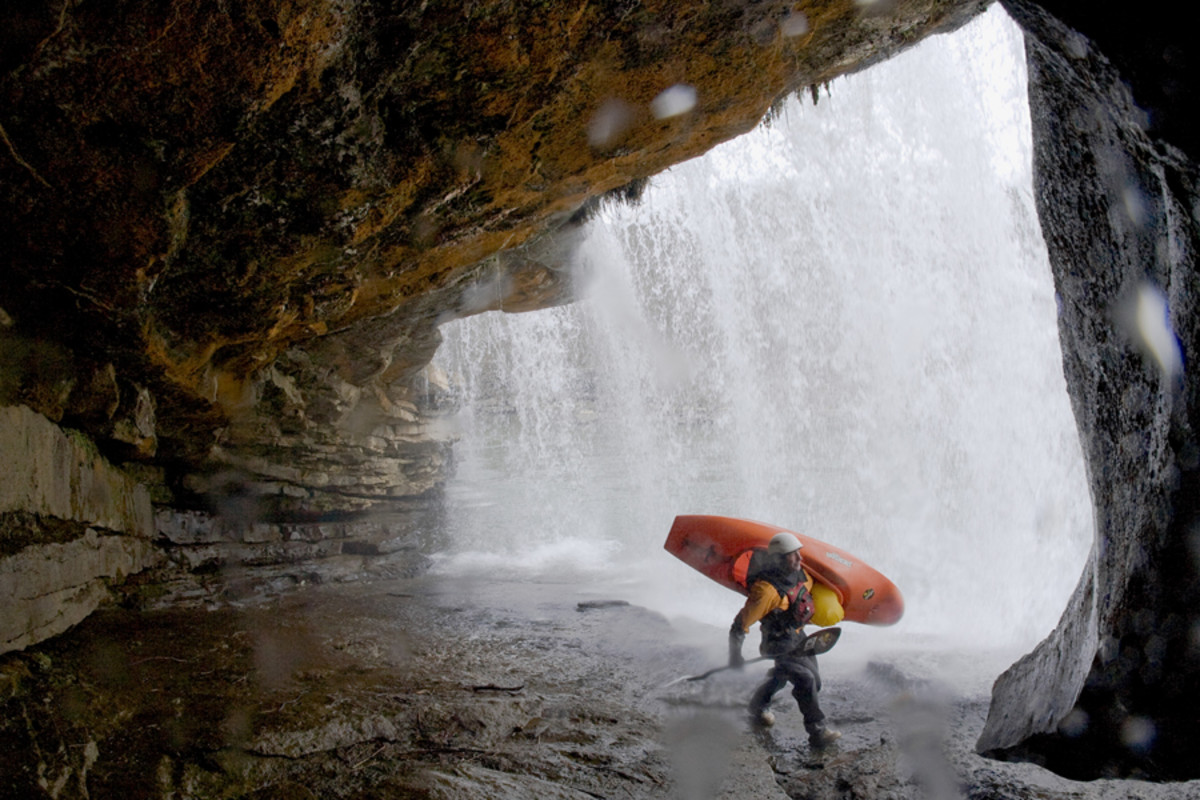 By Eugene Buchanan
Last summer, sea kayak stalwart Nigel Foster picked up a few kayaks at the Point 65 factory store in Stockholm, Sweden, took them out the back door to Lake Malaren and then paddled through the Stockholm archipelago to Finland. Which got us to thinking: Where else can you meet a major manufacturer, tour the facility, and then grab a boat and hit the water? The search led us to a variety of companies located right where they should be—on or near the waters their boats are designed for. And it reaffirmed our suspicion that paddling is still very much a community-based sport where boat-makers don't need much of an excuse to drop what they're doing and dip a blade with a fellow paddler.

Wenonah/Current Designs
Winona, Minnesota
Wenonah Canoe and Current Designs could well be the poster children for community-based canoeing and kayaking. "We really embrace it here," says marketing director Jake Greseth. "We have a whole fleet of canoes and kayaks down at our local park at Lake Winona that people can use free through the city. It's a pretty cool program."
So cool that last year the city recorded more than 9,000 signed waivers from people who used the boats. Located just half a mile from the Wenonah factory, the 470-acre lake offers prime, accessible paddling. Simply pick the boats up at the Lake Lodge Community Center and paddle for as long as you want. The program is now in its third year and has put kids, families, and visitors alike out on the water.
If you want to demo a boat model that's not in the boathouse's arsenal, try Sole Sport, a local shop owned by Wenonah sales rep Torry Moore. If he doesn't have the boat you want to try, he'll go to the factory and get it for you.
This year, Wenonah also spearheaded a paddling program with Winona Sate University. The college stationed 25 boats at different launches in the Upper Mississippi River National Wildlife Refuge. When you want to use a boat, just stop by the college to get a key, and pick up a canoe or kayak from whichever station you desire. The program is free and available for anyone in the community. "It all comes down to getting people out on the water," says Greseth.

Seaward Kayaks
Chemainus, British Columbia
You'd be hard-pressed to script a better sea kayaking location than the Seaward Kayaks factory in Chemainus, on the eastern shore of Vancouver Island. The factory's back door opens to Ladysmith Harbor, Cowichan Bay and the entire reach of the Gulf Islands. Vancouver Island's wild west coast is home to Clayoquot, Barkley, and Nootka sounds, arguably some of the best sea kayaking on the continent. Farther north you have Desolation Sound and the rest of North Vancouver Island.
"We're extremely fortunate to be building boats where we do," says Seaward marketing director Nick Horscroft. "We're smack in the middle of some of the best sea kayaking in the world. And we go out of our way to share it with people. We want to put as many people in our boats as we can."
As well as giving factory tours pretty much on call, Horscroft and co-owner Doug Todkin go out of their way to put people in their products. When a customer's kayak was stolen, they lent her one from the shop. If you're in Chemainus and want to demo a Seaward kayak, they'll refer you to one of four dealers within an hour's drive, including Cowichan Bay Kayak Outfitters, Sea Legs, Valhalla and Mountain Equipment Co-op.
"If someone's looking for a specific boat and the dealer doesn't have it, we'll take it there instantly," says Horscroft, who can also be found paddling just minutes away on Fuller Lake. "We have a pretty cult-like following."

Liquidlogic Kayaks
Fletcher, North Carolina
Liquidlogic kayaks has a cult following of its own. With a brand new 132,000-square-foot manufacturing facility in Fletcher, N.C., just south of Asheville, the company gives tours on a moment's notice. The employees, many of them hard-core paddlers, are happy to show a fellow boater the factory floor, or the lines on one of the many nearby rivers.
"There's a pretty good chance that whenever you show up you'll be able to find someone to go paddle with," says marketing director Woody Callaway.
That paddling takes the form of touring, paddleboarding, or kayak fishing on nearby Lake Julian or Lake Summit, or heading below Lake Summit to one of three sections of the Green River, including the Class V Narrows. The factory is only 15 miles from the Green put-in at Saluda, and even closer to a variety of paddling options on the French Broad. "We're super psyched with where we are," adds Callaway. "We've built kind of a microbrew factory that finally suits our culture perfectly."
For boats, the company will direct you to Diamond Brand less than a mile away, one of its largest dealers that offers demos of "any and everything you want to try." As for a local guide, ask for Woody himself. If he's not at the factory, he's probably on the river.

Jackson Kayak
Rock Island, Tennessee
While employees at Jackson Kayak are happy to offer you a company tour of their 200,000-square-foot factory, they'd much rather take you out on a tour of their local waterways.
"We give great tours for anyone who's interested," says marketing director James McBeath. "But we're even more excited to show paddlers our local waterways."
There's no shortage to choose from. Out their window is the Caney Fork at Rock Island, which has a great run with waterfall backdrop, great creeking and incredible year-round play (there's a reason company founder Eric "E.J." Jackson has won the world freestyle title four times). For wetting a line, there's great musky fishing on Calf Killer and other Caney Fork tributaries.
This summer, athletes from 17 countries visited Rock Island for the freestyle World Cup, with the company conducting more tours and boat demos than there were loops thrown in the competition. Hint: For the best fishing and play-holes, ask for customer service rep Ian Stewart to be your guide.

Sterling's Kayaks
Bellingham, Washington
Sterling's Kayaks has become a melting pot for Pacific Northwest paddlers of all walks. "People come by here all the time," says owner Sterling Donalson, adding that he usually gives two or three factory tours of his Bellingham, Wash., factory every day. "We still have time to talk to people. A lot of people who order boats like to take delivery at the factory and see how they're made."
Sterling also keeps a nine-boat demo fleet in his diminutive 5,000-square-foot factory, including the popular Illusion and Grand Illusions models, as well as the newer Reflection and Progression. The borrowers usually take them to Bellingham Bay, where they use them for day-trips or extended trips into the San Juan Islands, or Whatcom Lake, both of which are just 10 minutes away. Other nearby testing outlets include Deep Cove Canoe & Kayak Centre in Vancouver, B.C., and Ocean River Sports on Vancouver Island.
"We're dedicated to building boats that are extremely light and strong, with no compromises in layups," Donalson says. "We're not driven by price, but by what we consider to be the highest performance boats out there. Every boat we've built is still out on the water."
If you're lucky, Sterling's chief designer Reg Lake will be there to show you the local waterways. That is, if the pioneering river-runner turned sea paddler isn't gallivanting around the globe putting the products to test himself. "He kind of comes and goes as he pleases," Donalson says. "You never quite know what adventure he's off on."

Old Town Canoes & Kayaks
Old Town, Maine
Few manufacturers in any business have deeper historic ties to a community than the Old Town Canoe Co., in Old Town, Maine. You can see that heritage first-hand at the company's 10,000-square-foot outlet store adjacent to its new manufacturing facility. Inside are more than 40 historical pieces, including turn-of-the-century birch-bark canoes; serial number archives of every Old Town canoe ever made; three-ring binders containing testimonials, old catalogs and photos; a film area showing video clips of the old factory; and even a museum-grade diorama of the old woodshop. The facility also has a visitor's map of the world, with pins from more than 30 countries.
"For a lot of people this is a bucket-list destination," says shop manager Jeremy Shepard. "People come here from all over the world to see where their canoes were made."
You can also see for yourself how current models handle. The store features a 30-foot-long pool where you can test the company's wares. Better yet is Old Town's Stay and Play program, run in conjunction with the city and the University of Maine, which lets you demo nearly whatever boat you want on a guided tour on such local rivers as the Penobscot, Pushaw, Birch and Stillwater. If the model you want isn't there, simply request it and Shepard's crew will find one.
"We put a lot of people out on the water through the program," he says. "When people come here, they want to get in our boats."
Extras

How Nigel Did It
"We picked up a fleet of Whisky 18 kayaks from Point 65 in Stockholm at their store on Lake Malaren. It made a great starting place for our trip. The first leg was to paddle to the center of Stockholm, pass through the lock to sea level, and then paddle right through the city to a secluded camping spot on an island beyond. Our route north through the archipelago led to an open crossing from Grisslehamn to Aland. It was pretty foggy, with plenty of noise from passing ships we couldn't see. The Aland archipelago leads to Finland, and we finished by paddling through Helsinki guided by a local paddler who came out to greet us and lead us to a welcome at one of the kayak clubs. Our kayaks were then bound for USA, so we built a rack, loaded everything into a container and were free to explore the city. It worked like a treat." — EB

Bake and Take
Bliss-Stick lets traveling boaters build their own kayak in New Zealand
Trade 40 hours and about 320 U.S. dollars for a handmade huck machine at the Bliss-Stick factory nestled in the sheep-dotted hills of the New Zealand countryside. Everything from threading nuts for bulkhead screws to sewing hip pads is done in-house (which is actually an old barn), allowing builders to customize outfitting, color schemes, and graphics. "I opened the lid ready to see the world's ugliest kayak, but I was so stoked I almost cried," says Paul Yelda of Idaho, who built his custom Tuna creekboat last February. "I told myself I didn't care what the cost was, this boat was coming back to States." The best part? They build boats to order, so if it's a slow week there's plenty of time to test-drive your new ride on the Rangitikei River (Class III-V), a technical boof-fest that runs through team Bliss-Stick's backyard. — Kate Stepan
The article was originally published on Canoe & Kayak
For access to exclusive gear videos, celebrity interviews, and more, subscribe on YouTube!