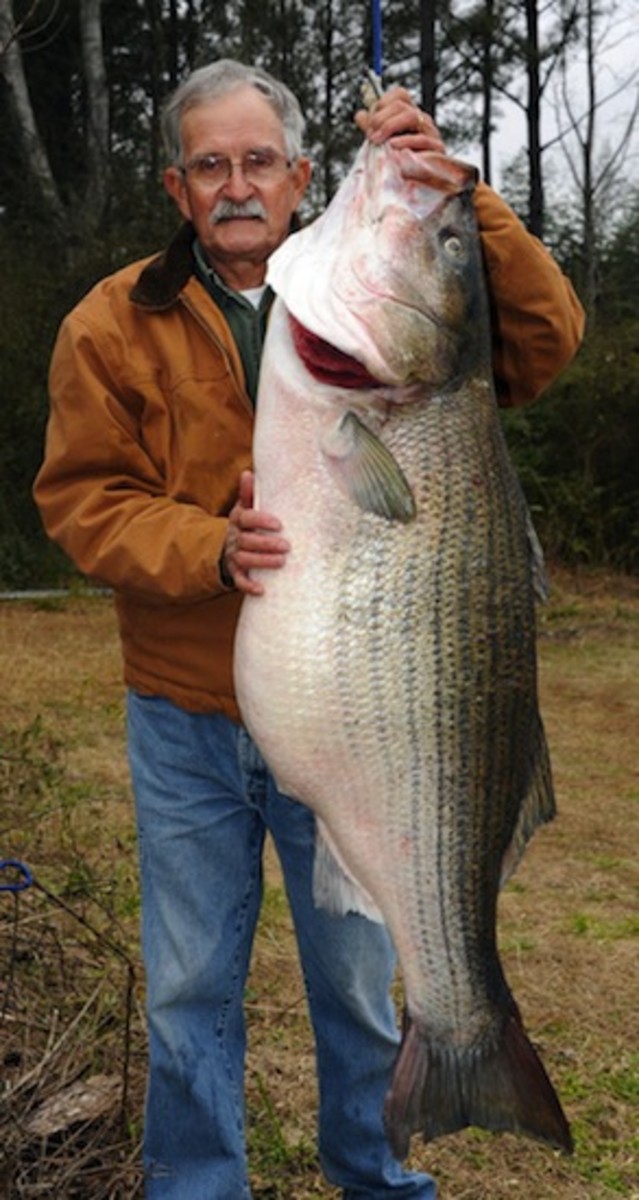 James Bramlett, an Alabama angler who caught a mammoth striped bass in late February after his ailing wife had persuaded him to go fishing, has learned that his catch has been approved as a world record.
James Bramlett, 65, landed the 69-pound, 9-ounce striper in Alabama's Black Warrior River after a 25-minute struggle.
The catch, weighed on a certified scale, exceeds the previous landlocked striped bass record, set in 1959, by 15 pounds.
Joe Songer of AL.com met with Bramlett soon after the catch and took the photo that accompanies this post.
Songer also broke the news this week that Bramlett was notified by the International Game Fish Association about his record submission being approved in the landlocked striped bass category.
For the sake of comparison, the overall all-tackle record (not landlocked) is an 81-pound, 14-ounce striper caught in Long Island Sound off Connecticut in 2011.
Bramlett's striper measured 44.1 inches long and boasted a girth of 37.75 inches.
Songer's photo is an eye-catcher, and when we posted a story about the catch in early March several people commented that the image looked fake because there's no way Bramlett could have held up so large a fish so easily.
If you look closely, though, the fish is hanging on a stringer, and Bramlett is merely standing alongside the fish.
For access to exclusive gear videos, celebrity interviews, and more, subscribe on YouTube!