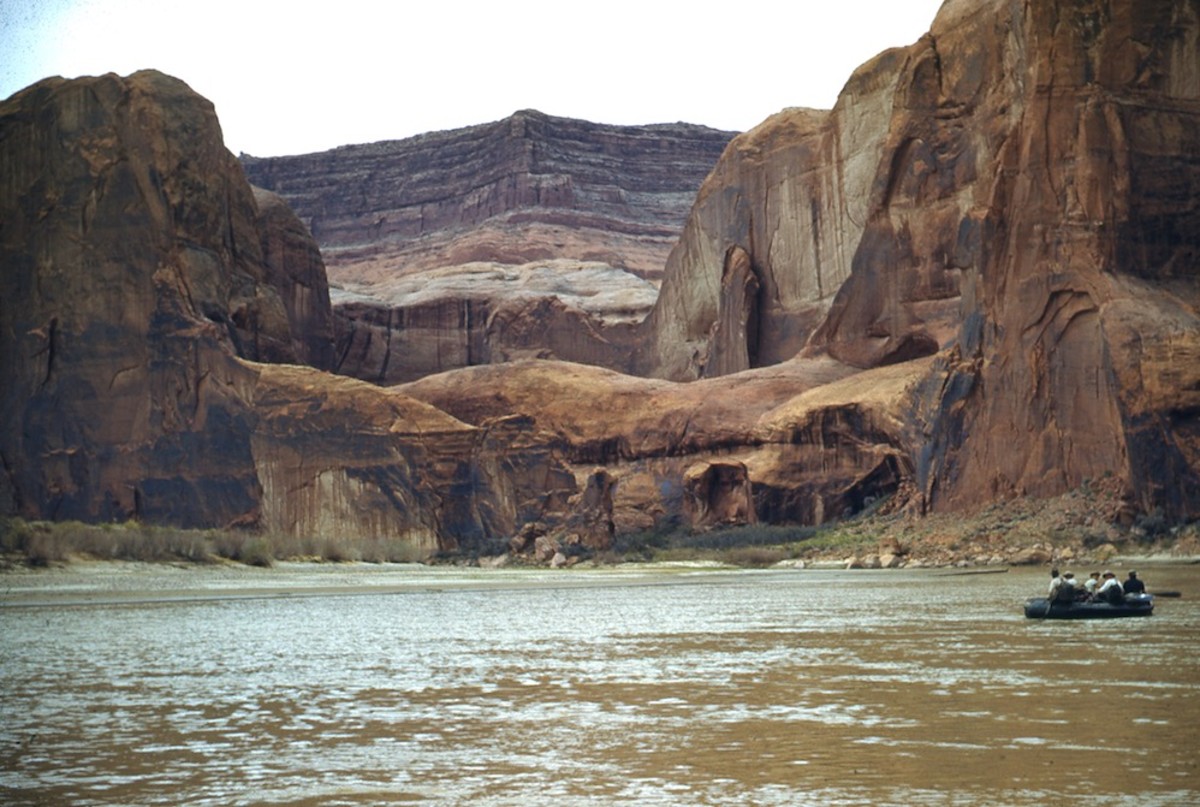 This year marks the 52nd anniversary of the completion of Glen Canyon Dam, which created Lake Powell and flooded 180 miles of the Colorado River. But you would hardly know that to visit Glen Canyon: A River Guide Remembers, a new exhibit at the John Wesley Powell River History Museum in Green River, Utah.
The exhibit functions as a three-dimensional journal, walking visitors through a week-long river trip down a free-flowing Glen Canyon in 1959 with day-by-day descriptions, photos, artifacts, and anecdotes. The guide — both to the 1959 trip and to the exhibit — is Ken Sleight, who first ran Glen Canyon 1955 and became a face of the fight against its damming in subsequent decades. In 1975, Sleight's friend Edward Abbey modeled the "Jack Mormon" environmentalist character of Seldom Seen Smith in the Monkey Wrench Gang on Sleight. In the novel, a foursome of eco-saboteurs traverse the West blowing up bridges and bulldozers while eyeing their biggest target: Glen Canyon Dam.
Sleight, now 88, has yet to shake the association. At the exhibit opening last week fans lined up before Sleight holding copies of the book and wearing t-shirts with R. Crumb's famous drawing of Seldom Seen on the top of the dam praying, "All we need here, God, is one little pre-cision earthquake."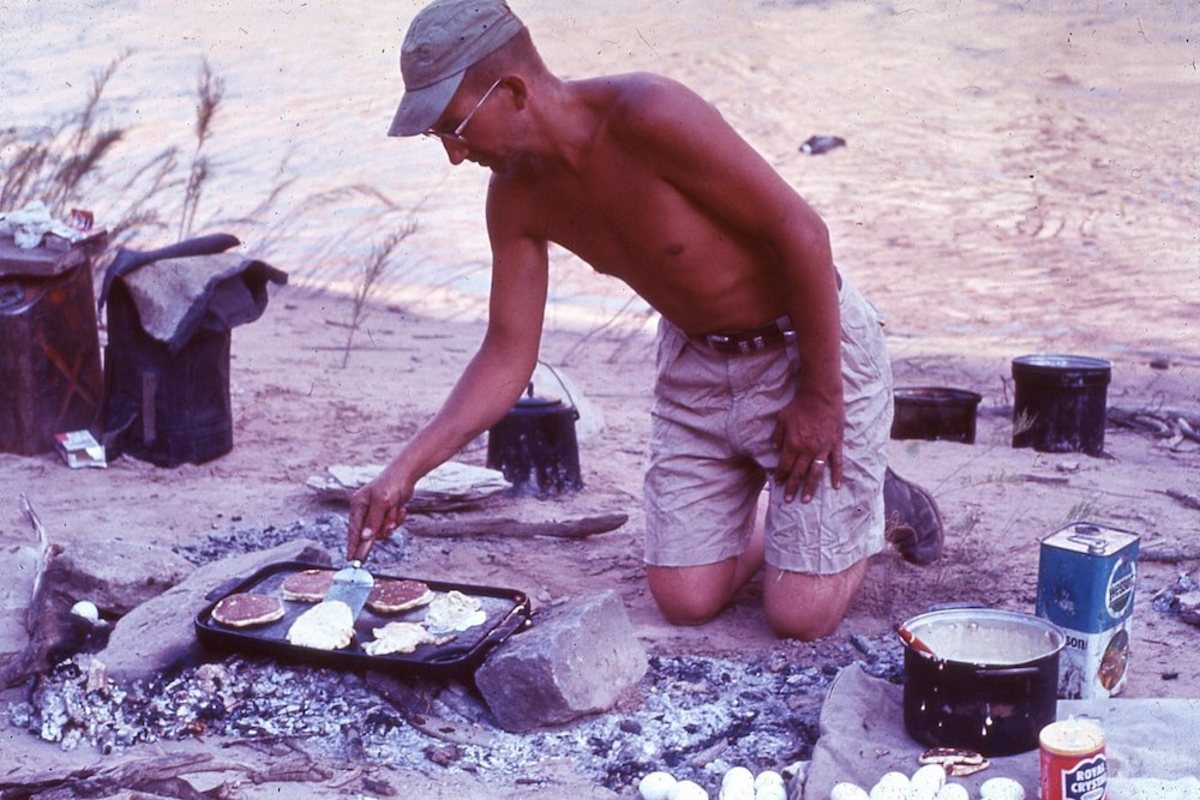 Sleight has spoken out against Lake Powell for over half a century, at protests and at his home at Pack Creek Ranch near Moab."It was Glen Canyon that changed my whole life," Sleight told the Salt Lake Tribune. "It made an environmentalist out of me. I've given up hope that Glen Canyon will be restored in my lifetime, but this [museum exhibit] is the next best thing."
The dam is hardly mentioned in the exhibit. Instead, curators chose to focus on the rich history of the pre-dam Glen Canyon from archaeology to early river runners to famous clients like Georgia O'Keefe who floated the canyon in 1961.
Lead exhibit curator Ryann Savino, who has been helping Sleight edit his memoirs for the last two years, said the goal was to provoke "celebration and inspiration" while allowing museum visitors to "get a glimpse of what was in Glen Canyon."
The exhibit has several Ancestral Puebloan pots that were salvaged from Lake Powell by a team of archaeologists in the '60s. There are also the original folding canvas boats used by Glen Canyon's first outfitter, Dave Rust, who began guiding in 1923. Photographs and captions tell the story of Bert Loper, a pioneer of Colorado River rafting, who lived as a hermit for 8 years in Glen Canyon while placer mining, ranching, and growing his own food. River legends Georgie White and Katie Lee are both also recognized for their contributions to Glen Canyon rafting.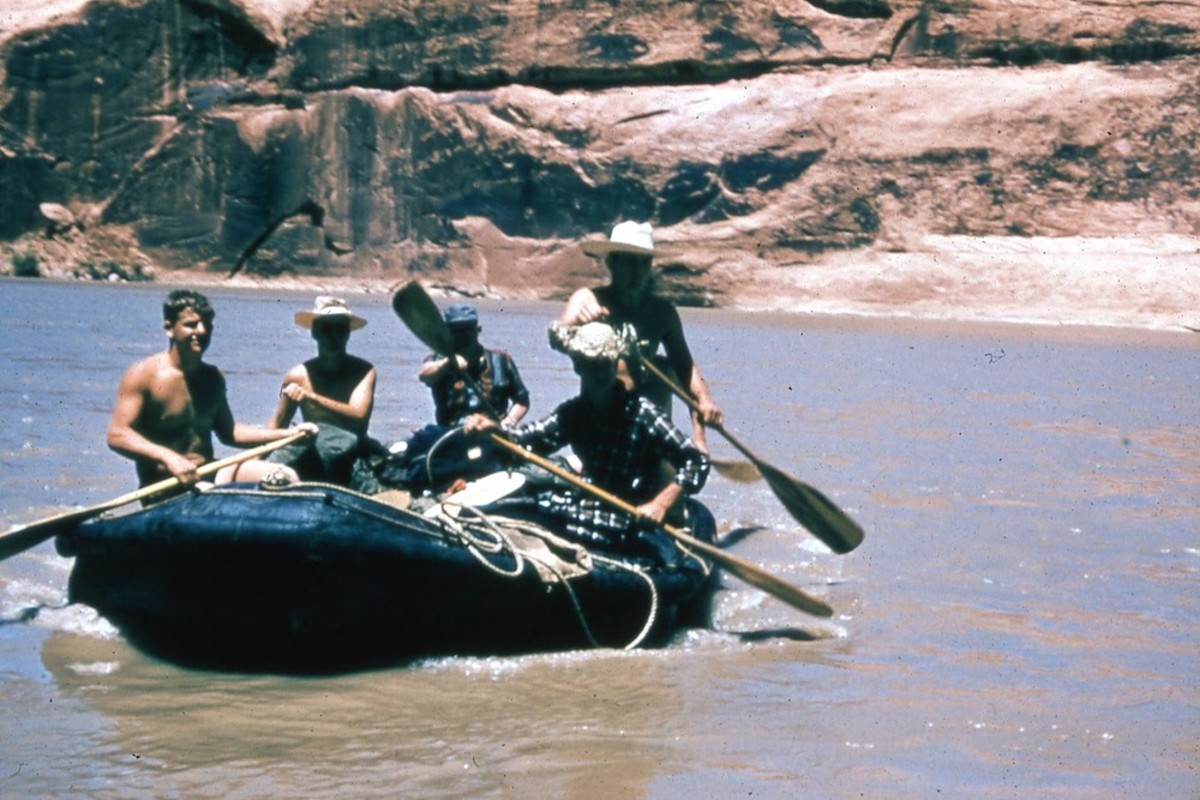 Eric Balken, executive director of Glen Canyon Institute, hopes that by focusing on the river trip experience the exhibit will help people build a connection to a place that has been under water for over half a century.
"Glen Canyon is and was a pivotal part of our recreation culture here in Utah and river running culture all over the world," Balken said.
Parts of Glen Canyon are already reemerging as drought sweeps through the Southwest and demand for water increases with the region's growing population. Lake Mead and Lake Powell are both below half-capacity and haven't both been full since the early 1980s. Glen Canyon Institute is an advocate for storing more of Lake Powell's water in Lake Mead, but they don't want to remove Glen Canyon Dam completely, Balken said. "A lot of restoration is happening in places that were once under the reservoir, and we've seen a recovery of an incredible ecosystem."
–The exhibit will remain in the John Wesley Powell Museum, just off of I-70 in Green River, Utah, until March 2019. All photos copyright Glen Canyon: A River Guide Remembers.
The article was originally published on Canoe & Kayak
For access to exclusive gear videos, celebrity interviews, and more, subscribe on YouTube!