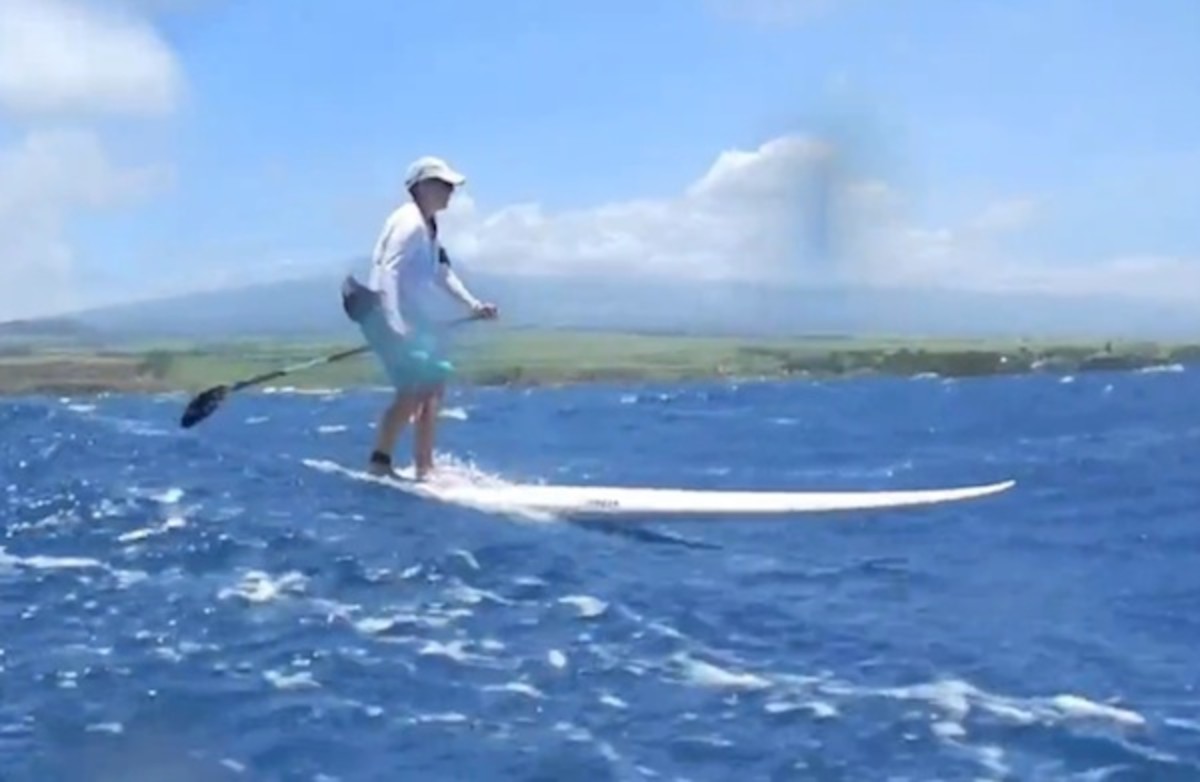 Put-in: Maliko Gulch
Takeout: Kahului Harbor
Time: 1.5-2.5 hours
Distance: 9-10 miles
Wind Direction: NE
The Maliko Run on the North Shore of Maui is the holy grail of downwind paddling. Consistent winds, warm water, an easy shuttle and an established paddling community make the Maliko an ideal stretch to catch open-ocean bump.
Start paddling in Maliko Gulch, one of the most protected areas from the prevailing northeast tradewinds on Maui's northern coastline. After your little warm-up paddle in the gulch you'll hit the open ocean and with it, the wind. For your first time, shoot for 20-25 knot winds. Paddle out as far as necessary to get a fairly straight tail wind and let 'er rip in what will probably be some of the best downwind conditions you'll find. Aim for the power plant stack in Kahului Harbor (where you've left your shuttle vehicle) that you'll be able to see when you're out of the gulch. Now all you have to do is glide for nine-plus miles.
An alternate take out, should you run into trouble or have limited time, is at Kanaha Beach Park, which is about two-thirds the distance of the full run. Local knowledge can help here too for alternate takeouts.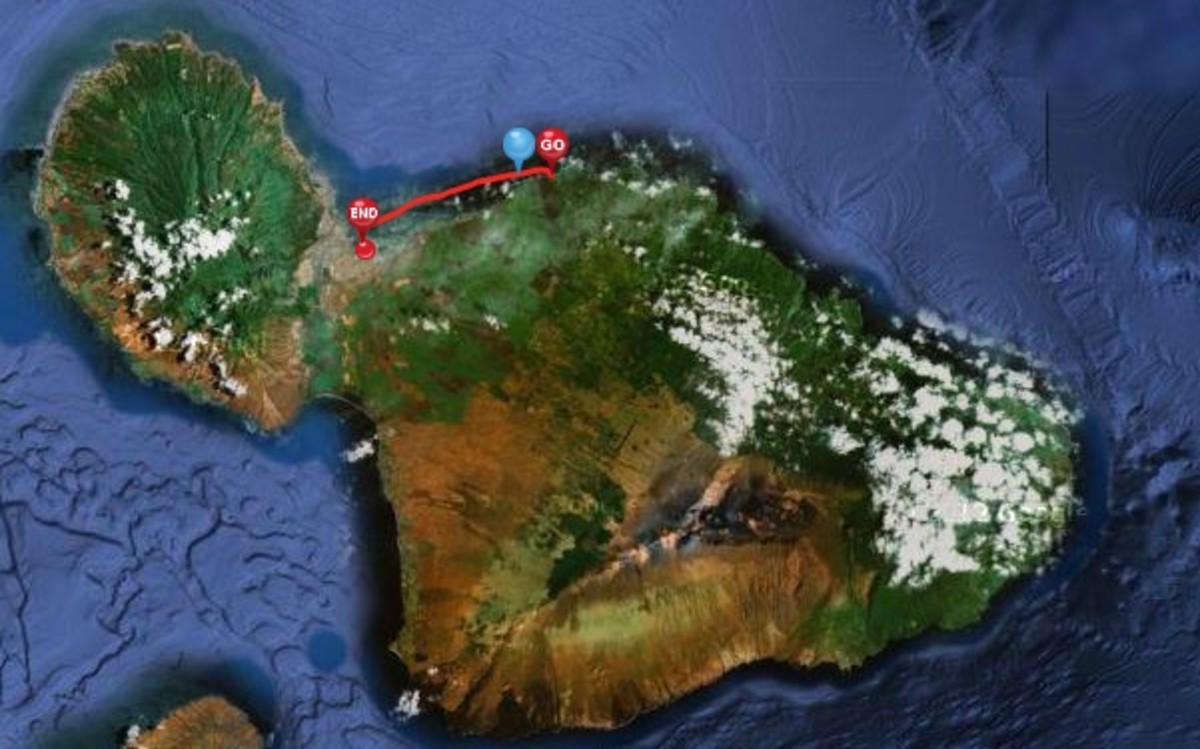 Be aware: just because the conditions are good doesn't mean there aren't hazards. Summer is the best time for your first run since there probably won't be groundswell to contend with. There are numerous reefs and surf zones that you'll want to avoid if there are waves. There are also some stretches where swells will refract off the cliffs and send waves at you from the other side as well. Be prepared. Paddle with a partner, bring water, flotation and WEAR A LEASH.
For apres-paddle eats, we like heading to Paia, an ocean-lover's town if there ever was one. Cafe Des Amis, the Flatbread Company and Mamas Fish House to name a few gems.
Check out these shops for rentals and good old fashioned local beta: Second Wind Maui and Action Sports Maui.
Additional info:
Submitted by Bill Babcock
The Maliko run is an obvious addition, but there are some variations that might be useful to people trying it for the first time. Maliko can be a big challenge, and requires a certain commitment—there are a lot of places that you really can't come in without leaving some skin behind (or worse).
You start in the Maliko Gulch on the north shore of Maui, about four miles east of Paia. As you paddle out of the gulch you need to stay hard to the right side, even though the waves crashing over the rocks on that side might look like death and destruction. You want to skim close to the rocks and head out as straight as you can, bracing for the wind that will hit you hard on your right shoulder as you clear the gulch. The alternative is to be pushed into Turtle Cove, which is nearly impossible to get out of with your board in one piece.
Once you've cleared the mouth you can angle outwards, pointing towards Molokai and/or the northwest end of Maui. Depending on how brave you feel and the time of year, you want to be well clear of Ho'okipa as you pass it, and even more clear of Spartan's Reef, which is the outer reef visible from Baldwin Beach. Spartan's is a tow-in spot in the winter. Unless you're up for riding 30-foot faces on your F16 you probably want to give it a wide berth. Just past Baldwin is one of the first feasible ending points. You can cut in through a channel and land at Sugar Cove. An easy thing to do in the summer or any day with no significant north swell, but in the winter you probably don't want to attempt this without a guide.
Continuing on your downwinder, you'll find the glides and the swells really start to pick up off Spreckelsville and Camp One. The reefs form shallow areas throughout this zone, which peaks up the swells—sometimes to well over double-overhead. The swells rarely break, but you want to watch for the ones that might. Looking ahead is the reef at outer Kanaha. This reef extends out nearly two miles. With a big north swell there can be breaking waves well out in the shallow spots. Fortunately these outer, outer waves will reform quickly into swell, but if they've turned your board into a two-piece or broken your leash it can be a long swim.
At the last reef in Kanaha you can turn in and come in at kite beach or the oil tanks. If you come in at the oil tanks, watch carefully for the metal stakes in the water, the remains of some WWII tank traps, or an old dock. They are visible, usually, and you need to circle around them as you come in to the beach.
Generally, the easiest way in is the harbor. When you're well away from the entrance you can line up on the crane at on the harbor jetty, but as you near the harbor you'll realize the crane is a few hundred yards west of the entrance. Right at the crane is the surf break known as Pier One. In a big north swell this is also a tow-in break. You don't want to get tagged here. You can ensure that by aiming more at the notch in the west Maui mountains that forms Lo Valley, or the big warehouses in Wailuku, that you'll have clear bearing on the entrance.
You want to enter the harbor tight to the east end of the entrance, even though it looks terrible and there's some backwash waves to stir everything up. Skim past the entrance and turn sharply inside the jetty and you run is mostly over. If the wind is howling you want to stay close to the jetty in its wind shadow as you paddle for the beach. If there's a cruise ship in port, or a barge unloading, you will probably have to leave the wind shadow, and you could be in for a grind. Once you reach the canoe hale you're done. Take a shower, hose off your board, and dream about your next Malkio run. Warning–Maliko runs make heroin addiction seem like a vague craving for something salty.
The article was originally published on Standup Paddling
For access to exclusive gear videos, celebrity interviews, and more, subscribe on YouTube!