Submitted by Bill Babcock
Put-in: Viento State Park
Takeout: Nichols Slough
Time: 1.5-2 hours
Distance: 8 miles
Wind Direction: W
Enter a Glide near you and you're eligible to win a new SIC board and a trip for two to our favorite downwind locale.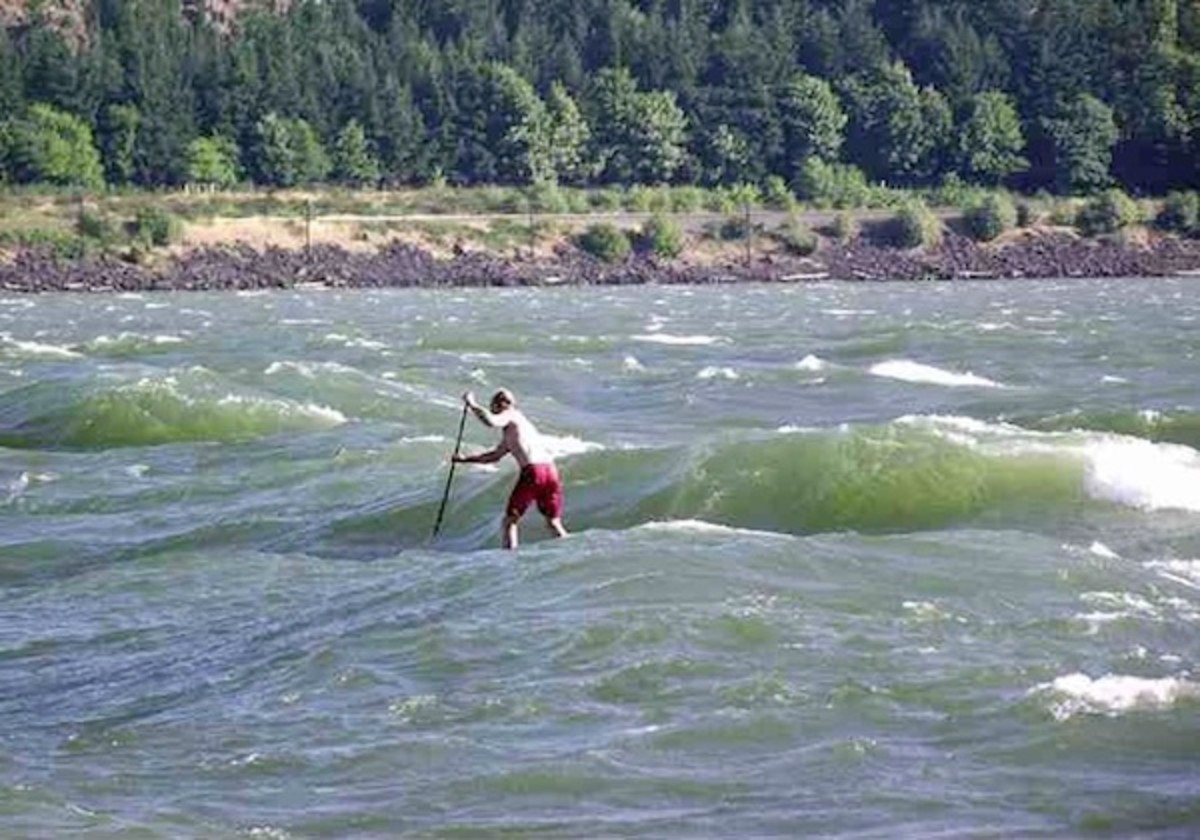 The Gorge is a destination for water and mountain enthusiasts the world around. Skiing, hiking, mountain biking, road biking, windsurfing, kiting, whitewater, sailing, fishing and simply enjoying incredible scenic beauty. The term "gorgeous" could have its root right here. For a town of 6,000 permanent residents it's a remarkably sophisticated place. Excellent restaurants—from white tablecloth to killer pizza, brewpubs, breweries, vineyards and wine tasting in every direction. It's really an absurd concentration of fun.
And now it's a fairly famous downwind spot. The Viento Run is a serious contender with Maui's downwind riches, though it lacks the warm water and long fetch that makes the Maliko such a treasure. Viento is not the only run, either. There are potential downwind launch and landing spots all along the Columbia, including places well outside the Gorge proper, all the way to Astoria in the downriver direction and probably well into Canada. The Viento run is just the best known.
You start at Viento State Park, about ten miles west of Hood River. Parking is five bucks unless you have a season pass. You'll want a reasonably good downwind board, though when the wind is at its best even a surfboard can be a lot of fun. You also must have a PFD of some sort (or potentially be fined $140) and an invasive species permit that you can carry with you instead of permanently attaching to one specific board. Definitely wear a leash. The winds on the Columbia can make your board disappear quickly and the water is cold, especially in the spring. Don't assume that it's a trivial swim to the banks just because it's a river; you can easily travel a half-mile through cold water to get to shore if you get separated from your stick. Dress accordingly. I wear lycra tights in the summer along with boardies, a shorty wetsuit in the spring AND I carry an inflatable PFD, a Camelback (that I know I can inflate for added flotation), a waterproof phone and a leash. You'll see people wearing boardshorts, no shirt, no leash and a PFD tied to the nose of their board to avoid getting a ticket; you can be pretty certain that is not me.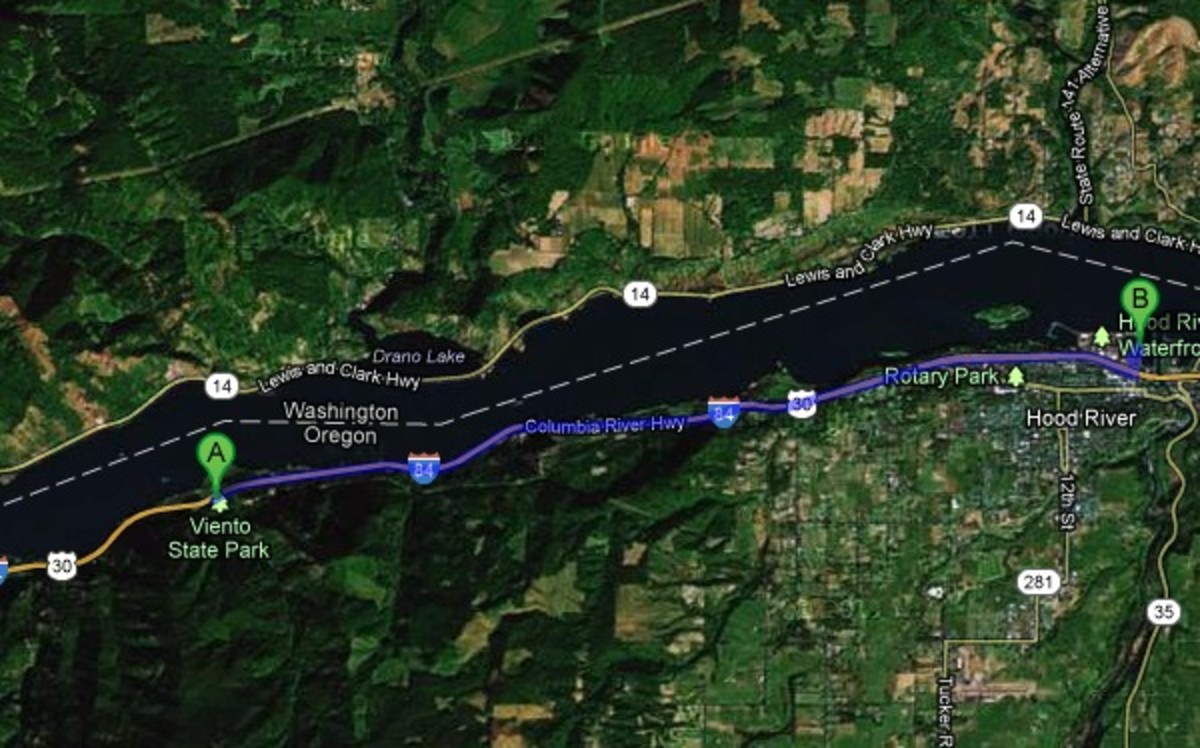 The entry at Viento is rocky; there's an easier stretch of beach off a trail that turns upstream off the main trail. Get in the water an you're off. In the spring when the runoff is substantial, the fast lines are close to the Oregon shore—very close, in the eddy. Remember the wind is blowing against the current. If the current is more than four knots it's hard to make headway unless the wind is really nuking. But the fun is out in the middle of the river where the swells will be standing up very tall in the current. The power in the swells is down low and the waves are peaked sharply, so there just isn't all that much water at the top. You'll get long glides by dropping into the wave and then turning along its face.
About halfway to Hood River, on the Washington side, is Swell City and the Hatchery. Here, the waves have a long fetch and meet a sharp change in current and bottom contour. The result is head high swells that are surfable. It's a challenging spot, but lots of fun, and if you want to run through a particularly tasty set of waves again you can just sit down and let the current carry you back for another go. On the Oregon side is Wells Island. Leading up to the island is a long sandbar that forms and moves with the currents and the winds. We call it the "Wells Express" because the shallow water kicks up some amazing swell that can carry you the half-mile length of the sandbar in one run. It's also a very high wind funnel, and you can find yourself railroading over the swells, feeling more than a bit out of control. If you do a face plant in this area, stay low or underwater for a few moments since your board can easily be blown out of the water over your head. I doubt there's anyone that's done high-wind Viento runs that isn't nodding their head while reading this.
You can pass Wells Island on either side, but as the summer progresses the inside of Wells silts in and you might find yourself dragging a fin. As you approach "The Hook" the winds and swell that split around Wells Island re-converge and can make for some challenging cross-current, cross-swell conditions. You're in the home stretch. As you pass in front of the event center watch out for careening windsurfers and kiters. You can land on the event center beach, or take the tight turn past the end of the jetty (watch for submerged rocks) and pull into Nichols Slough. Toss your board on your truck, walk up to the old boat dock of Nichols Landing and get a beer and a fish taco. Take one of the comfortable overstuffed couches and watch the windsurfers.
Here's a different take on downwinding the Gorge.
Additional Information:
Submitted by Gregg Leion
The Viento to Hood River run works on a west wind; the current runs opposite the wind direction, from east to west, enhancing the formation of wind waves. This run is best when winds are in the 20+ mph range. Swell size can easily reach three to six feet, with some sections of the run having larger, longer-period waves. Stronger winds result in larger swells and wind speeds typically reach 20 to 30 mph during summer. Occasionally, big days can have gusts in the 40 mph range. Swell typically does not exceed six feet, except near Swell City and the Spring Creek Fish Hatchery, where swells up to 8 feet can form. Paddlers can dial in their swell preferences by where they choose to paddle. Along the Oregon shore, it is flatter and very close in, there is an eddy that accelerates your up-stream progress. Further out in the channel, away from the Oregon shore, expect larger, rolling swell that is typically at least four feet. An experienced downwind paddler can catch significant glides for the entire run, ranging from surf-style drops on the first half to short period, steep wind waves two-thirds of the way through that are very fun to play with.
At this time there is no regular shuttle but typically people park near the Hood River Event Site (Slackwater Beach, just east of the Event Site) and shuttle to Viento State Park. Viento has a $5 parking fee or you can get a season parking pass. Big Winds, a Hood River water sports shop, will be offering guided downwinders, including shuttle service, on the Viento run this year. Contact Big Winds for more information. The Viento run is good whenever there is a sufficient westerly wind with summer holding the most amenable water and air temperatures.
Expect water temperatures from the 50s in early May to the high 60s by September. Temp's stay warm well into October. Current generally diminishes over the course of the summer with strong (2+ mph) current common from spring through the end of June. This run is suitable for many levels of paddlers, the main requirement being the ability to paddle against a current for two to two-and-a-half hours. Beginner or intermediate downwind paddlers would do best to go on a guided run.
Hazards include strong current, cold water, barge and boat traffic, kites, sailboards and difficult emergency exits from the river due to steep, rocky banks. All of the hazards are manageable with common sense, some local knowledge and good skills.
The article was originally published on Standup Paddling
For access to exclusive gear videos, celebrity interviews, and more, subscribe on YouTube!