While trudging back after a climb, with 70-mph winds lashing at his clothes and face, seasoned alpine climber Clint Helander knows that he just has to reach basecamp. Once there he'll lift up the tarp that marks his home, slide down a wormhole, and settle into a quiet world of blue. Inside the cave, he'll be safe – for several days or more – until the storm passes.
It took 33-year-old Helander just one night of experience to learn this trick, especially since that harrowing night he feared his tent would be torn to shreds.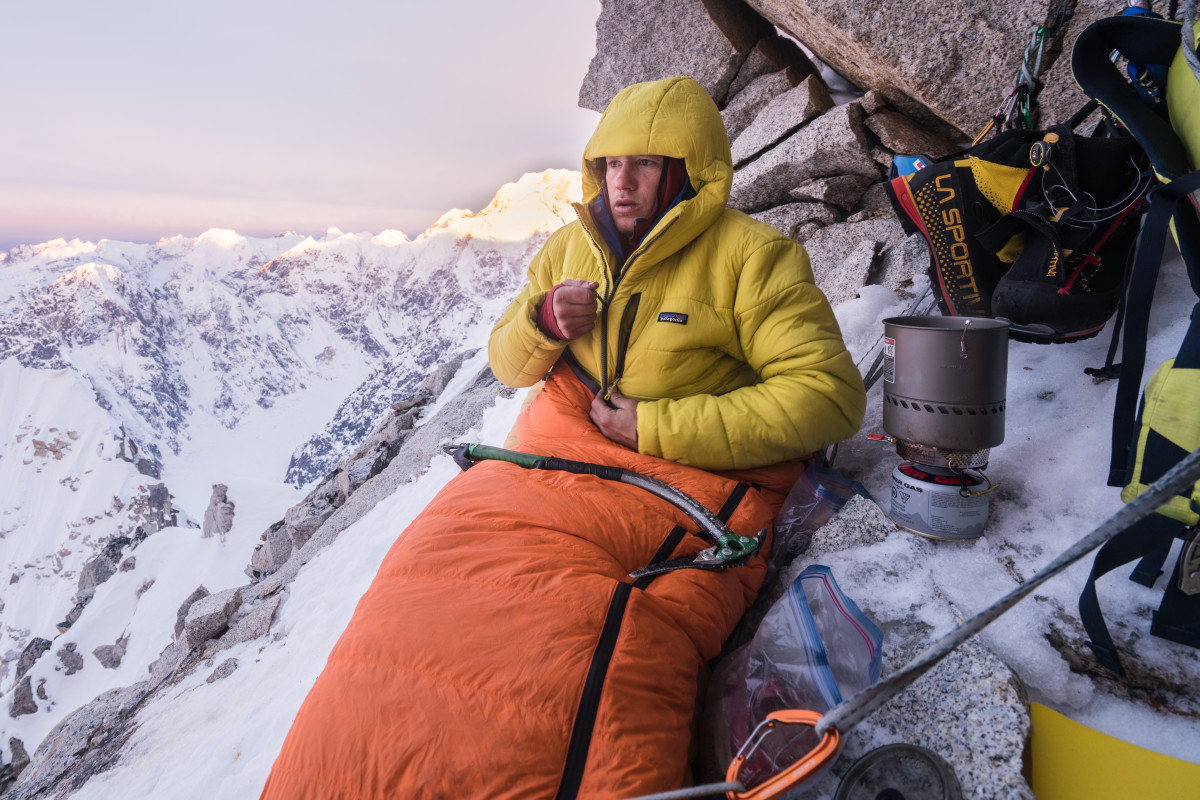 Helander, from Anchorage, Alaska (and only 160 miles as the crow flies from the Revelation Mountains) spent his youth inspired by the sharp peaks and distant valleys surrounding him. Over the years he crafted his climbing skills, building one trip on top of the next. Before first going deep into the Revs, he spent months studying maps and every article he could get his hands on.
Winds rip into the Revelations, a small, craggy sub-range of the Alaska Range, sounding like a freight train as they make their way past the peaks and through the valleys.
"You're out there and the winds start blowing and it's 35 below," Helander tells ASN (from the van he's converting into his home on wheels for travels in the lower 48). Helander is recounting the first big storm he endured in the Revs during his initial visit there in 2008. "You're watching your four-season tent get leveled and you worry that a tentpole will split and rip the tent open at 2 a.m."
Thankfully, his tent made it through that night. The following morning Helander began work on his first cave. Ever since, he builds one at the start of every expedition, starting right after he and his crew unload from a two-seater Super Cub airplane parked on the glacier. Once started, he chips away at the cave over the duration of the trip. "It's this emergency shelter that is warmer, a little wetter, and it's totally insulated," he says. "It's a good skill to have to dig deep and bury in like a tick."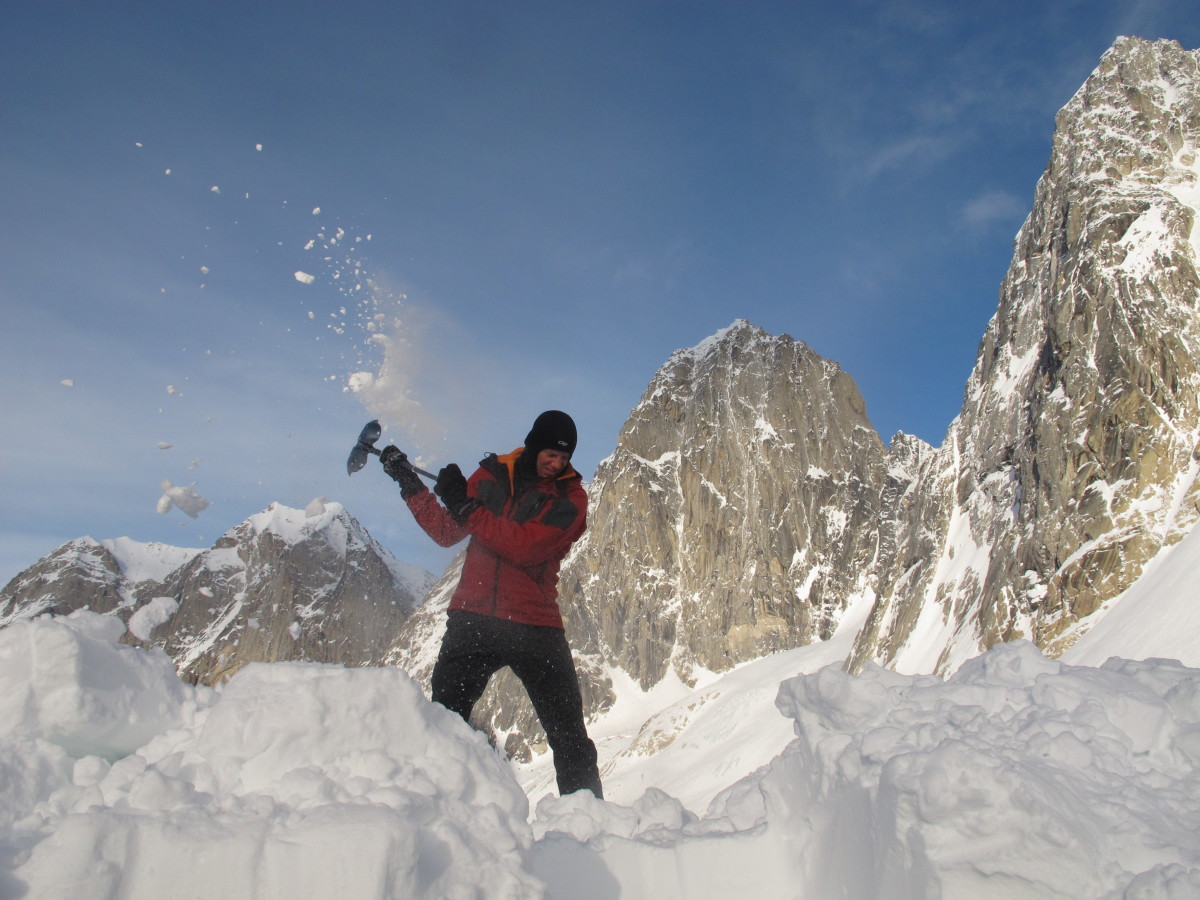 Even after many years of guiding Washington's Mt. Rainier (14,411 feet), some 25 times to the summit in all, he still hadn't learn about snow cave building – four-season tents were sufficient enough shelter. But up in Alaska's Revelations, the winds are much fiercer, strong enough to knock you to your feet before shooing you away like lint from a broom.
The winds are so severe that it clears snow from the granite walls, "making the faces look like polished steel," says Helander. "The landing area looks like lizard skin, leaving me to wonder how the pilot will land."
Though today he builds snow caves on all his expeditions in Alaska, Helander has only spent a combined five or six nights total sleeping inside one – he's spent upward of 18 hours inside of them at a time.
When it's silent and clear, the Revelations is a world-class climbing destination, one with crisp granite routes up to 4,500 feet in length on peaks just shy of 10,000 feet. It's an alpine climber's paradise, an area that first drew parties there starting in 1967 with David Roberts.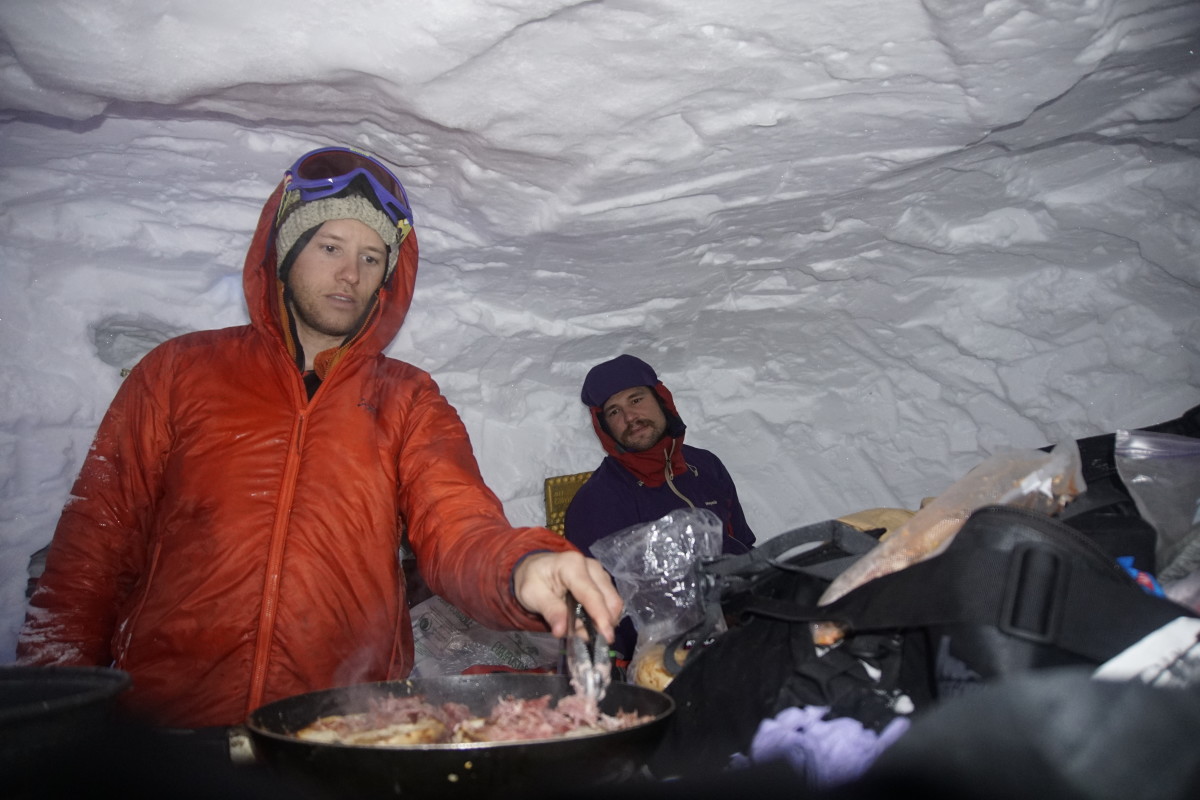 Perhaps it's the epic winds, the remote nature of the area, or the fact that the peaks aren't Alaska's highest (though, some may be the hardest). Whatever the case, Helander believes fewer than 10 teams visited the Revs before he first went there in 2008.
Now, with 25 trips under his belt to the Alaska Range and a laundry list of first ascents, Helander isn't slowing down. In addition to his love of climbing, he's also a prolific writer and a photographer for The North Face. To support his climbing habit, for many years he's also worked as a rope-access technician.
He has two domestic expeditions planned for this spring, plus an international trip planned for this summer, and he's in the early stages of writing a movie that he won't share much about (other than it's about a climber from the 1970s).
For most people, traveling to remote, gusty landscapes surrounded by sharp peaks isn't their idea of paradise. But for Helander, "It all hearkens back to that hunger and need for adventure and exploration from when I was a kid."
For access to exclusive gear videos, celebrity interviews, and more, subscribe on YouTube!