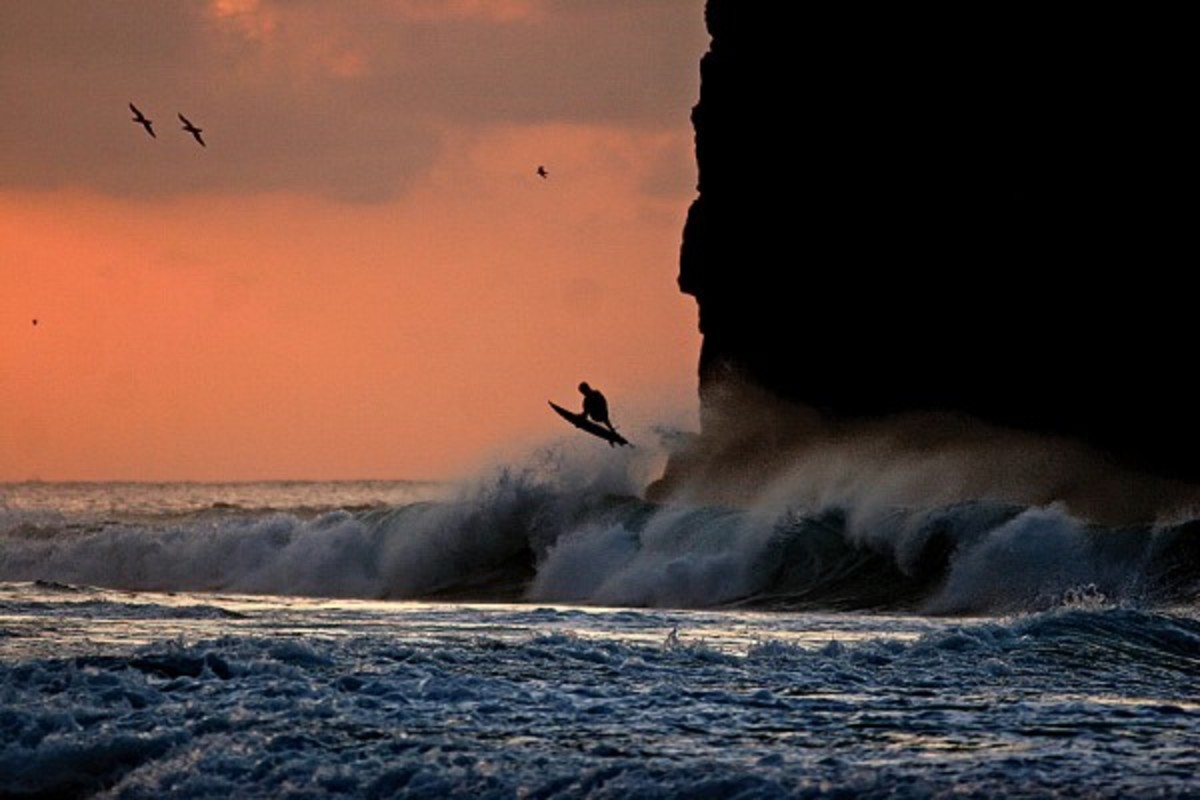 Photo: Blanco
A South American Eden
Words: Michael Kew
Where: Ilha Fernando De Noronha, located 220 miles off the northern tip of the Brazilian coast in the equatorial Atlantic Ocean.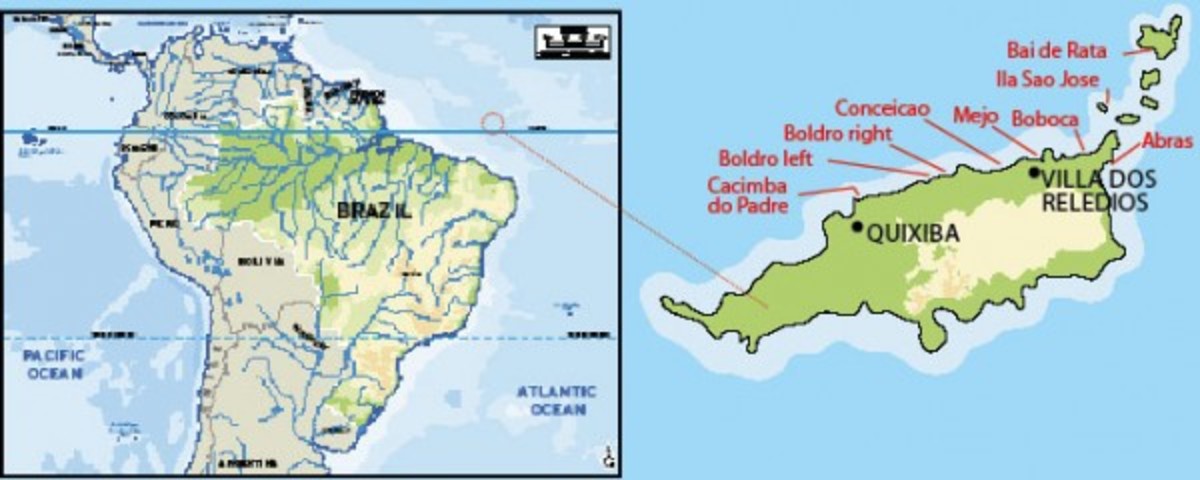 What: Of the 21 volcanic landforms comprising the Fernando De Noronha archipelago, the namesake isle is a lushly tropical surfer's paradise, especially for the mainland Brazilians who frequent the place (the island is widely considered to be "Brazil's Hawai'i"). While there are no G-Lands or warm-water Jeffrey's Bays here, it features a handful of interesting reefs, points, and hard-hitting beachbreaks—more than enough variety and challenge to satisfy almost every surfer. It's a small place, though, at only 6.2 miles long and 2.2 miles at its widest point.
When: The best swell for Fernando comes from winter storms in the frigid North Atlantic, so prime surf season is December to March—summertime in Brazil. These powerful low-pressure systems shoot swell southward atop thousands of oceanic miles, finally making landfall along Fernando De Noronha's lovely northwest-facing coast.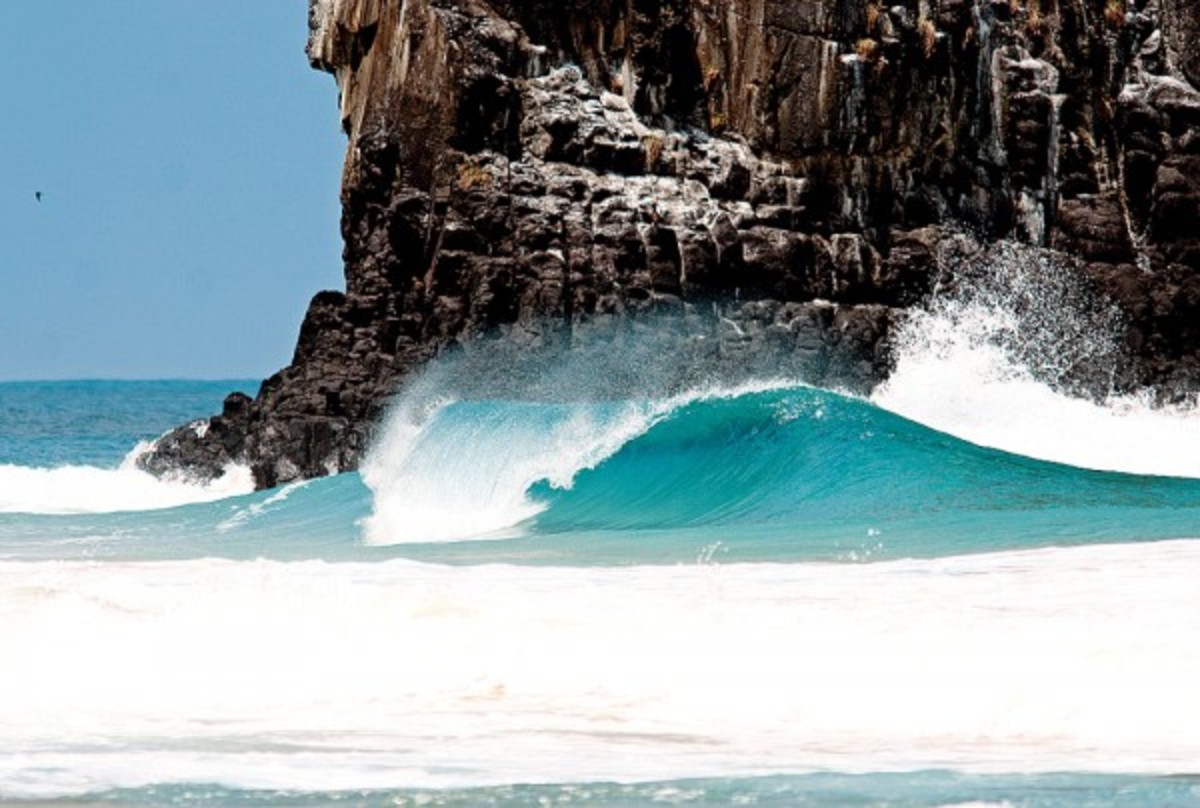 Photo: Blanco
Why: Because it's a lot different than the Brazil we all know and love. Fernando De Noronha is a supremely unique and beautiful place, offering everything from dredging, sand-bottomed barrels to epic scenery, wildlife, and cultural richness. If it's Atlantic juice you desire, this island has plenty, and there's a smattering of quality reefs and pointbreaks catering to those less willing to snap surfboards. Plus, surf arrives quite clean and it's normally bigger than the rest of Brazil. Did we mention the wind blows offshore almost every day?
How: The Brazilian cities of Rio De Janeiro and São Paulo receive international flights from all corners of the globe. From either, you'll need to catch a flight to Recife or Natal, and from there it's a one-hour flight aboard Trip or Varig up to Fernando De Noronha. Once there, you should rent a "funny buggy" ($55 per day) to get yourself around.
Places To Stay: The island has about a hundred places to lay your weary head. The best hotels are expensive, though, and for the real deal, we suggest booking a room in a pousada, a.k.a. "little hotel," which are all generally quite clean, simple, and comfortable, and cost about $25–$50 per night. Try the Albatroz or Tia Zete, two good places near the center of Remédios. For a little more cash, Da Morena and the Hotel Esmeralda are top picks.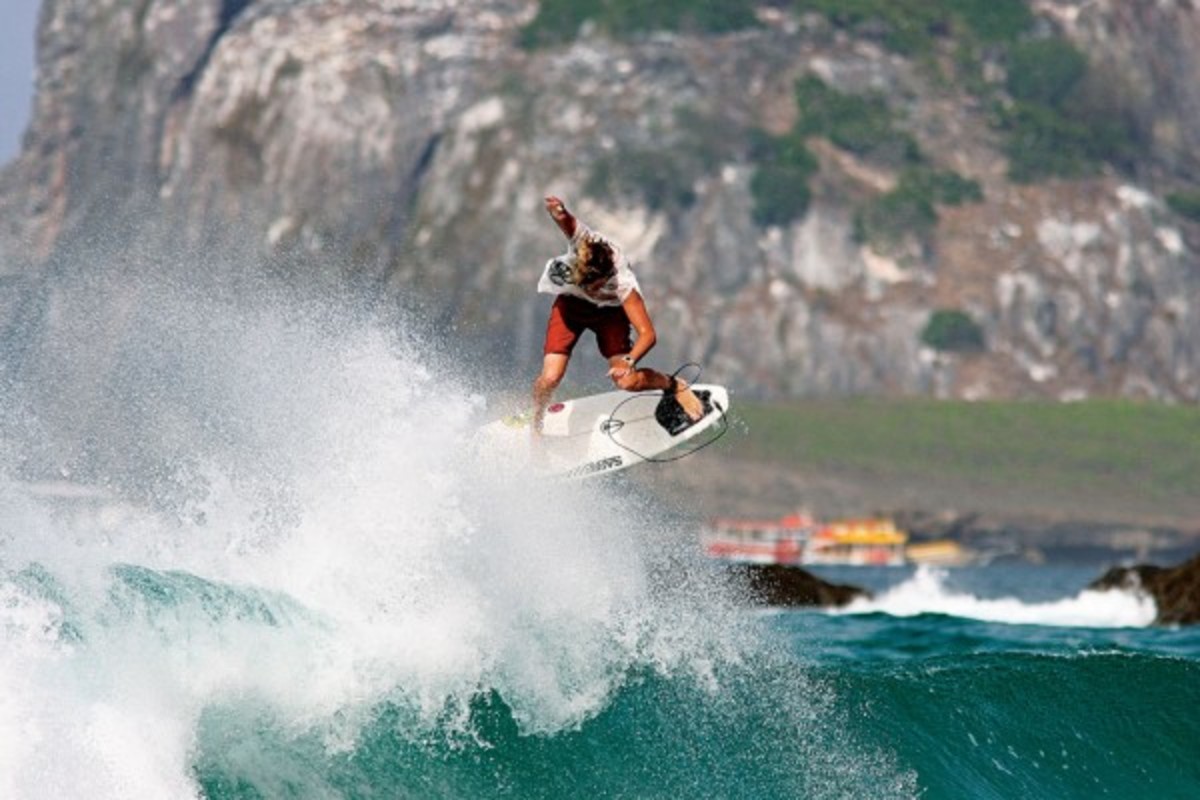 Most of the photos you see from Fernando are fisheye barrel shots, but as you can see here, it's a high-performance wave, too. Casey Brown. Photo: Blanco
Places To Eat: Most of the pousadas don't offer lunch or dinner, but this isn't a problem, because the island offers dozens of fine eateries to suit all budgets. We recommend grubbing at Flamboyant, in the center of Vila Dos Remédios, a por kilo restaurant, which means the cheap and good food is charged by weight. Fans of Italian fare will dig Trattoria Di Morena, highly regarded but a bit pricey. Also in Remédios is Gameleira, an epic seafood joint.
Babes And Bros: The opposite of mainland Brazil, Fernando De Noronha is hardly a fertile party zone. But if you want to increase your odds of meeting someone (and sampling the local nightlife), especially during peak tourist season, then check out the Bar Do Cachorro, which is on an open-air terrace near Praia Do Cachorro beach in Remédios. Here you can shake your booty with (hopefully) sexy and single Brazilians to the rhythms of the forro, a fast, syncopated form of music featuring an accordion and percussion instruments. Partying begins at 11:00 p.m. sharp.
Crowd Factor: During the Hang Loose Pro WQS contest each February, the island's surf gets quite crowded, especially at Cacimba Do Padre, the beachbreak where the contest occurs. Of course, once the WQS circus leaves, much of the crowd does, too. But the surf season (December–March) coincides with the island's general peak tourist season, and although there is a limit of 420 visitors allowed at any one time, Fernando De Noronha's few surf spots can get pretty crowded, mostly with mainland Brazilians. Mind your manners and you'll be fine.
Stuff To Bring: Because money changers and ATMs are nonexistent and credit cards are scarcely accepted, be sure to bring lots of Brazilian cash, known as the "real" ($1 US = 2.08 reals as of press time), from the mainland. Fernando De Noronha is really hot and humid, so bring lightweight clothing, plus all your surf gear. You can get gear on the island, but it's expensive. The waves you'll surf won't be giant, but they are powerful—leave the longboard at home and pack your pintail. A Brazilian Portuguese phrasebook is a good call since English isn't widely spoken on the island. A sturdy pair of hiking shoes is a great idea, too, since Fernando De Noronha is a hiker/nature lover's dream.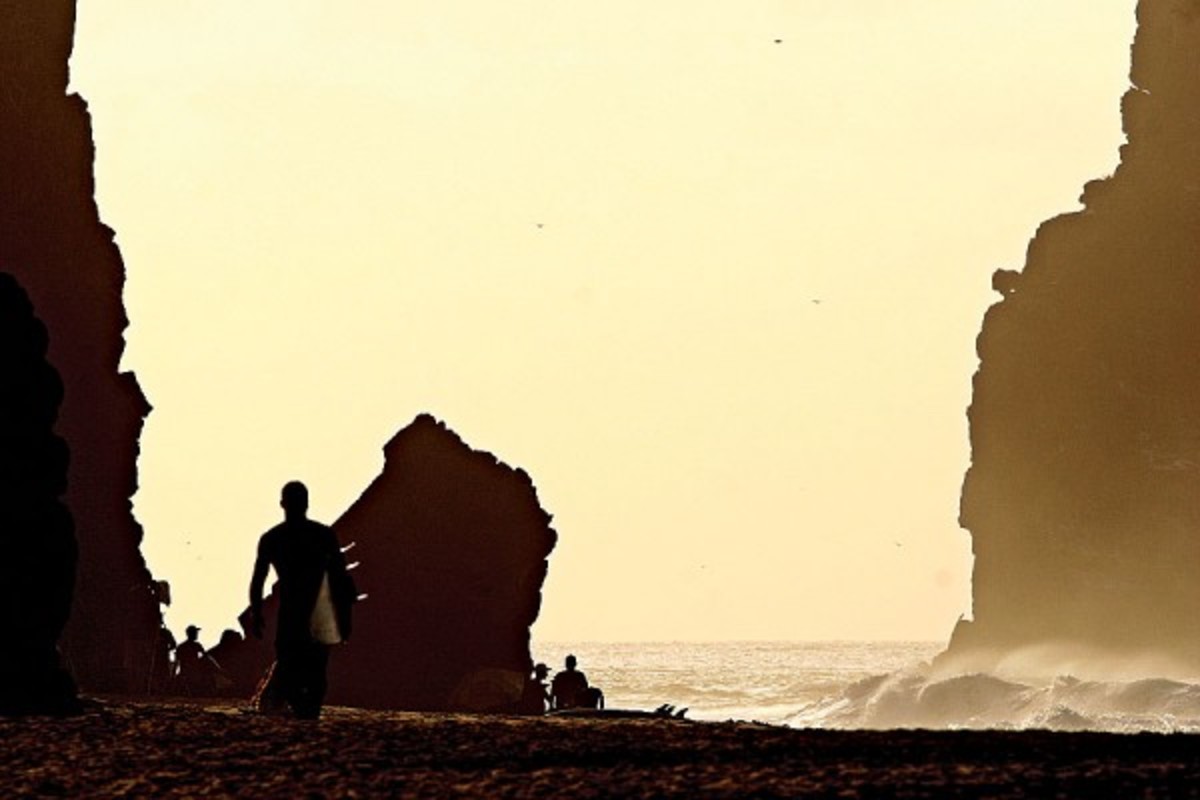 Photo: Blanco
If The Surf Is Flat: The island is world-renowned for diving—if you're into it, there are three reputable dive companies to dial you in. And if the diving is epic, you know the snorkeling is as well, although spearfishing is prohibited. For those of you interested in historical stuff, there are nine forts on the island, some offering irie views. Hiking, boat tours, and cruising the island in your rented buggy are other wholesome pastimes.
More Information: There are no guidebooks specifically about Fernando De Noronha, but good info can be found inside Lonely Planet's Brazil (6th Edition) and The Rough Guide To Brazil (6th Edition). A Google search will reveal all sorts of info, but two of the best sites are noronha.com.br/english/index.html and noronha.pe.gov.br/eng/ctudo-tourism-intro.asp. For general information about the country, check braziltourism.org and braziltour.com.
For access to exclusive gear videos, celebrity interviews, and more, subscribe on YouTube!