[vimeo]32021299[/vimeo]
Go There: Lakshadweep Islands, India
India's Coral Islands
Words: Michael Kew, Photos: Alan van Gysen
Where: The Lakshadweep islands and atolls are scattered across the Laccadive Sea north of the Maldives in the Indian Ocean, a few hundred miles west of mainland India.
What: The smallest Union Territory of India, Lakshadweep is 36 islands, 12 atolls, three reefs, and five submerged banks. Only 10 of these islands—Agatti, Amini, Andrott, Bitra, Chetlat, Kadmat, Kalpeni, Kavaratti, Kiltan, and Minicoy—are inhabited. Outside of India, these islands are virtually unknown, with almost no Western tourists, a spartan infrastructure, limited access, and a largely uncharted surf-spot potential. While a study of Google Earth images will show an apparent lack of likely setups, Lakshadweep offers the savvy surf explorer some interesting options, especially if approached via liveaboard boat, which, if you've got the time and coin, is the best way to do it.
When: Prime Arabian Sea surf season is between April and September, the earlier and later months usually offering better chances for clean conditions (i.e., less wind). Around mid-May, the southwest monsoon starts, causing stormy, wet weather across the region, with some brief calm, sunny periods. Historically, June and July are the peak months for swell size, but also peak months for onshore wind speed. Swells here are usually well-organized, since they come from a long way away, and since prevailing winds are westerly, the east and southeast coasts of the islands are generally nicely groomed and are the best places to score.
Why: Because there are no crowds and there is undetermined potential to discover some pristine blue-water barrels in an exotic location that none of your friends or family have ever heard of. Hey, look at the photos on these pages—who wouldn't want to surf Lakshadweep? The atolls aren't graced with the sort of epic wave variety as the Maldives, but the Maldives are sort of "been there, done that," plus they're crowded and expensive. And although mainland India has lots of potential, it's still dirty, polluted, crowded India. In Lakshadweep, the locals don't live in slums or shit on the beaches.
[youtube]http://www.youtube.com/watch?v=IzgJ7sDJVS4[/youtube]
How: Hire a private liveaboard yacht from the Maldives or mainland India and blaze some new trails. Otherwise, you'll first have to get to Cochin (COK), India. Emirates (emirates.com) is great for that. Kingfisher Airlines flies to direct to Lakshadweep's Agatti Island (AGX) from Cochin. It is also possible to book a berth aboard one of the four passenger ships operated by the Indian government. These ships access the atolls that are open to tourism. It is necessary to book a package through The Society for Promotion of Nature Tourism and Sports (SPORTS), the agency that controls all tourism in Lakshadweep. If you want to make things easy on yourself, just click over to surfingindia.net/india-surf-tours-1 and e-mail Kishore Kumar—he'll dial you in with a nice package rate for his guided tours, which include a photographer and filmer to document your sessions.
Places To Stay: SPORTS offers basic class cabins aboard the ships and on various atolls via the packages that can be found here at lakshadweeptourism.com/tourpackages. Otherwise, Kishore of Surfing India can fill you in on the small resorts and guesthouses that are available during your tour with him. The Lakshadweep pads don't really have names and are very basic, but are safe, clean, quiet, and they exhibit an authentic local vibe. Bangaram Island Resort is rather plush, and there might be a left-hand reef pass two miles from it, but the joint costs about $100 per night.
Places To Eat: There aren't any real restaurants in Lakshadweep besides Bangaram Island Resort and the kitchens of your guesthouse or other tourist cottage you stay in. "Downtown" on Minicoy island has a few basic eateries with questionable sanitation. Cafeteria meals are served onboard the ships that transport passengers between the islands and via Cochin. The fare features a lot of spice and curry, so don't forget to pack Imodium A-D and Pepto-Bismol.
Babes And Bros: It'd be best to BYOB (Bring Your Own Babe/Bro). Lakshadweep's Islamic culture is very conservative, and citing tradition, the locals are basically off-limits to foreigners. You probably aren't into burkas and skullcaps, anyway. There are no bars or dance clubs in Lakshadweep. Alcohol is illegal, too.
Crowd Factor: The locals don't surf in Lakshadweep (yet), so you'll be on your own or with whomever you travel. Either way, you'll have a curious local audience watching from shore or pier.
Stuff To Bring: There are no surf shops, so bring everything you will need, like tropical surf wax, extra fins, et cetera. A surf hat and a long-sleeved white rashguard are useful, because the Lakshadweep sun is absolutely scorching. Reef booties aren't really necessary as the coral is semi-friendly. Regarding surfboards, bring whatever you'd normally ride in anything from fun-sized peaks to deep, overhead barrels.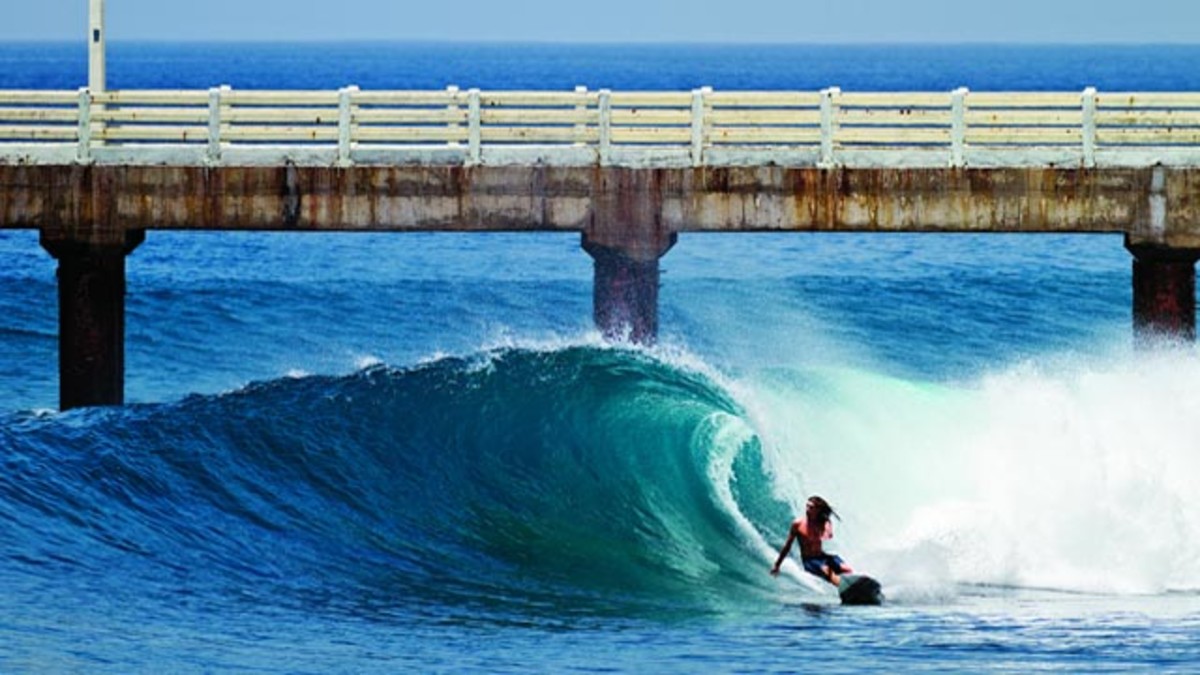 If The Surf Is Flat:Since there isn't much land, it's highly likely that you'll be doing something ocean-related, especially in the scenic lagoons. Lakshadweep is renowned for its water clarity, cleanliness, and abundant reef life—snorkeling, fishing, and diving are great pastimes. Otherwise, mingle with the locals, read a good book, make a diary, kayak, tour a mosque, listen to your iPod, jump off piers, or do nothing at all.
More Information: Almost everything you'll need to know can be found at lakshadweeptourism.com and surfingindia.net/india-surf-tours-1. You can also check out en.wikipedia.org/wiki/Lakshadweep, and vimeo.com/32021299.
Like TransWorld SURF On Facebook
Follow TransWorld SURF On Twitter
Subscribe To TransWorld SURF Magazine
TransWorld SURF is on instagram at transworld_surf
Sign up for the TransWorld SURF Newsletter
For access to exclusive gear videos, celebrity interviews, and more, subscribe on YouTube!