Go There Surf Travel
Northwest Puerto Rico: The Caribbean's Surf Mecca
Where: The northwest corner of Puerto Rico—generally considered all points, beaches, nooks, and crannies between the towns of Rincon and Isabela.
What: For surfers it's the most sought-after 20-mile stretch in the Caribbean, and for good reason: this corner of coastline holds the largest variation of surf locations in the West Indies. As well, the relentless northeast trade winds blow from a favorable direction, and because the Puerto Rican trench (which holds the Atlantic Ocean's deepest point at 26,000 feet) is located just offshore, any pulse of swell is funneled straight there.
When: Go between November and April and chances are you won't be disappointed. During that six-month time frame cold fronts consistently drop off the East Coast and into the Atlantic, churning up solid north swell trains that march directly into Puerto Rico. If you're completely skunked on a weeklong trip in the prime season, chalk it up to karma and ponder the decisions you've made in your not-so-distant past—certainly you've done something horribly wrong to deserve such rare misfortune.
Why: Why not? Because Puerto Rico is a United States territory, a passport isn't required for entry, and unlike the majority of Caribbean Islands that require an arm and a leg in return for airfare affordable flights to PR (even booked last minute) can be found year- round. But most importantly, the array of surf spots littering this area make it a satiating surf destination for everyone from salty old surf dogs to young grommets. Along this stretch you'll find family-friendly waves like Domes and Marias, heavy water venues like Tres Palmas and Wilderness, sand-packed suck-outs like Gas Chambers and Crashboats, and consistent, everyday reefbreaks like Middles (home of the 2010 Rip Curl Search) and Jobos. On any given winter swell, there is something to satisfy us all.
[vimeo]15304467[/vimeo]
How: Fly into the Aguadilla airport (BQN), as it's located directly in the middle of the aforementioned surf spots and only a stone's throw from the ocean (well, if your name is Aaron Rodgers, but you get the point). Arriving here is easy from the East Coast using Spirit Air or Jet Blue, and saves the hassle of flying to San Juan (SJU) and dealing with the two-hour drive. Only downside: BQN airport has the most wack schedule ever, meaning you're likely to arrive and depart at 4:00 a.m., so plan accordingly and avoid the bars before the flight home, because if you appear hammered, you will be barred from flying. I've, uh, seen it happen.
Places To Stay: If money isn't a concern, Villa Montana in Isabela is one of the nicest, most upscale options and rooms start around $150 per night. If you're looking for a more affordable house or apartment rental in the area, try Ocean Avenue guesthouse, operated by brothers Dylan and Josie Graves ([email protected]), or Brian Toth's family rental on the beach at Jobos (homeaway.com, listing 180147) Or, if you'd prefer stay in Rincon, many more lodging options exist and can be found with a simple Google search.
Places To Eat: This area is chock-full of options, depending on your taste preferences. Like Mexican? Hit Pancho Villa in Rincon on "Tequila Tuesday" for cheap tacos and one-dollar Tequila shots. Looking for a Caribbean-style menu and environment? Try Tamboo, The Lazy Parrot, or The Rum Shack. Thai? Look up Ode To The Elephants. And if you'd rather divulge in a local, spicy lunch plate, simply look for one of the many stands dotting the side of the road, and chances are you won't be disappointed with your choice.
Babes And Dudes: This area of Puerto Rico is a couple hours' drive from the capital of San Juan, so generally speaking, the party scene isn't what you'd find in Rio De Janeiro, Brazil. Nonetheless, PR is one of the most heavily visited islands in the Caribbean, so your chances of running into good-looking specimens of the opposite sex are high—especially when visiting Rincon, the most tourist-laden town on the northwest corner of the island. Hit Casa Verde or Tamboo (voted one of the best bars in America by Esquire) after dark any night of the week for a solid chance to get wild and weird.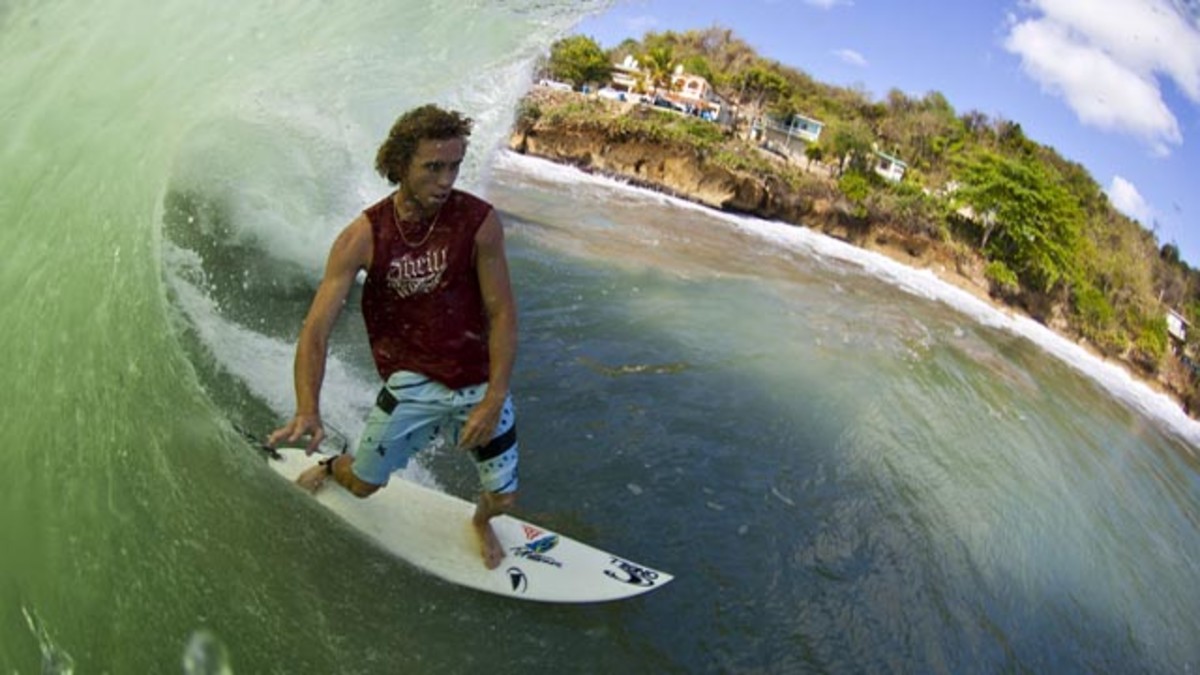 Crowd Factor:The downside of easy access and consistent surf is that the crowds along this stretch can be a killer, especially when the surf is smaller and confined to the most populated spots. When a decent sized winter swell is running (anything at six feet and 10 seconds on up), the humans tend to thin as everyone chooses a different lineup to occupy. At this point the marquee spots (which also happen to be the heaviest and most guarded) start to do their thing, but unless you are close with a local or your name is Kelly Slater, don't expect a dig at these breaks. But really, did you want one anyway? Oh, and unless you like surfing with 50 aggro sponges, it's a good idea to avoid Crashboats and Gas Chambers all together—the dick draggers absolutely pollute those lineups.
Stuff To Bring: The Third World this is not, so leave the overstuffed emergency medical kits, malaria shots, canned goods, and giant Sun Cure jugs at home. Throughout this area grocery stores, pharmacies, and surf shops are readily available and can supply all your needs. Bring the essentials (boards, trunks, sunscreen, wax) and you're set. Remember this is the tropics and the water hovers around a balmy 80 degrees all winter, so there's no need for anything beyond a 1mm wetsuit top. As far as board selection, your standard shorty will do the trick, but check the swell maps before leaving and pack something a couple inches larger if a decent swell is in the forecast. If you need to hit a surf shop, try Surf Zone at Surfers Beach, they will set you up.
If The Surf Is Flat: More often than not, the surf won't be flat. Regardless, it's always nice to mix things up. In Isabela, visit Shacks Beach and snorkel the Blue Lagoon, a beautiful, lively, snorkel/dive spot accessible right from the sand. There are also a few semi-secret waterfalls off the beaten path if you know where to look (ask around), as well as horseback rides and jungle zip-line tours on offer. And lastly, make sure to visit Villa Cofresi in Rincon for an evening sunset and order a "Pirate Special." Trust me, you won't be disappointed. Just make sure to cut yourself off after one, and whatever you do, do not go straight to Tequila Tuesday afterward—that's a recipe for utter disaster, i.e., not being allowed on your 4:00 a.m. flight home.
Travel Tips
-Jet Blue and Spirit Air charge $50 per surfboard, and are notorious for opening your board bag at the counter. Keep that in mind before you decide to travel with your entire quiver.
-Pay attention to where the locals paddle out; most spots in Puerto Rico require you enter and exit the ocean at a very specific part of the beach to avoid a sea urchin enema.
Travel Tips
-The best option for calling home in many places where Internet bandwidth makes services like Skype spotty is to buy a local calling card. Don't use your US cell phone, it could cost more than your plane ticket.
-Ask about the tipping etiquette wherever you are. Some places overseas it's not expected, other places it is, or there are particular customs.
For access to exclusive gear videos, celebrity interviews, and more, subscribe on YouTube!