By Eugene Buchanan
Go ahead and make all the Dr. Seuss rhymes you want. For Oregon's Travis Williams and Erica Somes, putting goats in boats has real-life applications.
"It was Erica's idea," says Williams. "One day she said, "Hey, let's take Clayton and New York out in one of your canoes."
Somes has had the goats since they were kids (aka baby goats), and she's done a lot with them. Just never in canoes. The lightbulb went off when Somes and Williams realized the goats could help control invasive plants on Cedar Island on the Willamette River outside Portland. "We talked about it in terms of the goats canoeing with us, and using them to eat invasive weeds at various points," says Williams. "Goats are awesome at that." The goats got into the Wenonah Minnesota III canoe with little coaxing and were "totally mellow in the boat," says Williams.
For Somes, who originally got the goats to carry backpacking gear for her two children, it took a little more work. "Goats don't like water, but they disliked being separated from me more, so with a handful of trail mix and cheerios I coerced them to follow me into the canoe," she says. "Travis put down a few sleeping pads that gave their hooves traction. They were pretty solid and comfortable, leaning over to drink and checking out the ducks."
After about 20 minutes they pulled over at Cedar Island, where the goats got out and zipped around munching on blackberries and other weedy plants on the island. The main invasive species on the island are Himalayan blackberries and Scotts Broom.
"Once out on the island they got their bearings and started eating," says Somes. "They stripped the blackberry canes of leaves and ate the berries. They nibbled on other weedy things, but they're really fond of berries so that's what they focused on. Goats have a reputation for being able to eat everything, but they're actually quite picky."
"They nibbled around quite a bit," Williams adds. "It's a big island, so we were experimenting to see if the goats would canoe and if this could be used in my work to get them out to remote sites along the river. Goats are already being used for this purpose increasingly throughout the Willamette Valley for restoration purposes—we just exported that to the river environment."
As far as the method of getting them there, the experiment seemed to work. "Given that they're so sure-footed, they did great in the canoe," Williams says. Still, goats will be goats. "Erica brought them a few snacks, but that didn't stop them from trying to taste the gunwales and thwarts," he says.
The two plan to do it again soon, and will spend more time with them on the island and other properties. "I want to take Clayton and New York on some multi-day trips," says Somes, who regularly drives around with them and takes them for walks downtown. "They're extremely intelligent and get bored, so I see us continuing to take them out canoeing. I love them and I love paddling. I'm lucky to be able to combine so many things I love into one adventure."
Want to follow the exploits of Clayton and New York? Follow them on their own Facebook page. https://www.facebook.com/groups/441816919185797/.
For more on goats, check out this story of a standup paddling goat.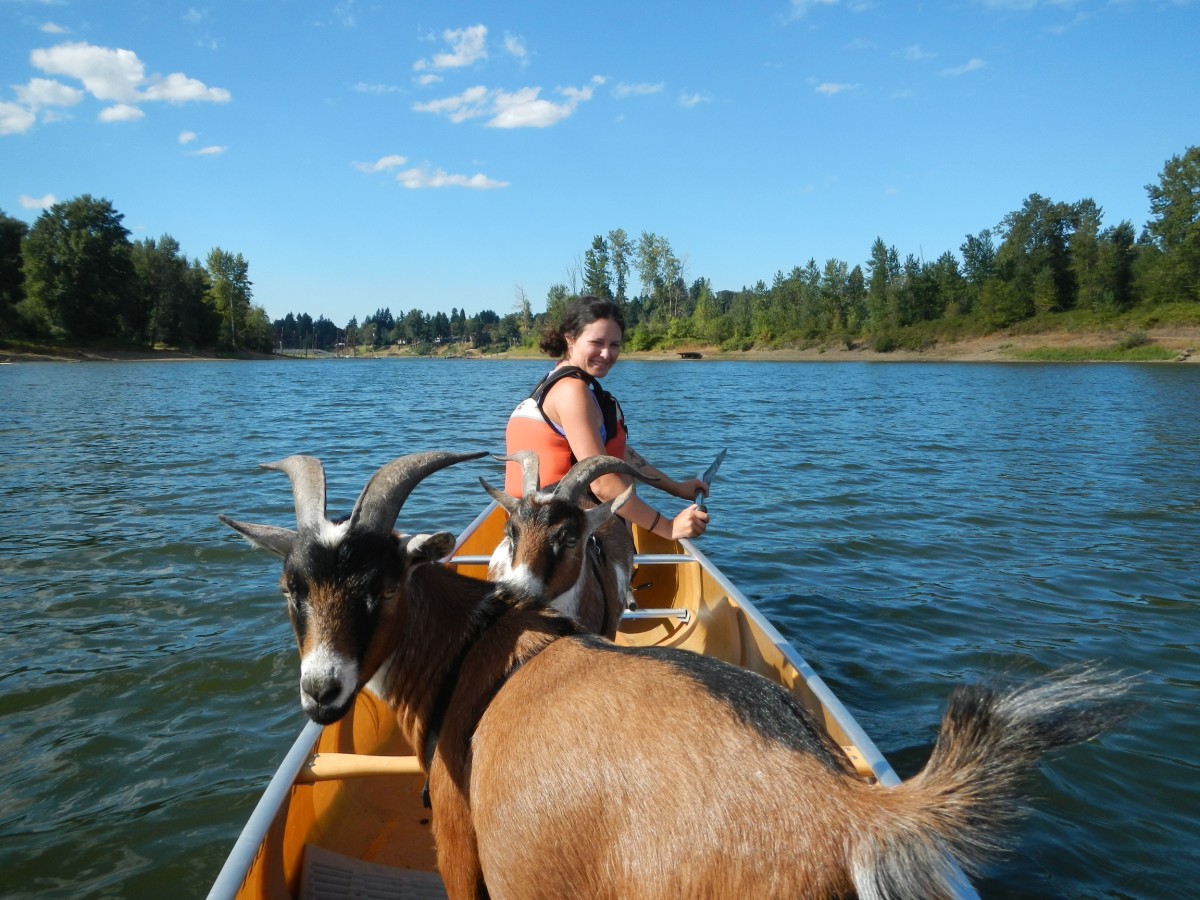 The article was originally published on Canoe & Kayak
For access to exclusive gear videos, celebrity interviews, and more, subscribe on YouTube!