STEAMBOAT SPRINGS, COLO. – If it works so great for ski poles, why not SUP paddles? That's the theory behind the SUP Stick, a new line of performance bamboo SUP paddles by Grass Sticks, the Steamboat Springs, Colo.-based cast behind the award-winning custom bamboo ski poles. Sturdy and durable for the rugged whitewater of the Rocky Mountains, yet light enough for a day of touring or surfing, SUP Sticks bring a natural look and feel to the fastest growing sport in the outdoor industry.
"We are super stoked to introduce such a cool and unique new option for SUP paddlers," said Grass Sticks chief designer Andrew Beckler. "This material feels great in your hand and its natural flex delivers really intuitive action."
For Grass Sticks, performance is key, but it is also about being environmentally friendly. Industrially manufactured composite and aluminum shafts use an incredible amount of energy and place a burden on our environment. Per acre harvested, bamboo produces three times as much lumber as trees, absorbs more CO2, and produces more oxygen than any other plant.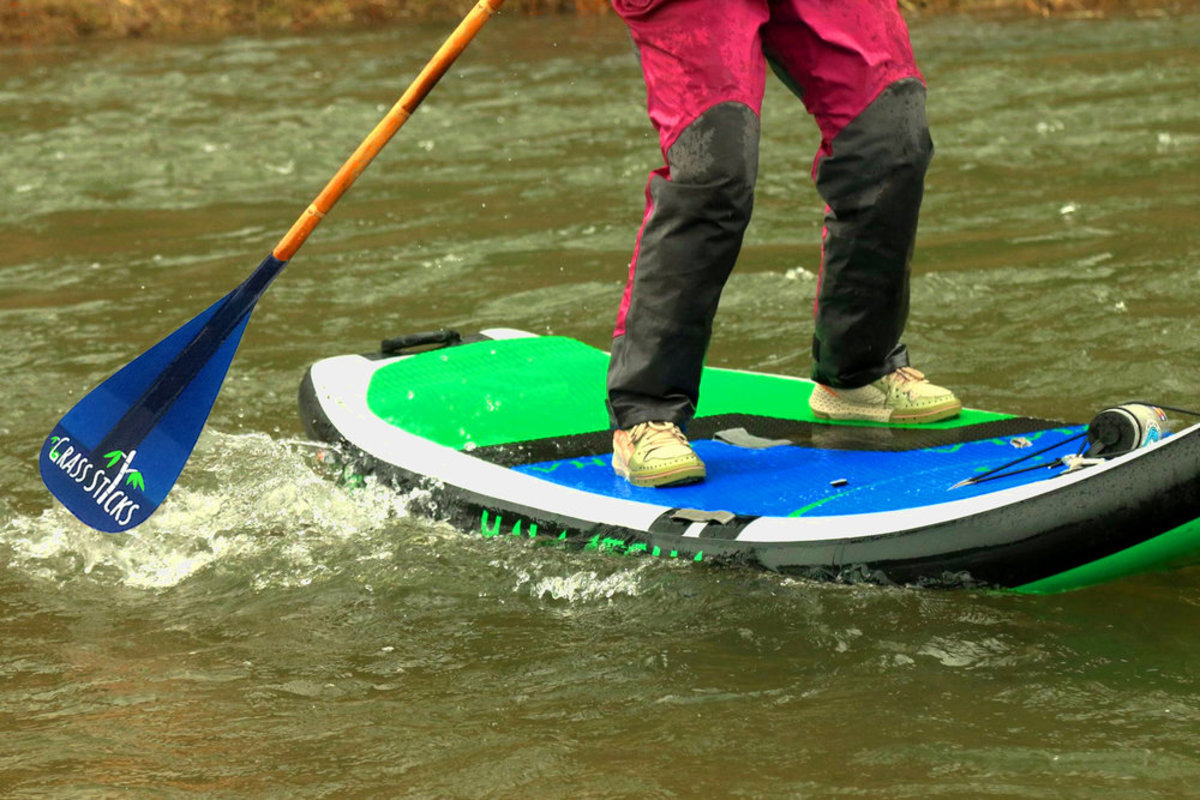 SUP Stick shafts are made from kiln-dried Calcutta bamboo that has an incredible strength-to-weight ratio. Its long, continuous fibers deliver an ideal medium-stiff flex that transfers energy to the water seamlessly, making braces, draws, and other strokes feel smooth and responsive. Unlike carbon, fiberglass, and other materials that thin the shaft wall to reduce weight, bamboo's thick walls provide an incredibly strong yet lightweight tool for paddling harder and longer. The manufacturing process also includes hand-sanding and applying multiple layers of marine-grade coating, giving the shaft a durable, beautiful finish that stays soft and grippy when wet.
SUP Stick blades are designed with an 11-degree offset and extra-thick reinforcement at the blade end for durability. Fiberglass blades come in Green Grass, Midnight Blue, and Burgundy, in both 88- and 100-square-inch options. A lighter carbon fiber blade is available featuring a beautiful bamboo veneer top sheet. Paddle grips are made with carbon fiber and are available in a traditional T-grip or triangular palm.
Each SUP Stick paddle is handmade-to-order, so the one-piece, custom fit means there's no play in the shaft or messing with finicky locking mechanisms.
Like all Grass Sticks' products, the SUP Stick comes with an unlimited two-year warranty. No matter what happens to the paddle, Grass Sticks will replace it within two years with free shipping.
The SUP Stick bamboo paddle is available online at www.grasssticks.com for $219.00.
About Grass Sticks: Grass Sticks makes beautifully handcrafted, high-performing, eco-friendly gear for the outdoor enthusiast. It uses the best bamboo in the world to take essential outdoor products to the next level of performance, all while improving durability and strength. All products are handmade with custom options in Steamboat Springs, Colorado. Each custom paddle is cut and handmade to order and can be made to any length via an online custom size calculator. Everything we build is backed by a 2-year unlimited warranty and 30-day return period, no questions asked. www.grasssticks.com
The article was originally published on Standup Paddling
For access to exclusive gear videos, celebrity interviews, and more, subscribe on YouTube!