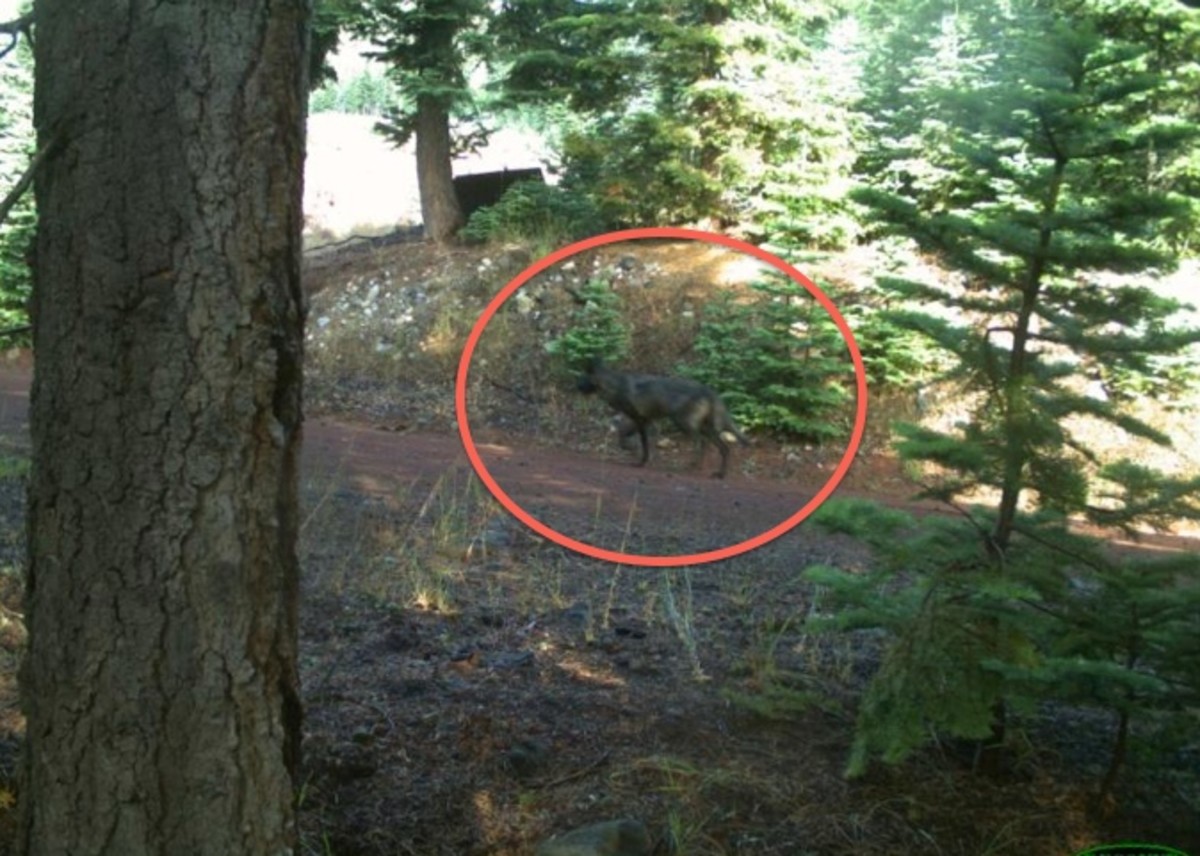 In late 2011, a collared gray wolf traveled 700 miles across Oregon into California, becoming the first known wolf to roam the Golden State wilderness in nearly 90 years.
The famous "wandering wolf," cataloged as OR7, ranged across Northern California for more than a year, but has since returned to Oregon, found a mate and started his own pack in Oregon's Cascade Mountains.
But on Monday, the California Department of Fish and Wildlife announced that another gray wolf has been discovered in California's Siskiyou County.
Paw prints on a remote dirt road prompted the placement of a motion-sensor trail camera on the road. The camera remained on the trail for weeks and the images, downloaded on July 24, revealed "a large, dark-colored canid" believed to be a wolf.
"The animal's tracks are significantly larger than those of a coyote, and a comparison of the images with photos of an adult coyote captured at the same site indicate the animal is significantly larger than a coyote," the CDFW said in a news release.
Because OR7 was fitted with a GPS collar by the Oregon Department of Fish and Wildlife when it was a pup belonging to a well-known pack, its movements could be tracked.
The latest visitor has no collar, but the CDFW will monitor the area with trail-cams, and will check for tracks and scat, to try to keep tabs on the animal's whereabouts.
Wolves were eradicated from the West in the early 1900s by trappers and ranchers. Their reintroduction in the Northern Rockies in 1995 was controversial not only because of livestock concerns, but because of possible impacts on elk herds in some areas.
The cunning predators, believed by many to play an important role in maintaining a healthy ecosystem by thinning deer and elk herds of their weakest members, have flourished and spread to six states.
In large part because more wolf visits were anticipated in California after the arrival of OR7, as the predators continue to expand their territory, federally endangered gray wolves were also listed as part of the California Endangered Species Act in 2014.
This bans the shooting or harassment of wolves.
While Northern California ranchers might not welcome news of the latest visitor, supporters of wolf recovery programs were celebrating the CDFW's announcement on Monday.
Said Jamie Rappaport, president and CEO of Defenders of Wildlife: "The presence of this second-known wolf in California is a source of hope and excitement for the recovery of the species, not just in the state, but across America.
"We have long known that there is abundant suitable habitat for wolves in California, and it was only a matter of time before they made their way back."
OR7 was the first known wild wolf to have ranged in California since 1924, when the last verified gray wolf was killed by a trapper in Lassen County.
For access to exclusive gear videos, celebrity interviews, and more, subscribe on YouTube!