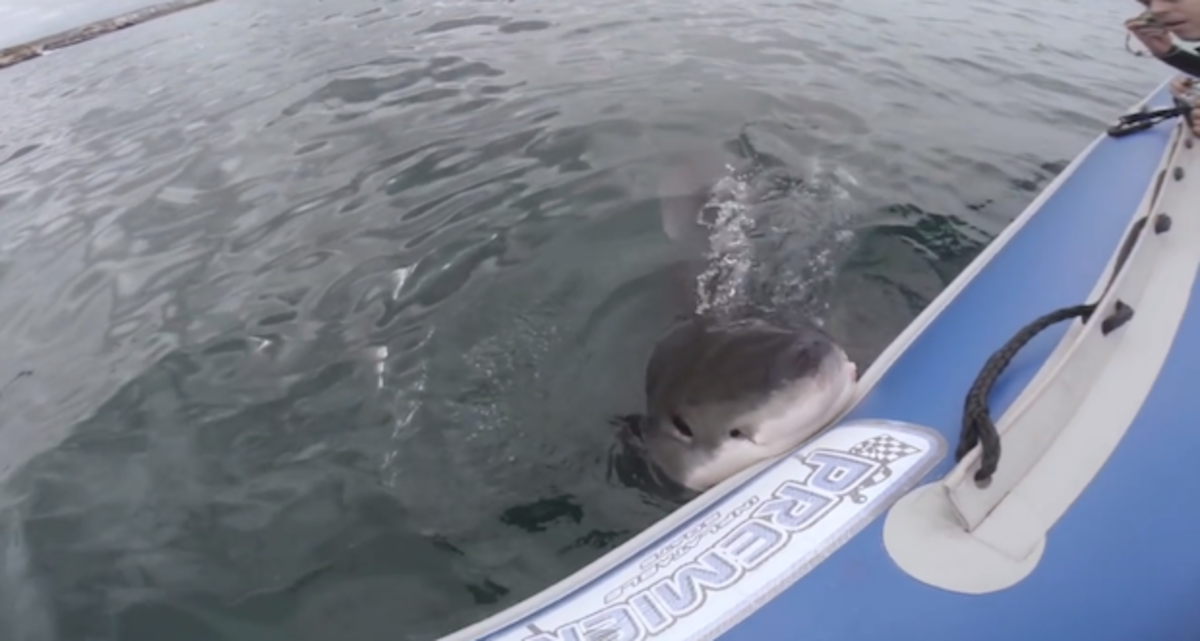 Video showing a great white shark repeatedly biting an inflatable boat before its wide-eyed crew is being widely shared this week, along with sensational headlines such as this from the Daily Mail:
"Let go of the boat, Jaws! Terrifying moment great white shark sunk its teeth into a rubber dinghy in the middle of the sea."
<iframe width="612″ height="412″ src="//www.youtube.com/embed/SCUc3U8WVMo?feature=player_detailpage" frameborder="0″ allowfullscreen></iframe>
And this from Huffington Post: "Shark mistakes inflatable boat for chew toy."
Actually, it was quite a spectacular incident last month off South Africa. But the MaxAnimal film crew did not seem overly concerned as the shark teethed on and ultimately popped one of the vessel's pontoons.
MaxAnimal wrote in its video description, "Is the scariest part when the shark eyes our folks on the boat? Ah, yeah."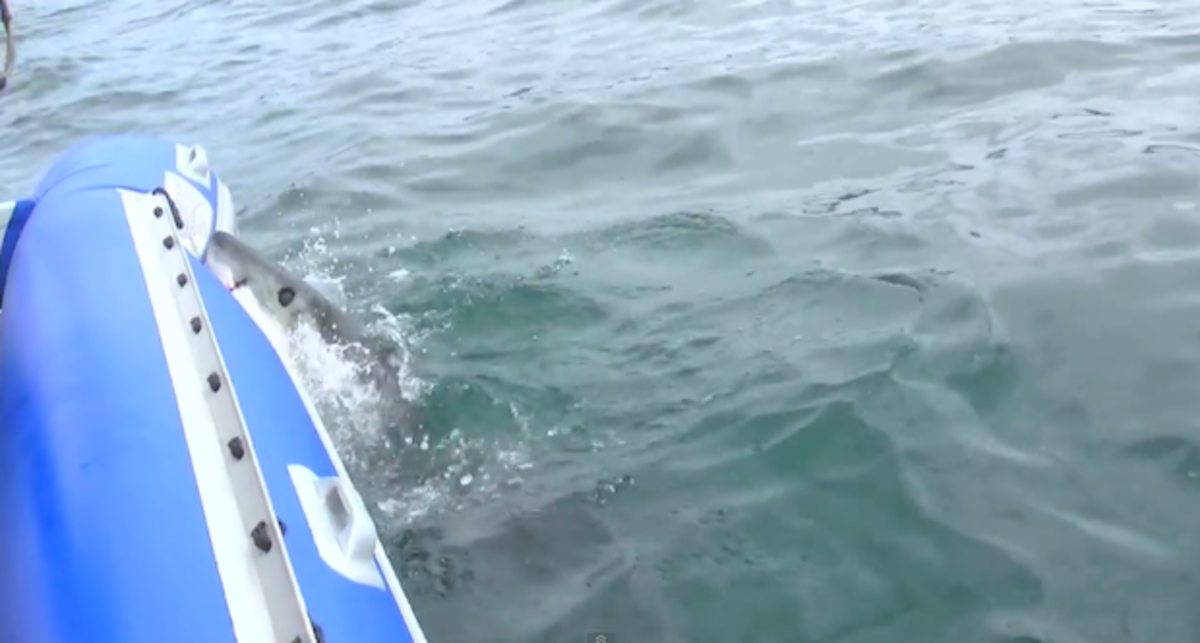 But the boat did not sink—it can be seen motoring away at the end of the video—and nobody was injured, according to a YouTube comment by MaxAnimal.
But why was the shark biting their boat?
Amber Marlow was probably accurate when she commented, "Not an 'attack' – he was just exploring the boat, and subsequently chomped it to death out of curiosity."
More than likely, the crew used chum to lure the shark to the boat, and once the shark was close it was simply being a shark by investigating potential prey.
"No uncommon behavior," Christopher Lowe, a white shark expert at Cal State University, Long Beach, told GrindTV.com. "But staying near an adult white shark in an inflatable boat is not a smart move. Expensive rookie mistake!"
Added Martin Graf, whose Shark Diver company specializes in great white shark expeditions at Mexico's Guadalupe Island, "I think they had a bait in the water that got the shark close. The vibrations from the engine make it appear alive and the shark is testing it, to see if it is edible. They also bite outboard engines, because of electrolysis that comes from it, for the same reason."
So it's good for the crew that the shark was simply investigating. Had the boat been much smaller, the shark might have chosen to launch an ambush attack. That would have been truly sensational.
Find Pete Thomas on Facebook and Twitter
More from GrindTV
Rare megamouth shark captured off Japan
Odd sea creature puzzles South Africa experts
For access to exclusive gear videos, celebrity interviews, and more, subscribe on YouTube!